Back in February of 1988, 30 years ago, Michael Jordan was in his young and frisky prime. The NBA All-Star Game was held that year in Chicago at the old and raucous Chicago Stadium, Jordan's beloved home that would be torn down a few years later and replaced by the United Center. Suffice it to say, MJ was on top of his profession and performing on his home stage like a Broadway diva singing "I Feel Pretty" in West Side Story.
He was battling Atlanta's Dominique Wilkins for the Dunk Contest title, but even before it began, everyone there that day knew Jordan was going to win, no matter what, even if Wilkins jumped through the arcing roof of the 58-year old building.
Jordan's charisma and sense of the moment would overwhelm the quieter, if wildly talented Wilkins. Nor was there anything Wilkins could do about it, despite his crazy jams, which included a two-handed windmill wherein his head almost hit the rim.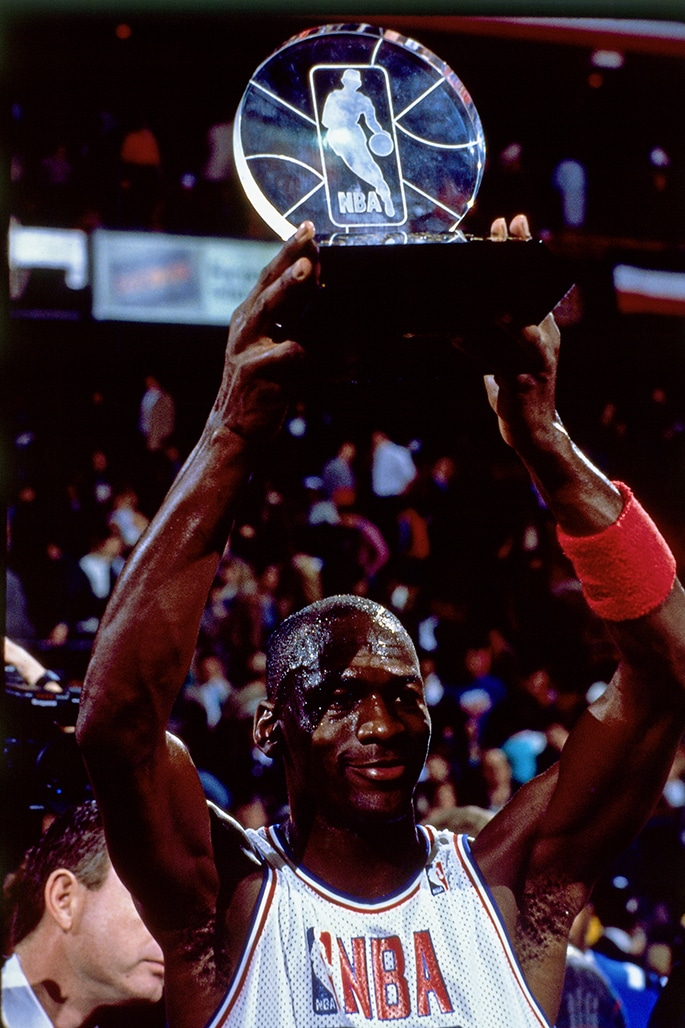 Jordan needed 49 points (out of a possible 50) on his last dunk to beat Wilkins. The 6-6, 195-pound panther smiled to the crowd, flashing his pearly white, carnivorous teeth. He wandered about, taking his time. He meandered to the far end of the court and then loped toward the distant basket, taking off from the free throw line, becoming a flying, human poster in mid-creation.
His transcendent dunk brought the crowd to insanity. His score: a perfect 50. Not only was Jordan now the dunk champion, he would also be the All-Star Game MVP, would lead the NBA in scoring and steals, and be named the Defensive Player of the Year and League MVP. The six NBA championships with the Bulls would come later. But this was destiny, theatrics, skill and legend rolled out before us like a tapestry. It was crazy. It was pretty as can be. And there was no better place to witness it than All-Star Weekend.
—
Rick Telander is SLAM's Basketball Evangelist and the author of Heaven Is a Playground, amongst many other things. 
Photos via Getty Images