Unless you were there (proverbially), and unless you cared (literally), you can't really imagine the excitement caused by the most famous fax in sports history; the one that featured Michael Jordan's scribbled, "I'm Back."
Trust, both apply to me. I grew up falling in love with all that Michael Jordan did on the basketball court, so I—like many others—was devastated when he retired at age 30 in October '93. Sure, he'd already won seven scoring titles, three MVPs and three Chips, but it was clear there was so much more he could accomplish. Instead, he went to play…baseball?
After a full season of baseball and preparations for a second one, Jordan was supposedly spending more and more time around the Berto Center, the Bull's practice facility. But in the early internet/pre-social media era of '95, whispers of MJ actually rejoining the Bulls were pretty much just that—whispers—especially if you didn't live in Chicagoland. News and rumors didn't travel so fast back then. So it was that the fax (Google what that is if you must) MJ sent on March 18 really was when his return was officially news.
The next day, a Sunday, the Bulls played at Market Square Arena against the Indiana Pacers. Suiting up for the first time in more than 21 months, Jordan played 43 (!!) minutes and shot 7-28 from the floor in a ragged Bulls loss. Nothing like easing your way back, huh? Besides the decidedly un-Mike-like shooting percentage and perhaps a few new wrinkles, the other thing that was different about '95 Jordan was his uniform number. He was rocking 45.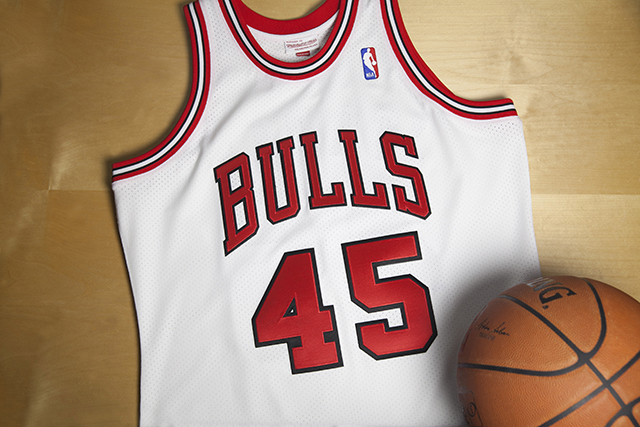 After a March 22 road win in Boston, Mike made his return to the United Center—and debuted the crispy white 45 jersey you see on this spread—in a 106-99 loss to the Magic that saw Jordan shoot poorly again.
In all, he'd play 17 regular-season games in '95, eight at home and nine on the road. The highlight of the road run was obviously the March 28 game in New York, when MJ dropped his "double-nickel" on the Knicks. He actually had no truly memorable home games in that stretch, posting a lot of poor-shooting, 20-something-point outings as the Bulls struggled to get in a rhythm.
When the Playoffs tipped off, MJ stayed rocking 45 and seemed to turn his game up a notch. He went for 48 points, 9 rebounds and 8 assists in 47 minutes in a Game 1 win at Charlotte in the first round. The Bulls won that series, 3-1, and actually seemed capable of reprising their title runs of the early '90s.
Up next was the Magic, who'd won 57 regular-season games before rolling past the Celtics in round one. In the first game of the Magic series, Orlando edged the Bulls, 94-91, as Jordan had another rough shooting night and committed a key late turnover. Speaking of the turnover he helped cause, Orlando's Nick Anderson told the media after the game that "No. 45 is not No. 23."
Motivated by Anderson's tweak, Jordan took the court in No. 23 for the second game of the series. His 45 jersey would never be worn again. So, all told, Mike played just 22 games in No. 45—only 10 in the gorgeous home white one.
It's one of the weirder chapters in sports uniform history, really. A guy who became the most famous athlete in the world wearing a very specific number, who would go on to double his success and fame in that same number, had a brief period where he wore something completely different.
Given the discrepancy in achievements, it's fair to say that MJ's 45 doesn't stand for the same level of greatness 23 does, but it does stand for Jordan's resilience in rejoining a team in the heart of a Playoff race and giving his all immediately.
It also stands, to me at least, as a symbol of the pure joy his comeback brought.
—
Action photo via Getty Images
111