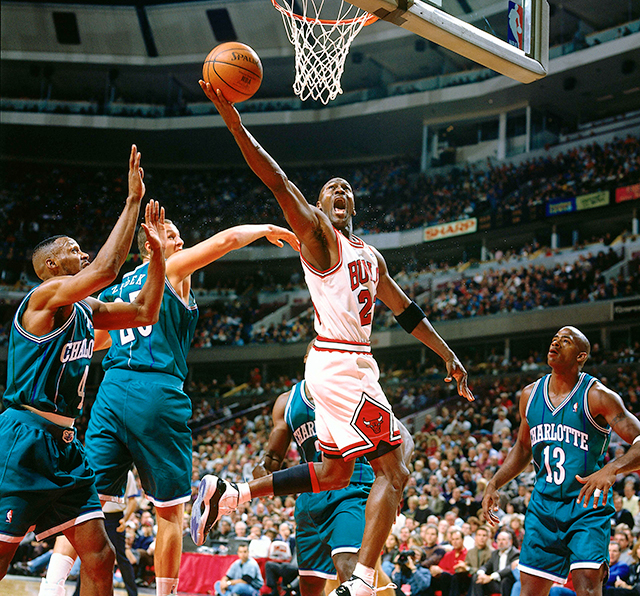 As the reigning Champs raced out to a sizzling record during the first quarter of last season, Warriors coach Steve Kerr was asked if his squad could potentially break the 72-10 regular season mark set by the Chicago Bulls in 1995-96. Kerr, a critical role player on the Bulls that season, was adamant that 72 wins will never be touched again. In Kerr's estimation, the Bulls were talented enough to win 62 games. He firmly believes Michael Jordan willed the Bulls to an additional 10 wins—explaining that Michael set a personal and team goal to shatter the 69-win record mark set by the Lakers in the '71-72 season.
"There's only one Michael," Kerr said bluntly. Always one to challenge himself from within, Michael had set new goals after returning from his baseball sabbatical. His re-entry into the League didn't go as planned; the 18 months away from the game had made him vulnerable. When the Bulls faced a stacked Orlando Magic squad in the Eastern Conference semis, we were confronted with a sequence we hadn't seen since Michael vanquished the Bad Boys. At the end of Game 1 with the Bulls up by one point, MJ was harassed by Orlando's Nick Anderson in the backcourt and had the ball picked away from behind, leading to a dunk on the other end. The Bulls had a shot to win the game with six seconds left—Michael had a free release and good look after catching the inbounds pass off a timeout but instead of pulling up and shooting at the free throw line, he passed to Scottie Pippen, who he thought was stationary in the corner, but Pip figured MJ would shoot so he slashed to the bucket and MJ's pass went off his hands for the turnover. Chicago would lose Game 1 and the series in 6. The lasting image for many fans was Anderson harassing MJ into a mistake—something we had come to believe would be impossible during clutch time.
Michael spent the summer seething, plotting and banging weights with his trainer Tim Grover. He was 33 now, his muscles were bigger and even more defined—his desire insatiable. "I worked hard all summer to get into physical shape to play basketball again," he would say in a moment of nirvana. "Last year, I was mentally in the game, but physically I wasn't ready. This year, I'm ready. We have a very good possibility with this team here. We have to put it together and take a shot at it. I feel good about my game right now."
Prior to training camp that season, Bulls GM Jerry Krause pulled off one of the greatest trades in NBA history, obtaining Dennis Rodman from the San Antonio Spurs in exchange for Will Perdue. The Bulls' Big Three was born with MJ, Pip and Dennis adding an entirely new dimension.
On November 3, 1995, The Big Three played their first game together in Chicago Stadium. Michael appeared stronger than ever when he hit the floor in his crispy white 23 home edition jersey, the blood red number and logos glowing as if they were stitched together from the hands of the best seamstress in the world with each thread carefully crafted for the most artistic player we have ever seen. He wore Concord XIs on his feet.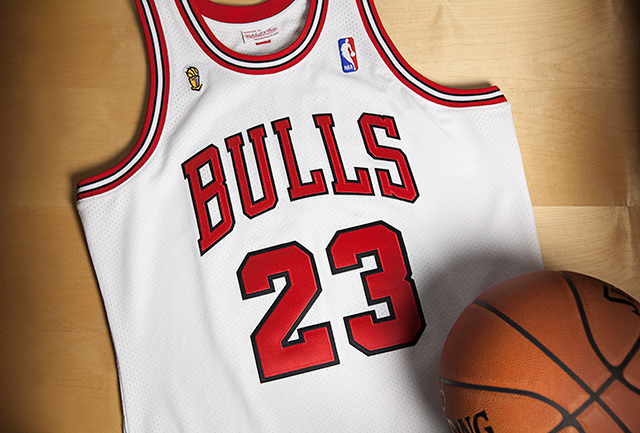 Naturally, history chose the Charlotte Hornets as the opponent and MJ spared none of his competitors as a wave of defenders were re-introduced to that work. Michael's points were delivered with sublime technical expertise: mid-range jumpers, back-ins, three-pointers, left handed-lay ups and a two-handed breakaway dunk from the dotted line—the one the fans had waited for. Chicago won by 14—Michael dropped 42 points, 7 assists and 6 rebounds on 16-29 shooting. Craig Sager waited for Michael as he left the floor that night. It was a monumental evening and Sager was steady and focused. "People no longer assume that you're the best player—people no longer assume this is the team to beat," Sager said. "Does that motivate you?" Money smiled mischievously—a warning. "Yeah. That's motivation," MJ said. "Sometimes you need to be challenged."
Michael's performance on 11/3/95 served as the catalyst for the Bulls' 41-3 start on the way to their untouchable 72-10 regular-season finish. The Bulls averaged 105.2 points per game that year, holding opponents to 92.9—the best margin of victory of all time over the course of a season.
Michael played in all 100 games, averaging over 30 points per outing while shooting over 50 percent from the field. His incredible performances and leadership that season set the pace for the next Bulls' championship trilogy.
The 72-10 Bulls have the remnants of the most impressive individual and team accomplishments ever recorded—a true testament to Michael's sheer will and determination.