Over the past few months, Nuggets rookie Michael Porter Jr has been adjusting to the NBA routine and to the city of Denver.
But perhaps the hardest adjustment has been to life without basketball, as the talented young forward continues to rehab from a back injury.
We caught up with MPJ recently to discuss his progress on the floor, work with Autotrader, signing with PUMA and more.
—
SLAM: How has your rehab been going? What's a typical day like?
MPJ: It's been going great. I'm really progressing in my rehab, making a lot of strides. Getting back on the court, doing some player development stuff, so that feels amazing. Being able to workout a little bit and not being in any pain. It's been amazing. We're really progressing, making a lot of strides, and trying to get better day by day. Do more and more.
SLAM: Do you have an idea of when you'll be able to play again or is there any sort of timetable you're working off of?
MPJ: It's definitely day by day. We have weekly goals, but in terms of getting back on the court and playing, just being as patient as possible and taking our time to make sure every part of my body is strong and I'm healthy enough and I'm never going to have to deal with that stuff again.
SLAM: How difficult is it to juggle wanting to play now and knowing you need to be patient since you have a long career ahead of you?
MPJ: It's definitely tough because, you know, I don't really have too many interests outside of basketball. It's tough not being able to be in the gym. I watch those guys practice and get tired and I'm just like, dang, I'd do anything to be tired like those guys right now. It's definitely tough and there's hard days, but at the end of the day, I'm feeling good. I'm blessed. There's a lot of blessings in my life. I like to just try to be thankful because when you're thankful, it's hard to be down. So I like to thank god for all the other stuff I have. And just be patient and wait my turn.

SLAM: Are you encouraged by the progress you've made? 
MPJ: Making a lot of strides. Day to day, it's kind of slow in how you see the progress. But when you look back two weeks, three weeks, a month, it's amazing, especially when doctors who haven't seen you in 3-4 weeks, they come in and check on you to see how you're doing, and they can't believe the progress that I've made. That's very encouraging and motivates me to do more.
SLAM: How have you been adjusting to life in Denver? Is the city a good fit for you?
MPJ: It's definitely a good fit. It's been an adjustment, but it's been pretty easy. I have my best friend and my sister living out here with me. And Denver is the perfect spot for me. It's low key and that's kind of how I like it. A lot of space so I don't feel crammed or nothing. I can relax and do my thing, so it's been amazing.
SLAM: I know you said you don't have a lot of interests outside of basketball, but what are some of your off-court hobbies?
MPJ: I've kind of had to adapt. Before I got hurt, there was really nothing. I hooped and I hung out with my family and friends. That was really it. But I've had to learn how to fill my time and do beneficial stuff. So I've adapted — been reading a lot more. Fiction and non-fiction. I like to read, play video games — there's some new games I like to play. I wouldn't say that's beneficial but…[laughs]. Just stuff like that."
SLAM: Is there anything you've read recently that stands out?
MPJ: A book called "The Alchemist." I read that a month ago and that was amazing. It was about a kid spending his life trying to figure out his personal legend and purpose. It was really cool and I recommend it to everybody.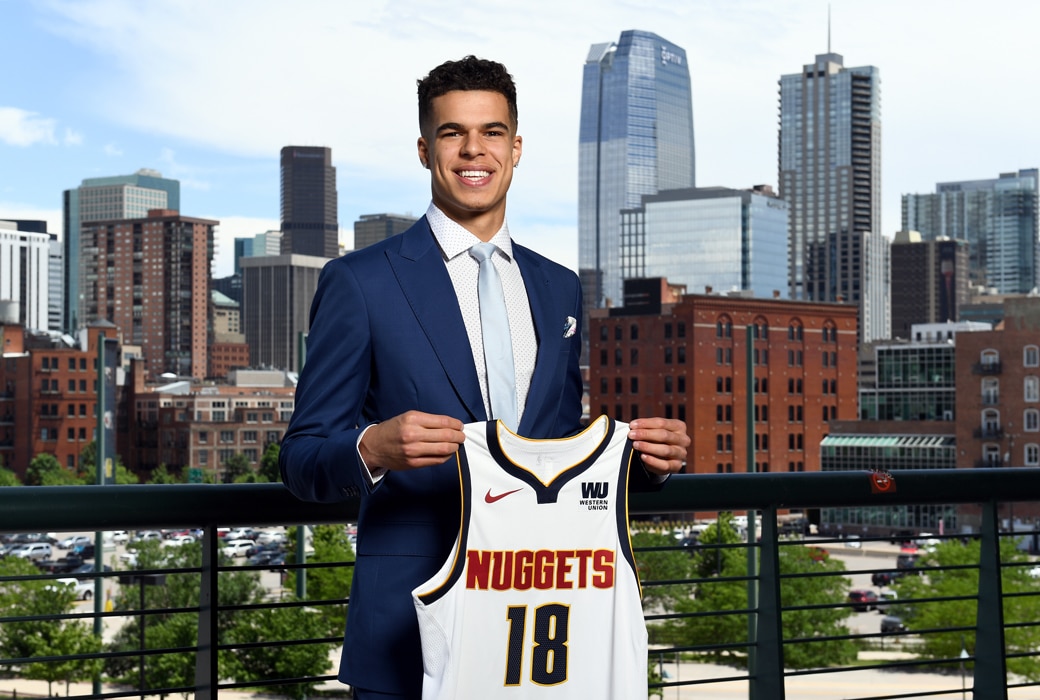 SLAM: I understand you're a big 2K guy, have you played against any of your teammates and are you the best?
MPJ: Yeah, all my teammates are bums at 2K [laughs]. It's a waste of time playing those guys. But I'm not gonna lie, they're going to see this so I might as well tell the truth, Monte Morris is pretty good at 2K. He's beat me the last couple of times we've played so shout out to him.
SLAM: But you took everybody else?
MPJ: Oh yeah, everybody else is easy.
SLAM: You said video games aren't beneficial, but I feel like 2K is different.
MPJ: Actually, yeah. Fortnite is not beneficial, but 2K definitely is. My mom used to say the same thing because I play so much 2K and I'd be like, Mom it actually helps you get better at basketball. I remember at Missouri, in the practices before I got hurt, I was literally on a fast-break and like I saw the defense how I see it in 2K, so I did the euro-step. It was so crazy. I told my brother and we were tripping, It was so funny.
SLAM: Especially while you're out rehabbing, can't you get a feel for your teammates' tendencies by playing 2K?
MPJ: 2K does a great job of being realistic. So the same type of game you have in real life, they put that into the system. So I see how these guys play, see how LeBron is pretty much unstoppable, stuff like that.
SLAM: You recently signed with PUMA along with several other guys. In your opinion, what's different or unique about the brand?
MPJ: Oh man, there's too much to talk about with PUMA. PUMA's where it's at in terms of how they relate to us, how they take care of us and how there's so much stuff that they care about outside of basketball. The vision that they have is amazing and I feel blessed to be a part of it.
SLAM: Can you talk about the work you're doing with Autotrader and the video you guys just released?
MPJ: Yeah, me being a rookie car buyer, Autotrader has the biggest variety of cars to choose from. They are always looking to make the car buying process faster and easier. They have a brand new feature called accelerate that helps limit time at the dealership. You can start your deal online so that when you get to the dealership, you don't have to use as much time. For me, just being a simple guy and being a rookie, they really helped me out.
And then the video, it's about me being a rookie and I'm not on the court right now, so there's a lot of other things I'm doing. So the video kind of puts a funny spin on that.
I'm all for being a team player, but this is getting out of control!! 😂😂 Thanks @Autotrader_com for helping me find the perfect rookie ride. #RookieDuties #AcceleratewithAutotrader #AD pic.twitter.com/hUp56I5zYx

— Michael Porter Jr (@MPJr) October 11, 2018
SLAM: Have there been a lot of rookie duties for real?
MPJ: It's all fun and jokes. They did their thing a little bit, but a lot of these guys are young themselves so they don't really do too much. Isaiah [Thomas] and Paul [Millsap] are really the only vets on the team that even have us do anything, but it's all just funny, little stuff. Nothing crazy.
SLAM: Do you rely on IT and Paul for advice?
MPJ: Yeah, for sure. I look at what they do, how they operate, being pros, for sure. I get to pick [Isaiah's] brain, see how he was so good when he was playing, and it's kind of cool going through the rehab process with him, being able to keep each other's spirits high and attack every day of rehab together. It's been good.
SLAM: What's been the biggest piece of advice you've gotten about transitioning to the NBA?
MPJ: Man, it's just all the little things that add up, you know? I don't really like the cold tub, but all the days in the cold tub will add up when you're healing. Stuff like that. Stretching before you do physical activity. And just how you heal your body. Get enough sleep at night, all that. The little things that go a long way in the end.
SLAM: Was there a specific player you looked up to or modeled your game after growing up?
MPJ: No, there wasn't. I just got as good as I could get and tried to do my own thing. I like watching every NBA player, but I never tried to model any of their games.
SLAM: Did you just try to pick up bits and pieces from everyone?
MPJ: Yeah, it was mostly watching different guys.  For me, it was looking at guys that I don't relate to at all and trying to take stuff from them. Like I don't really play like Kyrie [Irving] and Steph [Curry], but if I can learn some of the stuff that they do, it'd be hard to stop being 6-7.
—
Alex Squadron is an Associate Editor at SLAM. Follow him on Twitter @asquad510.
Photos via Getty.
9,320