It's a hot Friday afternoon in New York City, the kind of summer day that makes you dream of winter, and the only thing thicker in the air than the humidity is the nostalgia. After all, it's a longing for the past that's brought so many former NBA stars—and not-quite-stars (we see you, Moochie Norris and Lee Nailon)—to this space along the Western tip of lower Manhattan for the BIG3's Media Day. It's exactly what Ice Cube's new 3-on-3 league is built to traffic on: The notion that there's nothing the basketball world—players, fans, sponsors, media—loves more than reliving previous glories.
For many of Ice Cube's new employees, the BIG3 offers a chance to temporarily sip from the Fountain of Youth. They can put on official looking uniforms and field questions from the press—like they are on this day at The Sunset Terrace at Chelsea Piers—and play ball in front of a packed arena, in this case Brooklyn's Barclays Center.
Mike Bibby's situation is a bit different, though. Bibby, now 39 and five years removed from his last NBA game, is a guard for the George Gervin-coached Ghost Ballers and might be trying to tap into a bit of nostalgia by being a part of the BIG3. But since stepping away from the NBA, the No. 2 pick in the '98 draft has stayed in shape, unlike so many of his peers. He doesn't go on the radio and talk about how soft the game is, or how his team could have destroyed the Warriors, or how players are now launching too many threes. There are no Charles Barkley-esque get off my lawn takes.
Instead, Bibby's dedicated his life to helping bolster the future of the game. For the past four years, Bibby's served as the head basketball coach for the boy's varsity basketball team at Phoenix's Shadow Mountain High School, his alma mater.
"I take it seriously," Bibby says during the rare quiet moment at Media Day. He's dressed in a grey uniform with his number, 10, which the University of Arizona retired in 2004 as homage to Bibby's spectacular two years at the school and as a thanks for the national title he helped deliver, stitched to the front, and a pair of Jordan IXs. "A lot of people do stuff to try to get stuff out of kids. What I want from these kids is for them to get better and when they get to the next level, they're not behind the eight-ball."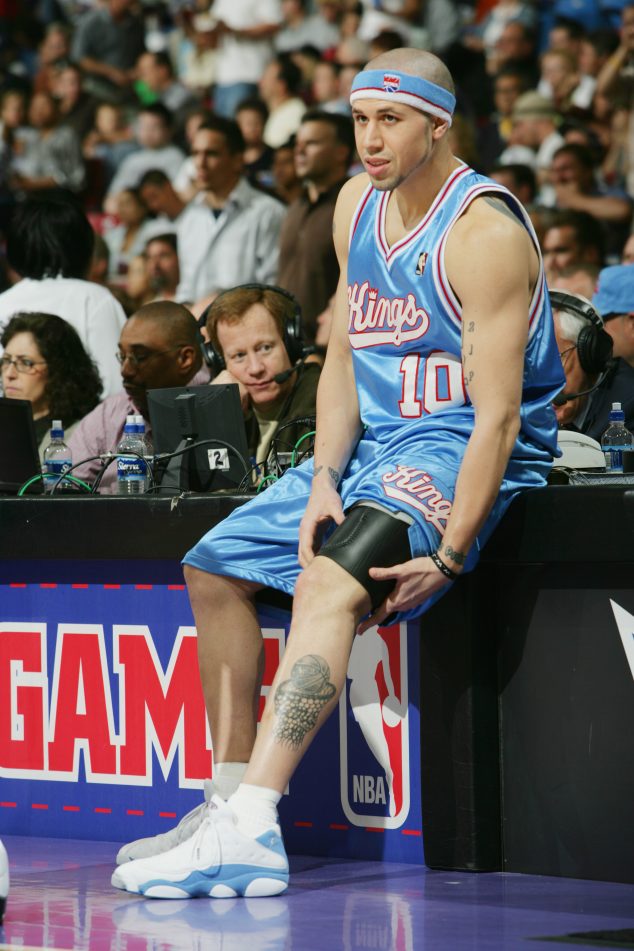 Bibby's coaching career began about 10 years ago, back when his son, Michael Bibby Jr, was 8 years old. This was before Bibby stepped away from the NBA, and at the time he was coaching a group of green and inexperienced kids. Yet he immediately caught the bug. Something about being able to impart all that knowledge he had amassed over his 14 years in the League sparked a fire inside of him. It gave him a purpose.
He could talk about how as a starring member of the turn-of-the-century Sacramento Kings he remained calm in the heat of his many battles against the Kobe-Shaq-Phil Lakers, and how he was able to be one of the few players to make that trio sweat. He could share the lessons he learned by playing for six different NBA franchises and under coaches like Rich Adelman and for team presidents like Pat Riley. Coaching gave him a vessel to pass all the wisdom that others had been so kind to pass onto him.
Bibby watched his son, who suited up for the University of South Florida in the fall but is now looking to transfer, play one year of high school ball before Mike Sr took on the Shadow Mountain job. He figured what better way to remain close to his kid, and to ensure Jr was receiving the best possible basketball education. Turns out he was pretty good at the coaching thing, too. Shadow Mountain has captured three state titles in Bibby's four years at the helm (and even won 33 straight games last season before finally falling at the annual DICK'S High School Nationals Tournament). He even remained on the job last year, after his son's graduation. A few of his players have earned college scholarships, too.
It's when he hears back from those former students that he feels most fulfilled.
"Some tell me, 'Hey, Mike, we do the same things here we did in high school,'" Bibby says. "That's what I want—that when they get to that level they're not behind."
Still, with his son now two years removed from high school, Bibby is unsure where his path will lead him next. In May, he received his Bachelor's degree from UNLV, where he'd been taking online classes. The degree was Bibby's chance to fulfill an old promise he'd made to his mother, but will also open up all sorts of new coaching opportunities for him, both at the collegiate and NBA ranks. He's already dipped his toes in the latter (he's spent past training camps with the Kings and Spurs) and thanks to his young age and impressive credentials could soon find himself back at that level on a more permanent basis.
Also, it seems pretty clear he's tired of dealing with high school-level refs.
"That's the hardest part—[refs] treat me differently than other coaches get treated," he says. "When I coach, my voice travels. I'm a loud talker. I talk to my kids the same way, but my talking is loud to where you might think that I'm yelling, but I'm not."
Bibby says this has led to some of the officials labeling him a hothead coach.
"But I'm not," he adds. "It's just that you're in a gym with thousands of people—you've got to scream or talk for people to hear you. I don't know if they take that the wrong way or whatever, but I get treated differently than other coaches."
Yet despite all that, one thing is for sure: No matter where Bibby ends up coaching next year, it won't be because he's ready to leave the next generation of ballers behind.
"My main thing is, I teach kids. I love to teach kids," he says. "I teach them all the stuff that I learned throughout my time. I think I'm a pretty smart player, so I'm just trying to give them all that I've learned.
—
Yaron Weitzman is a Senior Writer for SLAM. Follow him on Twitter @YaronWeitzman.
Additional reporting by Max Resetar
Photos via Getty Images