It had been years since Monta Ellis had last enjoyed playing the game of basketball. He says "more than five." There had been losing, so much losing, more than he ever had to deal with before. It started in Golden State and continued in Milwaukee and seemed like it would never end.
He made the leap to the NBA straight out of high school, where he led Jackson (MS) Lanier HS to four state finals appearances and two state titles. He'd beaten all the odds, growing up without a dad, making it out of the violent streets of Jackson, where gangs ruled the corners and bullets flew down the streets. Once, one almost hit a young Monta. He was just 8 at the time, playing flag football next to a local school supplies store that had just been robbed. The owner decided to chase the thief. Three shots were fired. Ellis could feel one of them passing as it sped by.
It didn't take long for Ellis to realize that hard work would be his ticket out. He was always a natural athlete, but the desire, the will to keep himself in the gym for hours after practice, is what separated him from the rest. When Ellis finally got a car, one of Lanier's assistant coaches, Jonas James, rejoiced. Too many nights of his had been spent in the school's gym, where he would wait, sometimes until 2 a.m., for Monta to finish working out. James was worried about letting a young Ellis walk home through Jackson's streets by himself. A car, though, solved that problem. Soon after, Ellis was given a key to the gym.
It was this work ethic and blazing speed that allowed this 6-3, scrawny-as-a-scarecrow kid to catch the eyes of the Golden State Warriors. They selected Ellis in the 2005 NBA Draft, but after 39 other players had heard their names. No matter—three years later he was putting pen to paper on a $67 million deal, so yeah, Monta Ellis was not used to coming up short, to losing, to defeat. He succeeded in everything he tried, from bowling to games like dominoes and spades to high school tennis (he never lost a match). And so, as the losses began to pile up, Ellis found himself struggling inside. He didn't know how to cope with constant defeat. He couldn't figure out how to adjust. Eventually, all the desire that had been used as fuel had been extracted, like water from a sponge.
"I just didn't love basketball anymore," the nine-year vet says. "I wasn't happy and I didn't feel like the teams I was with wanted to win. To me, winning is all that matters and we weren't even close."
A reputation began to form, that Ellis was a chucker, a selfish player more interested in chasing numbers than wins. "I was getting criticized for everything," he says, "which wasn't fair." If only the rest of the basketball world knew—how much the losing hurt him, how hard he worked, how he was willing to do anything to turn his team's fortunes around.
"The numbers showed that we had a better chance of winning when he shot more," says a former member of the Warriors coaching staff. "Monta listened, because that's the kind of guy he is, but it made him uncomfortable. He wanted to share the ball."
Ellis never complained publically, though. Instead he put his head down and worked, like his grandfather, a blue-collar mechanic who helped raise him, taught him. In the offseasons, a rotation of different coaches and trainers would fly, courtesy of Ellis, to his Memphis and Flora, MS, homes. A chiropractor would come, too.
"That's not usual at all," says Hornets' assistant coach Stephen Silas, a former Golden State assistant and long-time friend of Ellis who would often make that off-season trip down south. "That's just Monta."
The guests would always stay in Ellis' house; the group would spend all day together, helping Ellis get better and stronger and talking about basketball and life. Fatherhood was often a topic of conversation. With Ellis it usually is. His father was absent for most of his life. Ellis, now a father of two, has devoted his to not being the same.
Still, Ellis felt like something was missing. "There was a point where I didn't even want to play basketball anymore," he says. When, exactly, that was, he won't say. "My last three years in Golden State and then the two in Milwaukee," is all he'll give up.
"The first time I ever walked into the [Mavericks] locker room, I could feel myself starting to enjoy the game again. That's when I knew it was going to be different for me. There was just a different vibe that I got when I walked in there, just letting me know that everything was going to change, that it was going to be different here. That's when I realized what was wrong before."
***
It would have been so easy for him to just pack up and go home. "He's a real homebody," says Rico Hines, a former Warriors assistant and friend of Ellis'.
He could spend his days at his homes in Memphis and Mississippi, with his kids, doing the chores that he does anyway, like mowing the lawn. He could spend more time with the smoker and turkey fryer that he has in his backyard (nutrition has never been Ellis' strong point; his pre-game meal in high school was a McDonald's quarter-pounder with cheese, large fries and an orange soda) and watching movies on his big-screen TV. He could keep himself sane by making the trip to Ray Poole's cabin in Batesville, like he so often does. Poole is the father of a high school teammate of Ellis' and his cabin sits on a 12-acre lake full of crappies and other fish that Ellis loves to catch. For Ellis, that water brings peace. Even in the winter he'll take a red-eye to Mississippi, after a game before an off-day, just to take in the tranquility of that lake.
"I was going to walk away with my head up high and live my life," Ellis says. "Nobody would ever have to see me again unless I showed my face."
Except on this day, Ellis' very first in the Dallas Mavericks locker room, something was different. In Ellis, the Mavericks saw what they believed to be a hidden gem, one that could fit perfectly into the structure of their team. A relatively cheap one, too; Ellis was signed to a three-year, $25 million deal. Now he was being given the tour.
As Ellis strolled through the Mavericks  facility, the weight room caught his eye. That Dirk Nowitzki, then a 15-year veteran, was in there using the machines—in the  offseason—stood out even more. Then there were the conversations with his new coach, Rick Carlisle, and his new boss, Mark Cuban, who relayed to Ellis what they expected of him. Be a playmaker, he was told, and improve your three-point shot (which he did). Lead by example, they said, and work hard. That last part was not a request.
"They told me that this is how it's going to be over here and we ain't taking nothing less than that," Ellis says. "Man, I was like a kid again.
"When you're not enjoying the game, it's hard to play up to your ability, so all that stuff, it put me in a dark place on the basketball court and when that happens, you have to be careful about that catching you off the court," Ellis adds. "I try not to bring my job home to my family—and they were the only thing that kept me sane at the time, that kept me wanting to strive. I realized I had to change my ways and approach for my son who really looks up to me and wants to follow in my footsteps."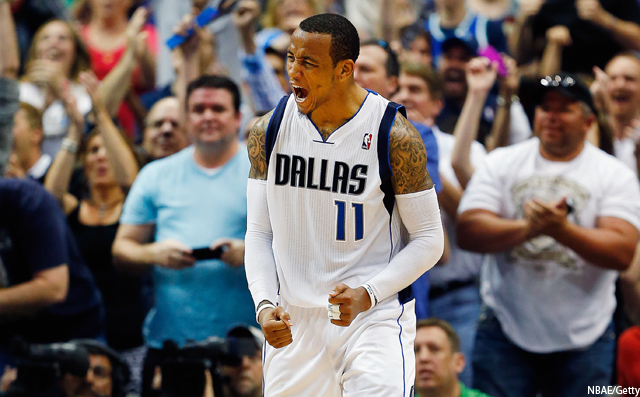 And the Mavericks believe he has.
"One specific area that has allowed Monta to continue in his development," says Don Kalkstein, the Mavericks Director of Psychology, "is his willingness to self identify areas of limitation and confer with staff to attack those areas."
What actually changed, though? A cursory glance at the numbers says not that much. For his career, Ellis has per game averages of 19.4 points, 4.9 assists and 2.9 turnovers. Last year he averaged 19, 5.7 and 3.2. His career field-goal percentage is 46 percent, on an average of about 16 shots a game. Last year Ellis shot 45 percent and took 15.6 shots per game. Even his free-throw attempts (5.2) were right in line with his career numbers.
What Ellis did do was attack, often and effectively. According to NBA.com he was fifth in the NBA in drives per game and sixth in team points per game on drives. In Carlisle's pick-and-roll heavy scheme, the lightning quick Ellis was able to thrive. He also cut down on some of his catch-and-shoot attempts. But on the surface, it appears as if Ellis' game remained the same.
Some answers, though, can't be found in the numbers, and a big increase in them wasn't what the Mavericks were banking on when they signed Ellis, either.
"Monta has two identifiable skills that continue to allow him to excel and progress at the NBA level," Kalkstein says. "The ability to go from a broad focus to a narrow focus when the game demands this skill, and the skill set to keep focus on the process rather than result in times of immense pressure."
And really, that's all Ellis ever wanted—to be put in pressure situations. He's been given that chance in Dallas. Now, for the first time in years, Monta Ellis is happy. His numbers might not have changed, but he certainly has.
"All I wanted was one more chance, to go out as a winner and show my son that his dad is not what people say he is, and Dallas gave it to me."
Originally published in SLAM 182