Leading up to the 1987 NBA Draft, Muggsy Bogues was hearing he would be picked at some point late in the first round or early in the second round. Even though he was the ACC's all-time leader in steals and assists after his four seasons at Wake Forest, the NBA didn't believe in Bogues.
Then they saw him up close. He showed out at the Portsmouth Invitational and received an invitation to the Chicago Draft Combine. After Chicago, things started to change. All of a sudden, teams were talking about taking the 5-3 Baltimore native in the middle of the first round.
Watching him play was intoxicating. It was impossible to not be be fan of his. He flew around the court on defense, locking up his man and also playing free safety, somehow without compromising his team's defense. He was a predator. The passing lanes belonged to him. If you tried to dribble while he was near you, the ball was going the other way. He played every possession with the same level of desire.
While it was a surprise that the Washington Bullets took him with the 12th pick, it made sense. Bogues could hoop and he was about to put the League on notice.
"I had that same aspiration as any other kid, but not knowing that the backlash you would get from it," Bogues says. "Not knowing you would get so many negative people. People just saying what you shouldn't do, what you can't do. It started to really get under my skin and it really started to become something personal that I wanted to prove people wrong. I just kept that mindset. I kept believing. If you play against the best, if you have success against the best, now you need to be included with the best. For those folks that didn't believe, it's not me saying, 'I told you so.' I just say, 'Thank you for the inspiration.' "
He used the hate to fuel a 14-year NBA career that will one day, most likely soon, land him a spot in Springfield. In December, Bogues was announced as a candidate for the 2017 Hall of Fame class.
He holds career averages of 7 points, 7 assists and 1.5 steals a game. But he did much more for the game than his numbers would suggest.
"He would dominate NBA games," Seth Curry recently said on Adrian Wojnarowski's The Vertical podcast. "Me and Steph talk about that all the time. Like, Yo, I don't understand why people don't take him to the block every single time. You couldn't even dribble the ball up against him when he's picking you up full court. He taught us so many little veteran nuances growing up. Do this when a guy's posting you up. Different ways to steal the ball that he would do. He made it sound simple, but it wasn't simple. He's one of my favorite players ever."
Even after all the backyard battles and family dinners that he and his children shared with the Currys back in Charlotte, Bogues says he had no clue the Curry boys would make the League.
"I knew they were going to be successful in life, but had no idea Steph and also Seth would be at the level where they are in the NBA," Bogues says. "But they were always in the locker room with us, they were always on the court shooting after we'd go in the locker room, they'd go out on the big stage. Watching and seeing what I'm witnessing today, it's just remarkable. They really get their grit from their momma, Sonya.
"Stephen has really put himself on the stage as one of the faces of the NBA," Bogues continues. "Skinny, little kid that come from the Charlotte area that no one thought, just like myself, too small, too skinny, didn't believe that he could play. But he went on and showed them that he had more than just a jumpshot. Me and his dad, we talk about that all the time. And also Seth. Seth is just as talented as his brother. He's getting the opportunity now to showcase it in Dallas. I'm happy and excited and proud like a big uncle, sitting back watching."
Bogues says he's been able to sit back and think about his own career recently. "Now that I'm at this stage in my life, where you kind of sit back and be reflective, because when you're in it you can't see it. But, you know, I'm a little amazed about the things I've been able to do. Playing this game at the heights that I was able to play it at and still gain that respect amongst my peers."
Not only the respect of his peers, but of an entire generation of players like the Curry boys who used Muggsy as inspiration. He says he started to notice people thanking him for what he was doing when he made the NBA. They can't believe that he's just "an ordinary guy," playing ball for a living.
Bogues is anything but boastful, though. He speaks with a surprising amount of humility. He's thoughtful and takes his time in answering, measuring his words. He gives others credit before he gives it to himself. Once a floor general, always a floor general.
The contagious spirit for the game that he brought when he was playing has translated to his current job. Bogues now serves as an ambassador for the NBA. He travels all over the world to spread the game.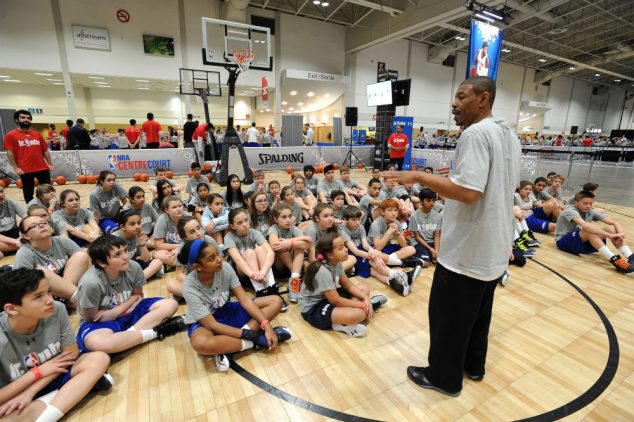 "It's been such a blessing for me," he says. "I think that's my calling, what the man upstairs has in-store for me. Allowing me to continue to spread this message and give folks hope. That's what it's about. You don't realize how many folks are afraid to do what they believe in their heart. Just giving that little helping hand makes a difference. I'm happy to be able to do that."
His travels wouldn't stop him from re-upping with whoever the Monstars are going to attack in Space Jam 2. He didn't hesitate to say he would absolutely be part of the sequel if he was approached.
"We had a ball on Space Jam," he says. "I'm still curious to see how they're going to come about the plot. Space Jam was off the chain."
—
Max Resetar is an Assistant Editor at SLAM. Follow him on Twitter @maxresetar. Photos courtesy of Getty Images.