Slumped comfortably on a sofa in the living room of the 30th floor penthouse suite at The New York EDITION Hotel in midtown Manhattan, Myles Turner grins while staring at the ceiling. He's reminiscing on a journey that, in two years, has taken him from only starting seven games his entire college career to full-time NBA starter.
"Tell me about it," says the 6-11 big man. He smiles at the juxtaposition of starting in less than 20 percent of his games at the University of Texas, to now serving as the starting center for the Indiana Pacers.
It's mid-March and Turner is about 10 days from turning 21 years old. In town for a game against the New York Knicks, he's 24 hours away from dropping his 11th double-double of the season, this one at Madison Square Garden.
In only his second year in the League, Turner has emerged as a building block for the Pacers. The former Longhorn leads Indiana in rebounds (7.2 per game) and blocks per game (2.1) and he's scoring 14.4 points a night.
Beyond the numbers, though, is a fascinating story of a kid who wasn't even a nationally ranked prospect for most of his high school career. And as cheesy as it may sound, it's the perfect story of someone who stayed ready for when that opportunity came knocking.
Turner averages more blocks than any other player in the 2015 NBA Draft class (he was picked at No. 11) and only two from that group average more boards.
Suffice it to say, he has quietly become one of the top young hoopers in the League. While a lot of people have been surprised to see this kind of production coming so quickly, Turner swears he isn't. And based on how he describes his first conversation with team president Larry Bird after being drafted by Indiana, neither should anyone in the organization.
"He said he wasn't going to baby me," Turner recalls. "He said, 'We need you to play now and that's why we drafted you.' That's why I knew right away that I would get a chance to play. I knew I wasn't going to be a project. I knew I would be a focal point."
For Indiana to have that kind of confidence in Turner, considering his ups and downs before reaching the League, was bold.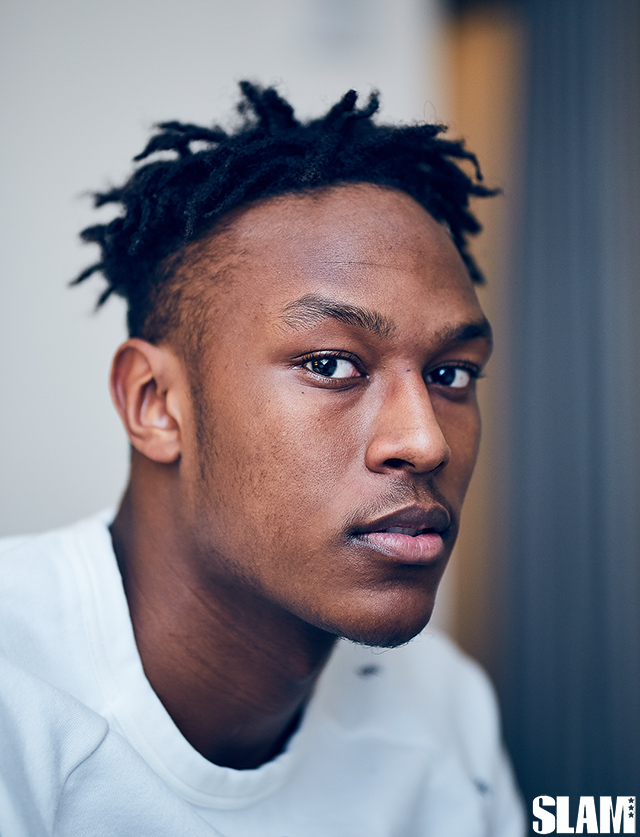 See, after his junior season of high school basketball, the Bedford, TX, native found himself heading into his last summer of AAU ball under-recruited and with his name nowhere to be found on national prep rankings. The summer season before that one, he had broken his ankle, which ultimately led to a six-month rehab. So when the AAU campaign arrived in 2013, Turner was itching to get one last stab at it. A tournament in Houston that spring ended up becoming what he refers to as one of the turning points in his career.
"I just remember that something took over me that whole weekend," says Turner of the Spring Ice Breaker tourney in Houston in March 2013. "I was so chill off the floor. But when I got on the floor, I flipped a switch. That never really had happened to me before. Up to that point, I always had done basketball for fun. But I was really into it that weekend. I absolutely dominated the competition that weekend."
He would bring that same intensity to just about every other tournament he played in for the next four months, with word quickly getting out to college coaches of an emerging star out of suburban Dallas. By the time summer ended, Turner had worked his way into the top-10 national prospect conversation, piling up offers from the likes of Duke, Kentucky and just about every other major program along the way.
He carried that momentum into his senior year of high school and finished the season ranked No. 2 in the country—behind only current Sixers big man Jahlil Okafor—on ESPN's list.
When it came time to choose a school, Turner went with nearby Texas, whose list of ex-players includes his favorite player growing up, Kevin Durant. But his time in Austin didn't go quite as smoothly as the previous 12 months had. A limited role, to go with a bumpy 20-14 season that ended with an early exit in the NCAA Tournament—and the subsequent firing of coach Rick Barnes—brought the 2014 McDonald's All-American back to earth.
"In high school, rising as the No. 2 recruit, you can go anywhere you want and you think you're the man. And then when you get to college, it's a reality check," says Turner, who despite the turbulent season was named Big 12 Freshman of the Year. "There were guys that have been there for a while—a lot stronger, faster and bigger than you are. It was definitely a reality check when I got there."
Still, the Pacers saw enough in Turner to make him a lottery pick. The boost of confidence from Bird was reassuring.
Until reality hit again.
Just two weeks into his rookie season, Turner broke his left thumb and was sidelined for 21 games—more frustration. This one, though, turned out to be a blessing in disguise, he says.
"It was obviously very frustrating," Turner says. "It felt like high school all over again, when I broke my ankle and was out for like six months. But that was probably one of the best things that could happen to me. I was able to sit back and learn the game from a first-person perspective—being on the bench and learning the plays. So when I got back on the floor, it was like second nature to me. I didn't really have that indecisiveness. I knew what to do."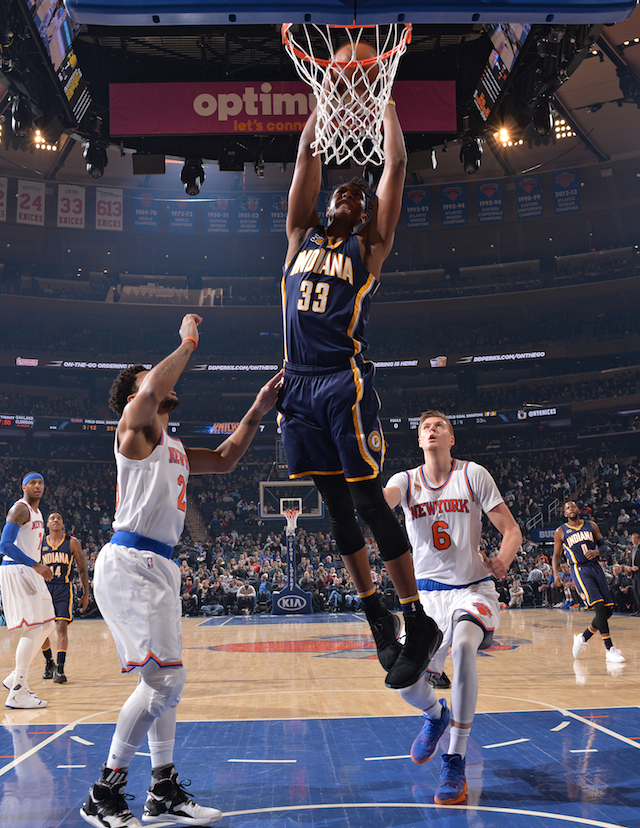 He returned to action at the end of December and quickly made contributions off the bench. It was during a four-game West Coast trip three weeks later that Turner's professional career finally took off. He dropped 25 points to go with 7 rebounds in Denver, and then put up 31 and 8 at Golden State a couple of games later—both coming off the bench.
"Right before we went on that trip, the [staff] had said, 'Hey Myles, we're going to send you to the D-League because we need you to get some live reps but just at a different pace,'" Turner remembers. "But that West Coast trip was my coming out party. I was ready. If I ended up in the D-League, I was going to kill. I knew I was going to go out there and defend and block shots and just let the offense come to me. But just from the jump, I was ready to go. I spent that time [injured] evaluating and watching film. I learned so much. My mindset was it was time to go."
Turner never logged a single game in the D-League. In fact, his role increased with the Pacers. Less than a week after the big game against the Warriors, Turner was inserted into the starting lineup. Indiana was going through a slump, and a couple of veteran bigs were banged up. Ian Mahinmi, now with the Wizards, was battling a sore lower back, while Jordan Hill, now with the Wolves, was dealing with a dislocated finger. Just as he had seized the opportunity that AAU season before his senior year of high school, Turner suddenly found himself in a similar situation in the pros. He ended up starting in 29 of the team's final 36 games to close out the regular season.
"I could have came out there and laid an egg and then who knows what would have happened," says Turner of that West Coast trip. "But I guess looking back at it, I've always been ready for that shining moment. I live for that moment. I live to be that guy who takes the last shot with the game on the line. I was going to make people respect me."
Turner finished his first NBA season averaging 10.3 points and 5.5 rebounds per game and was named to the All-Rookie Second Team. Heading into the 2016-17 campaign, Turner was awarded the Pacers' full-time starting center position, and he wasted no time in proving it was the right move, dropping 30 points and 16 rebounds on opening night, an overtime win over his hometown Mavericks.
And he hasn't looked back since. With averages of over 14 points and 7 rebounds a night coming into the New York trip, Turner has rapidly become one of the Pacers' most important pieces. Around the trade deadline, rumors even swirled that Bird might be willing to part ways with Paul George and rebuild around another No. 33. It was nothing more than scant speculation, of course, but if nothing else, the reaction to those rumors proved that building an NBA team around the young Turner is nothing to scoff at.
"I think it's my defensive abilities," says Turner of why his stock has skyrocketed. "The ability to be a defensive anchor down there. The coaches have trusted me to anchor the defense. They do give me a thread offensively as well, but it was my defensive ability that solidified it for me."
CBS Sports gave the Pacers a draft grade of "D" for selecting Turner just outside the top-10 in 2015. The implication was that Turner wasn't ready to step in for Roy Hibbert, and that his upside was, at best, Hibbert 2.0. Little did they know, Bird picked Turner with the intentions of playing him right away—and Turner was ready.
"I did expect this," Turner says with confidence. "The Pacers could have easily questioned my motor in college. Said, 'Why weren't you starting? Maybe it was something you were doing.' I could have easily lost my sanity and kind of fallen into that trap. But my mentality has never changed. I know the player I am and the player I want to strive to be. It was a blessing to get an opportunity early and I wasn't going to ever let this opportunity slip."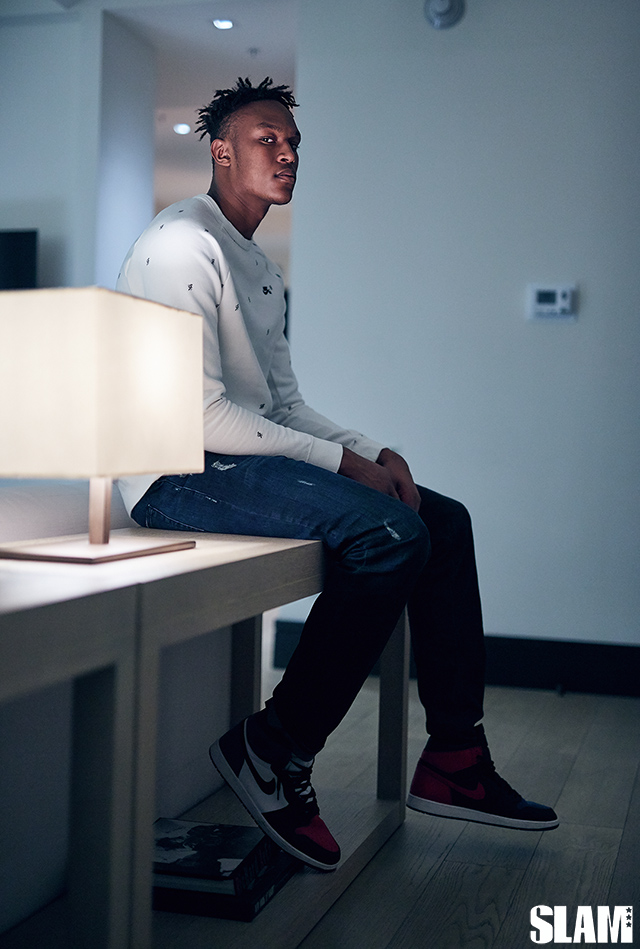 Franklyn Calle is an Assistant Editor at SLAM. Follow him on Twitter @FrankieC7.
Portraits by Tom Medvedich, Action shots via Getty Images