Gatorade's all set to launch #TheDebut this Friday, a live-streaming series that will see eight high school basketball games on Twitter throughout January and February.
Nate Robinson, Baron Davis and Rachel Demita have been tapped to host the live-streams together. Demita, who's been the host of NBA 2K TV since 2014, will be on the mic for each week and she'll be joined by either Robinson or Davis, who will take turns hosting each week.
We caught up with Robinson, the three-time NBA Dunk Contest champ, to talk about #TheDebut, the new sneakers that he's been feeling, Isaiah Thomas in Cleveland, keeping his NBA dream alive and the announcement that he'll be playing in the BIG3.
SLAM: What will your role be with #TheDebut?
Nate Robinson: Interaction with the fans, commentating with the games. Pretty similar to what you see with what Reggie Miller does. Basically calling the game, getting kid's input on the coverage of the game. How do they feel about certain things, interacting on Twitter.
SLAM: So you're going to be all business on the air, like Reggie or Kenny Smith?
NR: I'm going to add my own creativity for sure. But for me, it's always going to be high energy. When something cool happens, if someone gets posterized, you know I gotta step out of my seat and give the crowd what they want. So you know, just getting that energy and giving the crowd what they want, to give it back to them, I think that everyone's going to have a good time. On top of top, interacting with the fans. Anything to get the fans going and rocking.
SLAM: What does this kind of opportunity do for the kids that are going to be playing?
NR: I'm just jealous that I didn't get the opportunity to be able to have my high school games broadcast like this. I would've gave people a great, great show. But for them, they get exposure. They get their name out there. People know who you are. Back in the day, when we were in high school, nobody knew. You had to be there. Here, they get the opportuneity to broadcast their stuff all over the world. Everybody can see it.
SLAM: You've seen a lot of great NBA players when they were in high school. Growing up out there in the Northwest, you got to see Jamal Crawford, Isaiah Thomas, Dejounte Murray, Michael Porter Jr, Brandon Roy and of course yourself. Who do you think had the nastiest high school career out of those guys?
NR: That's tough because I was there when Jamal scored 43 in the state championships. I was watching Isaiah Thomas kill Franklin. He had 50-something in the tournament. But two players that I've seen and that I've played with were Lodrick and Rodrick Stewart. They played at USC. People won't know who they are. But they were top ranked guys, next to LeBron James in high school. They were the best in the West coast. And nobody ever heard of them. We didn't have a platform like what you guys are getting right here.
SLAM: Are they playing overseas now?
NR: One just had a new son, Lodrick. And Rodrick, he's in the community here in Washington, helping the youth. Him and his other brother are coaches. They're in the community doing great things. It would've just been good for people to actually know who they are. From what I seen with my eyes, them being in high school, the things that they were doing. Jumping over people, between the legs, reverse, behind-the-back. And I got to see that. And it was pretty cool that I got to play with two of the best players in the country on my team.
SLAM: Will you and Baron get on the court at all, do any light work out there?
NR: I don't know, but whatever it is that we can feed off the fans. We're just going to play it by how the fans are feeding off of us.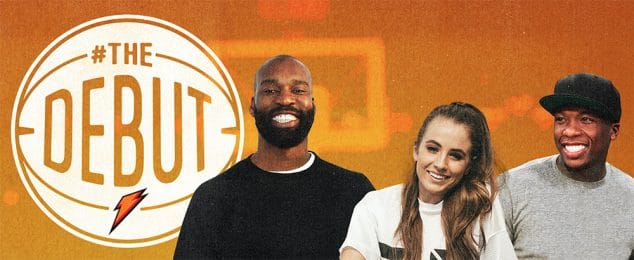 SLAM: It was just announced that you're going to be playing in the BIG3. Have you heard of anyone else that's also signing up to play?
NR: I'm not sure if BD played, but he's playing. He has my guy, Carlos Boozer, playing. I heard Big Baby Davis is playing. He saw me put my name in so he got in. I want the guys to come back and play, guys like Kobe. It'd be cool to see Kobe, Paul Pierce. Old school guys like that. They really can still ball if they want to play three-on-three. That'd be cool.
SLAM: You've got to be pretty excited, right?
NR: I'm very excited. I wouldn't say that I'm upset that I can't show my talents in the NBA, which I want to do. Hopefully again one day because I'm in great shape. But I just want to give the fans what they want to see. I want to give that to myself. I want to give them the gift of playing hard, having fun, making shots, playing defense, blocking shots, dunking. I want to give them what they want to see. I talked to Ice Cube and he's excited. It's going to be fun, man.
SLAM: Where does all that passion you play with come from?
NR: I watched my mom. My mom is a one-foot dynamite. She's a little lady, but she packs a mean punch. But her energy, as a kid, watching her raise three children on her own. Or work three, four jobs, not complain about nothing. Just go. Being a parent now I have so much more respect for her. So I play with that same fire. I've learned from the best person in the world to learn from, from a little lady. She's the people's champ here. Everybody loves my mom.
SLAM: Have you been talking to Isaiah Thomas throughout the season?
NR: Not really. Zeke, once he's focused and he's into his craft, he's locked in. That Mamba Mentality. He has that. The Force is strong with him.
SLAM: You're a real big sneakerhead. Are there any new joints that have caught your eye?
NR: Yeah, man, the new Russell Westbrooks. He had some blue ones on that were unbelievable. Those new Westbrooks, those are one of my favorites. Those and the Kyrie Irvings. The new 4s. Me and my son waited in line to go buy those, just because. Uncle Drew, what he's doing, I just love him. I love his game. I love his sneakers. He's making them affordable for kids to actually go and get a couple of pairs.
SLAM: He didn't hook you up with the plug? You're in the Uncle Drew movie.
NR: Nah, he had a pair for everybody. These are the ones that I wanted, had to go buy them with my kid.
—
See below for #TheDebut's full schedule, tipping off this Friday:
Jan. 19 – Spartanburg vs. Shannon Forest Christian (SC)
Jan. 20 – Vermont vs. Tilton (VT)
Jan. 23 – Apple Valley vs. Lakeville South (MN)
Jan. 25 – Simeon vs. Curie (IL)
Jan. 27 – Montverde Academy vs. TBD
Feb. 2 – IMG Academy v Florida Prep (FL)
Feb. 8 – Windward v Crossroads (CA)
Feb. 23 – Findlay Prep vs AZ Compass (NV)