Frank Vogel takes partial responsibility for the current superteam in Cleveland. To hear him tell it, it all dates back to the 2014 All-Star Game, when Vogel—currently the Orlando Magic head coach, then coach of the Indiana Pacers—was on the sidelines for the Eastern Conference.
"I feel partly responsible for aligning Kyrie and LeBron," Vogel said after a recent Magic shootaround, a big smile on his face. "[James] was a Miami Heat member back then, and I take pride in being the first one to put them in the 1-3 pick-and-roll. It helped us come back and win—we were down in the fourth quarter, and that helped us come from behind." Vogel's East All-Stars won, 163-155.
Vogel is joking, of course, and even fatalistic about the whole thing: "That was some good action with some very talented guys. It worked against me. All it did was just get him in my division."
But while Vogel and many other players and coaches point out at every turn that the game itself is little more than a gathering of greatness, with celebration the goal rather than victory, it leaves coaches of the game in an odd position: Just what are they to do with themselves?
Steve Kerr, coach of the 2015 West All-Stars, had his staff assemble a set of video clips that included each of his dozen stars that year.
"We tried to do some creative stuff, connect with the players," Kerr said prior to a game in Brooklyn earlier this season. "It was entertaining. But it's not about the game, it's about the accomplishment. And I think it's about reminding the guys of what a big accomplishment that is."
And that dovetails with the way the players view it. One of Kerr's current mainstays, Kevin Durant, experienced him as an All-Star coach more than a year before Durant made the choice to join him in Golden State.
"I've been around, from Coach Pop to Phil Jackson to Steve Kerr," Durant said in Brooklyn in December. "They're just all insightful and recognize how important these moments are for the players. I don't want to say they 'coach,' but to see them and how they operate, how much we all enjoy it together as a group, that flies under the radar, how important it is to some players, to be recognized as one of the 24 best players in the League."
Note that caveat from Durant: "I don't want to say they coach." That's trickier than it sounds. After all, the men chosen to coach the NBA All-Stars spend every waking moment, and much of their dreams, scheming, creating and determining ways to make their teams better.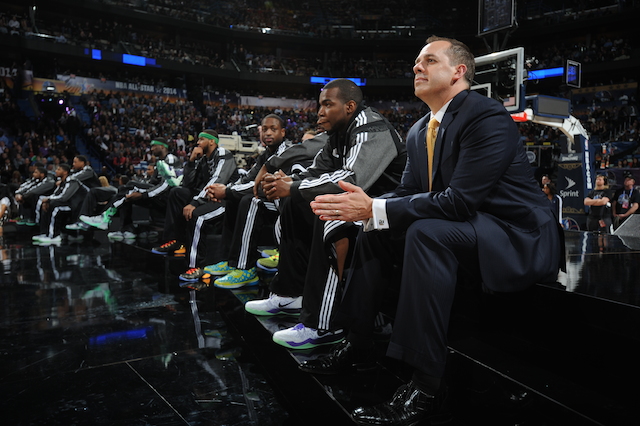 Suddenly, presented with the best rosters they'll ever have, they are expected to do…nothing?
In Tyronn Lue's case, the experience came with more than the usual amount of baggage. Lue was gifted the East coaching gig in '16 thanks to a first-place record the Cavaliers compiled largely under David Blatt, who was fired on January 22. Lue wasn't even sure he'd accept the honor at first, but ultimately said he found peace with it, mostly because he knew how much he'd enjoy the chance to be around so many great players.
"It's great to see their personalities and how they all get along," Lue said of his East team. "So just great to be part of that, the best players in the NBA. But it was kind of a mixed honor, between me and Coach Blatt."
But did he learn anything from what was, after all, his 12th game as a head coach?
"In the All-Star Game? Nothing," Lue insisted.
Kerr agreed, even with a Warriors team that is the closest the NBA has ever seen to a literal All-Star team.
"It's really fun to be in the company of the best players in the world, seeing them all in front of you," Kerr said. "There's zero coaching involved, at least I didn't draw up a play. It's not about what offense or defense you're going to run—it's about a bunch of guys having fun, displaying their skills in front of the world. But it didn't affect my coaching, or anything about how I approach my team."
For Vogel, it wasn't quite so hands-off. He kept it light, but he did design some out-of-timeout plays. He'd sketched out the rotation minutes ahead of time, making certain that every player received comparable minutes for the honor, and all 12 of his All-Stars saw double-digit minutes of playing time. The well-known defensive taskmaster even delivered a halfhearted pep talk geared toward a slight improvement on that front.
"Yes, we joked about it a lot during timeouts," Vogel said. "I said, I know what the spirit of this game is, but we can try a little harder on defense. We don't have to go nuts, but we can try a little harder."
Still, beyond the careful arrangement of minutes on the court and bringing friends and family to the arena—Vogel made sure his wife and children got to live through this career highlight with him—the All-Star coach's job comes down, effectively, to smelling the roses.
Or as Kerr sarcastically put it when it was pointed out to him that his West All-Stars won, 163-158, with a stellar fourth quarter: "I think it was coaching down the stretch. I remember handing the ball to Chris Paul seven straight times and turning to my assistants and saying, Man, what a phenomenal coaching job that was. Nobody else could've thought of that."
—
Photos via Getty Images
270