This season, NBA players around the league are showing love to their favorite anime series growing up: Dragon Ball Z.
Lakers rookie Lonzo Ball released a track titled "Super Saiyan." Rudy Gobert, De'Aaron Fox, Dennis Smith Jr., Karl-Anthony Towns and Jordan Bell are also avid fans of the show.
The original Dragon Ball anime series, based on the manga created by Akira Toriyama, made its debut in Japan in 1986. It did not make its way to America until 1996, when it took off in front of a new audience. The original series was followed by Dragon Ball Z, Dragon Ball GT and the current series Dragon Ball Super.
The show's main protagonist, Goku, spends the series improving his power level in order to fight against increasingly more powerful villains.
Nets guard Spencer Dinwiddie calls Dragon Ball his favorite show growing up. His favorite character is Vegeta, who is constantly chasing Goku to try to get on the same level as him.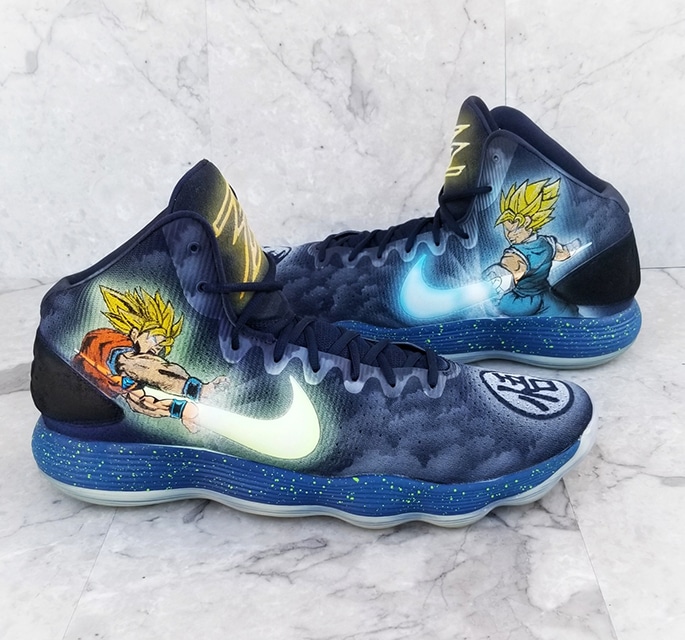 "It's cool to have a character you can identity with," Dinwiddie explained. "Just identifying with a guy like Vegeta who is always right there, but not quite there."
Clippers forward Tobias Harris, on the other hand, prefers Goku. "He was always pushing to take that next step to become a Super Saiyan," Harris said. "There are so many life lessons on the show about unlocking your own potential."
Choosing between Goku and Vegeta is as difficult as, say, deciding between Michael Jordan and LeBron James. "It was definitely Goku growing up," Bulls rookie Lauri Markkanen said. "But once I got older, it was Vegeta. He's the hungrier guy. He thinks he's the best and he's always trying to chase everybody."
As a sixth grader growing up in Finland, Markkanen would watch two episodes of Dragon Ball Z every day after school. At first, the show didn't have too much appeal. Like most anime series, Dragon Ball Z is known to draw out their plot lines with episodes that are considered filler.
"The first few episodes I watched, nothing was happening," Markkanen said. "The early episodes, nobody was even powering up." But soon, Markkanen was hooked.
Beyond the obvious pure entertainment appeal, there's another reason so many NBA players are drawn to the show. They can relate to the triumphs and struggles the characters on Dragon Ball go through, similar to their paths from high school, to college, to carving out a spot in the NBA.
"They explain how you will never be your best self because of your ego and anger," Harris said, breaking down Vegeta's narrative. "As a professional athlete, you can definitely relate to that."
Last year, Gita Jackson of Kotaku wrote an article titled "Why Black Men Love Dragon Ball Z." In the story, Jackson interviewed Malcolm Jones, an engineer who described the commonality of how every main character on the show had an underdog narrative. "I think black men particularly identify themselves with that," Jones said.
Harris agrees. "It's a really deep show," he said, "Some people don't realize it." He's read RZA's book "The Tao of Wu" where Dragon Ball Z is described as the journey of the black man.
Dinwiddie has a more obvious explanation for why it's such a favorite among NBA athletes. "Who doesn't want to watch a bunch of guys flying around while they're fighting," he said.
Dragon Ball Z doesn't just take players back to their childhood. When the series made its return with Dragon Ball Super in 2015, Dinwiddie was thrilled to see his favorite anime making a comeback. "To be able to see something come back to life and people still have the same interest is pretty cool," Dinwiddie said. "I still watch every Sunday, and it's like, wow, after all these years, I still love the show."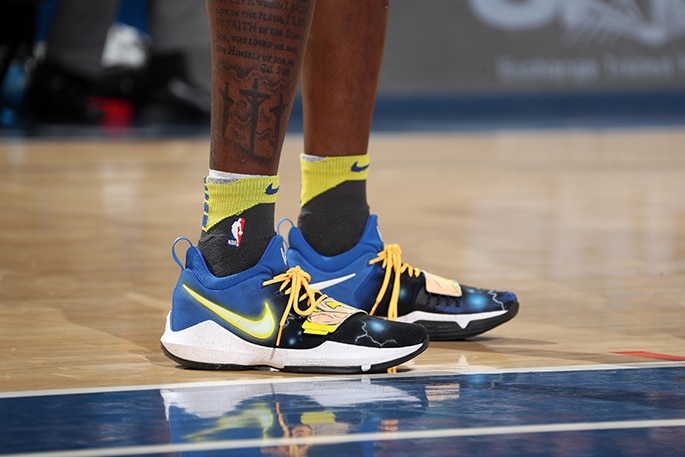 Players have expressed their passion for Dragon Ball Z with a series of customized sneakers, courtesy of shoe customizer Kickstradomis. Recently, at Madison Square Garden, Bell wore a pair of customized PG1 "Vegeta" that drew as much attention as any shoe that evening, which is saying something considering Nick Young wore the Yeezy 500 "Desert Rat" in the same game.
Markkanen debuted his "Goku" Hyperdunks in early March. "It's awesome," Markkanen said. "It was my favorite show growing up, and to actually wear something with my team colors too, it's awesome to have something different."
Luka Doncic, the potential first overall pick in the upcoming draft, recently received a pair of "Majin Buu" Hyperdunks from Kickstradomis. As the next generation makes their way to the NBA, conversations about Dragon Ball Z in locker rooms will only intensify.
For Harris, that's just the way it should be. "The show is fire," he said. "And a lot of older people watch it. It's definitely not just a show for kids."
–
Alex Wong is a SLAM contributor and freelance writer. Follow him on Twitter @steven_lebron.
Photos by Getty Images and Kickstradomis.