When you call the Debbie Allen Dance Academy (DADA), a renowned non-profit dance organization in Los Angeles, a male voice is likely to answer. Though he's neither a trained receptionist nor a professional dancer, the man will handle your call with care. If you want to know about DADA, he can fill you in on some of the finer details. If you want to know about a specific class, he can point you in the right direction.
And if you want to talk a little basketball, well, the man on the phone can do that, too. After all, long before he helped his wife, actress/dancer/producer  Debbie Allen, found DADA in 2001, Norm Nixon was a pretty good NBA player.
And long before that, he was an all-around athletic star. Born and raised in Macon, GA, Nixon was always on some sort of sports team as a young man. The '50s baby played baseball, basketball and ran track. He really excelled, though, in football. By the time he enrolled at Southwest High, Nixon was a star. As a senior in 1973, he was named All-State in basketball and football. "I had more football offers than basketball [following graduation]," he says.
Despite his love for football, the 6-2 and slight Nixon veered toward basketball after visiting the University of Georgia's football program. "I walked into the locker room and saw how big those guys were," he says, "and decided right then and there that basketball was for me."
While he didn't have the same five-star rep in hoops, Nixon did have a few collegiate options. After considering his choices, the guard chose to head north to attend little-known Duquesne University in Pittsburgh. Not  surprisingly, he started as a freshman. "Being at a small school helped me develop faster," says Nixon. "I had to perform every night in order for us to win."
After several solid years, Nixon really broke out as a rising senior. That summer, he worked as a counselor at a Red Auerbach basketball camp. During the nightly runs against his more famous co-counselors from better-known programs, Nixon more than proved he belonged. After that, in his final season in the Steel City, he averaged 22 points and 4 rebounds per game. Eventually, he was named the Eastern Collegiate Basketball League Player of the Year.
When it came time to graduate and join the NBA, Nixon received keen interest from the L.A. Lakers. The organization dug deep into his background. Positive scouting reports from legendary college coaches Jerry Tarkanian (UNLV) and Ray Meyer (DePaul) put Nixon over the top, and the Lakers selected him with the 22nd pick in the 1977 Draft.
While it was not surprising that Nixon started from the jump in college, it did surprise some that he did the same with the Lakers. As a rookie, while playing north of 34 minutes a night, Nixon averaged 13.7 ppg and 6.8 apg. For his efforts, he was named First-Team All-Rookie.
During the next five seasons, Nixon would become a key cog in L.A.'s Showtime revolution.
"Norm was a great teammate," says current Atlanta Dream head coach Michael Cooper, a long-time Laker whom L.A. drafted a year after Nixon. "He was a tenacious offensive player and the fastest player I have ever played with. A terrific competitor."
Playing alongside Cooper, Magic Johnson (who was drafted first overall after Nixon's second season), Kareem Abdul-Jabbar and Jamaal Wilkes, Nixon got to develop his game while piling up wins. From '77-83, Nixon posted a line of 16.4 ppg, 7.9 apg and 1.8 spg. He was named an All-Star once and won two titles.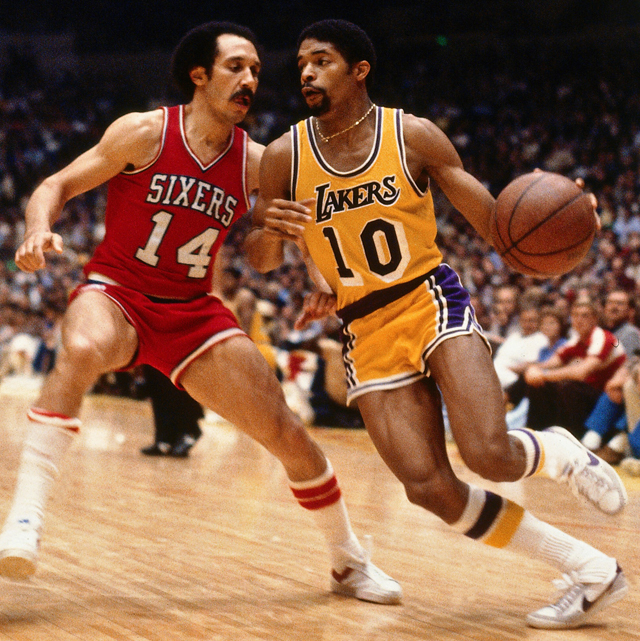 In the summer of '83, after falling just short of winning yet another title under coach Pat Riley, the Lakers looked poised to return to the top of the League. While the Boston Celtics and Philadelphia 76ers were talented, L.A. had the aforementioned veteran talent, plus the promising James Worthy. On October 10, though, the Lakers sent Nixon down the I-5, packaging him to the then-San Diego Clippers for Swen Nater and Byron Scott.
"That trade hurt a lot," says Cooper, who lived less than a mile from Nixon and spent a lot of his free time hanging with the guard. "We had developed something really special—he, Magic and I. We called ourselves the Three Musketeers. Ultimately we all understood the League is a business, but it was hard to accept at first."
It's hard to define the exact reason for the trade. According to one perspective, having two prolific ballhandlers was too much. The Lakers, by this point, wanted Johnson to run every single play. Others, however, say Nixon saw the writing on the wall and asked out. He reportedly requested a trade to an Eastern Conference contender.
"[He] kind of brought that trade on himself," says Jeff Pearlman, author of Showtime: Magic, Kareem, Riley and the Los Angeles Lakers Dynasty of the 1980s. "It's kind of a shame that when people talk about the best players of that era, they don't always bring him up. He was easily one of the top three point guards in the League."
A third perspective is that of Nixon's. He says that the trade was a long time coming, and not because L.A. wanted to get rid of him, but because San Diego really coveted him.
"I knew Donald Sterling because he was a good friend of Jerry Buss (the then-owner)," says Nixon. "He always told me if he ever got to own a team he would trade for me." Sterling had purchased the team three years earlier for $12.5 million.
Nixon would be missed by his friends on the Lakers—"[He] kind of got overshadowed in '82 because of what Magic brought to the team," says Clay Johnson, a reserve on that team, "and that was unfortunate because [Nixon] was probably the best all-around point guard in the League"—but not as much as he would miss them.
In his first season on the Clippers, after becoming accustomed to playing deep into the Playoffs, Nixon played on a team that was lucky to go 30-52.
"I went from the best team in the League to the worst team," says Nixon. "It was disheartening to say the least, but what else was I supposed to do but play my hardest and keep going?" Nixon averaged 17 ppg and 11.1 apg in '84-85.
Though they would move to L.A. that summer, the Clippers didn't get any better. In fact, in '85-86 they finished 31-51 and switched coaches in the middle of the season. While Nixon would never play in another Playoff game, his personal skills were flourishing.
"I think the trade made Norm a better [overall] player," says Jim Chones, who played with Nixon on the Lakers and is now a radio analyst for the Cavaliers. "He was Iverson before Iverson…and one of the three smartest players I've ever played with."
Nixon's on-court growth would come to a halt in the summer of 1986. Ever the athlete, Nixon was playing softball in New York City's Central Park when he suffered a knee injury. The knee would become a semi-constant problem and cause Nixon to miss two full seasons. While he came back in '88, the injuries proved too much to overcome for a player who relied on his speed and quickness. In 1989, at the age of 33, Nixon's NBA career was finished, with per-game averages of 15.7 ppg and 8.3 apg, and at least a minor sense of what might have been.
That's not to say he was done with basketball. Nixon would play one season in Italy. "It was a nice way to transition away from NBA basketball," says Nixon. "I still had a little basketball left in me."
Even after that, Nixon might've kept on going but he decided calling it quits would be the right move for his family. [They] wanted me back for another season but I had proven my point," says Nixon. "My wife had just picked up A Different World (NBC's follow-up to The Cosby Show) and it was better for us to do that than for me to play another year overseas."
After a lifetime of playing sports, from biddy games on the red clay of old-time Macon to the Showtime Era in Los Angeles, Nixon had to figure out new ways to keep occupied.
"There weren't too many African-American coaches in the game," says Nixon, "so I decided to keep my hand in the game and become an agent." He spent time learning at a large management group before forming his own operation. Over time, Nixon worked with a ton of talent, including NBA players Jalen Rose and Samaki Walker, football players Al Wilson and Peter Warwick and entertainers LL Cool J and TLC.
Even when he decided to hang up his suit and tie, Nixon found a way to stay near the game. In fact, like the heady guard he was, Nixon found a way to come home. He joined the Lakers' broadcast team as a color commentator.
Nowadays, 25 years since he suited up in the NBA, Nixon spends a lot of his day at DADA. He is also the executive producer of Brothers of the Knight, a stage collaboration between his wife and singer/songwriter James Ingram. The show recently finished dates in Atlanta, New Orleans, Boston and DC to rave reviews and is actually set to go back on tour later this fall.
The success of DADA and Brothers of the Knight are just the latest proof that Norm Nixon will always be a winner, will always be moving, will always be cooking up something big.
Just call up the Academy and ask the cheerful male voice that answers.
Donnell Suggs is a SLAM contributor. Follow him on Twitter @suggswriter.