Denver is not some sacred hoops mecca.
It is not a city dripping in Larry O'Brien trophies and national TV appearances, nor does its premier basketball team, the Nuggets, play beneath a mountain of championship banners that occupy its storied rafters.
In fact, at the time this feature went to print, the Colorado franchise's all-time NBA title count stood at an even zero.
So what.
Today's Denver Nuggets refuse to let past or present growing pains define its future. It's a belief spearheaded in large part by its supremely young and powerfully dynamic backcourt, Gary Harris and Jamal Murray. What the pair currently has brewing out in the Mile High has both the Nuggets organization, and its fans, primed to ascend to an entirely new altitude.
Still, well before dreams of championships and ring sizings at Jason of Beverly Hills can ever take shape, Harris needs to make one thing clear: please don't piss off Jamal.
"The scouting report on Jamal? Don't make him mad," says Harris, laughing. "Don't make Jamal mad—once Jamal gets mad, you don't know what you gon' get. He's going to be unconscious and that's when he starts hitting all types of crazy shots, starts talking to you crazy. Being on the team, I love seeing that. I love when people piss him off. I love playing with pissed off Jamal. That shit's fun."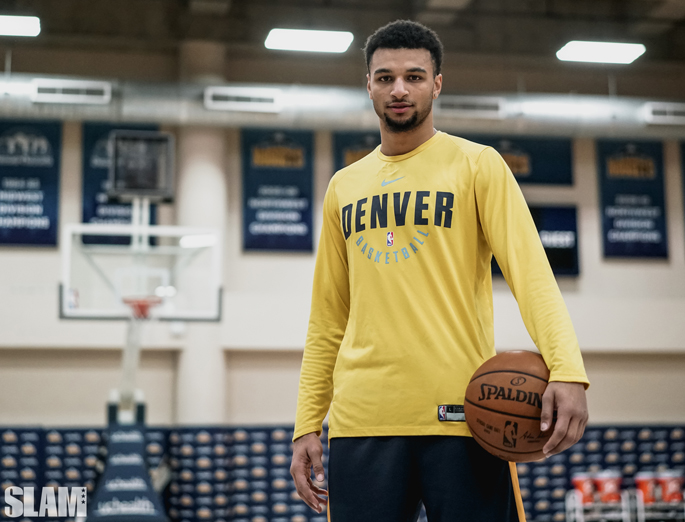 It's mid-March in Denver. This time of year, that could mean either sun or snow, but for this trip, we've been graced with the former. It's also shining bright inside of the Nuggets practice facility, where the team is fresh off a heated win at home against the Los Angeles Lakers—the third of four regular season match-ups in what appears to be an increasingly exciting and hostile young rivalry. It's an emerging battle that has also seemingly taken fire overnight, sparked in large part by LA's growing distaste for the 21-year-old Murray's on-court swagger at the tail end of their last two meetings. And in last night's game, the second-year pro from just outside of Toronto dropped 22 points and 8 dimes to help push Denver to its 36th win.
Murray's in-game flair would go on to receive less-than-stellar reviews out of Lakerland, with everyone from coach Luke Walton to a very vocal Lakers faithful offering up sharp opinions on the guard's hardwood comportment. Beyond the stuff of pickup game regularity, it's also a reaction that this writer—having grown up in the Denver metro area through many a Nuggets era and lineups—has not seen from an opposing crowd in recent memory.
Not that the kid minds, mind you.
"We just have a lot of fun playing basketball, and it shows in our style of play," Murray says, Harris nodding in agreement nearby. "We get a lot of wins that way. So, I don't really care what people say. We just go out there and hoop."
"I feel like us, man, as far as best backcourts, we'll go against anybody," Harris adds. "I feel like I can speak for Jamal on this: We're not going to back down from anybody. And we're ready to go at whoever we play against each and every night."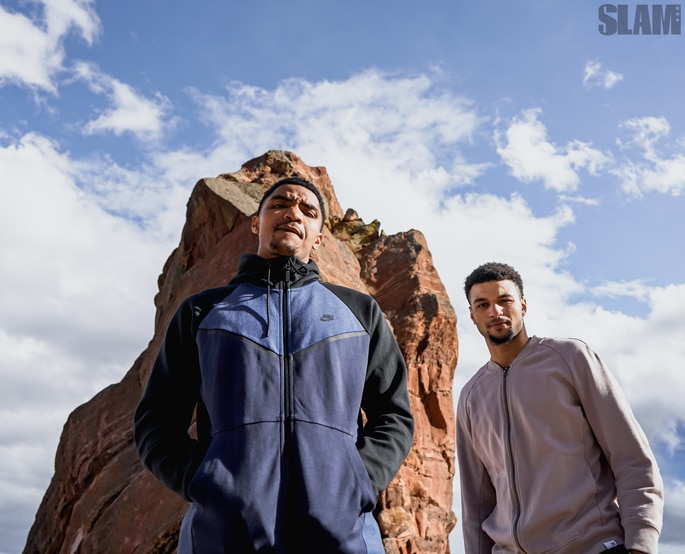 Since coming into the NBA as the seventh pick out of Kentucky in 2016, Murray has done exactly that: hoop and have fun. Through the first 73 games of the season, he's poured in nearly 17 per, including 15 games of at least 25 points. He also just turned 21 in late February.
To watch Jamal Murray score the basketball is to observe a thing of roundball beauty. It's not so much that he can simply score in bunches, but rather when he does turn it on, Murray can transform into a flame-throwing bucket machine capable of dropping 20 points in a blink. He can sweat 20. Breathe 20. Lace up, jog out and casually trip over 20. Step backs, floaters, tomahawks, left side, right side—he can serve, dice and prepare the feast however you'd like. His game is just flat out fun, even when his mindset isn't.
"I'm always encouraging Jamal, so I'm always on his side. Once I see him getting in that pissed off mood, I'm like, 'Shit, go at him!'" Harris says. "I'm his biggest hype man, so once he starts doing that, I'm like, 'Go crazy, shoot it.' I'm happy for him, especially when he gets hot. I'll be right there telling him to shoot that ball every time. And if he's having an off game, I'm right there telling him to keep shooting it."
When he's locked-in and firing off blue arrows all over the court, like against Los Angeles, that's when Murray is at his best. It's half of the Nuggets' secret ingredient to its formula at guard; Jamal brings the heat and Gary sets the cool. Fire and ice, all the way.
"Gary's kind of the opposite," Murray says. "Gary's always cool, calm and collected. He's one of a kind, man. He's a two-way player and somebody I enjoy having fun with on and off the court."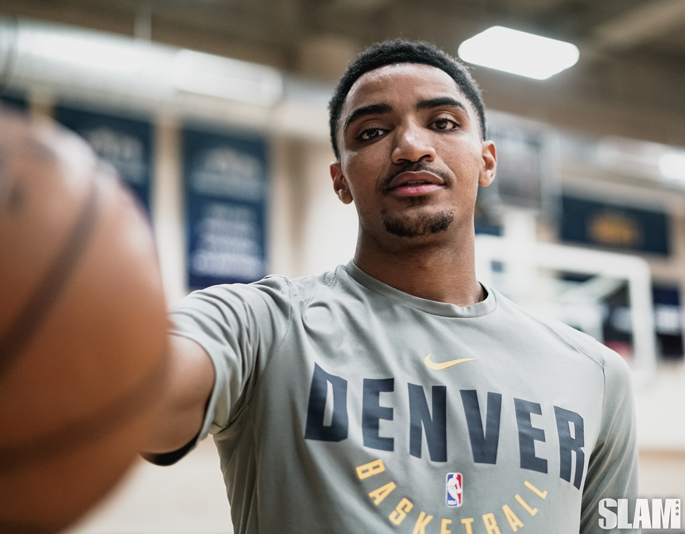 As pure as his jumper, Harris is both equal parts smooth and measured, just like his game.
He's so chill, and so poised that it's easy to forget he's still only 23 years old. Yet, from Murray to coach Mike Malone to newcomer and four-time All-Star Paul Millsap, it's clear that Harris is a unifying and calming presence both on the floor and in the locker room. Millsap says Harris has "been a solid rock for us the whole year." Jamal, meanwhile, has been firmly seated on Gary's bandwagon since Day 1.
"He's always been that vocal leader and stepping up in big moments, not just with his play, but with his voice and how he leads this team," says Murray.
Lost in the alluring potential of Murray and transcendent-level promise of Denver's 6-10 Serbian show Nikola Jokić, and for good reason, it's easy to miss just how effective and good Harris has been. At just under 18 points per game, he is both the team's leading scorer and its most potent perimeter defender. In only his fourth season as a pro, Harris not only anchors much of Denver's attack, but his consistency and ability to affect both ends of the court make him arguably the squad's most trusted player. Along with Murray and Jokic, Harris represents a vital core block of what the franchise is trying to build. And if Denver is to ascend out of the Lottery and into serious postseason contention moving forward, Harris will be a fundamental reason why.
It also didn't hurt his case on a national level when he sent a surging Oklahoma City Thunder team packing in early February after drilling a game-winning trey at the buzzer. Whereas the shot—hit over an impossibly stretched-out flying Russell Westbrook—lit up Twitter for the night, for the squad, it was just another case of Gary being Gary.

"That was always Gary," says Murray. "We needed him to step up and make that shot, and he did just that. And there's been other games too, not just that game. He's made big plays down the stretch offensively and defensively."
6-4. Two-way terror. Confident and efficient. Leader on and off. 23. Just Gary being Gary.
—
Back in Denver's practice facility, the guys trade buckets against the other, one-on-one, as our cameras record every reaction and expression. And in the entire time we were able to spend with both Gary and Jamal, you'd be hard-pressed to find a continuous 5-minute stretch where the pair wasn't cracking up at each other. The guys get on like roommates from the dorms; they know they're building something together that goes deeper than just business.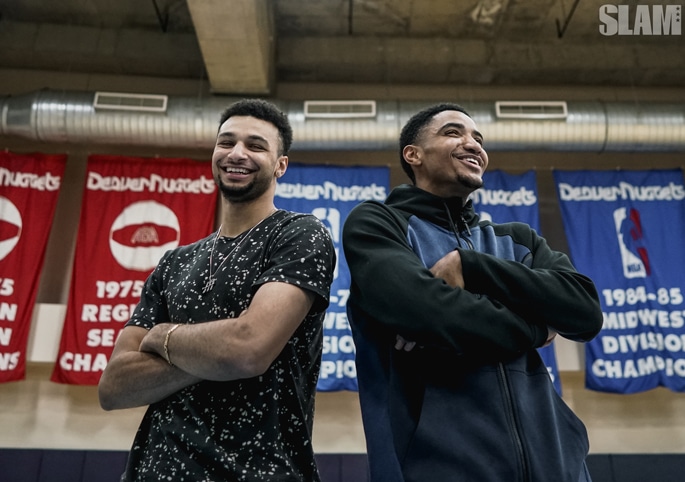 "We have a great relationship off the court. It makes basketball a lot easier, to be honest," says Murray. "You know, we can have a friendship and be teammates at the same time.
"Just being around each other 24/7 really helps a lot, and really helps our chemistry grow," Murray continues. "And it's not just us two, but the whole team's close."
Harris chimes in, echoing his teammate—the same teammate that he was debating with about the merits of an uncontested dunk meant solely for our cameras. "Don't use that!" he shouted and laughed.
"The chemistry's definitely grown," says Harris.
"We've grown as teammates, grown as friends, and it's been fun. Not just with Jamal, but with everyone—seeing this thing grow and just continue to improve."
With playoff spots coming down to the smallest of margins, and a logjam of Western Conference teams vying for them, a late-season push for the postseason may ultimately prove just short for Denver. The foundation for a brighter future, however, remains clear.
Because in the process of the Nuggets' current transformation, the pair is helping to make Denver a viable destination to win. It's not a stretch to see how similar blueprints of growing elite talent internally and finding steals in the Draft have helped to build up places like OKC and Golden State. Harris and Murray are determined to keep Denver on that same path—and even take the franchise to new heights.
"Whatever it is, I think we genuinely want to see each other succeed because we know when we're all playing well, the team's success is a lot greater than when we're not on," says Harris. "We all genuinely root for each other and just have a good time. It makes it fun."
Seems that Mile High air's not so thin after all.
—
Jack Jensen is a writer living in Los Angeles. Follow him on Twitter @jensenjack.
Portraits (also) by Jack Jensen.
Video by The Rec League.