Technically, Bogdan Bogdanovic just finished his rookie season. Given the fact that the 25-year-old already had five seasons of high-level international ball under his belt before he ever suited up for the Sacramento Kings, though, it's no surprise that his transition to the League was rather smooth.
Finally stateside, the 6-6 Serbian native and former 2014 NBA first-round pick started 53 games for SacTown in 2017-18, finishing with averages of 11.8 points, 3.3 assists and 2.9 boards. Truth be told, Bogi's biggest challenges during his rookie year weren't learning defensive coverages or growing accustomed to life on the road.
"The biggest problem was driving lessons, and getting my social security number," Bogdanovic laments, with the sincere frustration of anyone who has spent an unending afternoon at the DMV. "That was like, Oh my god, I have to go through all of these procedures and sign all of these papers."
Driving past defenders? Easy money. Driving around cones on the road test to get an official California-issued driver's license? A chore. Bogdanovic already had an international license, of course, but the rules of the road are different in the U.S.
"There was a joke," he explains, "I said like, OK I don't know the rules, but Tesla has the auto-pilot, so I'll just take my Tesla on the driving test and turn on the auto-pilot."
In reality it doesn't—so he didn't—but he passed the driving test anyway.
Today, Bogdanovic is traveling by air. It's mid-May, and for the first time in almost a year, he's headed home to see his family and friends. His sister came over and spent the season with him in Sacramento, and his parents visited for a couple months, but nothing matches the feeling of being back home in Belgrade. He expects his childhood friends will ask how tough it was to check NBA stars like James Harden and Stephen Curry. He's sure to tell them about the friendship he's developed with Kings veteran Vince Carter, who they all used to wake up in the wee hours of the morning to watch on TV because of the six-hour time difference (when Bogdanovic had surgery after the season to repair a slight meniscus tear in his left knee, Carter was the first person to text him, both before and after the procedure). "I don't even remember all the things that happened this first year," he laughs. "But I have a lot of great stories."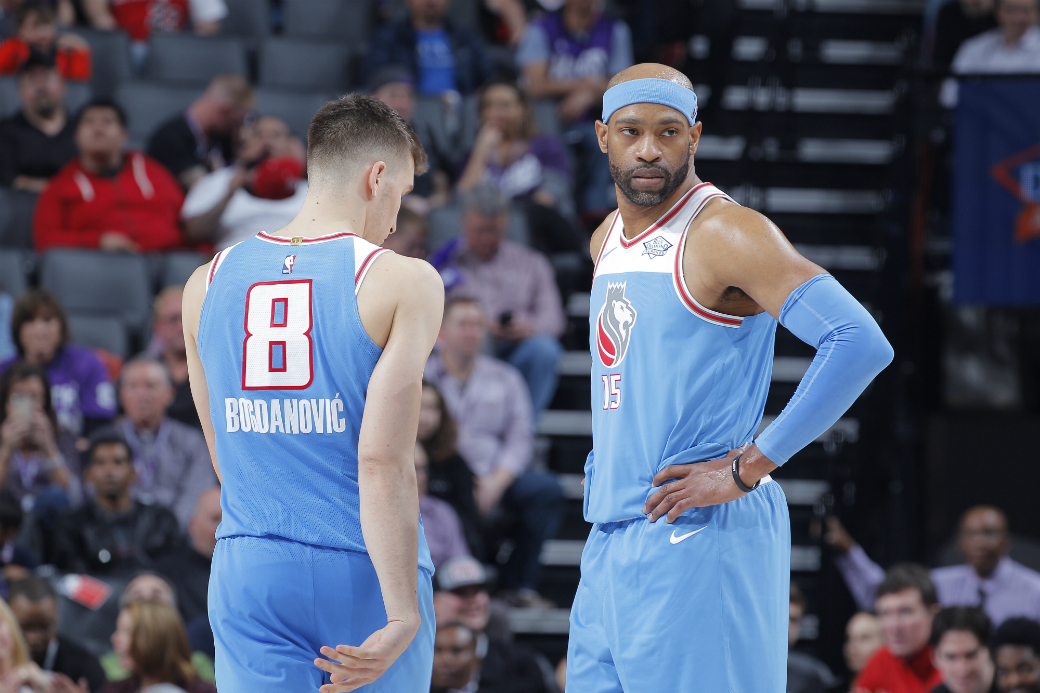 And yet, as Bogdanovic speaks into a cell phone—in perfect English, mind you— while chilling in an airport terminal, it's abundantly clear that this guy was no ordinary NBA rookie. Sure, like most young guys, if he's not in the gym, he's glued to a video game screen or kicking it with his teammates. But unlike most, Bogdanovic entered the League as a polished pro.
See, when the Phoenix Suns drafted him with the 27th pick in the 2014 Draft, Bogi was just a prospect to stash. Sacramento eventually acquired his rights— a shrewd move by fellow Serbian hoop legend turned Kings GM Vlade Divac—and by the time Bogdanovic made his NBA debut, he'd been a starter on the Silver Medal-winning Serbian National Team at the 2016 Olympics in Brazil, and he'd won the 2017 EuroLeague championship as the leading scorer for Turkish powerhouse Fenerbahçe. So when he hit the hardwood in an NBA uniform, there was no nervousness, no apprehension in his game. No moments that made him think, Oh shit, I'm in the big leagues now.
"I already had that Welcome to the NBA moment before I was even in the NBA," says Bogdanovic. "That was in 2014, when I played in a World Cup game against the United States, my first time playing against them. I was like, Wow, NBA players. And then the second time, when we played in the Olympic Games, I felt the same. So when I came into the NBA, I wasn't that surprised, like maybe others [would be]. I already had some of that experience, so I didn't have Wow moments."
There's a pause. "Maybe the first time I saw LeBron," he adds. "Maybe."
Bogdanovic began his NBA career as part of an unusually deep rookie class in Sacramento that included top-5 pick De'Aaron Fox, college stars Frank Mason III and Justin Jackson, and Harry Giles III, a former top high school prospect sidelined by injury. But not long into the season, Bogdanovic separated himself as the most League-ready of the bunch, moving into the starting two-guard spot alongside Fox. He dispelled whatever mystery still surrounded his game in late November, when he hit a game-winner over reigning Defensive Player of the Year Draymond Green to lead the Kings to a road victory against the defending champs. He drained similar clutch buckets to beat the Grizzlies, Bulls and Lakers later in the year, too.
"I think he might get stereotyped as a shooter, but he's a very good playmaker," says Sacramento head coach Dave Joerger of Bogdanovic, who shot 45 percent from the field and 39 percent from downtown during his rookie season. "He's got a high level of maturity, and he's a team-first guy all the way. He's a joy to be around and a joy to coach. He picked up stuff quickly, and he showed that he's worthy of all the accolades that he's received."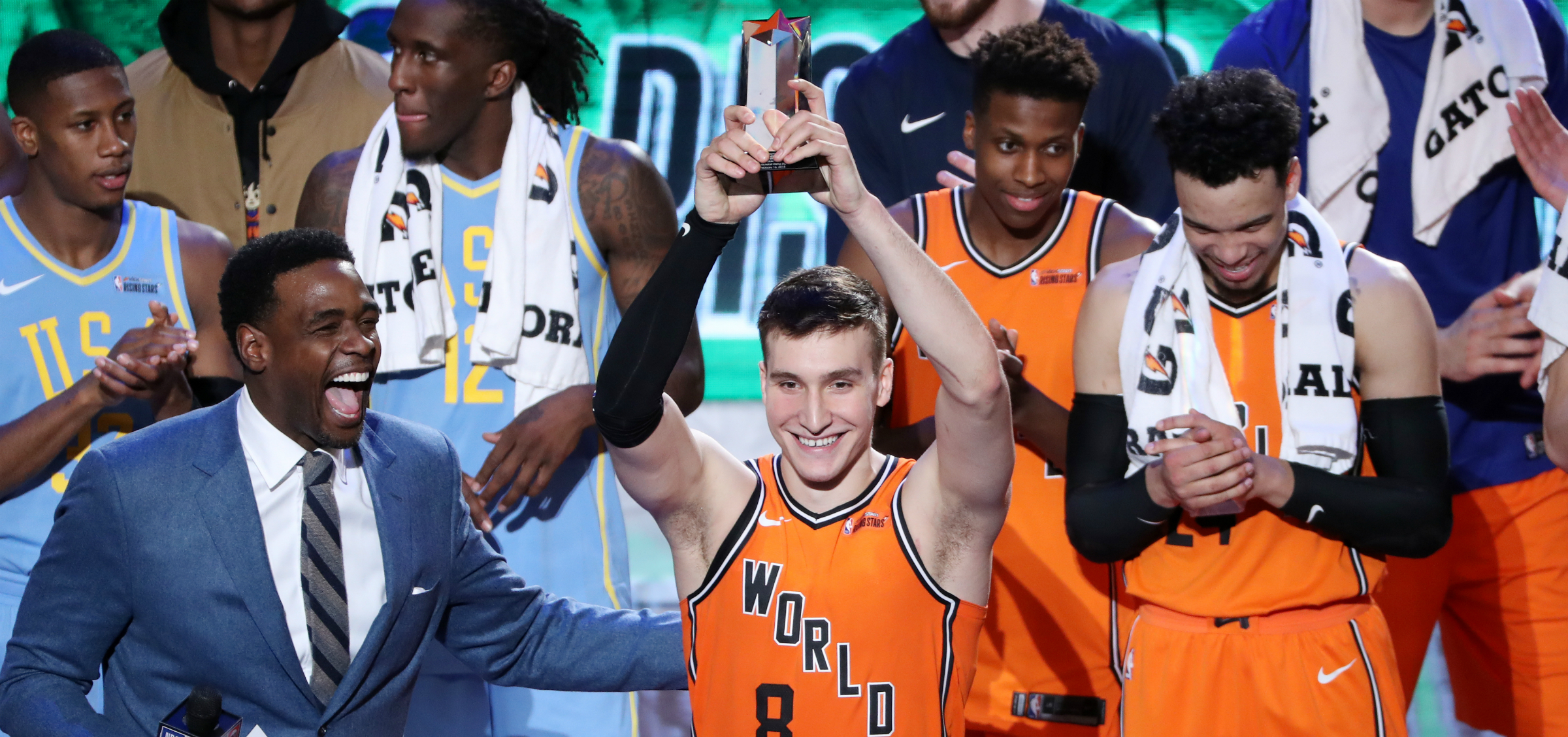 The list of accolades in Year One included MVP of the Rising Stars Challenge (26 points, 7 threes) during All-Star Weekend and a spot on the NBA's All-Rookie Second Team. And while the young, rebuilding Kings limped to a 27-55 record, Bogdanovic proved to be a building block well worth the three-year, $27 million deal that made him the League's highest-paid rook last season.
Which is kinda crazy, considering he was utterly exhausted most of the year. In the summer of 2017, Bogdanovic finished his EuroLeague season (championship: check) and his Turkish League season (championship: check) before coming to Sacramento to sign his deal in July, then returning home to train with the Serbian national team before turning around and heading back for the start of his NBA career, with hardly a moment to catch his breath.
"I know I'm a better athlete than I was last year," promises Bogdanovic, who despite having no summer break to speak of played the most total minutes (2,175) of any player on the Kings roster in 2017-18. "I came in really, really tired. I couldn't recover during the whole year. The NBA is really tough, and if you're not fully fresh early in the year, it costs you in the end of the year.
"Even though I know how to be a professional," he continues, "being ready to compete every night—it's a different experience. The League is so tough. Every team has players capable to give you 40 every night. All teams."
The prospect of getting his legs back under him and focusing a full summer on preparing his body for the rigors of the NBA is one that excites Bogdanovic. It should excite Kings fans, too. If Sacramento is going to break the League's longest postseason drought any time soon—12 years and counting—Bogi will be a big reason why. He says he doesn't ever take the time to chart out long-term goals for his career, or even numbers he wants to put up in his sophomore campaign.
Bogdanovic's only goal for next season? "Make the playoffs."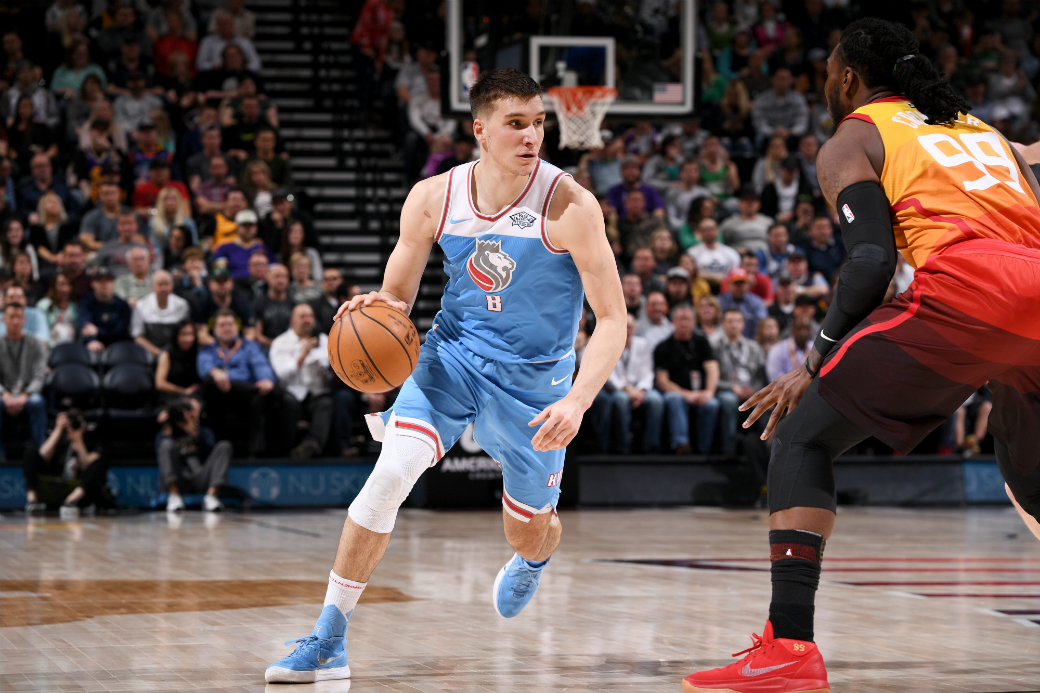 Given the highly competitive nature of the NBA's Western Conference at present, a lot of folks will scoff at that notion. Reality is, Sacramento is probably several years and several pieces away from competing with the Western powers. Still, No. 8's mentality hasn't gone unnoticed by Kings' brass.
"I feel he has the same mindset as Marc Gasol," says Joerger, who coached Gasol for nearly a decade in Memphis, first as an assistant and later as the Grizzlies' head coach. He admits the comparison might seem like an obvious one, since both have European roots, but insists that Gasol and Bogdanovic both "care so much about the team, and they care so much about the game. In those two regards, they're very similar."
Gasol's a three-time All-Star and a franchise center. Bogdanovic's a young guard who, for all his seasoning and experience, is still shy of his first full calendar year living in an American zip code. Starting this fall, though, there will be no more hiding behind the "rookie" label. No more NBA learner's permit, no auto-pilot to steer Bogdanovic to the next level. But given his undeniable skills, his winning pedigree and his humble attitude—one person who knows Bogdanovic well calls him "one of the most grounded athletes you'll ever meet"—Bogi is already a cornerstone piece in Sacramento.
—
Abe Schwadron is the Managing Editor at numberFire and a former Senior Editor at SLAM. Follow him on Twitter @abe_squad.
Photos via Getty Images.
4,777