On the morning before the Suns would draft No. 1 overall for the first time in franchise history, Josh Jackson finished up a workout at the team's practice facility.
There was plenty to discuss after an eventful season in Phoenix, but the first thing I had to ask about was the lucky underwear Jackson wore to the lottery as the Suns' representative.
"It's a pair of underwear I wear whenever I feel like I need to have a good day," Jackson explains. "They're money print. There's hundred dollar bills over them. I've had them since junior high school. I feel like every time I've worn them, something good has happened. It's gotten to the point where I've started to choose days when I would wear them. Because I honestly feel like they might be lucky."
If making it to the NBA was as easy as finding a lucky pair of boxers, I suppose everyone would do it. But Jackson's path to the NBA hasn't been a result of luck; rather plenty of hard work.
Starting points are hard to pinpoint for any basketball prospect. Sometimes it's the first time they pick up a ball. Or the first time they hit a game-winner in grade school. Or when they realize they're the best player on a given floor. For Jackson, a high-IQ basketball player with an appreciation for the mental aspect of the game, that starting point may have come in second grade, not with a basketball in his hand, but a chess set.
As a second grader, Jackson often played with his dad's chess set by himself after school, moving pieces around and hoping his dad wouldn't notice.
"He ended up figuring it out," Jackson says. "Because the pieces were always not where they were the last time he left it."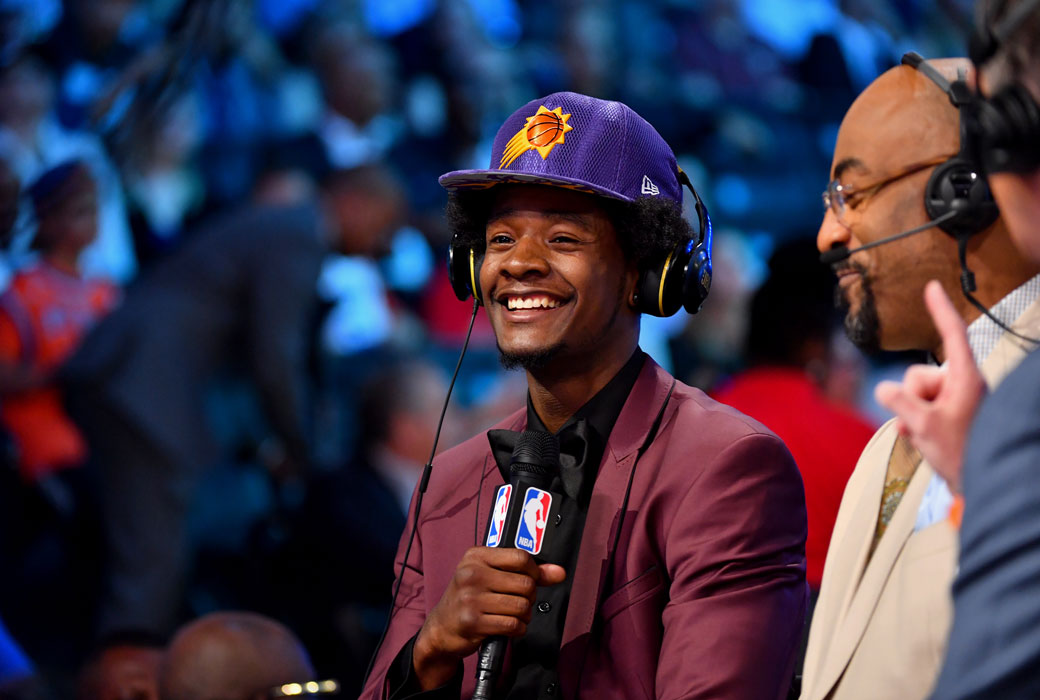 Jackson's dad sat his son down, and asked if he was interested in learning the game. Jackson started to pick it up, and by the third grade, he had a travel chess set that he would take to school, which became a popular item among his classmates. A chess club was eventually born and half the third graders joined.
When I ask Jackson about the most important trait of being good at chess, he tells me it requires a lot of patience. Jackson needed to apply that lesson to basketball during his rookie year with the Suns. His head coach was fired just three games into the season, which included two 40-point losses. Their starting point guard was sent home the day after Phoenix made a coaching change, and was later traded.
Meanwhile, Jackson had to sift through all the turmoil surrounding the team and figure out how to play at the right pace in the NBA.
"I was playing a little too fast at times," Jackson says. "I was trying to go 100 percent full-speed all the time, and you have to go a little slower, get the defense to relax, and then you make your move. You become really predictable when you're going at the same pace all the time."
Early in the season, Jackson wasn't getting the results he wanted. In January, interim head coach Jay Triano benched him for the first time. But Jackson didn't get frustrated. Instead, he reached out to Triano and they had a film session together to figure out exactly how Jackson could succeed on the floor.
"I'll always figure it out," Jackson tells SLAM. "I may not get it the first time around. I may not be that good when I get started. But I'll always figure it out. I'm a learner. I love to learn. I love to listen. I'm going to digest as much information as I can. And that's what I did during my rookie season."
Even before meeting with Triano, Jackson was taking notes from his matchups against the best players in the League. He watched the way Kevin Durant worked the elbow and the low post on offense. "For any player in this League, you need to have your bread and butter," Jackson explains. "You need your go-to moves and to find your spots where you're comfortable."
On another night, he watched the way James Harden controlled the game. "He comes down the court so slow," Jackson says. "And then, boom, he hits you with a quick move and he's gone. The best guys in the League have a change of pace. They have that patience."
Jackson started to figure it out after the All-Star break, averaging 18.7 points, 5.9 rebounds and 1.6 steals the rest of the way. The 6-8 guard/forward scored a career-high 36 points against the Golden State Warriors in March, a personal highlight made even sweeter by the fact that Draymond Green has been a mentor since Jackson was a high school freshman.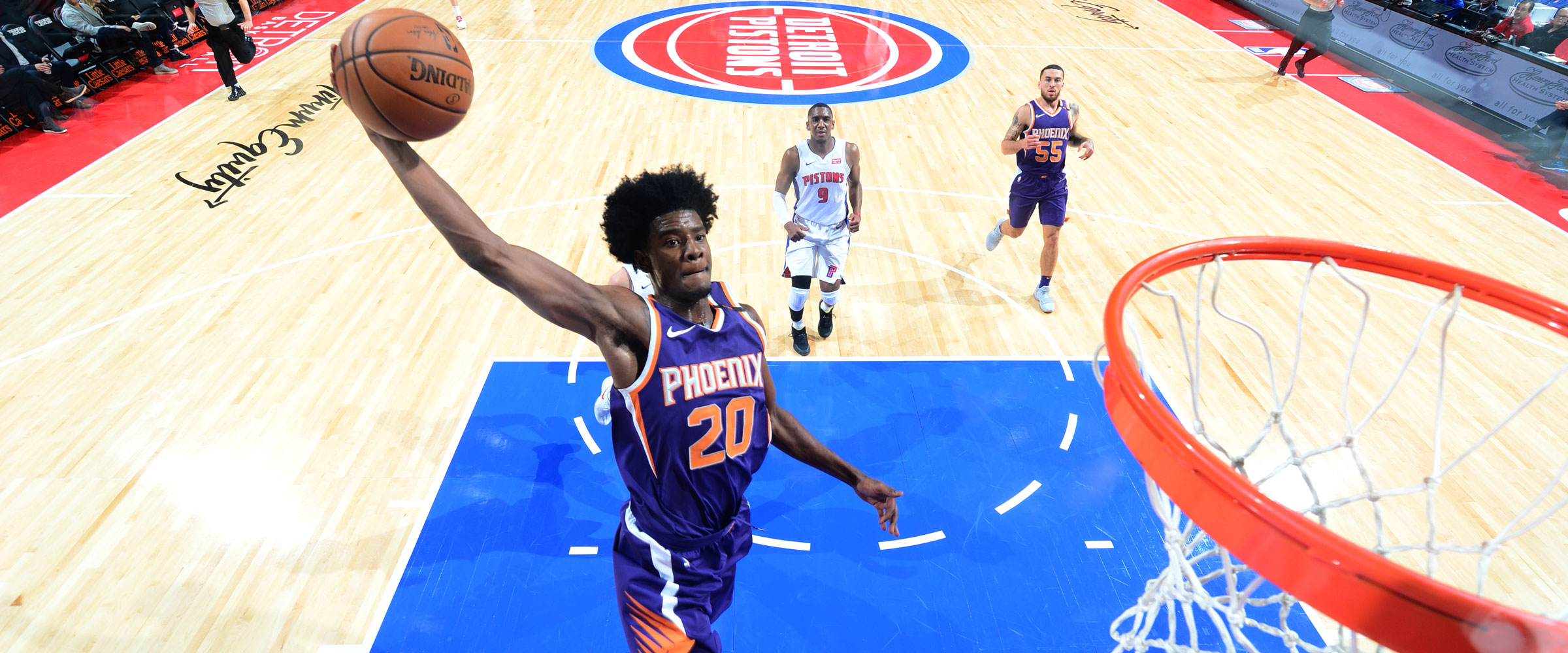 Jackson dropped 20 points or more in each of his final four games, and recorded at least two steals in nine of his last ten. The strong finish pushed him into the top-10 among rookies in several categories, including scoring, rebounding, steals and double-doubles. From January on, Jackson's 17.2 points per game ranked him second among all rookies behind only Donovan Mitchell.
Meanwhile, Jackson was keeping a close eye on the rest of the 2017 class. He's known Jayson Tatum since they were in fifth grade, and watched as the Celtics youngster help lead a Boston team without Kyrie Irving and Gordon Hayward to within one win of the NBA Finals.
Watching the postseason provided Jackson with some extra motivation. "I feel like if I keep working hard," Jackson says, "and we eventually get to where we need to be, I'll be able to step up and play a big role for us. I have a lot to learn but I feel like I'll be prepared to handle it. I'm ready to help a playoff team."
The Suns won just 21 games and missed the playoffs for the eighth consecutive season. Devin Booker said he was done with not making it.
Is Jackson on board with that statement?
"Absolutely," he says.
And that's why he's back in the gym on the morning before the draft. He's working on improving his three-pointer, after shooting 26.3 percent in 2017-18.
"It makes the floor so much bigger when they have to respect your shot," Jackson says.
He is also focused on his ball-handling, as he plans on playing some point guard moving forward.
The rookie campaign changed Jackson's day-to-day diet routine as well. "In college, sometimes I would eat hot fries for dinner," Jackson says. "You can't do that in the NBA."
During his first year, Jackson discovered he wasn't eating enough. He worked on it throughout the season and plans to carry it over into the summer. Breakfast will be a mix of bread, pancakes, waffles or toast with eggs and chicken sausage or turkey bacon, with lunch and dinner being a mix of vegetables, rice and chicken. And also a lot of water.
"I never knew before coming to the League how much drinking water drastically affects your weight," Jackson says. "Sometimes after a workout, you'll get so dehydrated, you hop on the scale and you've lost three to four pounds, and it's straight water weight."
The plan right now is for Jackson to add eight to ten pounds of muscle before he arrives at training camp in September.
With the addition of No. 1 pick DeAndre Ayton, paired alongside Booker, the Suns might have a potent one-two punch to start working themselves up the standings in the West. Jackson has the tools to become a do-it-all player for the team, with the ability to contribute on offense and guard multiple positions on defense.

Jackson might have the patience and IQ to break down a game, but he also wants to make sure you know that he's the most competitive person around. Whether it's playing chess against his father, or Fortnite against his teammates, the 21-year-old is always looking to win. The best example he can provide for this competitiveness was when he used to play one-on-one against his mom as an 8-year-old.
"She would take me out back, teach me a couple of moves," Jackson remembers. "She would beat me all the time. I didn't beat her until I was 14, and every time we played, I would try so hard, I was fouling her and sometimes I even accidentally elbowed my own mother. That's just how hard I was trying to win."
While Jackson plans to carve out a long career in the NBA, he's already thought about how to stay connected to the game after he retires. "I love being around it," he said. "I could probably be a coach, a strength and conditioning trainer. When I retire, I'm still going to play in the 40-and-up league."
For now, he's focused on carrying what he learned from his rookie season into his sophomore season.
So, about that pair of lucky underwear, I had to ask Jackson one more thing: Do you consider yourself a lucky person in general?
"I don't think so," Jackson says. "But sitting here, after being asked that question, and just looking at my life and being blessed to have all of this, I would say yes. I'm extremely lucky."
—
Alex Wong is a writer living in Toronto. Follow him on Twitter @steven_lebron.
Photos via Getty Images.