A couple of months ago, in a quiet gym after a long day of training, NBA rookies were at the free throw line engaging in a shooting contest. It was a low-stakes game, $20 going to whichever young millionaire swished the most shots. A paltry payout didn't impact Los Angeles Clippers point guard Shai Gilgeous-Alexander's desire to win. As another rookie took his place at the line, threatening to upset Gilgeous-Alexander's path to victory, the Toronto native pulled out all the stops to make his opponent crack. There was chirping and trash-talking, even kisses blown in an effort to break concentration. Gilgeous-Alexander did what was necessary to come away on top.
"You put someone in front of him and there's a competition, he's a different [person]," says Olin Simplis, his trainer. "Something just switches inside of him. That's the thing that has stood out the most for me. People don't understand that about him yet."


That competitive streak combined with his rangy 6-6 frame, not to mention a seven-foot wingspan, is one of the reasons why the Clippers selected him (via trade) with the 11th pick in the 2018 draft. Fast forward three months to the League's annual GM survey and it's clear everyone else is beginning to see what the Clippers saw prior to draft night. Gilgeous-Alexander was atop the list of responses for "biggest steal of the draft," garnering 27 percent of the votes.
Gilgeous-Alexander began working with Simplis in preparation for the draft. The duo continued to train throughout the summer leading into his first NBA season.
"He's a quick learner," Simplis says. "You throw something at him, he'll master it. And if he doesn't right away, he'll come back the next day and he wants to do what he couldn't complete the day prior.
"He's definitely ahead of the curve in that mental aspect. He really wants to be great and that is exciting."
Simplis connected with Gilgeous-Alexander from the jump, saying that working with the point guard has been one of the best experiences he's had in more than 20 years working with players.
"His work ethic is beyond his years," he says. "His attention to detail is beyond his years. He just absorbs everything. He has that professional mindset at an early age. How to take care of his body, all the little things that we asked him to do before he steps on the court he does. He's got a bright future ahead of him."
Whether he's driving the lane to cram a thunderous dunk or getting a steal then going behind-the-back and euro-stepping into a left-handed lay-up or deftly intercepting a Chris Paul pass to sprint to the hoop for another slam, you don't have to watch for very long to get excited about where Gilgeous-Alexander is going.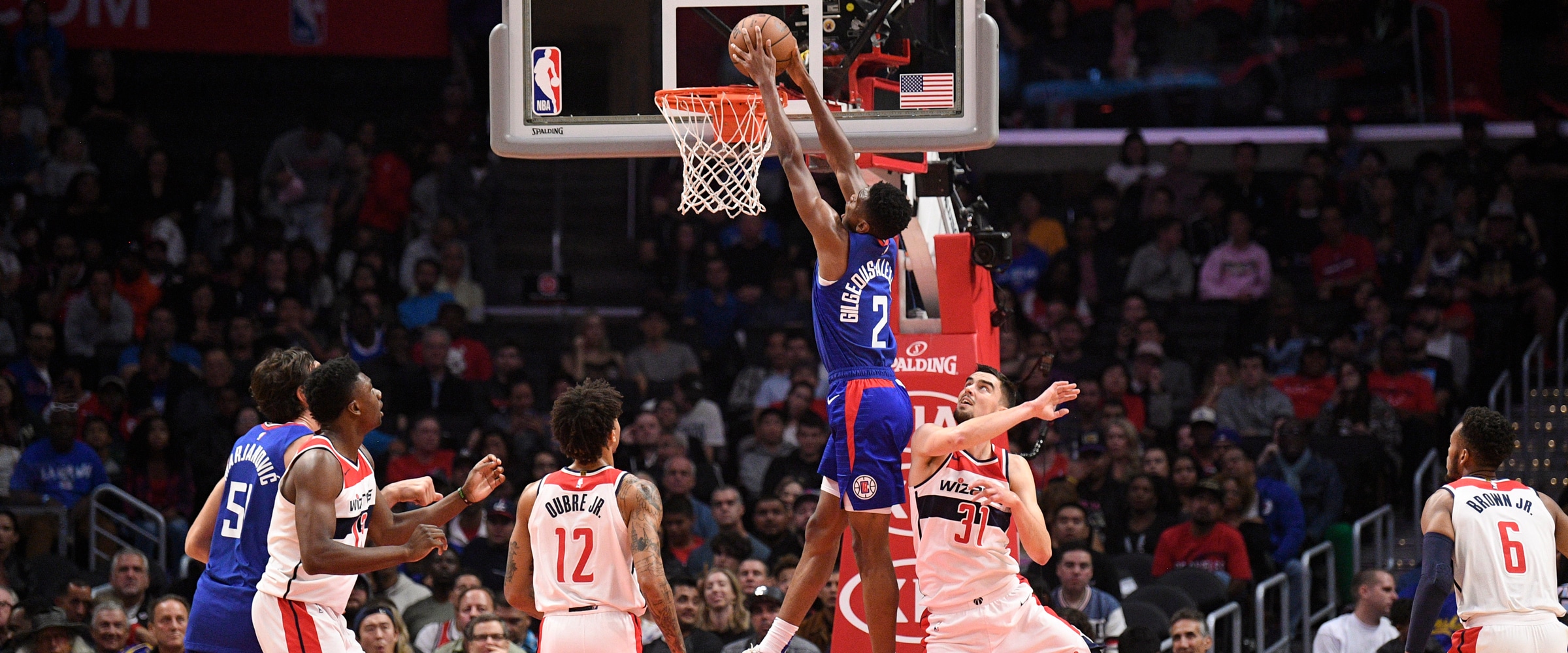 Combine his natural gifts of size and quickness and a super-high basketball IQ, along with a relentless work ethic and desire to be the best, and the potential is staggering. Gilgeous-Alexander's ceiling is the sky.
"[I want to] get better every day, with every experience," Gilgeous-Alexander says. "I feel like if I do that and give it my all, be smart in how I treat my body, all of that, then the accolades and awards that I want to accomplish will take care of itself. I want to attack every day and get better from it."
Though he's extremely focused while in the gym, he's already found the sweet spot of preparing for the future while simultaneously enjoying the moment.
Charlotte Hornets assistant coach Nate Mitchell has worked with Gilgeous-Alexander for the past three summers. This year, the newly drafted Gilgeous-Alexander would make the hour drive from nearby Hamilton, Ontario, to Toronto to train with Mitchell. Like Simplis, Mitchell speaks effusively about the 20-year-old's desire to be great.
"He watches film so much," Mitchell says. "He watches games over and over, he always asks coaches opinions on how to get better. He's a ball junkie, a big-time competitor. He's never sped up—he plays at his speed."
The NBA world is learning Gilgeous-Alexander's game as the season goes on. It didn't take long to be introduced to his vibrant personality, too. The rookie won draft night fashion MVP with a champagne suit (and matching button down underneath it) adorned with turquoise floral print and a turquoise tie. Gilgeous-Alexander loves fashion almost as much as he loves basketball, and names sitting front row at New York Fashion Week as one of the things on his bucket list. The champagne color choice was appropriate with draft night serving as the ultimate toast to the years of work and preparation that went into that moment.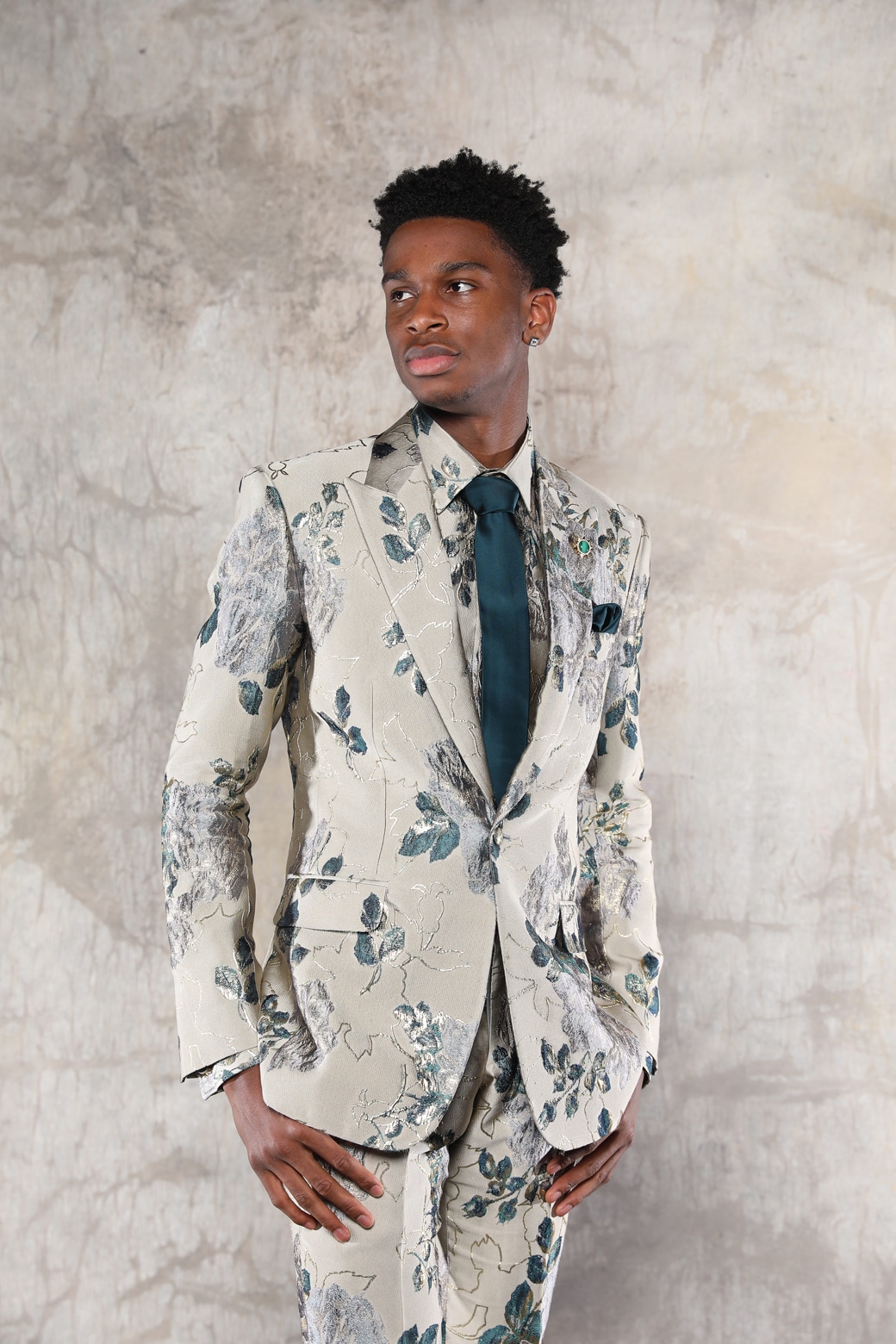 "It's the best feeling I've felt so far in my life," Gilgeous-Alexander says of being drafted. "It's kind of hard to explain, but it's just a whirlwind of emotion that night. You're in the best mood ever. You're happy you got drafted. You're happy you got this opportunity. It almost feels like everyone's birthday party."
Since draft night, he has rewarded himself for all of that hard work by filling out his wardrobe, buying shoes from Sole Stage on Fairfax, while Balenciaga, Saint Laurent and Gucci have started to take up space in his closet.
A quick scroll through Gilgeous-Alexander's Instagram—he recently finessed himself into possession of the highly coveted single name handle @shai, if you were wondering—and it's easy to see a 20-year-old living the dream in Los Angeles. Mitchell cautions against confusing Gilgeous-Alexander's quick smile for a lack of focus.
"He's a self-made guy," Mitchell says. "Nothing has been given to him. He went to the [Canadian] National Team to get experience and he worked himself to where he was helping us. He went to Kentucky—he started the year on the bench [and] midway through the season, he was a starter. Now he's with the Clippers—he's going to come off the bench and it wouldn't surprise me in a year or two if he's their starting point guard. He just works so hard, coaches are going to trust him."
The juxtaposition between Gilgeous-Alexander's on-court drive and off-court demeanor is something Simplis has also marveled over. During summer training sessions, video and camera crews would sometimes come in to film. Whenever Simplis would watch the playback or look at photos from that day's session, he would be surprised to see how often both he and Gilgeous-Alexander were captured laughing or smiling.
"When we work out, I'm very locked in," Simplis says. 'It's borderline crazy and there are so many pictures of us smiling and laughing. Obviously, people see the photos and are like, 'Oh, they're posed,' but no. I'm defending him, I'm bumping him. We're trash-talking, but having a good time. It's fun. The one thing that stands out, for someone so young, he's one of the most fierce competitors I've ever seen at this stage."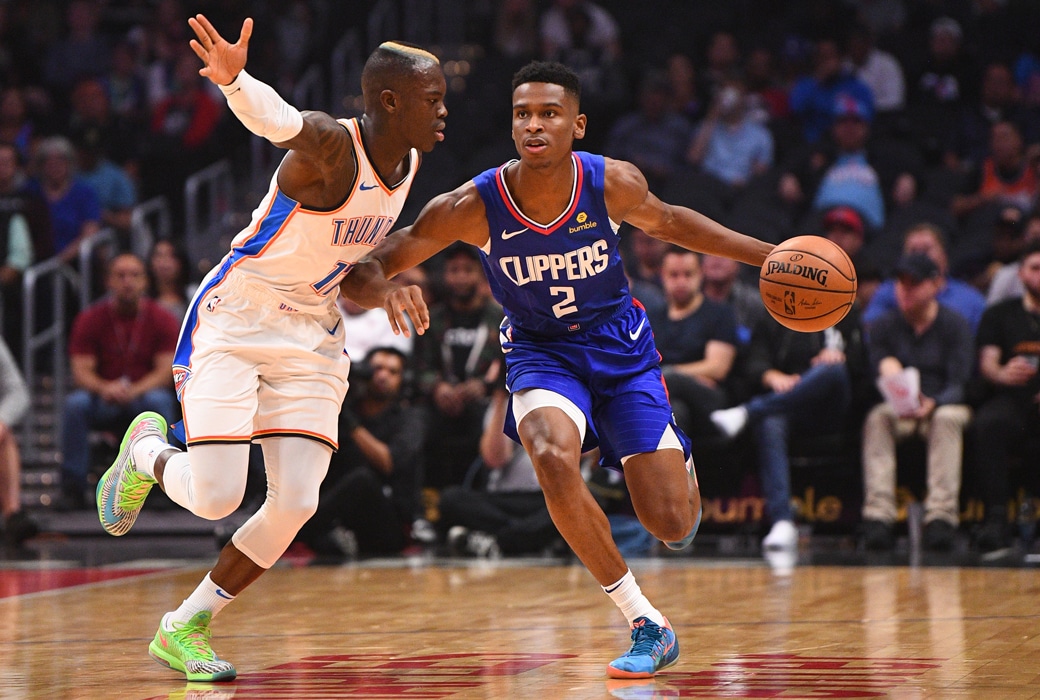 Gilgeous-Alexander was one of 13 Canadians on NBA rosters on opening night of the 2018-19 season. It was only a few years ago that being selected as a lottery pick was a huge deal for basketball in Canada. As the game continues to grow north of the border, Gilgeous-Alexander gives thanks to the Canadians who forged a path before him.
"At first there wasn't too many kids playing [basketball], it was still hockey," he says. "As I got older, basketball really started taking over. Now, I'd say guys play basketball more than hockey for many reasons, other than it's just a better sport. The more we play it, the better we're getting, I think. We're on the rise.
"It's thanks to all of those guys that did it, like Steve [Nash], Rowan [Barrett], just to name a few. Guys that went and played Division I and put Canada on the map."
Plenty has changed in Gilgeous-Alexander's world in the three years that Mitchell has worked with him, but just as much has remained the same. He still sends frequent texts asking how he can improve. Like a good Torontonian, he still reps Drake to the fullest—"He's the greatest, ever"—and, of course, he's looking forward to his first time suiting up in an NBA uniform in front of his family and friends when the Clippers play the Raptors.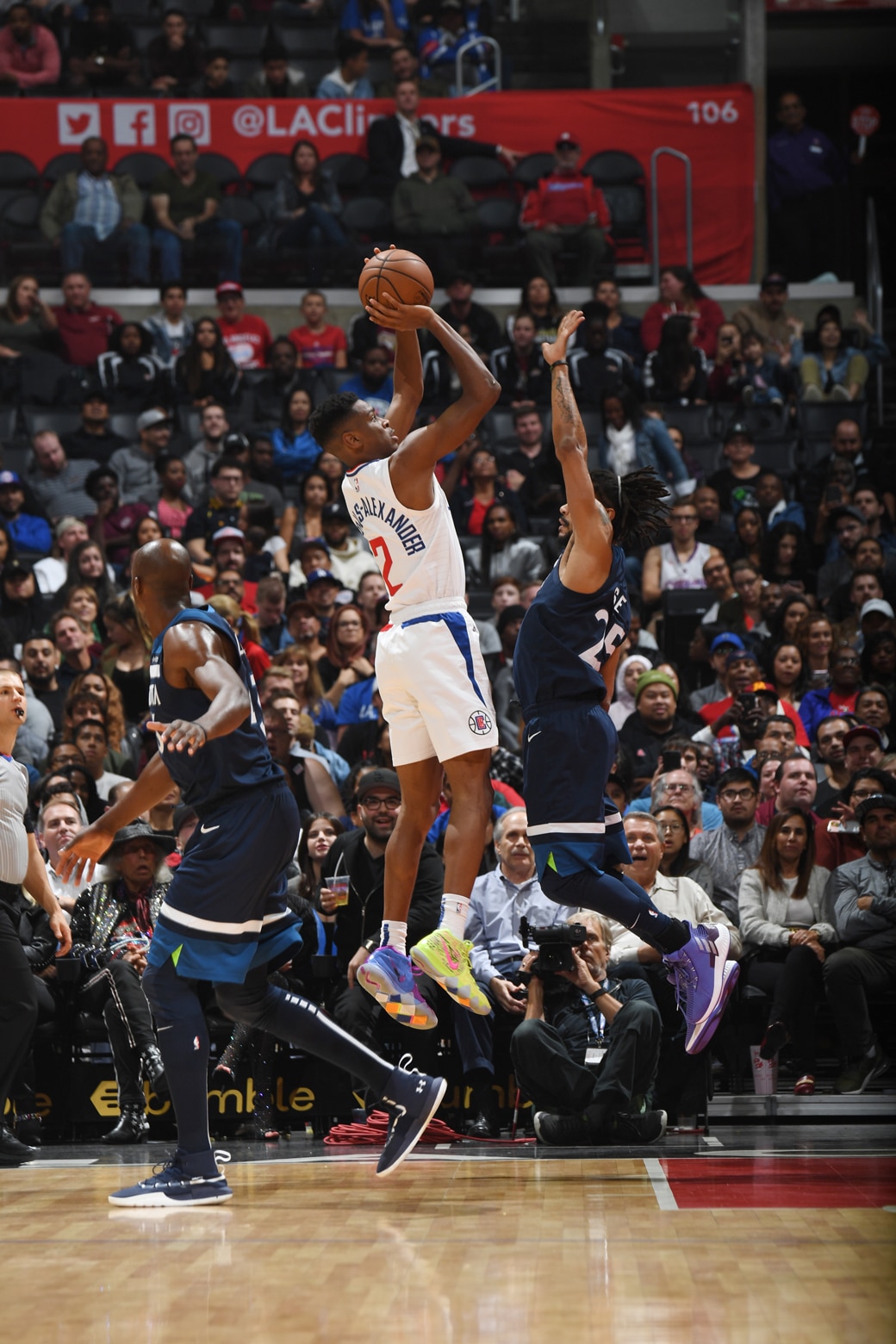 "[He's] always smiling," Mitchell says. "Always joking. Loves to dance. He's just a good kid. Doesn't mind seeing new things, trying new things. His mom has been good with him in terms of him being humble. He's such a humble kid.
"Anybody you could have wanted to speak to about his getting better, they would all say the same thing—at the end of the day, it's Shai," Mitchell continues. "He's searching out what he needs to do. Some guys need [you to call them and say], 'Hey let's go, let's get better, let's work hard today.' He never needs that conversation. He's a self-starter. Built-in motor. Super competitive."
For everyone that flips to a Clippers game this season and finds their attention gravitating toward the point guard with the endless wingspan, Simplis presents a strong reason to keep watching.
"This kid reminds me of a 6-6 Chris Paul. He wants to win everything."
—
Holly Mackenzie is a contributor to SLAM. Follow her on Twitter @stackmack. 
Photos via Getty.