With LeBron James no longer in Cleveland, the Central division is wide open, and the Pacers should be among the teams that could fill the void.
Indiana has made it to the postseason each of the last three seasons, but haven't been able to advance out of the first round. Fans aren't convinced that this season will be any different, and demand for tickets is down about 9 percent over last season.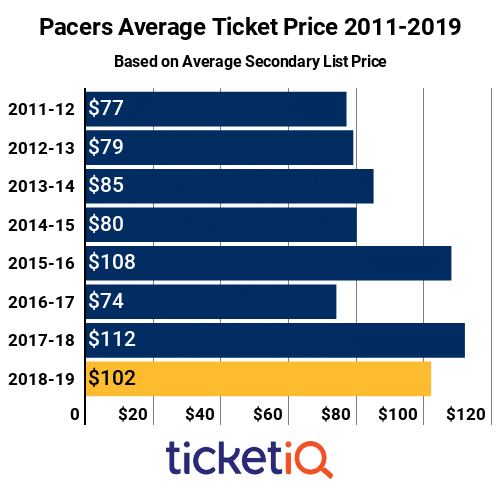 The average asking price for a 2018-19 Pacers ticket is $102 on the secondary market. Pacers tickets are ranked No. 26 across the League in terms of price. Only the Hawks, Magic, Pelicans and Hornets have cheaper averages. The Warriors are No. 1 in ticket prices at $463.
Despite the drop, Pacers tickets are the third-most expensive since 2011. The priciest ticket of the decade was $112 last year, followed by $108 in 2015-16.
For the most expensive game of the season, when the Warriors visit on January 28, the average asking price is $267. The second-most expensive game is $201 for chance to LeBron in a Lakers uniform on February 5.
The next two most expensive are against the Celtics. The Pacers and Celtics have had a long and eventful relationship, centered mostly around the Celtics making Larry Bird the No. 6 overall pick in 1978. Bird went on to win three NBA titles with the Celtics, where he played his entire career, before joining the Pacers as head coach. Bird is currently an advisor to the Pacers.
Tickets to the Celtics games are averaging $191 for the April 5 game and $181 for the November 3 game. The fifth most expensive game of the season is a March 14 meeting with Oklahoma City, which checks in at $169.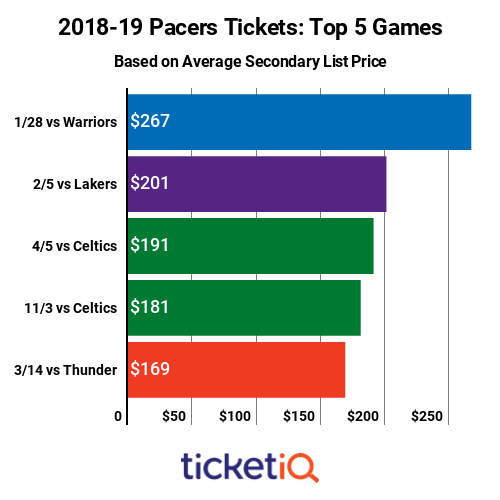 For fans wanting a chance to get into Bankers Life Fieldhouse, TicketIQ.com has seats available for all games, including many with the company's Low Price Guarantee. For the February 5 Lakers game, fans can treat themselves to a floor seat in Row 7, Section 16 for $1,106 or for the April 5 Celtics game seats in Balcony 228 on the corner start as low as $48.
RELATED:
Bucks Ticket Prices Up 9 Percent on Secondary Market 🎟️