It's the middle of August, and Paul George is antsy.
It's also exactly 382 days since the man some dubbed the best two-way player in the sport suffered a gruesome compound fracture of both his tibia and fibula, the two bones in his lower right leg, during a Team USA scrimmage in Las Vegas.
A compound or "open" fracture is when the broken bone is literally sticking through the skin. The kind of stomach-turning sight that doctors typically see only in violent car accidents or falls from several stories high.
George's came on a routine hustle play that started with chasing down James Harden on a breakaway, and ended in a crash-landing so horrifying that the game was stopped.
"It felt like gasoline was on my leg and someone lit a match," George described in his first press conference after surgery to repair the damage, a procedure that put a permanent pin in his leg. "Just internally, my leg felt like it was in flames."
Today, thinking back, he remembers looking down at his leg and seeing his career flash before his eyes. "When it first happened, that was the only thing I was thinking about," George says over the phone. "Will I be the same? Is this career-ending?"
After the most grueling year of his life, all George wants to do is prove he can play basketball at a high level again. And he can't stop thinking about it. The Pacers superstar forward is already back in Indiana, at least a month earlier than he'd normally return to prep for the season.
"I'm completely itching," he says.
"I'm extremely motivated," he says a few minutes later.
At the moment, he's also a little distracted. Because today, George is on daddy duty. He's looking after his 15-month-old daughter, Olivia, who can be a handful. Caring for her, Paul says, has changed him.
"Before, I was a young kid trying to find my way, and you get into stuff kids do, young guys in the League do," says the now 25-year-old native of Palmdale, CA. "But now it's different. I know my purpose, I know who I'm doing stuff for, who I represent now, who I have looking up to me. I just have a whole different perspective on life now."
Sidelined for the first 76 games of his fifth NBA season, George had plenty of time to consider his career, often during countless hours on the training table.
The rehab was repetitive. When the Pacers were practicing, Paul would be getting treatment. He was uncomfortable, always. From being away from his team, from the pain. He'd have a good day, then his leg would feel like shit the next. Mentally, the grind was long, and exhausting. Physically, it was at times excruciating.
"They had to pull the skin off of the bone, because the way it was growing, the skin was starting to stick to the bone that was forming. It was so much painful stuff I had to go through," George recalls. "On those days where it was tough to walk, tough to move on it, I was really thinking like, It's going to be like this, like this is the new me, I was never going to get that back."
For some players who come down with catastrophic injuries, "getting back" just means suiting up again. For Paul George—who'd never done more than sprain an ankle his whole life prior—it means returning to an elite class of players. LeBron, KD, Curry, Harden, Westbrook. These are Paul's peers. He was in New York City for 2015 All-Star Weekend, but says it felt funny experiencing it from afar after playing in the Game the last two years. He went through the motions, making a few appearances to fulfill his sponsorship obligations. But being on the outside looking in at the All-Star festivities eventually wore thin for him.
"After the first day or two, I was like, Man, I don't even want to be around this at all. It just didn't seem right." So that Sunday morning, PG inconspicuously hopped a flight to South Beach to get his mind off everything. "It's hard to think about just basketball when you're in Miami," he says with a laugh.
Less than two months later, on April 5, a little more than eight months removed from his horrific injury, George stepped back onto an NBA court for the first time. With the Pacers hosting Miami, he checked into the game with 5:34 remaining in the first quarter to a standing ovation that included his parents, sister, brother—even little Olivia. He scored 13 points in 15 minutes, helping Indiana cruise to a 112-89 win over the Heat that pushed them closer to a Playoff bid.
But George was hesitant, and he was rusty. Near the end of that first quarter, PG deflected a pass, came up with the steal and found himself alone on the fastbreak. A season prior, he made a similar play in January against the Clippers, and finished with an elegantly thunderous 360 dunk that only a handful of players in the L could execute with such ease. This time, he did something even more rare for the average NBA player: he missed the point-blank look altogether.
"I don't know, it was weird," George remembers of that sequence. "I couldn't slow down, I was trying to get my feet right, get my steps right. And that's something I've never—I naturally just know how to dunk the ball, but for that particular time, there was just so much stuff going through my mind on how to get ready to finish to where, when I got to the basket, it was too fast, and I just blew the whole layup."
Despite hardly practicing and playing limited minutes, his return provided an emotional boost to his Pacers teammates, like veteran swingman CJ Miles, who spent the bulk of the 2014-15 season filling in for George. "It was chilling to see him get out there that first night, and to make his first shot. Obviously he didn't look like Paul George. But his body language, his big shots," Miles says, "it looked like he was supposed to be there."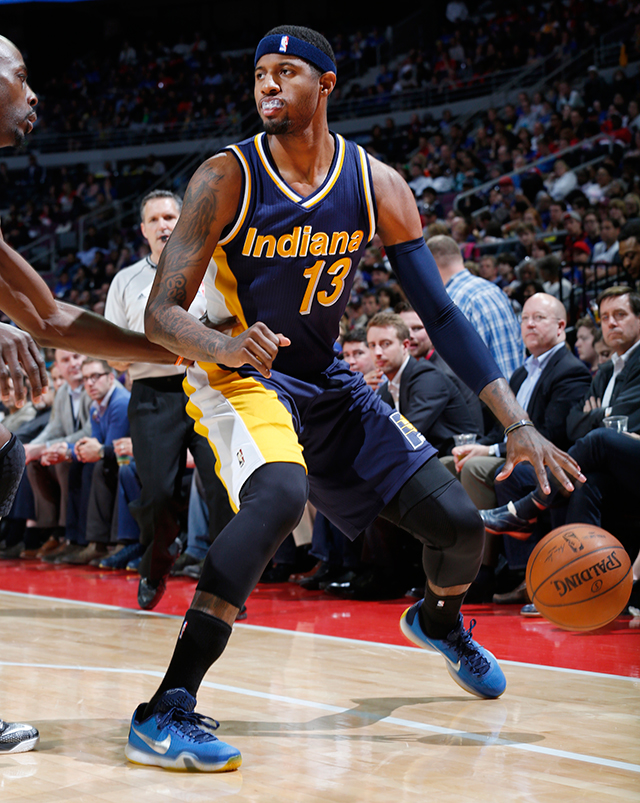 Still, Indiana fell short of a Playoff bid (38-44), and the blown layup was a microcosm of the six games that George appeared in to finish the season. "It was really awkward," he admits openly. The 6-9, 220-pound dynamo—who took his team to within two games of the NBA Finals a calendar year earlier—averaged a pedestrian 8.8 points (on 37 percent shooting), 3.7 rebounds and 1 assist per game over that stretch, playing about 15 minutes a game off the bench. A far cry from his 22, 7 and 4 per-game averages in his monster 2013-14 campaign. "It was awkward because I was coming off the bench, and I wasn't thrown out there to just play. Coach was drawing plays up for me, so I had pressure to score and be a playmaker. I was fully healthy, but I wasn't myself." And more importantly, the Pacers' season was over in April.
"I've never been done so quick. That was rough for me. One of the promises I made to myself was I wanted to always be in the Playoffs," says George. "I didn't want us to have to go through the Lottery again. That was a big reason why I wanted to come back and try to help this team last year, just because of that commitment."
Part of the reason he placed such importance on playing at least some last season was more simple: Getting on the court for live game action was the last step in the rehab process. Paul had to know what parts of his game needed work this summer, which areas to focus on going into the most important season of his career to date—"what was going to be on the bulletin board for me." Having gleaned that information (only some of which he'll share: Working on his post moves and his conditioning, in particular), George has diligently and relentlessly prepared his body this summer, even leading midsummer morning track workouts with the Pacers' rookies, like the one that concluded shortly before our chat.
"It's night and day in terms of how my body feels, how my confidence is right now. I feel just about as good as I did when I was 22, 23 years old," says George.
When he showed up to meet with Coach K and others at Team USA mini-camp in Las Vegas, Paul was excused from drills and practice. But being around all that talent again, he couldn't help but issue a warning: I'm back.
"Without being cocky, I let 'em know," he says of conversations with Team USA teammates in Vegas, "I'm feeling good as new, and it's going to be some troubles when they come to Indiana."
George is returning to a Pacers team that hardly resembles the one that faced Miami in consecutive Eastern Conference finals. Gone are names like Stephenson, Hibbert and West—guys Paul refers to as "brothers." Now the longest-tenured player on the roster, PG understands that it will take time to jell with a new cast of characters. Still, he wasn't happy when earlier in the summer ESPN projected the Pacers to finish ninth in the East this season. He famously tweeted his displeasure, and isn't backing off.
"We got Monta [Ellis] joining the team, myself coming back healthy, and they predict us to be ninth? That's a joke to me," he says. "I seriously think this team has a chance to be in the top four."
Add ESPN to the list of those adding more fuel to George's fire by doubting his comeback. As if he needs it.
"I think it's just added another edge to him. People are counting him out, saying they don't think he'll be the same," Miles says. "I think he's taking all that and bottling it up. He already works hard for the love of it, and now you give him more gasoline by saying he can't do it. That makes him dangerous."
To the doubters, expectations might not be very high for George and the Pacers. But he insists that winning an MVP trophy and taking Indiana to the Finals are still goals within reach. Hardware or not, expect to welcome one of the best players on the planet back to the forefront of the NBA landscape. Or as Miles says simply, "Expect him to be Paul George."
Abe Schwadron is an Associate Editor at SLAM. Follow him on Twitter @abe_squad.