It all came to an end on December 12, 2007. An illustrious 15-year NBA career cut short.
Miami Heat president Pat Riley waived Anfernee "Penny" Hardaway in order to sign free agent Luke Jackson, who didn't even last two months with the team before being waived himself.
Neither Hardaway nor Jackson would ever play in another NBA game. But for Hardaway, it was the final stop in a career that included four NBA All-Star selections, two All-NBA First Team nods and an NBA Finals appearance. He was the face of an iconic Nike ad campaign and one of the most recognizable superstars in the League.
He was 36. He'd made upwards of $120 million playing basketball, but couldn't do it anymore. He was facing a crossroads in life. Now what?
"I didn't really end my career the way I wanted to," Hardaway tells us over the phone in late March, "but I knew that it was over. When I first stepped away from the game, I really was just trying to relax and then figure out what I wanted to do next. I was just trying to take a deep breath and really just go on vacations and just be carefree about everything and not really get too involved with anything.
"It was a grind for 14-15 years straight so I finally had a chance to say, OK, now it's time to move on and do something else—but I never thought it would be coaching. I wanted to see if maybe I wanted to do TV."
Penny's NBA career began in dramatic fashion. The Orlando Magic won 41 games during the 1992-93 season and only missed the playoffs because of a tie-breaker. Yet Orlando defeated all odds to win the No. 1 pick in the 1993 NBA Draft Lottery, despite holding the lowest chances of landing the top spot (1.5 percent). It was the team's second straight year with the No. 1 pick.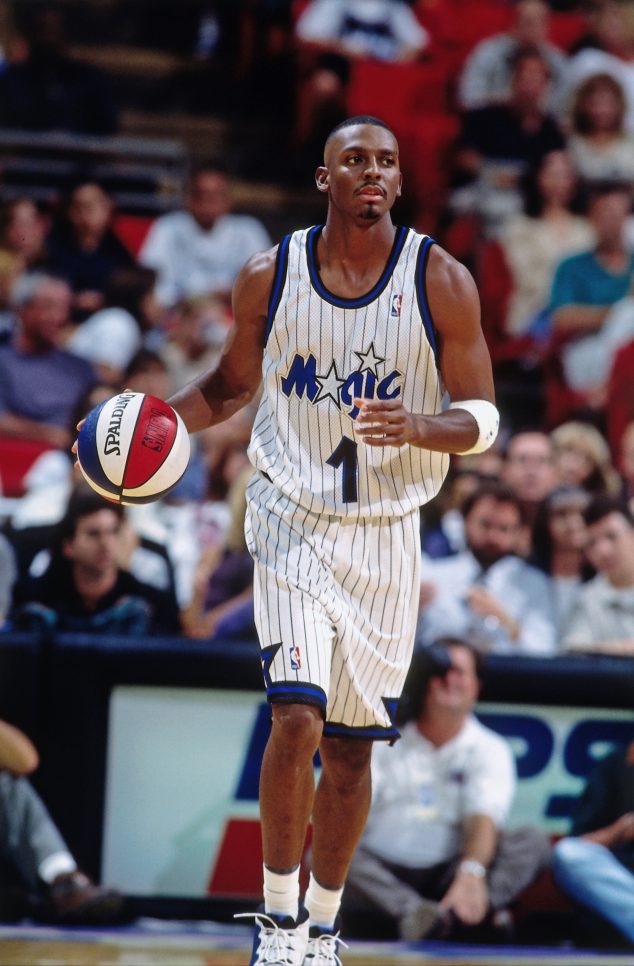 That spring, the Magic's young center Shaquille O'Neal had earned Rookie of the Year honors, and the front office's plan was to pair him up with Michigan's All-American power forward Chris Webber, creating a frontcourt that could dominate the League for years to come.
But O'Neal had other plans. He and Hardaway spent the summer of 1992 on set filming the classic basketball drama Blue Chips. The pair built a strong bond during the production of the movie and so at the request of Shaq, Penny—who had already worked out with the Magic earlier that spring—was invited for a last-minute private workout the day before the draft.
"We brought Penny in for a workout and interview, but it was kind of a cursory one," Pat Williams, the GM of the Magic back then, told the Chicago Tribune three years later. "We had a definite need for a power forward."
But that workout changed everything.
"He scrimmaged for an hour and I remember thinking, Oh, boy, are we in a mess. We had a tough 24 hours ahead. We just knew we had a very special player," Williams said. "He looked like the next Magic [Johnson], the next Oscar [Robertson]."
Although there's no footage of that legendary workout, the fact that Williams compared Penny to some of the game's greatest paints a pretty good picture of what took place that afternoon.
Penny wanted to play for the Magic so badly that he reportedly sent a life-sized cardboard cutout of himself to team officials. "He kept tracking us down and making calls," Williams said in '96.
A 6-7 point guard with the toughness, skills and persistence that Hardaway exhibited—who could say no to that?
The Magic took Webber with the first overall pick in the draft but traded him minutes later to Golden State for three future first-round picks and Penny, who the Warriors had selected two slots later.
There was uproar from many fans in Orlando who believed Webber was the better choice, but it wouldn't take long for Penny to win them over. As a rookie, he averaged 16.0 points, 6.6 assists and 5.4 rebounds to go along with 190 steals (sixth most in the NBA), helping the Magic clinch a 50-win season and the first playoff berth in franchise history. He finished second in ROY ballots behind Webber and won MVP at the inaugural mid-season Rookie Challenge.
The following season the Magic won a franchise-record 57 games, with Hardaway averaging 20.9 points, 7.2 assists, 4.4 rebounds and 1.7 steals over 77 games. He earned a trip to the All-Star Game, was named to the All-NBA First Team and helped lead Orlando past Michael Jordan and the Bulls to the NBA Finals, where the Hakeem Olajuwon-led Houston Rockets swept the Magic. Penny averaged 24.5 points, 8 assists and 4.8 rebounds in the series.
In the '97 playoffs, Penny averaged 31.0 points per game, second only to Michael Jordan's 31.1.
Penny made the All-Star Game in four of his first five seasons in the League, but a serious left knee injury in the '97-98 season slowed his meteoric rise. He needed surgery and missed 63 games. He never quite got back to his old self, and wound up needing five more knee surgeries within a 10-year period. As his explosiveness deteriorated, he bounced from Orlando to Phoenix to New York to Miami.
When Riley waived him in 2007, Penny faced what, eventually, every former NBA player faces: the rest of his life.
After about four years of kicking back and enjoying the lifestyle he worked so hard to achieve, he got a call from an old friend. That call would steer his post-playing career into an unexpected lane.
Penny knew Desmond Merriweather from growing up in the rough Binghampton neighborhood of Memphis. In 2011, Merriweather called to see if Hardaway would be interested in getting involved in an alumni game at Lester Middle School, their old school.
"I went in like two days later and the rest is history," says Hardaway. "I've been coaching from that point on."
Penny became an assistant coach under Merriweather at the middle school that fall. A handful of games into the season, Hardaway took over as head coach for Merriweather, who had been battling colon cancer since 2009.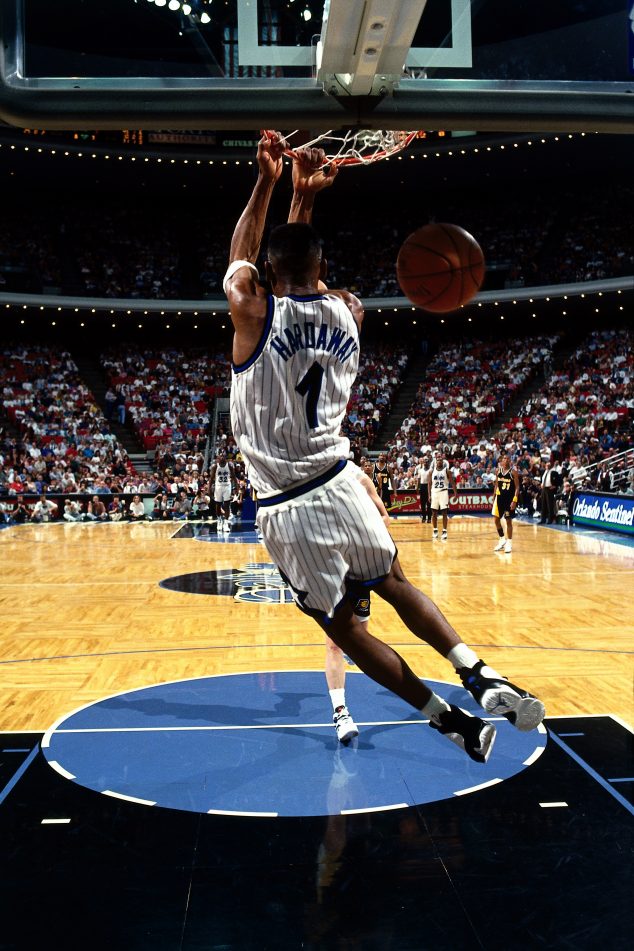 "Once the chemo started getting stronger, he couldn't sit on the bench anymore because he didn't have the energy after chemo, so he asked me if I could take over full-time, and of course I stepped in right away," recalls Penny.
In that first season at Lester, Penny helped lead the school to the city and state championship. Then he did it again the following year. And then again the year after that. Three consecutive city and state titles in his first three years as a coach. His friend Desmond, despite the circumstances, was there to celebrate in the locker room and on the bench through it all.
"Me and Desmond had a talk when we were at Lester," Penny recalls. "We had a group of kids that were sixth graders. We were like, OK, let's see them through middle school until they graduate from middle school and then let's see them through high school until they graduate from high school and then on to college. We kind of had that planned together."
After three consecutive titles at Lester, East Memphis High was where their master plan was destined to continue (the vast majority of Lester players attended East). This time, Desmond took the helm once again, as Penny took a break to go back to Miami and spend some time with his kids. But later in the season, just as their plan seemed to be rolling along perfectly, life took a sharp turn once again. On February 8, 2015, Merriweather passed away after his battle with colon cancer.
Penny was back in Memphis and he watched from the stands as East battled in the state tournament. After they were eliminated in the state semifinals, the former superstar vowed to pick up the torch and ensure that Desmond's vision lived on. That fall he became the head coach at East High, with one goal in mind. Under Hardaway, the Mustangs went 32-2, claiming the Class AAA state title and finishing with a No. 21 USA TODAY ranking in the country. This past season, East repeated as state champs after going 33-3, this time finishing No. 2 in the country on USA TODAY's list.
In his five seasons as a head coach (three at Lester and the past two years at East), Penny has won five state titles and propelled East High into national notoriety.
"My schemes and how we think and play has worked," Hardaway says of his impressive coaching résumé so far. "I feel like I'm a pretty smart guy and understand circumstances, and so it's not hard for me to figure things out. I think I've been blessed from above to be able to coach because it comes easy to me. I'm not bragging, but it just comes easy to me. I can see things. My gift is adjustments and that's what you have to do when you're coaching—you have to be able to adjust."
Penny's work with the youth has gone beyond the months of a basketball season. After his first season at Lester in 2012, he turned a local Memphis YMCA basketball program into the now highly regarded Team Penny grassroots travel organization. He started the program with three age groups that first year. Desmond coached the sixth grade team, Penny's cousin coached the 7th grade team and Penny took the eighth grade squad. As the kids got older every year, Team Penny continued adding older HS squads. Today, the program is known as one of the strongest on the prestigious Nike EYBL circuit.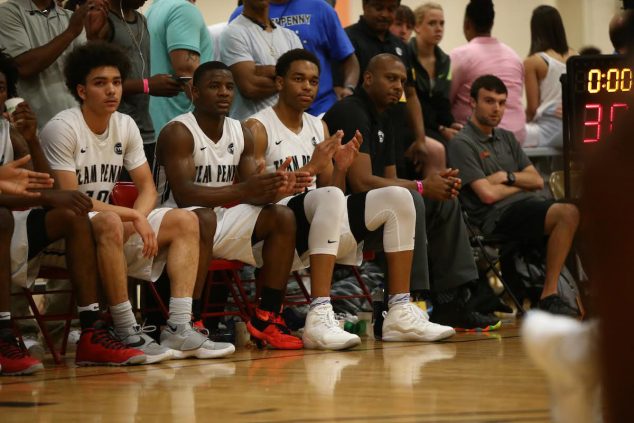 "We won early and established ourselves and who we are," Hardaway says. "I'm proud that we have gone from a program that no one knew anything about to being in the Final Four every year we've played except for one.
"We started off great because we ended up getting the Lawson brothers [KJ and Dedric Lawson, who transferred to Kansas after two years at the University of Memphis.—Ed.]. It started with that great group of kids and then it just kept building from there. More kids saw our program, saw how we played and liked our style and wanted to come join us. So it started with the better kids from Memphis wanting to play together."
Penny's emergence into one of the most successful and impactful coaches in the country and the role that his late friend Desmond played in bringing it into fruition has inspired a new generation of young hoopers in Memphis. It's a classic old-generation-meets-new-generation tale. Penny's ability to dominate the coaching scene so soon resembles the way he became one of the League's biggest stars just as quickly. With only three of the original middle schoolers from that Lester team still in high school at Memphis East, the plan that he and Desmond set forth in 2011 will soon be reaching its final stage. But given the triumphant manner in which the blueprint has been carried out, how it ends is anyone's guess.
"I don't know where this is going to take me," Hardaway admits. "Initially, Desmond and I, we were going to wait until that sixth grade class graduated high school, and next year, those guys will be seniors. But now we have better players coming in that are now ninth graders, so I don't really know how long I'm going to do this. I don't really want to leave kids behind because they transferred or came to the school as freshmen to play for me and then I go ahead and leave—but it just depends. Right now, I'm OK here at East. I'll see where that leads me."
—
Franklyn Calle is an Associate Editor at SLAM. Follow him on Twitter @FrankieC7.
Photos via Nike/EYBL, Getty Images