Pelicans 111 (22-33), Pistons 106 (27-29)
"The rim looked so big that it felt like everything I shot was going to go in." That's what Anthony Davis told reporters after dropping 59 points on 24-for-34 shooting on Sunday. Stan Van Gundy threw just about every defender at AD, and it didn't matter. Look at this shot chart: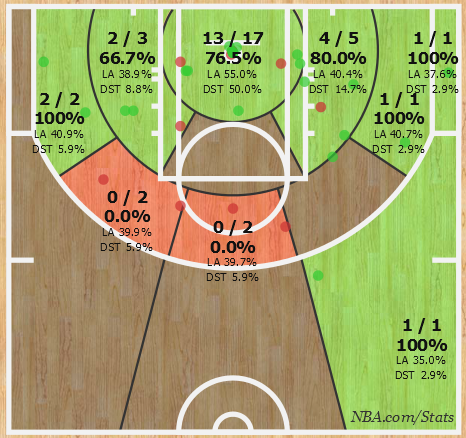 And consider, the 59 points were a career-high, a franchise-record, the highest single-game point total in the NBA in two years, etc. etc. etc. The only other players to hit 50+ points and 20+ rebounds in a game since 1983-84 are Shaq and Chris Webber. Sheesh!
You can cool off now, @AntDavis23. 💦 https://t.co/ronlquS4X7

— New Orleans Pelicans (@PelicansNBA) February 21, 2016
Cavaliers 115 (40-14), Thunder 92 (40-16)
Billed as another battle between LeBron James and Kevin Durant, the Cavaliers lowkey rolled to a big win on Sunday, led by 29 points from Kevin Love and 25 + 11 assists and 7 boards from the aforementioned King James. OKC couldn't buy a bucket from outside in the second half (2-for-13 on threes after halftime) and took the L despite 26 from KD and a near-triple-double from Russ Westbrook (20 points, 11 dimes, 9 rebounds).
Mood: pic.twitter.com/OMgaqiZauc

— Cleveland Cavaliers (@cavs) February 22, 2016
Celtics 121 (33-24), Nuggets 101 (22-34)
If there was any doubt that Isaiah Thomas deserved his All-Star spot, he's started by dismissing that talk, dropping 22 points and 12 assists (10 in the first half alone) to lead the C's to yet another win. Have you guys noticed the standings recently? These are the 8 best records in the entire NBA right now: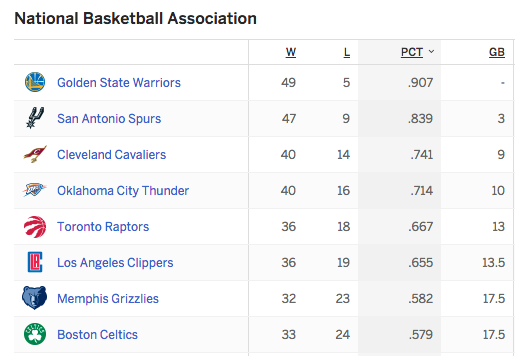 Spurs 118 (47-9), Suns 111 (14-42)
The Spurs continue to take care of business. 47-9 is the best record they've ever had as a franchise through that many games. With no Kawhi Leonard, this win wasn't as easy as it probably should have been, but thanks to a career-high of six threes from Patty Mills (21 points in 23 minutes) and 22 points out of Tony Parker, San Antonio beat the lowly Suns.
Hornets 104 (29-26), Nets 96 (15-41)
The Hornets have won 5 straight—best streak of the season—and have Al Jefferson back (18 points Sunday in his second game returning from knee surgery). The BX's own Kemba Walker was back close to home, playing in BK and putting on a show in the process, leading all scorers with 28 points. Nic Batum deserves mention, too, for his 16-point, 8-assist, 7-rebound night.
Pacers 105 (30-25), Magic 102 (24-30)
21 turnovers—17 in the first half. 9-for-25 shooting in the fourth. There's not way that team wins the game, right? Wrong. Indiana did all that, but in the final minute they were the more experienced team, and survived sending the Magic to the free throw line way too much late. As Magic coach Scott Skiles put it afterwards, "They were ripe to be beaten and we couldn't take advantage…We just didn't play a really professional game, beginning to end."
Raptors 98 (36-18), Grizzlies 85 (32-23)
Toronto has won 8 straight games at home, this latest dub coming behind DeMar DeRozan's 21 points. In fact, DeRozan notched his 232nd win in a Raptors uniform—that ties Chris Bosh and Mo Pete for most-ever as a Rap. Kinda crazy, huh? For the Grizz, Lance Stephenson dropped 16 points in his debut for that new-look Memphis squad, but also produced this look of distress from his coach:
Dave Joerger after a shot-clock killing, ugly dribble sequence from Lance Stephenson ended with a carry. pic.twitter.com/ohkkeatXdq

— Simon Legg (@Simon_Legg) February 21, 2016
Mavericks 129 (30-27), Sixers 103 (8-47)
Jahlil Okafor scored 31 points, which is more than he's ever scored in the NBA (and more than he ever scored at Duke, too, actually). But it was the veteran's night: Dirk Nowitzki became the sixth player in NBA history to surpass 29,000 career points with a three-ball in the third quarter and the Mavs won easily.
Bulls 126 (29-26), Lakers 115 (11-46)
From the opening tip to the final buzzer, it was pretty clear that this was all about Kobe Bryant (22 points, 8-for-20 shooting). Everywhere he goes, it's a farewell sendoff, but there's something extra special about his final game in Chicago, and the very pro-Kobe crowd let that be known. Unfortunately, the Bulls shot a season-high 56 percent from the field and led by DRose (24 points, 7 boards, 6 dimes) and Kobe's former running mate Pau Gasol (21 points, 7 rebounds, 5 assists, 5 blocks), defended their home court.
By the way, with all due respect to Kobe stans worldwide, we've kinda had enough of these dudes:
Smmfh pic.twitter.com/ei2oa9JHPT

— Justin Russo (@FlyByKnite) February 22, 2016
Blazers 115 (29-27), Jazz 111 (27-28)
If you stayed up to watch Sunday's finale, you were treated to an entertaining late night matchup between two teams fighting to stay in contention for a playoff spot. Damian Lillard (30 points) broke a tie with a driving layup with 23.4 left in the game, CJ McCollum (31 points) sealed it with four straight free throws. Lillard became the first Blazer since Clyde Drexler in '91 to go for 30+ points in four straight games. And even though Utah lost, we can't NOT show you this insane Trevor Booker dunk:
BOOKER 🔨⚒🛠 https://t.co/fLfFCDrnD2

— Utah Jazz (@utahjazz) February 22, 2016
81