by Brett Weisband | @weisband
Bobcats (6-6) 95, Nets (3-8) 91
Well, that panic button is looking mighty pushable for the Nets. Brooklyn dropped yet another game, this time in Charlotte, as a late comeback attempt fell short and they once again lost Deron Williams to his ankle injury.
The good news for the Nets from the first half was getting their offense rolling, presumably thanks to having Williams back into the lineup. The bad, though, was their defense, as they allowed Charlotte to shoot a scorching 58 percent in the first half as the Bobcats took a 53-50 lead. Oh, and DWill rolling his ankle again, leaving the game late in the second quarter.
The Nets came out cold in the third quarter, as the Bobcats went on a 15-1 run to start the half and eventually stretching their lead to 13 by the end of the quarter thanks to an offensive explosion from Kemba Walker (season-high 31 points). Things tightened up in the fourth as the Nets made their move, clamping down on the Bobcats and holding them to just 12 points in the quarter. On a team loaded with supposed All Stars, Alan Anderson (16 points, 4-6 from three) and Andray Blatche (25 points) scored 19 of the Nets' 21 in the final quarter, but they didn't have enough offense to finish the comeback. Another players-only meeting is probably in order.
Wizards (4-7) 98, Cavaliers (4-8) 91
Cleveland roared back to beat the Wizards a few days back, and they nearly did the same on Wednesday. The Wizards, led by Bradley Beal's 26 points (9-20, 6-7 from three) and Nene's 24 and 8 boards, barely held off an onslaught by Kyrie Irving (28 points, 18 in the fourth quarter) to get their second win in as many nights.
Being on a back-to-back didn't matter to Washington early, as they came out on a mission to start this game. After dropping that one to Cleveland less than a week ago, the Wizards didn't want to put themselves in a position to have that happen again. They shot 51 percent in the first half, including 5-11 from three, on their way to a 56-38 halftime lead. John Wall (15 points, 9 assists) continued his strong decision making, nearly racking up a double-double by half with 9 points and 8 assists.
Things did not improve for Cleveland in the third as they saw their offensive floundering continue. Washington stretched their lead to as much as 27 as the game wore on. Even giving Kyrie the ball and getting out of his way couldn't rescue the Cavs' offense. Something clicked for the Cavs in the fourth, as they finally started to look like a basketball team. They whittled the margin down to 15 midway through the fourth, which was Kyrie's cue to do his thing. Irving scored 11 straight for the Cavs to cut it to 86-82. Unfortunately for Cleveland, they just didn't have enough juice to overcome the huge lead Washington had built.
Pacers (10-1) 103, Knicks (3-8) 96 OT
The NBA's top team showed their mettle in the Mecca, coming back from an early deficit to take one from the struggling Knicks. Paul George buried New York late, scoring 28 of his 35 points after halftime and dominating the OT.
The Knicks surprised Indiana early, going up 13-0 and holding Indiana without a bucket for more than 5 minutes to start the game. Even though it took some time, thanks to horrific shooting, the Pacers eventually closed the gap to 5 by halftime. The Knicks, rightly maligned for their pathetic defense, held Indiana to 35 percent shooting in the first half, while Carmelo Anthony (30 points, 18 boards) scored 13 second quarter points to help New York hold the early lead.
Indiana took their first lead 5 minutes into the third as they clamped down (even more) on defense and started hitting a few shots. The Knicks retook the lead by the end of the third, thanks to a few timely threes by JR Smith (21 points, 4-10 from three).
Things started to get weird in the fourth as both teams started to get hot, with the lead changing 6 times. Indiana got big threes from George Hill (23 points), but the Knicks maintained their slim edge thanks to two absurd shots from Beno Udrih – a turnaround three with the shot clock running out and a super awkward flip shot in the lane.
The teams traded long-range bricks, including two wide open looks for Hill. The Knicks clung to an 89-86 lead after Melo, who is not going to make it through the season if the Knicks keep riding him like this, knocked in two free throws. With the clock running down, George, brilliant as ever, got a look from three and was fouled by Iman Shumpert. PG knocked down all three free throws and Melo missed a spinning fadeaway to send the game to OT.
In the extra frame, George decided he'd had enough. He scored Indiana's first 10 points in OT, putting the game on ice with a nasty fadeaway.
Heat (9-3) 120, Magic (4-7) 92
Even without Dwyane Wade, the Heat had no trouble overwhelming the Magic. Miami sprinted out to a 16-0 lead before the Magic could even get their warmups off, seemingly letting Orlando know it just was going to be one of those nights. The young Magic, to their credit, took that run to start the game on the chin and battled right back into it, even taking a 32-31 lead 4 minutes into the second quarter. LeBron James pulled the Heat back ahead, scoring or assisting on 17 of the Heat's final 19 points of the first half. Arron Afflalo had 20 first half points (6-7 from three), adding to his case as one of the best shooters in the league this season.
Miami came right back out and smacked the Magic in the third, pushing their lead to 19 by the end of the quarter thanks to LeBron (21 points, 7 rebounds, 6 assists in 29 minutes) controlling the game and James Jones (17 points, 5-7 from long range) continuing to knock off the rust to drain 4 triples in the quarter. The Heat got to kick their feet up in the fourth, as they let the starters rest and coasted to the victory. Afflalo finished with 30 points, and rookie Victor Oladipo put up 20 points in his first career start. Chris Bosh dropped in a cool 18 points on 7-10 shooting for Miami.
Raptors (5-7) 108, 76ers (5-8) 98
Toronto pulled out a victory in this battle of the top two teams in the Atlantic division (what?), getting strong nights from its wing players to top the Sixers.
DeMar DeRozan (33 points, 10-19 shooting, 3-5 from three) played the part of efficient scorer early for the Raptors, going for 22 points on 7-12 shooting in the first half, while Rudy Gay acted like he enjoys being a playmaker to the tune of 6 first half assists.
In the second half, the Raptors kept pushing their advantage against the overmatched Sixers. Gay got his scoring untracked in, finishing with 18 points, 8 rebounds and 8 dimes. Philadelphia, playing without glue guy Thad Young, stayed in it thanks to a season-high 28 points from Spencer Hawes. The Big Patriot can hardly miss from beyond the arc this season, hitting 3-4 in this one and pushing his three-point percentage up to 50 percent for the year. Michael Carter-Williams returned to the court after missing 4 games with a foot bruise, putting up 10 points, but the Sixers just couldn't overcome the barrage of wide-open threes they afforded the Raps, as Toronto knocked down 14-29 from three.
Hawks (7-5) 93, Pistons (4-7) 85
The Pistons and Josh Smith, making his return to Atlanta, lost a scrapfest to the Hawks and Smith's replacement, Paul Millsap. Millsap scored an efficient 19 points on 8-14 shooting. Smoove (11 points, 6 rebounds, 3 steals, 2 blocks) was his usual self, bricking a couple of threes, looking unstoppable when he took the ball to the rim and causing problems on defense. In fact, that was how this whole game went for Smith. Take a look at his ugly shot chart: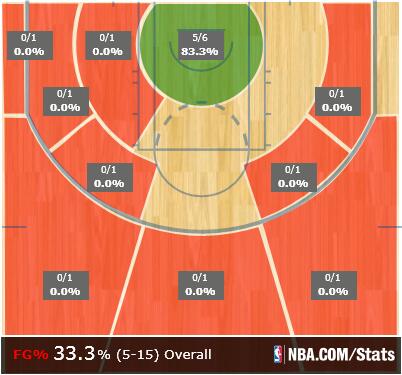 The new-look Pistons' struggles on the defensive end continued in this one, as they allowed Atlanta to shoot over 50 percent from the floor. The Pistons came into the came ranked dead last in the league in effective field goal percentage allowed. Detroit was able to force turnovers (21 by the Hawks) to keep themselves in it, but their offensive issues – the Pistons shot just 40 percent – allowed the Hawks to keep them at arm's length. Jeff Teague was mean for ATL, shooting 8-14 for his 18 points while dishing out 7 assists.
Trail Blazers (10-2) 91, Bucks (2-8) 82
How long will it take for the Blazers to start earning respect as one of the top clubs in the League? It looks like we'll find out soon, as they notched their eighth straight win, topping Milwaukee in a strong effort on the road. LaMarcus Aldridge once again looked like an All Star with 21 points and 7 boards, while Damian Lillard had 19 for Portland.
Wesley Mathews, still heated about his All Star ballot snub, was showing out in the first half, knocking down 6-10 shots (3-6 from deep) on his way to all 15 of his points. The Bucks stayed right in it, riding 50 percent first half shooting to keep it at 53-51 at half. The Blazers stayed solid, steadily pushing their lead close to double digits for most of the half. After Milwaukee cut it to 84-78, Lillard got a dunk and three to push the lead up to 11, enough of a cushion for the Blazers to get to the finish with.
Clippers (8-4) 102, Timberwolves (7-6) 98
It's old news at this point, but it's worth repeating: Chris Paul is a killer. CP3 scored 16 points in the fourth quarter, carrying the Clippers to a win over Minnesota. After the Wolves closed it to 84-82, Paul scored 10 points in the final 3:43 to close out the game. It's not really fair when your point guard can do that at will, is it?
The Clips got out to a hot start, scoring the game's first 12 points, but Minnesota got right back in it, tying things up by the end of the first. The trend continued in each quarter: Los Angeles would build a double-digit lead only to have their problematic defense let the Timberwolves shoot themselves back in it. Jamal Crawford (16 points, 5-9 from the field, 4-7 on threes) hit a trey to put the Clips up 81-70 with 7:37 remaining, but Nikola Pekovic (20 points) cracked some skulls inside and Kevin Martin (28 points, 11-21 overall, 3-4 from deep) hit a triple to get it to 86-85. Paul was having none of that, going into destroyer-of-worlds mode to close out the Wolves.
Kevin Love struggled in the much-hyped matchup with Blake Griffin. Blake put up a solid 20-10 line, while Love bricked his way to a 2-14 shooting night in his worst effort of the season. Paul finished with 20 and 11 assists, his 12th straight points-assists double-double to start the season, which is apparently a record that people keep track of.
Pelicans (5-6) 105, Jazz (1-12) 98
The Anthony Davis Psychedelic Experience keeps rolling. Davis is dominating like few in the league, and he claimed the top spot in PER after another ridiculous line – 22 points, 9 rebounds, 8 blocks (for the second straight game) – carried the Pelicans to a win over the Jazz.
There was plenty of young, explosive front court talent on display in NOLA, with Davis going up against Enes Kanter and Derrick Favors. In the first half, Davis showed why he's on his way to being one of the top bigs in the game, period: 10 points, 5 rebounds and 5 blocks. Kanter held his own in the first half, with 10 and 5 of his own and finishing with 19 points and 9 boards.
Ryan Anderson showed why he's such a vital cog for the Pellies (and such a valued trade chip) as he comes back from injury, popping off for 19 points, including hitting 4-6 triples in just his second game of the year.
Utah finally got first round pick Trey Burke on the court, and the point guard was aggressive in his debut. Burke scored 11 points in just 12 minutes for the Jazz, shooting 5-8. Gordon Hayward was aggressive too, but the results were nowhere near as pretty. In fact, Hayward put up one of the ugliest lines you'll see this season: 1-17 from the floor, 0-8 from beyond the arc for 6 points. Ouch. He did have 11 assists, though.
Spurs (10-1) 104, Celtics (4-9) 93
The best team no one is talking about just keeps winning. The Spurs, whose offense still isn't clicking (they rank just above league average in points per 100 possessions), rolled to their eighth straight win, dismantling the Celtics. Boston kept it close in the first half, and actually went to halftime with the score tied. That didn't last long, though, as the Spurs outscored them 8-2 to start the third, never really looking back from that point.
Tony Parker led the Spurs with 19 points on just 11 shots, while Kawhi Leonard put up 16 points, 8 boards and 5 steals. Tim Duncan had yet another rough game from the field, going 3-13 for his 13 points. Duncan is down to shooting just 37.5 percent on the season, a big indicator as to why San Antonio's offense hasn't been up to its usual standard. Three Celtics – Jeff Green, Jared Sullinger and Jordan Crawford – all scored 19 points apiece for Boston, but the C's turned it over 17 times (to just 11 for the Spurs) and clanked their way to a 4-15 performance from three-point range.
Kings (4-7) 113, Suns (5-6) 106
In the second game of a home-and-home, back-to-back set, the Kings again topped this Suns, holding Phoenix down after a fourth quarter that saw 83 combined points. Sacramento seemingly had the game in hand after they turned a 55-50 halftime lead into a 74-62 edge heading into the fourth, limiting the Suns to just 12 points in the third quarter. Goran Dragic (31 points) did everything he could to get Phoenix back in it, scoring 18 on his own in the fourth. The Suns 44-point final quarter wasn't enough, and Sacto held on for the win.
Dragic was big early for Phoenix, too, scoring their first 11 points of the game. The Suns needed it, with Eric Bledsoe out again with a bruised shin. DeMarcus Cousins played despite dislocating his shoulder the night before, and was a beast even with the injury. Although Boogie shot just 4-14 for his 19 points, he pulled in 12 rebounds and made 11-15 free throws, forgetting about his injury and absorbing plenty of contact. Isaiah Thomas was once again a microwave for the Kings, scoring 23 points on 8-13 shooting off the bench. The Suns got another strong game from Gerald Green, who also scored 23 and went 8-13 from the floor. Green knocked down 6-8 three-point tries.
Mavericks (8-4) 123, Rockets (8-5) 120
Why play defense when getting buckets is so fun? That was the philosophy for both teams in this one, as the Mavs and Rockets both hit over 55 percent from the field in a shootout. Dallas came back from a 9-point hole with less than 6 minutes to go, finally pulling ahead in the final minutes after trailing since the first quarter. Monta Ellis and Dirk Nowitzki were the picture of efficiency, combining for 72 points on 26-38 shooting. Ellis (37 points, 13-18 from the field, 8 assists) did more than score: he set up Shawn Marion for a layup and then a three-pointer to take the lead, with both coming on very sneaky passes.
The Rockets again took off quickly, putting up 40 points in the first quarter for the second consecutive night. Things slowed down in the second as the Mavericks began to catch up, but the Rockets looked pretty awesome early on their way to 68 first-half points and a 7-point lead. Dwight Howard caught several lobs, which the Rockets have had trouble connecting on all season, and went 7-7 in the first half, while Chandler Parsons (21 points) worked both inside and out, cutting to the hoop for layups and hitting 3 triples in the first half for 18 points.
Nowitzki (35 points, 13-20 shooting) passed no one's favorite analyst, Reggie Miller, for 15th place on the all-time scoring list in the second quarter. Congrats to the Big German on the big-time achievement. Dirk was hot early, netting 17 in the first half, and kept up his array of step-backs throughout the game.
Dwight (season high 33 points, 12-16 shooting, 11 boards) didn't miss until there were about 8 minutes left in the game, and even went 9-13 from the line. James Harden had 23 points and 8 assists, but came up short a long ball to tie it up with time running out.
The highlight of the night didn't come on the court. Mavs coach Rick Carlisle went full Popovich in his on-court interview. There's no coming back from that, Chris Broussard.
Grizzlies (7-5) 88, Warriors (8-4) 81 OT
With Steph Curry out with a "mild concussion" (thanks for this BS term, NFL), the Warriors dropped a rare home game against the Grizz. Memphis broke a tie in overtime on a three by Mike Conley (19 points, 8-19 shooting) and held on for the last minute and a half for the road win.
Golden State held the lead for the majority of the game, even rallying back when the Grizz took a lead late in the third and going up 75-73 on a Klay Thompson (21 points, and no other stats save for an offensive rebound) layup with 3:15 to go. Those would be Golden State's last points of regulation, as Memphis locked them down with the defense they're known for. OT was more of the same, with just 6 combined points in the first 3 minutes of the period. After Conley's triple, Tayshaun Prince drilled a couple of jumpers for Memphis to put the game out of reach. Marc Gasol (18 points, 11 boards, 4 blocks) iced it at the line for the Grizz. Zach Randolph also posted a double-double for Memphis, going for 21 and 12. Harrison Barnes went for 16 points, 8 boards and 5 assists for Golden State.