Clippers 114 (48-28), Wizards 109 (37-40)
In Blake Griffin's first game since Christmas Day, it was Chris Paul who torched the Wizards for 27 points and 12 dimes. BG finished with 6 points, 5 rebounds and 4 assists in his 25 minutes of action, which he described as "a little rusty." About CP3's hat, though…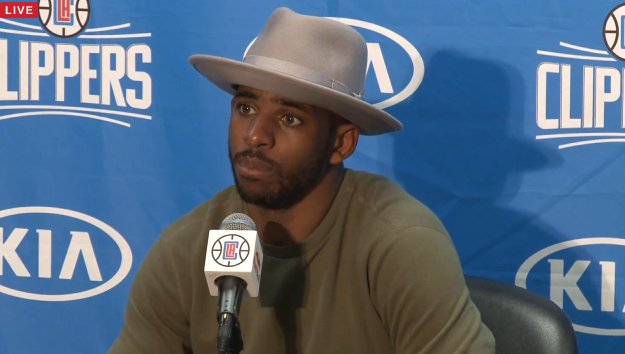 Pelicans 106 (29-47), Nets 87 (21-56)
The Chronicles! After sticking around past his initial 10-day contract, Tim Frazier's been balling out for the injury-riddled Pelicans. His latest: career-highs of 19 points and 13 assists to lead NOLA to a win in BK.
Cavaliers 112 (55-22), Hornets 103 (44-32)
No Kyrie? No problem. LeBron went for 31 points, JR Smith tied a season-high with 27 and the Cavs shared the rock nicely en route to a win—even though they almost let a 21-point lead slip away in the second half.
Rockets 118 (38-39), Thunder 110 (53-24)
James Harden exploded for 41 points—15 in the fourth quarter—and 9 assists against his former team in Sunday's big national TV game. For a league-leading 13th time, OKC lost a game despite holding a fourth-quarter lead. That's…not a good trend. Oh, and did y'all see this KD quote on Harden?
Durant on Harden's roaming defense pic.twitter.com/x9dNNOmxif

— AP (@Ananth_Pandian) April 4, 2016
Mavericks 88 (39-38), Timberwolves 78 (25-52)
Dallas desperately needed this one, and despite 30 points from Andrew Wiggins, they got it. JJ Barea scored 21 and the Mavericks hit a whole rack of threes (14 total). Now, the Mavs' magic number is 5.
Magic 119 (33-44), Grizzlies 107 (41-36)
Memphis knows the playoffs are about to start, right? The Grizzlies are losers of six straight and are the No. 5 seed but sliding fast. Not exactly great timing to be playing like trash, guys. The Magic on the other hand, have won four of their last five, and all of those wins were by double digits.
Jazz 101 (39-38), Suns 86 (20-57)
Gordon Hayward led the way with 22, 5 and 5 for Utah, and now the Jazz and Mavs are all tied up for the 7th seed in the West. And then there's this stat:
Since Favors and Gobert were both healthy on Jan 25, Jazz are 2nd in Drtg and 8th in NetRtg.

— Ben Dowsett (@Ben_Dowsett) April 4, 2016
Bulls 102 (39-38), Bucks 98 (32-45)
Jimmy Butler scored 25 on 10-for-11 shooting, plus 8 dimes and 5 boards. The Bucks actually cut a 19-point Bulls lead to just 1 with under four minutes to play, but could never get over the hump. HOWEVA—we cannot discuss this game without mentioning Mr. Giannis, who scored a career-high 34 points. This kid, man…
https://www.youtube.com/watch?v=K_aNg41gEvk&feature=youtu.be
Pacers 92 (41-36), Knicks 87 (31-47)
Paul George had 20 points and 9 boards, and while it wasn't a buzzer-beater, this was the shot that won the game for Indiana, a smooth jumper with 23.6 seconds left:
https://vine.co/v/ij9Jj9Yi5ub
Warriors 136 (69-8), Trail Blazers 111 (41-37)
Game summary:
Steph.
Dame.
STEPH.
DAME.
(whispers *Draymond triple-double*)
Curry won the duel in the end, finishing with 39 (9 threes!) to Lillard's 38. But man, was that fun. And yes, the Dubs notched win number 69. (Nice.)
Celtics 107 (45-32), Lakers 100 (16-60)
Kobe scored 34 points in his last game ever against the Celtics—and you could tell he was going extra hard out there, wanting to beat Boston. But yeah, nah. Isaiah Thomas had 26 points (and nearly went full Mayweather on Marcelo Huertas at one point) to lead the C's, who are now tied for 3rd in the East.