Thunder 104 (43-20), Bucks 96 (26-37)
The Bucks shot just 3-for-23 in the first quarter, allowing OKC to jump out to a 32-12 lead after one. In what became a triple-double duel between Russell Westbrook (15 points, 10 rebounds, 11 dimes) and Giannis Antetokounmpo (26 points, 12 rebounds, 10 assists, 4 blocks, 3 steals), Russ and Kevin Durant (32, 12 and 8) held off a late Bucks push to hold on in this one. But seriously, this box score is kinda nuts. Oh, and Giannis did this:
Lakers 112 (13-51), Warriors 95 (55-6)
OK, what club did the Warriors hit on Saturday night in LA? Golden State made only 4 of its 30 three-point attempts (13 percent) leading to what—by the numbers—is literally the biggest upset in NBA regular season history. Steph and Klay were a combined 1-for-18 from downtown, scoring 18 and 15 points respectively. The Dubs just could not get it going at all. Meanwhile the young guards for the Lakers continued to play well: D'Angelo Russell had 21 and 5 dimes, Jordan Clarkson had 25 points… even Marcelo Huertas was looking respectable.
Huertas to Nance sighting…👀 #GoLakers (ABC) https://t.co/T18m6Tcrsk

— Los Angeles Lakers (@Lakers) March 6, 2016
Of course we have to mention Kobe so, maybe the upset was thanks to the special Stance x Kobe socks the Lakers were rocking: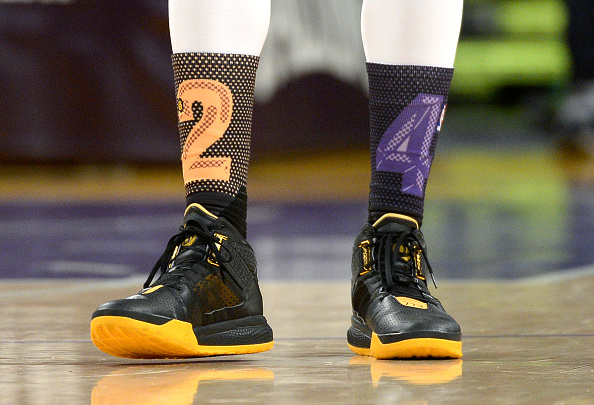 Suns 109 (17-46), Grizzlies 100 (37-25)
The Suns have only won three games in their last 18, but two of those have been against Memphis. Lowkey, Devin Booker is averaging 22 ppg through the first four games of March. And his battle with Lance Stephenson was entertaining—it also produced a couple technical fouls. Welcome to the League, young fella. Keep holding your own.
Devin Booker hit a 3, turned to Lance Stephenson slapping his chest and said, "That's my f—ing shot!" PHX 25-18 after 1Q. #SunsVsGrizz

— Paul Coro (@paulcoro) February 28, 2016
Nuggets 116 (25-38), Mavericks 114 (33-30) OT
The end to this game was zany. All the Mavs had to do was safely inbound…and then…
Absolute mayhem at the end of regulation between Mavs/Nuggets 😳 pic.twitter.com/zynrAe00Tz

— Rob Perez (@World_Wide_Wob) March 7, 2016
Then DJ Augustin scored 8 of the Nuggets' 10 points in OT, including hitting a pair of free throws with less than a second left to lift Denver over Dallas. That was a wild one.
Pistons 123 (32-31), Trail Blazers 103 (33-31)
Reggie Jackson really likes playing Portland, huh? He put 40 on the Blazers in their first meeting this season, and on Sunday he scored 30 as Detroit bounced back from an embarrassing loss in New York to blow out PDX. Dame Lillard had 26 points, but shot just 8-of-22 from the field and stumbled out of the gate—he had five turnovers in the first quarter.
Heat 103 (37-26), Sixers 98 (8-55)
Miami trailed by six with about 10 minutes left in the fourth quarter, but turned it on to secure a home victory on the strength of a double-double from Hassan Whiteside (14 points, 13 rebounds) plus seven blocked shots. Dwyane Wade and Goran Dragic each poured in 23 points to help the Heat, too.
Rockets 113 (31-32), Raptors 107 (41-20)
James Harden had 40 points and 14 assists en route to handing the Raptors their first home loss since the first week of January. The Rox were down as many as 18 points in the first half but battled all the way back for a big win. How's this for a crazy fact: The last time the Rockets won in Toronto, Houston had Rafer Alston, Yao and T-Mac starting. That was the '06-07 season.
99