"I ain't playing til I'm 40. At 30, I'm out."
So stated 27-year-old Shaquille O'Neal in these pages in 1999. He was then in the midst of his seventh NBA season and his third with the Los Angeles Lakers, and he was nearing the height of his basketball powers: A physically impossible mismatch, unbelievably skilled and explosive for his size, a man among boys even in the best League on the planet. Already his name was mentioned alongside the greatest of the Association's most star-studded franchise, with one caveat: This would-be king had yet to earn a crown.
That would change soon enough. It's largely overshadowed now—both by the small-ball nature of the modern NBA, and by his own less-than-serious on-screen persona—but peak Shaq was as unique as he was unstoppable. When he arrived in L.A. in '96 after four seasons of a dynamic but ultimately doomed partnership with Penny Hardaway in Orlando, Shaq was ready to dominate headlines and opponents. He averaged 26 points and 13 rebounds per game in that first season in Forum Blue and gold—numbers that established him as the focal point of a team that was good, but not yet good enough. It would take a handful of key roster moves, the arrival of the League's best coach and the maturation of a certain brash young swingman to elevate the Lakers to the level of true greatness.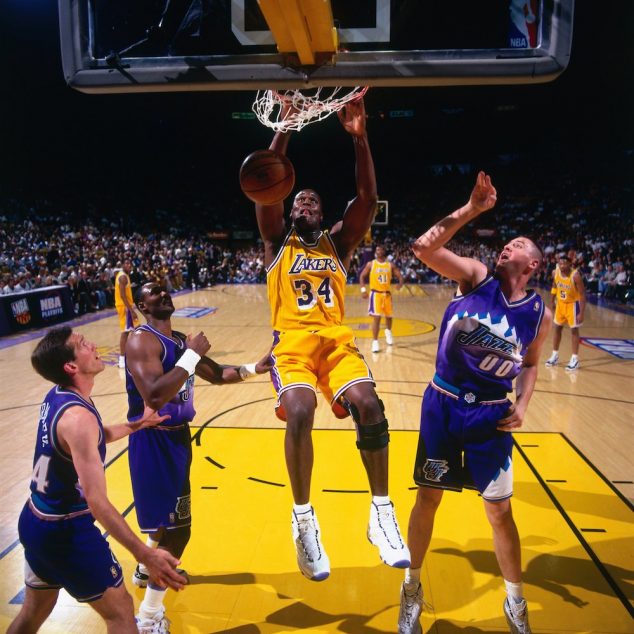 When the time came, Shaq was nothing less than unstoppable. Over the course of that famous three-peat, he averaged 28 and 12 during the regular season, numbers that rose to nearly 30 and 15 over the Finals appearances against the Pacers, Sixers and Nets. He ended each of those series as World Champion and Finals MVP. Even then, you rarely heard him mentioned in the discussion of the game's best all-around players, a conversation in which "little brother" Kobe was featured prominently. Shaq didn't appreciate the oversight so he used the slight as fuel, creating (as he often did) an honorific of his own. "MDE" may not have been the catchiest of the Big Aristotle's self-given nicknames, but there was no denying the message of "Most Dominant Ever."
Shaq turned 30 shortly before he won that third ring, and of course, he wasn't close to getting out. In fact, he had nine years left, including a title-winning supporting role in Miami and increasingly less impactful stints in Phoenix, Cleveland and even (gasp!) Boston. He struggled to stay healthy in the second half of his career, playing out the string in a way that made it hard for some to appreciate, or even remember, just what a monster he'd been over that first spectacular decade. And while he was dazzling in Orlando, a revelation of power and athleticism, it was his reign in the classic Laker uniform you see at the top of this page that remains the most successful and iconic stretch of his Hall of Fame career.
It was in L.A. that he confirmed the truth in another pronouncement he made in SLAM way back at the end of the last millennium. "When this game is over," Shaq promised, "they're going to remember my name."
—
Photos via Mitchell & Ness, Getty Images