After losing four starters from last season's 51-win playoff team—including All-Star LaMarcus Aldridge—this year was supposed to be a rebuilding one for the Portland Trail Blazers.
But the team, currently the 6-seed in the Western playoff standings with a 40-36 record, have been one of the NBA's biggest surprises this season. GM Neil Olshey quickly re-tooled the Blazers into a younger, more versatile roster of emerging players centered around franchise PG Damian Lillard.
Many of the new additions such as Ed Davis, Al-Farouq Aminu and Mason Plumlee have fit in nicely, carving out significant roles as the Blazers have surpassed the low expectations set for them entering this season.
Another one of the newcomers who has impressed is fourth-year wing Maurice Harkless, who after adjusting to a new system and new position (PF), is now a starter late into his first season in Portland.
With his high energy and versatility on both ends of the floor, Harkless has seen his minutes, scoring opportunities and overall impact increase of late.
Drafted 15th overall by the 76ers in the 2012 Draft, Harkless was initially selected to be groomed under Andre Iguodala, but instead both were a part of the massive four-team-12-player Dwight Howard trade, which landed Harkless in Orlando.
Harkless showed flashes and promising potential during his first two seasons with the Magic, but saw his minutes dwindle before falling out of the rotation completely in his final season there.
The Magic traded Harkless to Portland last summer for a future second-round pick; adding even more motivation to the 22-year-old NYC native, who just wanted the chance to prove himself and showcase his game with the right opportunity.
SLAM caught up with Harkless on a recent off-day to discuss the lessons he learned in Orlando and how he's taking full advantage of every opportunity he receives in Portland.
SLAM: How would you define your first three years in Orlando? Was there any frustration with all of the losing while also seeing your playing time severely reduced your last year there?
Maurice Harkless: Overall, I think it was a good experience. We were a young team, we went through a lot of ups and downs. It was really frustrating with the losing. No player wants to be on a team where you're in the lottery every year. That part was tough, and last year with the playing time (being reduced), that was pretty frustrating as well, especially because I couldn't figure it out. I was just trying to do whatever I could to get on the court, but I just couldn't crack the rotation. I just used that frustration, and all of the losses and me not playing to drive me to work harder.
SLAM: For as quickly as the League can change and with players having to be able to adapt, how important is having consistency in knowing when you're going to play, what your role is, and how many minutes that you're going to play?
MH: One thing that I've figured out is, no matter how many minutes you play or think you're going to play, you should just prepare the same way every game and at every practice. You got to prepare the same way and just be ready. Like you said, the League changes so quickly. One night you're playing 10 minutes and the next night you're playing 35. You have to just stay ready and be prepared for whatever situation comes your way and that's what I've done.
SLAM: How do you keep your frustrations in check and not disrupt what the team is trying to accomplish?
MH: I can't take all the credit on this one. Sometimes I did get frustrated and I talked to people just to calm me down and I just remained positive. Whether it was my agent or one of my closest friends; I feel like I have a pretty good circle of support. They kept me grounded and level-headed when things weren't going so well, and also now, when things are going good. Usually they would call me up when they sense I'm frustrated and that helps a lot because sometimes it's real rough, but success isn't handed to you.
SLAM: When you were informed that you were traded last summer, how did you react to the news and what were your impressions of Portland before arriving there?
MH: I didn't really have an impression of Portland, honestly. I didn't know anything about it other than I hated playing here as an opponent because the fans are really loud and very passionate about the Trail Blazers. I was excited to hear the news (of the trade). I was looking forward to the opportunity to come here and I saw an opportunity for me to hopefully play a lot. We have a nice group of young guys who all work hard. I knew CJ [McCollum] since I played against him in college. I was drafted in the same class with Dame and Meyers [Leonard], so just coming here with a great group of young guys, I was really excited and looking forward to getting started.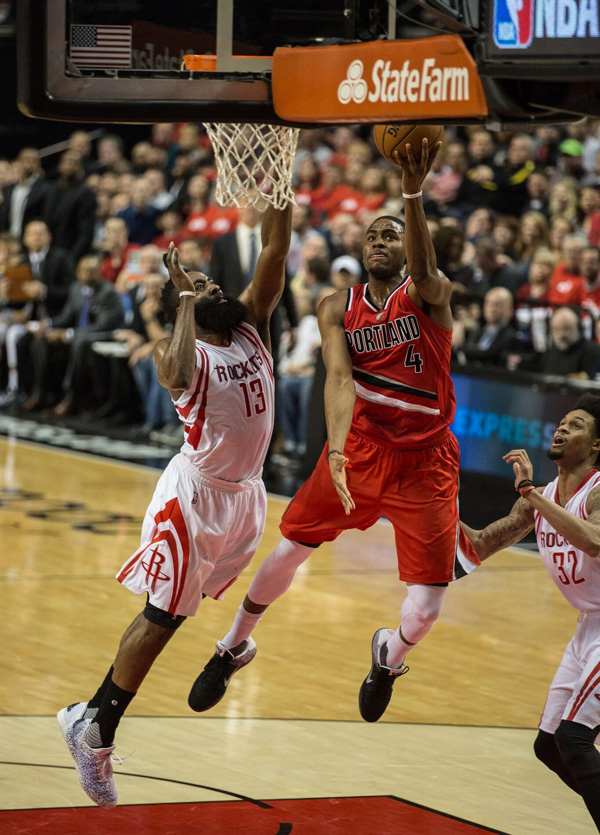 SLAM: Somehow you guys have came together quicker than anyone could have predicted and are now battling for the fifth seed. What do you attribute the team's success to this season?
MH: I think the main thing is everyone on the team works hard and we all want to win. Everyone on the team knows what it takes to win and we all make the necessary sacrifices to go out there and do that on a nightly basis. We heard all of the talk at the beginning of the season about how we would do this year. I can tell you that after going through some of the open gyms with these guys, I knew that we were going to win more games than anyone expected. We have a good group and I knew we could make some things happen this year. I was telling everyone before the season started that we would definitely be in the Playoffs. I guess it is surprising that we're in sixth and we could finish fifth, but I knew we were going to make the Playoffs.
SLAM: You spent some time last summer with the Puerto Rican national team, which is coached by Rick Pitino. How was that experience?
MH: It was a pretty good experience overall. It was definitely a different style of play; very physical. I didn't get a chance to play in the actual tournament because I hurt my ankle and I had to come back to Portland. But practicing with those guys and scrimmaging against them, it was a lot of fun. I took a lot from it. Those guys are all professionals and they're all grown men. It wasn't like the young team we have here in Portland or the teams I was on in Orlando. It was a team full of grown men. Being out there and watching how they work and how physical they were, that was a good experience for me.
SLAM: Your mom's side of the family hails from PR, but why did you decide you wanted to join the team, even with them trying to recruit you to play ever since your St. Johns' days?
MH: I felt like I just needed to play. I wanted to play because I didn't get a chance to play a lot my last year in Orlando. I just felt like playing for the national team would be a great opportunity to just hoop and play. I feel like that's the most important part of any young player's development is to just play. It was a great experience. Playing for Coach Pitino—obviously he's a great coach—he dropped a lot of knowledge on me and he pushes guys to work really hard, so it was a great experience and I learned from that.
SLAM: How do you feel you've adjusted so far to being in a new system and in a new role, as you now play a lot of 4 in coach Stotts' small-ball lineups?
MH: I think I've adjusted pretty well. It was kind of new at first since I never really played the 4 at this level before and guys are a lot bigger and stronger. I'm pretty much cool with playing wherever I'm needed; whatever I can do to help the team win, especially if that's playing as the stretch-4 now. Offensively with our system, positions are interchangeable. One position I can be playing the 4 and the next possession I can be playing the 2. With our team, we have guys with similar size and skill sets and when we're out there we can just pretty much figure things out on the fly. We can switch positions on both ends of the floor, so it's pretty cool.
SLAM: You're rebounding the ball well and taking advantage of increased opportunities to score more now. Is there anything that you're doing differently now or has this been a new focus for you?
MH: The main thing is I just try and be aggressive on both ends. I'm going to do whatever the team needs me to do for us to win. Whether I need to lock somebody up defensively, or if it's rebounding, scoring; whatever I need to do to help the team win, that's what I'm going to do.
SLAM: One thing NBA observers knew coming into this season was that Damian Lillard was a proven All-Star-type player. Even though he was snubbed this season, what were your impressions of him coming in and your impression of him now after being his teammate?
MH: Coming here, I knew he was a good player. After being with him for pretty much a year now, I've gained a lot more respect for him. Not that I didn't have a good deal of respect for him before but I just didn't really know him. Just seeing how much of a leader he is, how tough he is. He really wants to win at all costs. He's a tough kid and he's played through some injuries this year and by just watching games, fans probably don't see stuff like that. But being around him and playing with him you learn a lot from him and the type of person he is.
SLAM: Dame is one of only a handful of players that I believe can go off at any moment and there's nothing you can do with his range and shooting stroke. As a teammate what's it like to watch a guy like that go off, especially the 51-point game against Golden State?
MH: You can get caught up in watching, especially that game against Golden State. That night it was just try and get him open and see what he does. I think the whole team got caught up in watching that game because he was really in the zone. A lot of times, he goes into that mode where he just takes the game over for a period of time. You try to still play, obviously, but we all get caught up in it.
SLAM: I saw an Instagram post from you with you behind the camera lens that you captioned "Young Ansel Adams." Just with a reference like that, it means you've done some studying of photography. Is this a passion of yours?
MH: It's something that I've always liked to do for fun. I just really like taking pictures. Once I saw the cameras that the courtside photographers are working with and how they can create and edit it's cool. It might be something I further explore this summer, because it is a lot of fun for me.
SLAM: You guys are still taking things one game at a time, but how does it personally feel knowing that you'll be making your first trip to the postseason?
MH: It feels pretty good. This is what we play for; a chance to win a Championship. Being in the Playoffs and having that opportunity, anything can happen once you're there. You just have to take things game by game and just try and do the little things to keep winning and I think we've put ourselves in a good position to do that. It's really exciting.
Photos courtesy of Justin Tucker.
156