After coming to the states and graduating from Ithaca College by way of South Africa, Steve Hess had no clue what was going to happen with his life.
All he knew was that his career had to involve health and fitness. His energetic personality and passion for making other people better landed him a job as the strength coach for the Denver Nuggets.
We sat down with the man with the badass accent to talk about training and his time in the Mile High City.
SLAM: How did you get into being a strength coach?
Steve Hess: Luck. Luck. Pretty much luck. I finished my undergraduate degree and I moved back to Colorado and I was a head trainer at a specific gym. The general manager for the Nuggets came in and was like, "We want to hire a part-time strength coach who won't work underneath you," and I'm like, Hell man, I'm getting this job. And my wife's like, "What do you know about basketball?" I'm like, Very little, but I'm getting this job. I proceeded to call the general manager, assistant general manager, athletic trainer every day for two months and I ended up getting the job. So right place, right time and I kind of went from there.
SLAM: Take me through a Steve Hess workout.
SH: Here's the premise of everything I do, I believe we all have an energy and I honestly believe if we're going to facilitate your workout in the realm of what it is you need, I'm specifically designing it for you. This has got absolutely unequivocally nothing to do about me, it's all about you. The first thing we have to understand is that we're designing this workout, determined 100 percent about your body and your specific goals. Again, I'm not talking about the athletes, I'm talking about you. You're going to walk into my world and it's all about you. So I'm going to have a really good look at how you function. I'm going to do my best to analyze the specificity of what you have available to you. Then I'm going to slowly build you up. I want to create a huge benefit of what you have available. Build on that. Get you going. Get you excited. If you start telling me about your girlfriend, I don't want to hear about it [laughs]. We're here to do one thing. We're here to train. I'm just 100 percent concerned about you getting better. Within the realm of that, in order for you to get better, you have to participate.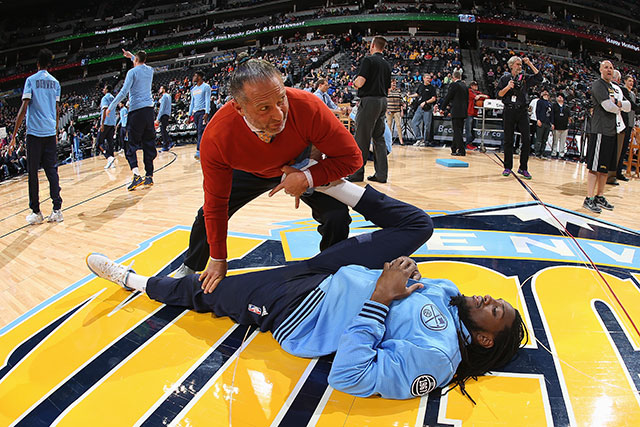 SLAM: What's your relationship like with the athletes then?
SH: They freaking hate me [laughs]. When we we have a specific task at hand, we're taking care of that. I'm spending more time with my players than I do with my wife and my kids and they're a part of my family. Am I receptive to certain things? Absolutely. I feel like I have an amazing relationship with my athletes.
SLAM: Why do you say they hate you?
SH: No they don't [laughs]. I took them up to Manitou Springs, which you go from up 3,000 feet. It's ridiculous. It's one of the toughest workouts ever. I had them do intervals initially. By the third interval they're like, "Dude, really?" By the end of their workout I had definite hate. I actually took my son up there to do it with us and when your son's not talking to you, it kind of boils down [laughs]. I actually did it, but I walked the whole thing and halfway through doing it, I thought I was going to die.
SLAM: How do you differentiate workouts, let's say, between Emmanuel Mudiay and Wilson Chandler?
SH: Emmanuel comes in and he has specific limitations. In the realm of those limitations is that the weakness in the system, we try to create better range to get rid of the weakness. All players have different limitations. Their ability to do specific things varies. The number of injuries varies. The number of years varies. We take an abundantly different look at what it is we're dealing with. I wouldn't have Wilson over 7 percent body fat. I wouldn't have Emmanuel over 6 percent body fat. We've had some bigs where I wouldn't put them under 9-10 percent. There's no necessity to get them there.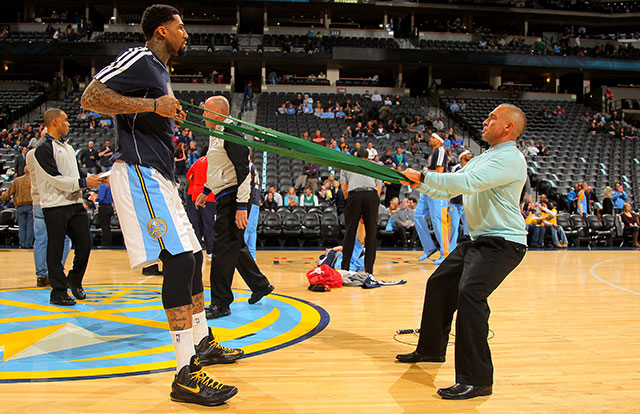 SLAM: Have you met with any of the rookies yet?
SH: No, not yet. I'm excited. Jamal Murray, he's a beast. I'm so excited to meet him. Yes, I have actually. My man from Spain (Juan Hernangomez). He came in for a workout and he's geeked. Rudy Fernandez hit me up and was like, "Look, you better take care of my guy." So, yeah I'm excited. We're going to create a beast. As soon as I get back, they're going to be with us all the way through Summer League. I know [Malik] Beasley had a rod put in his leg, but no worries. We'll get through that and we'll just smash it.
SLAM: So many players get bigger over the years than when they first started out? How do they make that happen?
SH: How old are you?
SLAM: Twenty-one.
SH: Do you look different than you did when you were 15?
SLAM: Well, yeah I do.
SH: They're rocking in at 18. They're kids. There's only one man child that came in at 18 that took off his shirt and I was like, 'Oh my gosh, you're a beast.' That's Amar'e Stoudemire. A lot of it is maturity. As your body matures, you put on more muscle. If your nutrition is keyed in and if your supplementation is keyed in… To go back for a second, that's why I love MET-Rx. They've been around 25 years. They listen to the things we talk about and they create products, which are usable and amazing. They're used to supplement your nutrition.
SLAM: What kind of supplements does MET-Rx have?
SH: MET-Rx has everything. In the predominance of everything we're trying to do with athleticism, MET-Rx is behind us 200 percent. We are 100 percent fully, fully, fully, fully committed to the fact that the majority of your nutrients come from your food. Your macronutrients and your micronutrients.
SLAM: Do you have to get on the guys in the summer?
SH: Come on, bro. Seriously? Let me ask you a question. It's 6 o'clock in the morning. Would you want to come work out with me?
SLAM: Hell no.
SH: I absolutely have to get on them, but that's my gig, man. If everyone was inspired, that would be the worst. Half of my job is getting wired.