"We were playing two-on-two—I was on his team. They were calling him 'soft cotton,' they were going hard. After a while he just got fed up. That was the end of that."
Ryan Joseph, 33, vividly recalls the moment his nephew, Rakeem Christmas, became a man on the intense, trash-talk filled pick-up courts of Philadelphia. Christmas was 14 at the time, and he had just moved in with Ryan and his wife, Amira, after living in St. Croix, the largest of the US Virgin Islands, since the age of 2.
Ten years after Philly's harshest shit-talkers inspired Christmas to pursue basketball with burning passion, Rakeem is hard at work preparing for his second season with the Indiana Pacers. But first, he's giving back to the community that raised him. Rak, Amira and Ryan are back in St. Croix to host the inaugural Christmas in July charity game, with the proceeds (almost $20,000) going toward fixing dilapidated courts for kids around the island.
A cloistered tourist might not be aware of the gun violence that exists in St. Croix.
"Coming up with the idea was just brainstorming with my aunt, trying to figure out what's a good way to keep the kids active and keep them out of harm's way," Rakeem says. "Nowadays there's a lot of violence going on down here. I'm hearing stories, while I'm up in the States talking to people, that people are getting shot once a week. And I'm just trying to keep the kids away from that."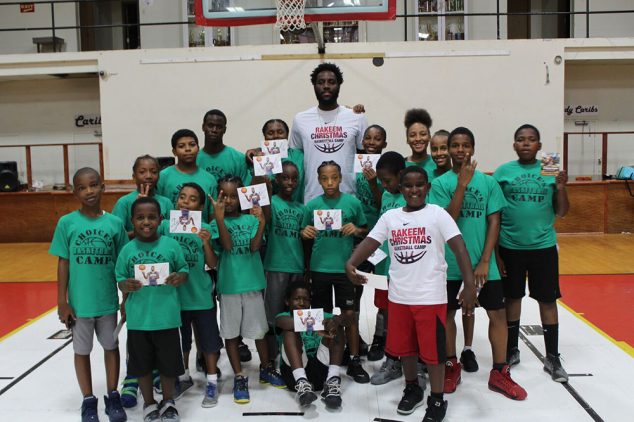 The game itself is a massive success: about 1,550 fans pack a sold-out Central High School gymnasium on July 23 to watch the best 19-and-under ballers from the host island go up against the best U-19 hoopers from nearby St. Thomas. People from all corners of the tight-knit region show up to catch a glimpse of their native son, Rakeem, who's back in town with college buddies and fellow young NBAers, Jerami Grant of the Sixers and Chris McCullough of the Nets.
HUMBLE BEGINNINGS
When people talk about the genesis of basketball, they usually talk of James Naismith, a Springfield YMCA and a peach basket slapped on the gymnasium wall. But that's a discussion about the genesis of the very sport of basketball.
The genesis of an individual player's career varies like the size, shape and quantity of tattoos on an NBA player's skin. Larry Bird used basketball as an escape while growing up in French Lick, IN, where No. 33 shot jumpers sun-up 'til sundown on a rusty hoop attached to his garage. Michael Jordan honed his competitive spirit in games of one-on-one versus his older brother, Larry, in the driveway of his childhood home in Wilmington, NC. Allen Iverson came up from the mud—literally—wearing boots to cross the sewage-soaked floor in Hampton, VA and earning local legend status as "Bubba Chuck" thanks to his otherworldly quicks and heart of a lion.
In just his second year out of Syracuse, Rakeem Christmas is lightyears away from holding a legacy like Larry's, MJ's and AI's. But what the 6-9, 24-year-old Pacer does have in common with those legends is an equally striking start to his basketball life. Christmas hails from St. Georges, a neighborhood on the West end of St. Croix. His home court is located a few hundred feet away from his one-story childhood house (standing outside, Rakeem's head is nearly level with the roof), where his grandmother Evelyn, 63, still resides.
"Everyone in the neighborhood would come up there, and we'd just play basketball all day long. I wasn't that good back then, but I was always kinda big," Christmas says. "We always talk about how they used to push me around and stuff, but now, it's just surreal to go back there and see the court."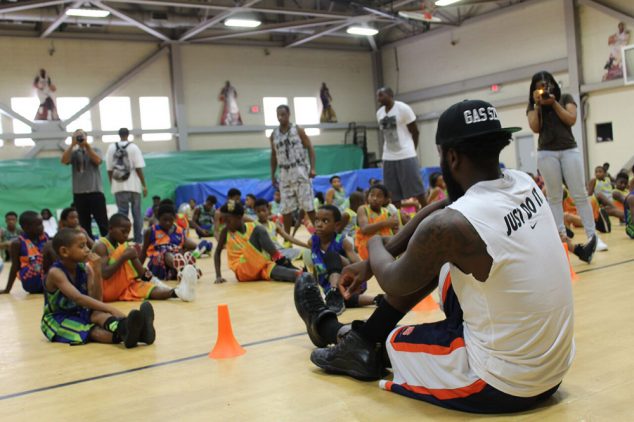 It's the day of the charity event, and after a brief, vigorous downpour, we arrive at the end of Rakeem's street. Lush, lime-green vegetation surrounds an uneven slab of pavement with faded chalk lines. A wooden stanchion supports the hoop, which consists of a backboard connected by four rickety pieces of wood, and a slightly crooked, net-less rim. When I see it, I'm instantly reminded of the similar-looking basket from the intro scene to Space Jam, when a young MJ stays up past bedtime to get some extra shots up.
While I'm shooting around with Christmas and McCullough, Rakeem's humble beginnings become as clear as the turquoise-blue water that surrounds the 84-square-mile island. After one of McCullough's shots glances off the unforgiving metal rim, Christmas turns to him and, with a smile, says to the New York native, "This ain't Dyckman, bro!"
No, it certainly ain't.
Rocking black Nike slides and black Yeezy Boosts, respectively, Christmas and McCullough play a light game of one-one-one and continue to crack jokes amid the humid, summer air and overgrown foliage. Meanwhile, I can't help but think about all the battles that must've taken place on this very court during Rakeem's formative years.
A LEGACY LIVES ON
Christmas' mother, Landra "Jenny" Hamid, died of kidney failure at 28 years old when Rakeem was only 5.
He doesn't remember her, nor does he remember the funeral. But people, including Jenny's sister Amira, tell him all the time how similar they are in personality.
"When my sister passed, Rakeem [became] the only connection that I have left to her," Amira says. "So all the love and the affection that I used to pour into her—I had to pour it into him. Him being around actually helped me cope with my sister's passing. To this day, I can look at him, and I see so much of her in him."
The "bothersome-but-loving" little boy, as Evelyn Hamid puts it, began living with his grandmother after his mom's death. "[Evelyn] was always there for me," Rak says. "My grandma instilled in me to work hard. When I realized that basketball could help get me a free education, I really took [the game] more seriously."
"When she passed away, it took a lot out of me," Amira says. "Her and I had a closeness to the point of where, when I was in elementary school, I would actually tell people that she was my mother. So I would want her to come up to get my report card, the whole nine [yards]."
CHRISTMAS ON THE MOUND
Rakeem's first love was baseball.
As a precocious youngster growing up on a baseball-obsessed island with many mixed cultures, Christmas was throwing cheddar like a young Pedro Martinez. Rak started playing in the fifth grade, and his mean fastball earned him two selections to the Little League national team, though he never participated.
Evelyn Hamid remembers her grandson's only weakness on the diamond.
"He was scared of the ball hitting him. So it's like, when he was to make that swing, he was very, very scared of that," she says. "So I'll always remember that. And then I'm trembling, saying, 'Oh God. Don't let it hit him. Don't let it hit him.' In fact, I was so scared that I never used to go to his games. I went, I think, once."
Thirteen players from the Virgin Islands have played in the MLB, including current San Diego Padres outfielder Jabari Blash, who hails from St. Thomas. Christmas might've been No. 14 had he not become a Monstar to the rest of his age group. He ultimately decided it'd be best to transition to basketball.
Uncle Ryan (who was a centerfielder growing up in VI) left the island when Rakeem was just 7 years old. Joseph says, "So when I came back, and we saw him and we're looking at this 6-4, 6-6 13-year-old kid, I'm like, What in the world happened?"
By the time Rakeem moved to Philly, the St. Georges gunner was throwing absolute gas—85 miles per hour. "I was always intimidating everyone," he says. "I couldn't really control it that much, but I mean, throwing that fast was rare."
REAL CRUZAN
St. Croix's white-sand beaches, dazzling views and perfect weather are remarkable, but the island's true beauty starts with its inhabitants and its culture. Whether drinking passion fruit juice and chowing down on chicken legs and seafood at Harvey's Restaurant in Christiansted, taking a daytrip via speedboat to Buck Island, or sipping locally made Kakanga and Gooseberry bottles in St. Georges, even an outsider can feel the love and camaraderie on deck.
I mean, the entire island is just so damn friendly—so much so that, if you walk by someone without saying, "Hello," or "Wa-Gwan," it's considered rude.
And that's a big part of why Rakeem is the genuine, humble guy he is today. Growing up on the island, he attended Claude O. Markoe Elementary School and Arthur A. Richards Junior High School. Everybody knows him, and there's a mutual respect with every interaction he has.
Not only did he spearhead the charity event, he also worked several basketball camps in the area, where he says he saw himself in many of the children. "When I was growing up as a child, I never had no one of my status come back home and do stuff [for the island]. When I come back home, I see kids' smiles and how amazed they are to see me," he says.
Rak also paid a visit to the Youth Rehabilitation Center in St. Croix. Many of the inmates' families fail to come by, so Rakeem's brief message meant the world to the teens at the center.
In fact, throughout the whirlwind of a few days in St. Croix, Christmas makes time for anybody and everybody who comes up to him and wants a moment of his time.
"He's a standup guy," Joseph says. "Even as a teenager, he never rebelled against us, and he was very well-mannered. But when he gets on the basketball court, man, it's all business."
Christmas takes the island with him everywhere he goes, donning a tattoo of the VI area code, 340, on his right inner bicep. St. Croix's laid-back, no-rush mentality is a far cry from the hustle and bustle of Philadelphia, but Rak managed to stay true to his roots while adding Philly's on-court tenacity to his hoops repertoire.
FLIGHT SCHOOL
Fourteen-year-old Khalil Terry of St. Thomas starts on the left wing, dribbles twice toward the cup and, once he reaches the paint, underhand tosses the rock off the backboard. In a flash, the rail-thin teenager explodes off two feet, collects the ball with two hands and throws down the tomahawk to the tune of House of Pain's "Jump Around," which blares from the DJ booth on the other end of the court.
The spectators at Central High gym go nuts after Terry's dunk contest victory. Now it's time for the main event, and, keeping with the Christmas theme, St. Thomas' ballers wear green jerseys, while St. Croix's players rock the red.
The style of play is fast-paced to say the least—nearly every player possesses a combination of breakneck speed, ability to shake a defender and rise up for a gravity-defying finish. The refs are barely calling fouls, travels or carries: this is VI basketball, where the frenetic, ultra-athletic style of play results in crowd-pleasing, "Holy shit!" plays. The second quarter is highlighted by an incredible bang-bang move—a behind-the-back ankle-breaker straight to an alley-oop.
The play draws "oohs" and "ahhs" from the thousand-plus in attendance, including smiles and laughter from Rakeem and his girlfriend, Jasmine Jordan. The two met at Syracuse: Jordan currently works for the Hornets and travels to Indianapolis often to see Rak. And yeah—you might've heard of Jasmine's father. He played shooting guard for the Bulls.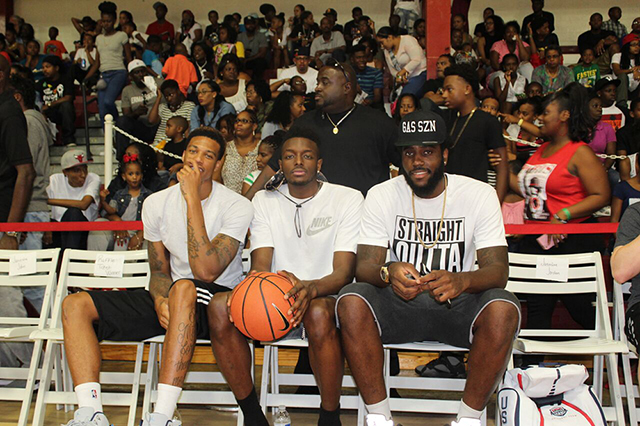 It's now halftime, and Rakeem walks to the gym's entrance to address a crowd of 150 people who have been denied entry due to lack of space in the gym. They seem disappointed but happy to catch a glimpse of Rak. The night is a constant stream of photo requests and "Hey, how have you been?" for the second-year Pacer.
St. Croix wins the charity game 73-65. St. Thomas' D'Moi Hodge, a current high school senior, dominates with 34 points in the loss.
"I was happy about how the event went, and everybody enjoyed themselves," Rakeem says an hour after the final buzzer, while reclining on a sofa in his grandmother's living room. "The kids had fun playing the game, and they went at each other. They were definitely trying to put on for each other's islands."
—
Eli Schwadron is an Editorial Assistant for SLAM. Follow him @eschwad.
Photos by Amira Hamid-Joseph