Allonzo Trier had to think quickly. He only had a moment to make a life-changing decision during the middle of the 2018 NBA Draft. The 35th pick had just passed and the Knicks were on the board. Right before selecting Mitchell Robinson, executives from the team made a phone call.
"After the Knicks picked at 36, I kinda knew I was gonna go undrafted," Trier remembers. "They had called right before they made their pick. They had basically offered me the deal. I listened to a few teams call at, like, 41, 43, 46, and they were all places that I didn't feel were great fits. My agent told me 'You can have the option of hearing your name called tonight and you can go to a situation where I don't know what it'll be like for you. Or you can be undrafted and go play with the Knicks. Unfortunately you won't be drafted. You won't hear your name called tonight.' We gave it thought and we turned those other teams down and we accepted the Knicks deal."
It was the latest fork-in-the-road for Trier. The 22-year-old has been in the spotlight since 2009, when The New York Times published a lengthy feature on him, detailing his early accomplishments and already insane work schedule. He was dominating his sixth-grade age group in Seattle at that point, his long braids dancing in the wind whenever he'd carve up defenses. In the years that followed, Trier would go on a basketball odyssey, destroying every opponent that tried to stop him. He would hoop in Oklahoma, moving there at the age of 14 and playing his AAU ball with the OKC Storm. He decided to relocate to Montrose Christian High School for his junior year, the same school that Kevin Durant starred at. He played so well — averaging 25 points per game — that he wanted to find even better competition. He spent his final year at Findlay Prep, a basketball factory that has produced talents like Avery Bradley, Tristan Thompson, Kelly Oubre and, most recently, Bol Bol. Trier did what he always did, pouring in 26 points a night.
Wherever he was playing, and whatever uniform he was rocking, Trier was a guaranteed bucket. And he still is today.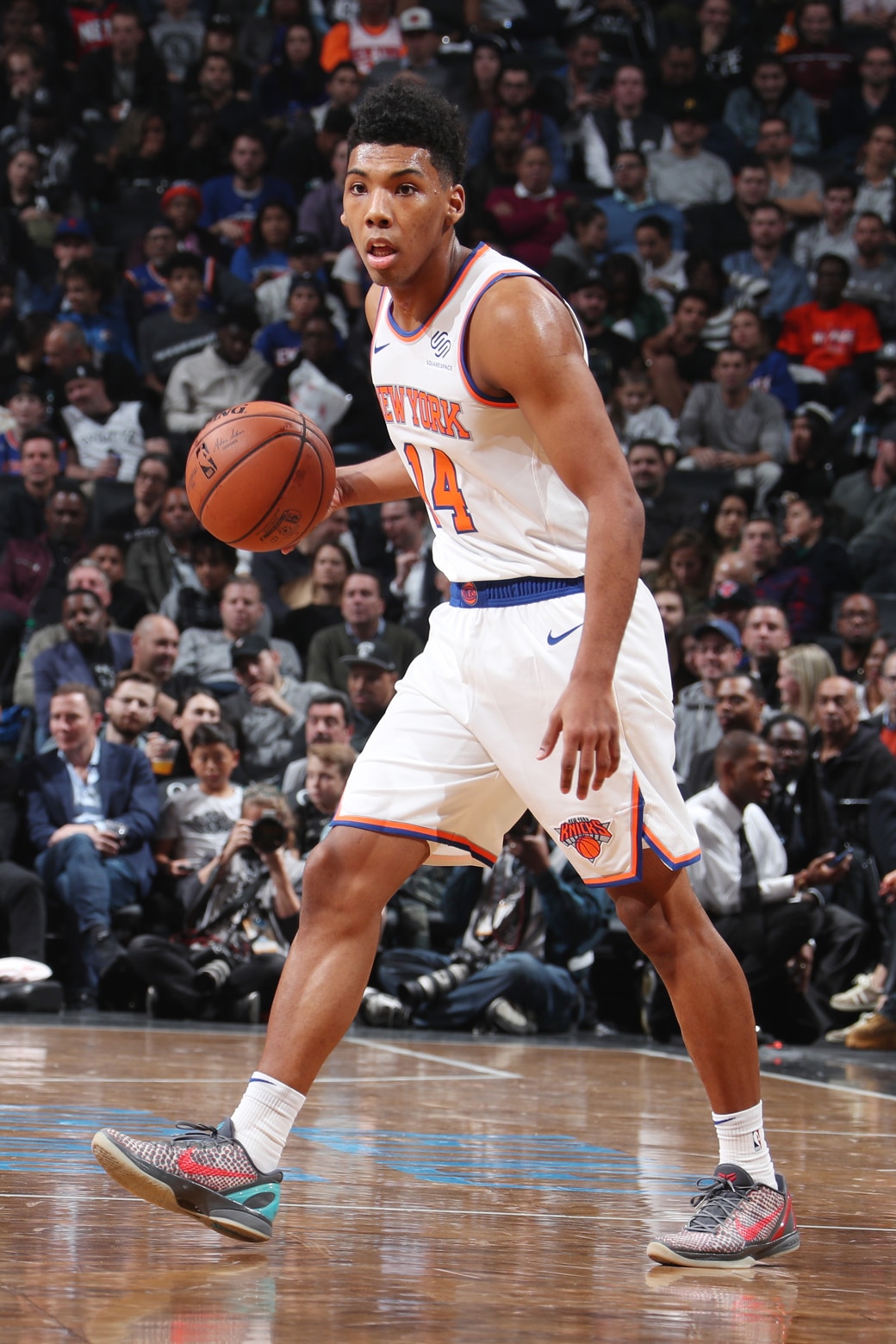 He mixes a combination of ball handling and agility together to create a dizzying offensive arsenal. He loves the in-and-out, utilizing it to create separation to hit off-the-bounce jumpers. He's quick to explode to the rim at any opportunity and he's a knockdown spot-up shooter. He's got one-two dribble combos, a tough stepback option and a fast behind-the-back move. He's also got a mature patience when going one-on-one. He operates at his own pace, attacking and reading the defense all at the same time. He makes it look simple.
"At a really young age I really just knew how to score the ball. I don't know, it was just, like, really easy for me," he says, matter-of-factly. "I just was advanced in that area, understanding angles, understanding ways to get my shot off, how to make a shot from anywhere on the floor at any time."
After his high school career, Trier continued to attract attention. The Jordan Brand Classic belonged to him when he put up 28 points and collected the showcase's Co-MVP honors, beating out a crop of other elite talent.
He continued to score at the University of Arizona as he began to rack up the individual achievements, consistently delivering whenever the pressure was on. He notched 18 points a game as a junior, leaving Tucson with First-Team All-Pac-12 (2018) honors and the Pac-12 Tournament MOP award in 2017.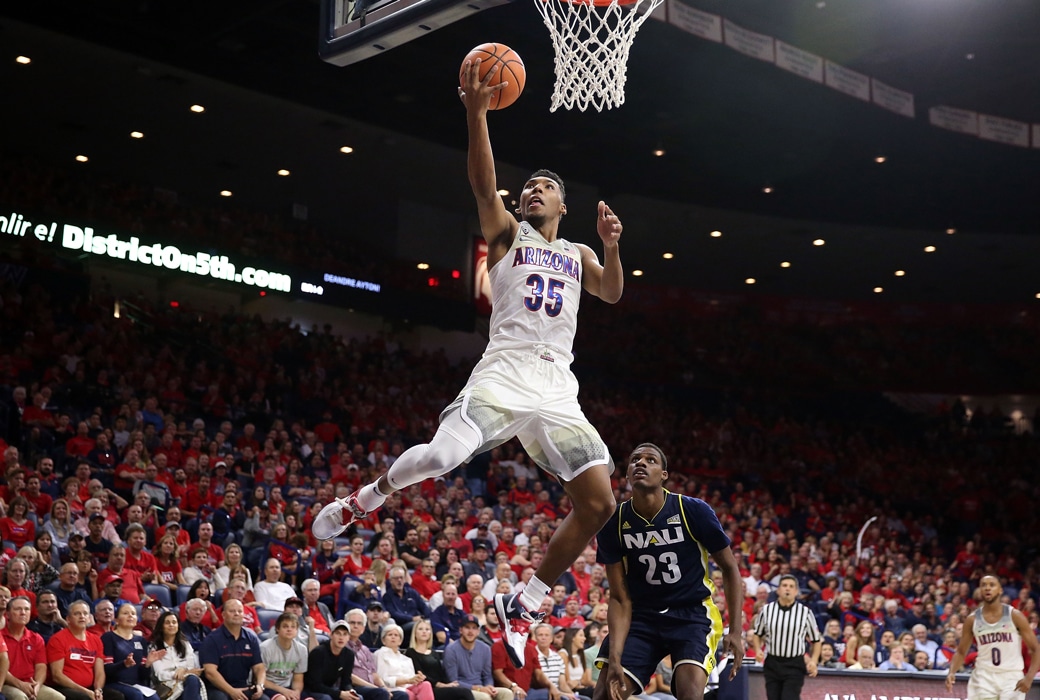 Yet he didn't hear his name on June 21, 2018.
"I've been through adversity for reasons I can't control," he tells us. "Obviously it didn't go the same path that we thought it would be but that's how things happen in life sometimes. I know I'm in a good place."
"A lot of teams missed the boat on him," Sean Miller, Trier's coach at Arizona, told SB Nation. "The NBA is made for a guy like Allonzo because he's such a great scorer and he loves the game, and he's going to work tirelessly on his game. And with the space on the court and the way it's being played, he's going to be able to score for a long time."
Trier had gone from a nationally known, five-star prospect to a draft night afterthought. But he kept all of those receipts. After being counted out, after going undrafted and after balling out through Summer League and the preseason, he's been proving, once again, that he can perform under the bright lights. He's provided signs of life and high-energy to a struggling Knicks team with a potentially bright future — a future that Trier figures to play a part in.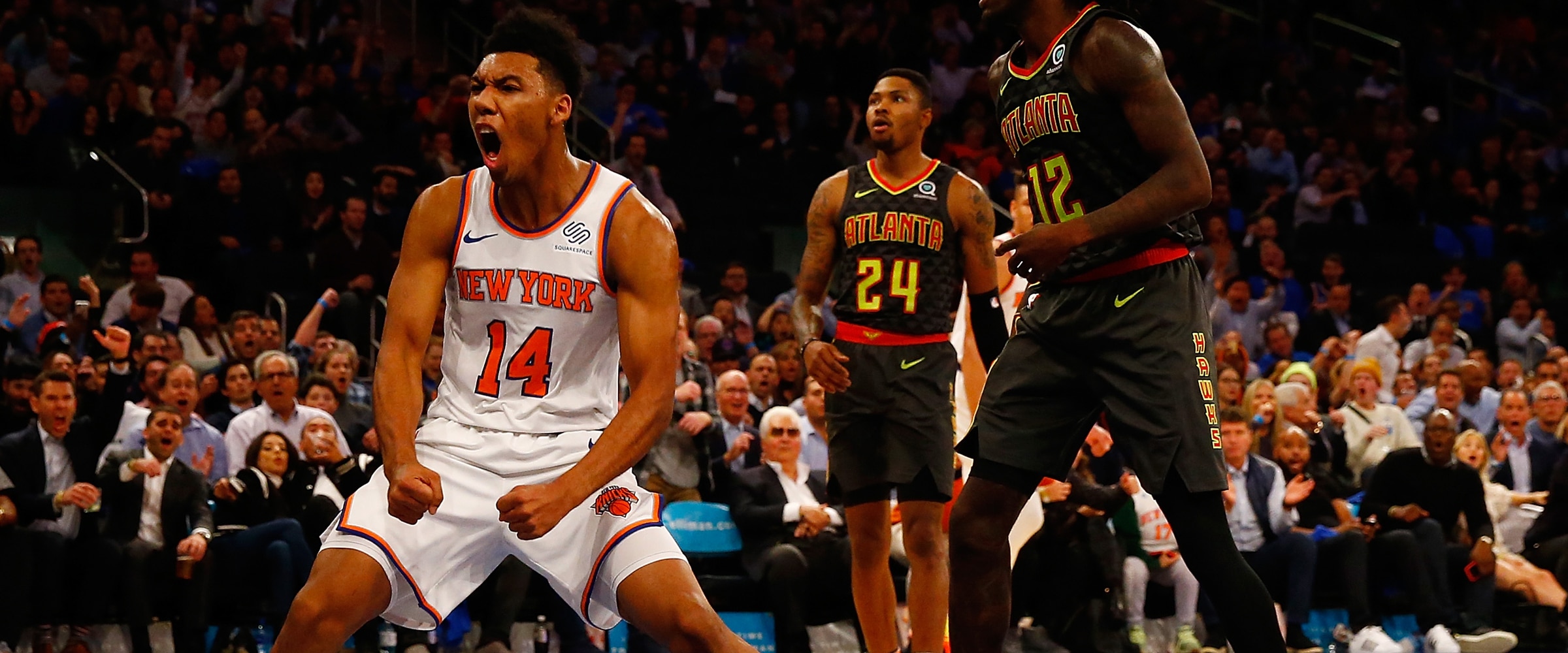 The young guard, who's been electrifying Knicks fans, has a lot of creativity in his game.
"I have my own style, my own flavor of coming up with things," Trier says. "I have a creative imagination. I love to watch players and how they do things. There may be things that I add in on purpose, some things that just naturally come to me as a basketball player. Me being able to have an imagination and be able to create things on the fly is kind of my gift. I try to put that to use on the basketball court."
He's now averaging 11.4 points per game through his 21 appearances. He's had three games of at least 21 points, highlighted by a 25-point outburst against the Pelicans in which he shot 9/12 off the bench, helping New York secure the 114-109 victory. Trier put the whole repertoire on display that night. He continuously found his way to the bucket, beating his man off the dribble. He hit open threes and set his teammates up, finishing with 4 assists.
https://www.youtube.com/watch?v=YbxRZd2K3Yk
Seattle, WA. Oklahoma City, OK. Rockville, MD. Henderson, NV. Tucson, AZ. It all led to opening night at Madison Square Garden, when Trier skyrocketed up to the rim for a signature poster dunk, sending the World's Most Famous Arena, and the rest of the country, into hysteria.
"We went crazy when he dunked that one," Kevin Durant told The New York Times. Durant knows Trier from his brief stint with the Seattle SuperSonics. "We're so happy for Zo. We've seen Zo grow up. We had a little hand in raising him, a little hand. So it feels good for him to have this success. He's a pure baller."
Trier somehow found Nate Robinson, another Seattle native and a former Knicks player, in the mayhem just moments after the dunk.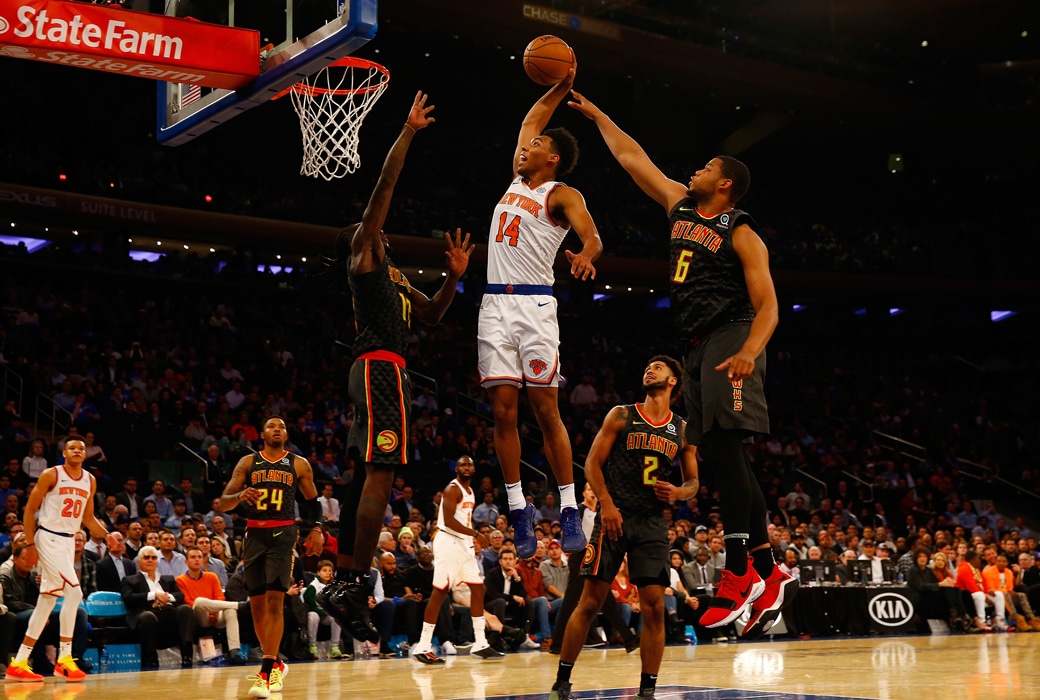 "I had seen him courtside," Trier says of Robinson. "He hit me up a little bit earlier saying he was there. Some people had asked him about me because I was playing well in preseason. He showed some love, one Seattle guy to another. I didn't know he was actually gonna be at the game. I happened to have the dunk and I was running back and he ran up to me. That was cool to see my guy."
Robinson isn't the only guy to recognize how far Trier's come. And how far he may go.
https://www.instagram.com/p/BpDuVXphgC7/
"He's actually handled the waves very well," Knicks head coach David Fizdale says. "If he has a bad game, his routine never changes. If he didn't score a lot, he comes in here with the same attitude, the same work ethic, [being] the same good teammate. He's just focused in on trying to come in here every day and get better."
The improvement is showing. Every few games, the rookie will clock in either a big-time scoring total or a timely bucket. His opening night performance, with 15 points, was followed up by a 23-point effort during a road win in Dallas. He then hit the Bulls and Hawks for 21 points and 16 points, respectively.
Trier tells SLAM that he's "battle-tested."
"They tried to crucify me," he wrote on his Instagram after the first game of the season. "All the pain I had to go through, they created a monster!!!!!"
—
Max Resetar is an Associate Editor at SLAM. Follow him on Twitter and Instagram.
Photos via Getty Images.