Willie Cauley-Stein is laying in his hotel bed in downtown Philadelphia, unable to sleep. His mind is wandering. He's allowing it to think big, to imagine things it hasn't really before.
It's mid-December of 2017 and the Kings are in town to play the Sixers. In less than 24 hours, Willie will score 9 points and grab 6 rebounds in a 101-95 victory at the nearby Wells Fargo Center.
But right now, approaching 3 a.m., he's awake and contemplating his future in the game of basketball. He's resetting his goals and pondering what it would be like to be one of the NBA's best players. He wants to be "that guy." He's ready for it.
So he sends a text to his veteran teammate Vince Carter, an eight-time All-Star headed for the Hall of Fame. I'm tired of being overlooked, he tells VC. What do I have to do to be "the guy?"
It's a moment that sent Willie on an entirely new path, one that continues on today.
Vince outlined what it would require for Cauley-Stein to get there – the hours he would have to pour in, the mentality he would have to embrace, the sacrifices he would have to make. While his work ethic was already strong, Willie admits he had not been fully invested before then. There were more steps he could take. Hearing from Carter, he began to confront that fact.
https://www.instagram.com/p/BilgxH-A9oD/?hl=en&taken-by=pr00fessortrill
So he hired a chef and a mental coach. He took his training, both on and off the court, to another level.
"I'm doing it like they say the best do it," Cauley-Stein tells SLAM, a little less than a month before the 2018-19 season is set to tip.
"I'm expecting nothing but the best. If I am doing what they say the best are doing, then I got to get the best results and I got to believe the best results are coming."
—
Growing up in the tiny, rural community of Spearville, KS, Willie Cauley-Stein didn't really follow the NBA. Access wasn't great so he rarely watched the games and knew very little about the league's stars. The guys he looked up to were from around the area, especially the big names that went through Kansas and Kansas State. He mentions Denis Clemente and Jacob Pullen, a dominant backcourt duo for the Wildcats.
Still, Cauley-Stein wasn't one of those kids who dreamed of making it to the pros. Others would tell him he was destined to get there, but it just wasn't something he deeply considered.
"I didn't think about hoops," he says. "I was just living life. Hoops was a game. It wasn't ever supposed to be this big. It was never supposed to be a job. I didn't think of it as a job. I thought of it as just playing this game that everybody told me that, This is it. This is it.  And I [was like], What do you mean this is it? This is a game."
He didn't pick up a ball every single day and played several other sports, mainly blossoming into a star wide receiver on the football team. There was a time, prior to a major growth spurt, when Willie was actually convinced his future was on the gridiron, not the court. It wasn't until his senior year, when he earned a scholarship to play for Coach Calipari at Kentucky, that Cauley-Stein started to take hoops more seriously.
As a true seven-footer with remarkable athleticism, Willie hadn't needed to focus all of his energy and attention on basketball. He was dominant regardless, displaying an "above-the-rim" style that was unteachable. Over his three-year stint at UK, the numbers didn't jump off the page (8.0 points, 6.2 rebounds, 2.2 blocks), but the potential was glaring. Willie was versatile, explosive and uniquely quick for his size. At the very least, he would be an elite rim protector in the NBA, having won SEC Defensive Player of the Year as a junior.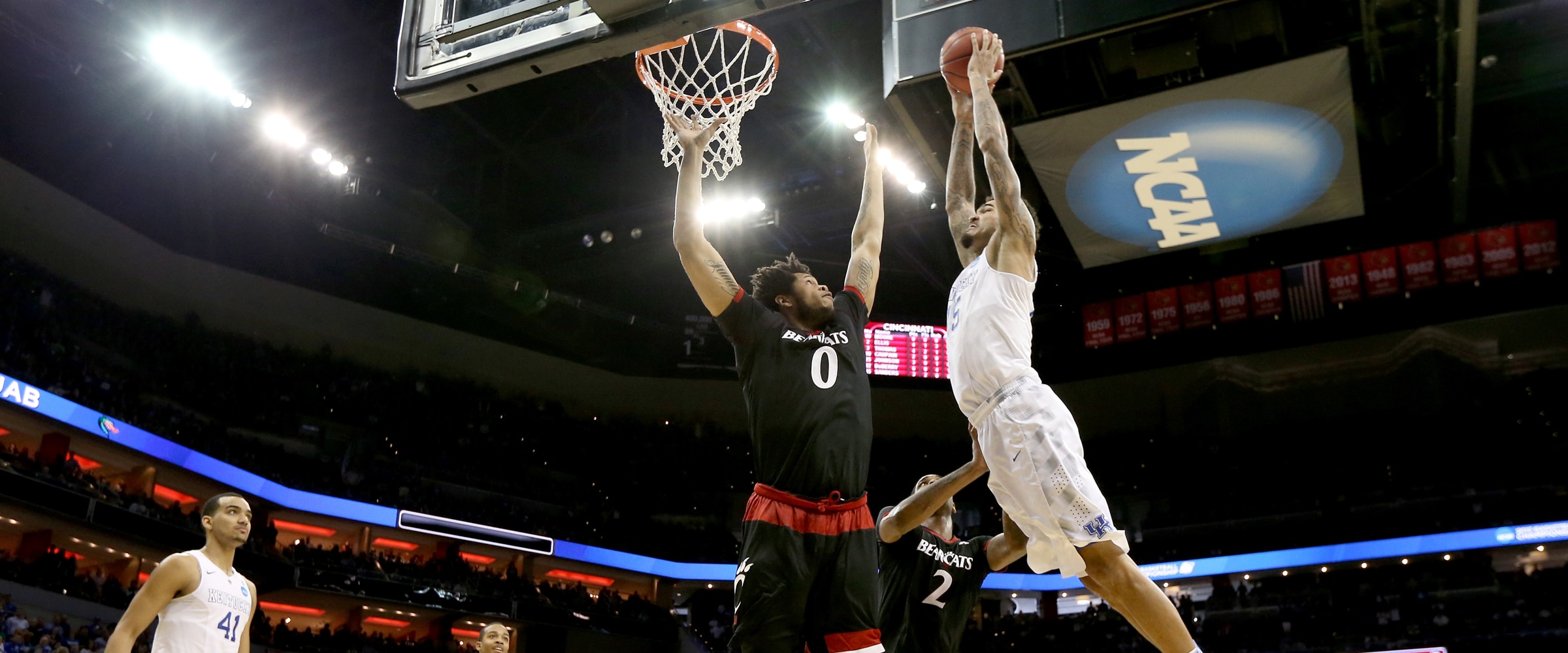 There'd be occasional flashes of the increased work he was now putting in – a hook shot in the lane, an off-the-dribble take to the basket, a mid-range jumper. Each move another shred of evidence that there was more to un-tap, that with some patience and some diligence, Willie would be incredibly special.
The Sacramento Kings scooped him with the No. 6 overall pick in the 2015 draft, hopeful that Cauley-Stein would become their anchor in the middle for the long run. It's been three years since, and though the franchise has not contended for the playoffs, Willie has provided a glimmer of hope about their rebuild. The athleticism still stands out, even competing against NBA centers, and has shocked some of the league's superstars.
"You know who I like a lot…Willie Cauley-Stein," Kevin Durant said during a recent appearance on CJ McCollum's Pull Up podcast. "I feel like he is the next one of those guys."
"He's spring, springy. Crazy springs," CJ added. "Gets off the ground as quick as anyone I've ever seen."
But Willie has struggled with overall consistency, commanding the paint on some days and then vanishing on others. He hasn't realized all of his potential or reached the level that many, including himself, anticipated.
Not yet, at least.
Cauley-Stein is merely 25-years-old and coming off a 2017-18 campaign in which he made considerable strides, averaging career-highs in points (12.8) and rebounds (7.0). He had 12 double-doubles and a few monster performances on the defensive end, recording seven steals against the Nuggets and five blocks in a win over the Magic.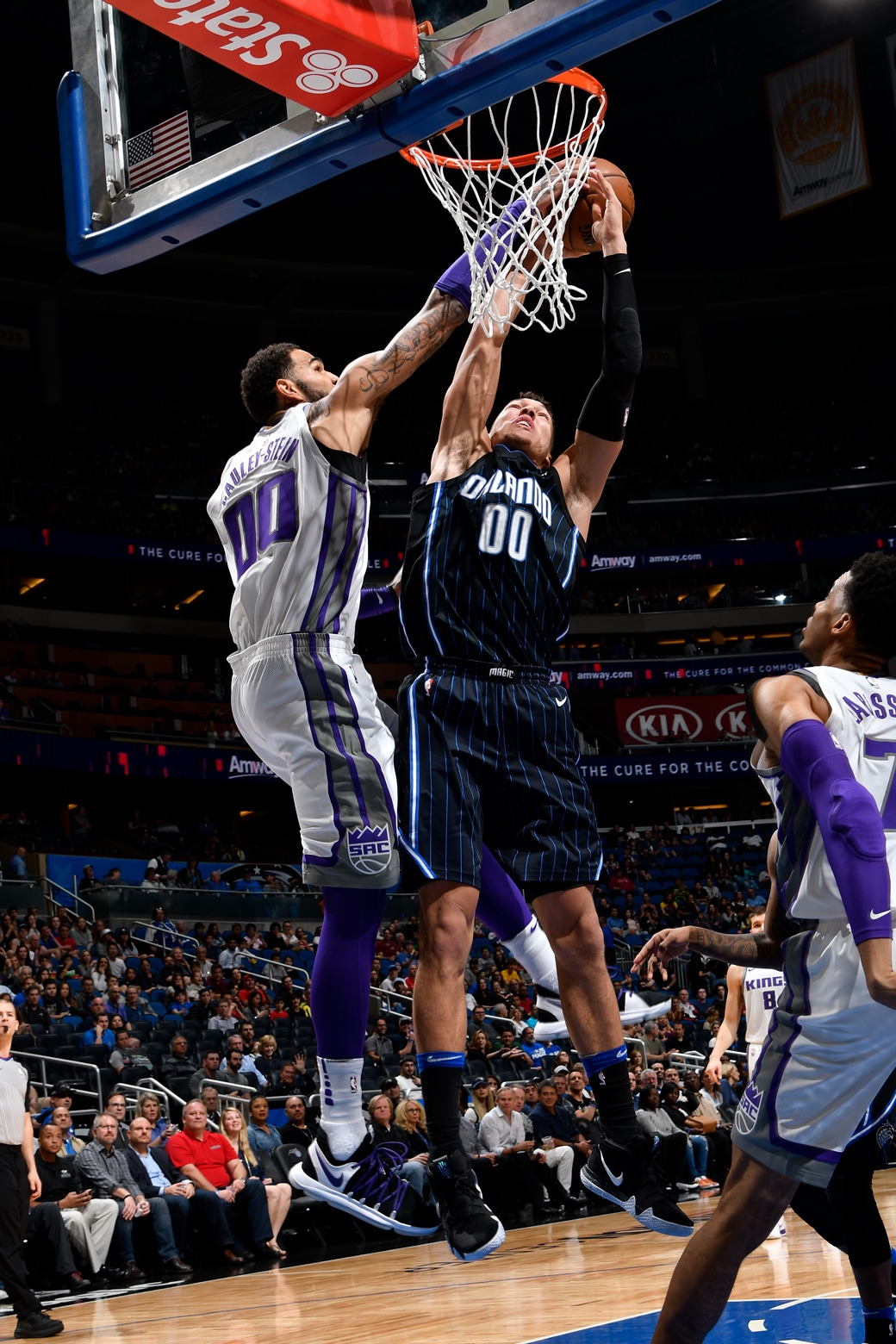 And his play did seem to elevate following that sleepless night in December, when he sought the guidance of Carter. For one, Willie's mindset on the floor has shifted significantly.
"Always in attack mode," he says. "Before it was just – some games I'd be in attack mode, other games I'm wanting somebody to tell me to be in attack mode. Or I'm thinking, Should I be in attack mode? Or, Should I shoot this ball? Like watching myself play the game instead of playing the game."
That type of tentativeness, coupled with Willie's stern expression, has led spectators to perceive him as disengaged in the past. It's a serious misconception.
"I got so much emotion under that blank-ass stare," he stresses.
Through the final nine outings of 2017-18, Cauley-Stein played some of his best basketball, averaging 16.9 points (on 63 percent shooting), 7.9 rebounds and 3.0 assists. He hung 25 and 10 boards on Spurs All-Star LaMarcus Aldridge amid that stretch, showing off the full offensive arsenal.
Fueled by that encouraging finish and an intensifying hunger to be "the guy," Willie had a busier summer than usual. He adopted a fresh approach – a more disciplined, well-thought-out plan to ensure he takes another step forward in 2018-19.
"I wasn't working like the people that are doing this are working [before]. I was lying to myself, thinking that I was," he says. "Until I started really doing what they're doing, for the last five-six months, I'm really doing some stuff that I never thought I would do before with this hoops stuff. It's special man. It's really special. I can really feel – like how Kobe [talked about] all the hours he used to put in in the gym – before I couldn't feel him. I didn't understand. And now I do and it's crazy. Like I get it."
Those long hours have been spent working on a little bit of everything, from balance and core strength to ball-handling and passing. Willie insists that the game has slowed down for him and that his outside shot feels as smooth as it ever has. Like "second nature," he says.
When Kings head coach Dave Joerger was asked for standouts during training camp, one of the guys he named was Cauley-Stein. In Sacramento's latest preseason tilt, a 132-100 win over Haifa Maccabi Haifa, Willie nearly had a triple-double (13 points, 8 rebounds, 7 assists) in merely 21 minutes of action.
"It's special what this game can do to you, if you do all the right things and invest and put in the time and have a good work ethic, it's beautiful what can happen," he says.
The young big man has new expectations for "what can happen" as he enters the final year of his rookie contract. Everything just feels different this time around. He's allowing himself to think big, to imagine things he hasn't really before.
People used to tell him, This is it. That basketball was his calling. But he couldn't quite grasp what they meant.
Now he does. And when you put in the work, you have to trust that the best results are coming.
"I'm 100 times better than I was last season. Mentally, physically. Like 100 times better. I don't think I'm the same person," Willie says.
"Before I was just playing this game, now I'm invested in it. It's not just a game anymore."
—
Alex Squadron is an Associate Editor at SLAM. Follow him on Twitter @asquad510.
Photos via Getty.