The Houston Rockets and Golden State Warriors are no strangers. In fact, regular-season matchups aside, the teams have met in the postseason – including this year's Western Conference Finals – three times since 2014. The Warriors have won every time.
When Golden State eliminated Houston in the Conference Finals in 2015, the $665 average asking price on the secondary market seemed high. But that number can't touch the current average asking price — $965, according to TicketIQ.com. That total is the highest on the secondary market for a Conference Final since TicketIQ began tracking data in 2011. The next most expensive Conference Final was $769, when the Warriors met the Oklahoma City Thunder in 2016.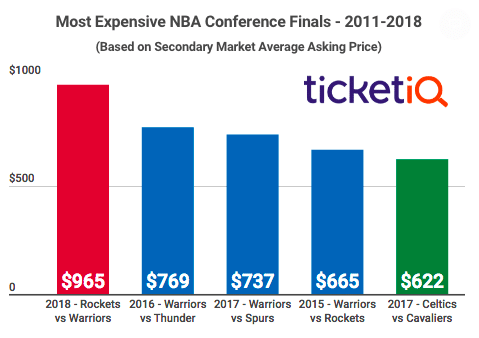 The Western Conference has consistently outpaced the Eastern Conference in demand. The highest historical average asking price for an East Final on the secondary market was the 2017 Boston Celtics–Cleveland Cavaliers matchup, which at $622 is the fifth-most expensive of the decade.
A ticket to see the Warriors at home in the West Finals has the highest asking price of the decade — $976 — while a ticket to see the Rockets at home ranks second at $957. That said, fans can get into the game a bit cheaper – the Warriors get-in price of $198 ranks No. 3 since 2011 while the Rockets get-in of $175 ranks No. 5. The teams own the top five spots in terms of highest average asking price for Conference Final home games since 2011.
For the upcoming series, which begins Monday at Houston, two games have average asking prices of $1,000 or more – the if-needed Game 7 in Houston is sitting at $1,416 with a get-in price of $305 and Game 4 at Golden State is sitting right at $1,000 with a get-in price of $199. The least expensive game of the series looks to be Game 2 in Houston, at $683, followed by Game 1 at Houston ($783). All three games in Oakland have average asking prices above $950.
Golden State has won the last two playoff match-ups 4-1, eliminating the Rockets in the opening round in 2016 and in the Western Conference Finals in 2015.
RELATED
Chris Paul Takes Over Game 5 as Houston Reaches Conference Finals