In SLAM 210 (still on sale!) we chronicled one important old school player from each of the past four decades. For the 1990s, we focused Rod Strickland, a 17-year NBA vet who just so happens to be Kyrie Irving's godfather. —Ed.
—
It was the morning after Kyrie Irving's recent 42-point Eastern Conference Finals explosion against the Celtics, and Juwan Howard, a former All-Star and now assistant coach with the Heat, was marveling with a friend about the performance. Howard was particularly in awe of Irving's acrobatic finishes in the paint, the way he was able to repeatedly contort both the ball and his diminutive (by NBA standards) body and find glimmers of light when stuck under the basket among seven-foot trees.
All of it reminded him of a former teammate, a sinewy 6-3 guard from his days with the Washington Bullets.
"The only other small guy I've ever seen who could do that stuff like Kyrie was Rod Strickland," Howard says. He's then reminded that this comparison is perhaps more apropos than he realizes—that Strickland is actually Irving's godfather.
"You know, I heard that years back but didn't remember it," he says. "Rod's Kyrie's godfather? No shit, that's crazy."
Strickland and Irving's dad, Drederick, grew up in the same South Bronx housing projects, where they spent countless hours honing their skills in the Mitchel Houses gym. They'd sneak into the building during winter nights, after it closed, when it was too cold to play on PS 154's outdoor court. First they started rigging the building's back door to prevent it from locking. Eventually, though, the staff caught on. Undeterred, Strickland came up with an even more creative solution.
"Somebody would hide under the bleachers or in a locker at the end of the day." Strickland says recently over the phone. He's driving one of his sons, Terrell, from their Tampa, FL, home up north to Suwanee, GA, for an AAU Tournament. "After the place was locked up they'd come out and let us in."
It was there where Strickland perfected the smooth handle and eagle-like court vision that propelled him into the NBA. Strickland may not have trained his godson, but his 17-year career (which took him to nine different teams) served as a beacon for guards like Irving to study and follow.
"He's one of the most unique point guards I've ever seen," says ESPN analyst Tim Legler, who also played with Strickland in DC. "He was one of these guys who had a playground legend type of game but was able to bring it to the NBA floor."
Like Howard, Legler remains enthralled by the magical way Strickland was able to finish in traffic. He also points out that their 1997 Bullets team was one of the few to make a Michael Jordan-led Bulls squad sweat in the playoffs.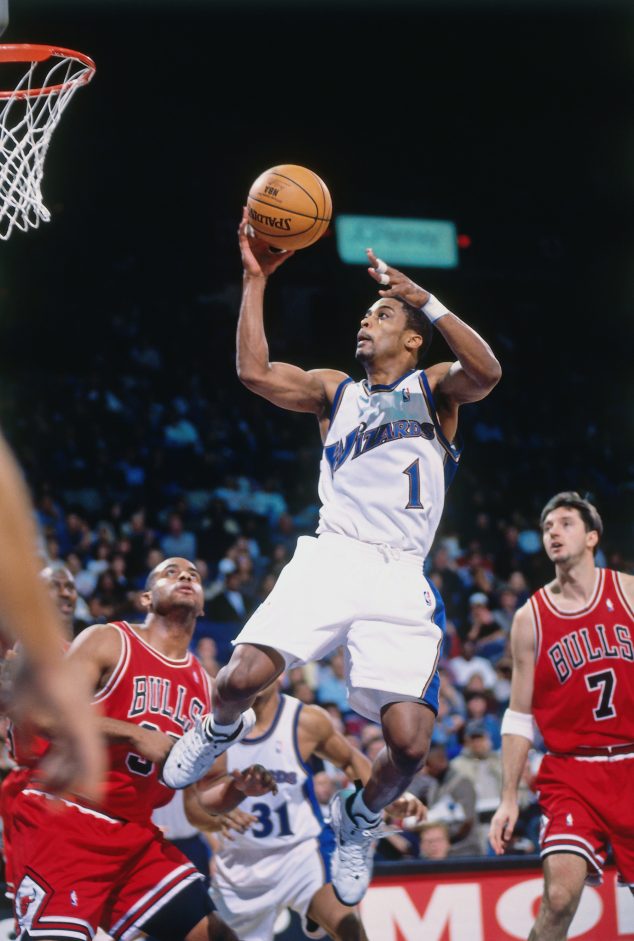 "That was the best defensive team I've ever played against and Rod was a driving force for us," Legler says, referring to the Bullets group that was swept in the first round by the Bulls despite only being outscored by 18 total points over the three games. "What Rod was able to do in that series"—average 19.7 points, 8.3 assists and 6.0 rebounds—"against that group was incredible."
Even more so when you consider his regular pregame diet.
"Rod's going to kill me for saying this, but for some strange reason he liked eating hot dogs and pizza before games," Howard says. "Sometimes he'd have two hot dogs and a slice of pizza before a game—and then go stuff the stat sheet, and he still had a chiseled body. I don't know how he did it."
Strickland never did earn an All-Star bid, an honor that both Legler and Howard say he deserved. He did make the playoffs 11 times, and was named second-team All-NBA in 1998, after leading the League in assists. Still, given the lack of accolades, it's easy to forget Strickland's trailblazing ways.
That's a reality Strickland used to face regularly when on the recruiting trail. After retiring from the NBA in 2006 he took a job on John Calipari's Memphis basketball staff. He spent 11 years as a college assistant, following Calipari to Kentucky and then moving on to the University of Southern Florida before the school made a coaching change this spring. There, he says, he'd often meet recruits who'd see his grey hair and skinny frame and assume he was just another college coach, just another old man with a scholarship offer. Then he'd leave, and a father or uncle would cue up some videos and show the recruit who Strickland was.
"I'd come back the next day and they'd look at me in a totally different way," Strickland says. "There'd be a big smile on their face and their eyes would be wider. Especially the guards."
It was a look of admiration. They realized they were staring at a man who helped pave their path.
—
Yaron Weitzman is a Senior Writer for SLAM. Follow him on Twitter @YaronWeitzman.
Photos via Getty Images