They're sprouting up all over the land. You can find one out west lying in the shadows of Silicon Valley and a second planted in the oil fields of Oklahoma City. There's a third, this one basking in the hot Texas desert, and a fourth, whipping away in the cold Northeast Ohio winds. Superteams are everywhere. Not since your dad's beloved Lakers-Celtics matchups have we seen so many future Hall of Famers linking up.
There are the Warriors, with their four All-Stars and multiple MVPs, and the Thunder, with the newly constructed Big Three. There are the Rockets, rolling in with a backcourt that features a two-time MVP runner-up and arguably the decade's best point guard, and the Cavaliers, where The King's court now includes his old pal Dwyane Wade and will welcome back two-time All-Star Isaiah Thomas in the very near future.
Basketball, for all its preaching of teamwork and espousing about culture, is a game of stars. And in the NBA universe, it's stars who make the world go 'round.
And yet, a funny thing happens every year come Conference Finals time. Surely you've noticed it. Games slow down, just a bit, and weak links become highlighted—and then exposed. Maybe it's a wing with a crooked J. Or perhaps it's a stone-footed big that can't contain pick-and-rolls.
Opponents find them—they always do—and suddenly all that hope that came riding into town with the shiny names vanishes into the night. That's one of the cool things about basketball, especially at its highest level. It's a five-man game, with a court not large enough to hide one man with a weakness.
This is where the supporting actors come in. You know them—the role players, the x-factors, the guys behind The Guys. The ones who do all the little things that come crunch time are anything but. They space the floor and man the back line, they spring open your favorite player with backbreaking screens and wrestle the other team's top gun. Shane Battier and Robert Horry, Derek Fisher and Steve Kerr. These players, like the stars, come in all different shapes and sizes. Some are big, some are small, some do a little of it all. But go back and examine every champ and you'll find one of them, their name alongside Kobe and LeBron. They are the irreplaceable men furnishing inerasable feats.
These are some of their stories.
***
The advice came from Stephon Marbury.
It was the summer of 2004 and Trevor Ariza, a lanky rookie forward out of UCLA, was struggling to find his place. The Knicks had taken a flyer on him with a second-round pick. They liked his 6-8 frame, his bounce and his length.
But Ariza, like so many in the NBA, was unsure of how exactly to adapt. Growing up in L.A. he had always been the focal point of his teams, and even during his lone year at UCLA he was one of the squad's stars. Then he entered the NBA, and that's when he realized he wasn't as special as he thought. If he wanted to stick, he'd need to come up with a new plan.
During the preseason, Marbury, the Knicks' star at the time, pulled him aside.
"You have to figure out a way to stay on the court," Ariza recalls Marbury telling him. "Your mentality, your mindset, they have to change. You're talented enough, but you have to show that you can do things other than score."
It was an epiphany for Ariza, one that changed his career. Let others worry about scoring, he soon began to say. I'll take care of the rest. And now here he is, 13 seasons later at the age of 32, not quite as spry as he once was yet still a key cog in a team with championship aspirations. What started as a survival strategy—"you quickly learn that everybody in the NBA can score," Ariza says, "so if you want to be on the court you better figure something out"—has morphed into a mantra.
"My job," says Ariza, now flanking James Harden and Chris Paul with the Rockets, "is to knock down shots, play defense, provide energy and keep everyone having a good time."
For Ariza, this attitude changed his career. But for others of his ilk, that sort of thought process is built into their DNA.
"My role? I don't know, I really haven't given it much thought," Thunder big man Steven Adams says. "I think the way I play is just my normal mindset. To be honest I'm just happy to be involved."
Adams, though, is more than just involved. He's essential to everything his Thunder do. Playing center is one of the most difficult positions to occupy in today's up-tempo, space-and-pace League, and Adams deftly shuttles between old-school brute and new-school dancer as well as any big man in the NBA.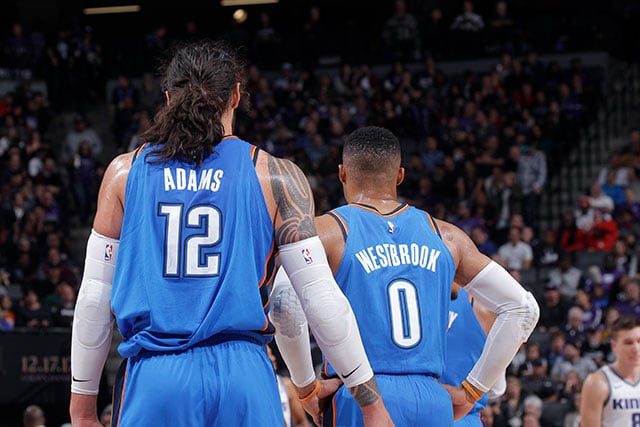 He deploys his 7-foot, 235-pound frame as a weapon for laying screens and on the offensive glass, two areas where he is among the best in the League. He'll bang with a bruiser one possession, then glide with a guard on another—and never complain about a lack of post-up looks.
"My focus each game is mainly to set screens to make sure our defense is set," Adams says. "Any type of scoring that happens is a bonus."
James Posey, who won a title with the Heat in 2006 and another alongside the Celtics' Big Three in 2008, says he feels the same way. Scoring, after all, was really never his thing, even back in college. Sure, there were times when he'd drill a couple of threes and then come down and jack a poor pull-up jumper, but, as he says, "If there was a game where I got 15 shots, we knew something was wrong."
Posey is sitting courtside in Brooklyn's Barclays Center as he re-lives this part of his playing career. He's gazing out onto the court's wooden floor as Jae Crowder and Tristan Thompson prepare to warm up. Both Thompson, with his switchy defense and relentless motor, and Crowder, with his tenacious defense and smooth deep stroke, have perfected the art of filling the voids left by their team's bigger names.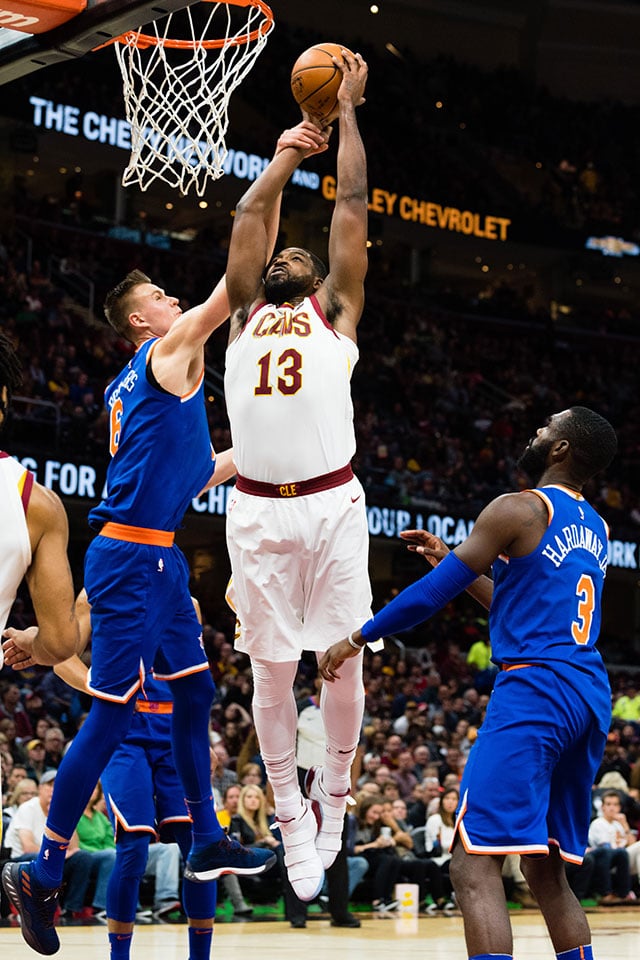 "And that's what I've talked to them about," Posey says. "Maybe one of those players are lacking a little bit. But I tell Jae all the time, 'There are going to be games where you have to cover for these guys who don't give extra effort all the time.' And I think that's something he thrives on. You're doing it for a good cause."
Like Adams, and Ariza, and Crowder, and Thompson, and Andre Iguodala, and even Draymond Green, whose super role player ways helped transform the Warriors into a superteam, all these players know they'll never be the reason for bringing a title back to their respective cities. One of them, though, will have a moment. Maybe it will be a long jumper, or maybe sweet pocket pass, or perhaps a blocked shot. Whatever it is, you'll notice it.
Then you'll think back to all the other NBA teams, and why so many of them have trouble filling out their rotations with players capable of being two-way guys, only to recall just how few of these players there are. That's what makes the superteams' super role players so valuable. Only a handful exist. The ones that do wind up crowned as kings.
—
Yaron Weitzman is a Senior Writer at SLAM. Follow him on Twitter @yaronweitzman.
Photos via Getty Images