The calendar reads February 12, and the San Antonio Spurs sit at 41-13 heading into a Sunday afternoon tilt against the Knicks at Madison Square Garden. Any other team with 40 wins before the All-Star break would be getting all types of attention. Would be pegged as a favorite for an NBA title. The Spurs, however, are not any other team. Forty-plus wins before the break is business as usual.
While the Knicks got the best of the Spurs on this blustery afternoon (even the Spurs aren't immune to a 3:30 tip the day after a Saturday night out in New York), San Antonio will win its 42nd game of the season the next night in Indiana, assuring the franchise its 20th consecutive winning season.
On this day, the Knicks and Spurs sit in locker rooms just down the hall from each other, but they may as well be on different planets when it comes to how each organization is run. The Knicks, in the midst of an ugly, public battle between fan favorite Charles Oakley and owner Jim Dolan, are skidding after starting the season 14-10. Their starting point guard, Derrick Rose, chose not to show up to work on a game night in January and team president Phil Jackson has been taking shots at Carmelo Anthony on Twitter while doing seemingly everything he can to run his star player out of town.
The Spurs, who have rarely made a headline for anything other than winning in over a decade, have a drama-free locker room, a franchise player in the MVP hunt and one of the greatest coaches ever running the show. It is remarkable how different the two teams' fortunes have been since they met in the 1999 Finals.
Since beating New York in those '99 Finals, San Antonio has a regular season record of 969-383. They have made the Western Conference finals eight times, advanced to the Finals five times and won four more NBA championships. No other team in the NBA has had nearly as impressive a stretch, yet San Antonio remains one of the most underappreciated teams in all of pro sports.
Their prolonged success begs a simple question: How have the Spurs been this good for this long?
Pop served as general manager and vice president of basketball operations for the Spurs before taking over head coaching duties 18 games into the 1996-97 season. That year, the team finished with a 20-62 record—as fortunate a losing season as a franchise can have, as it landed them Tim Duncan in the '97 NBA Draft. The next season, the Spurs won 56 games. And the following season, Duncan and Pop won their first title together. From there, the Spurs' dynasty was born.
It is nearly impossible to find a player who has been as important to a team's personality and success as Tim Duncan, who retired after last season, was to San Antonio's. Duncan shares the rare distinction of winning a championship and playing for one team his entire career with Willis Reed, Larry Bird and Kobe Bryant. While Pop will go down as one of the greatest coaches of all time, Duncan was the cornerstone that set the precedent for every player that has passed through the sleepy Texas city since.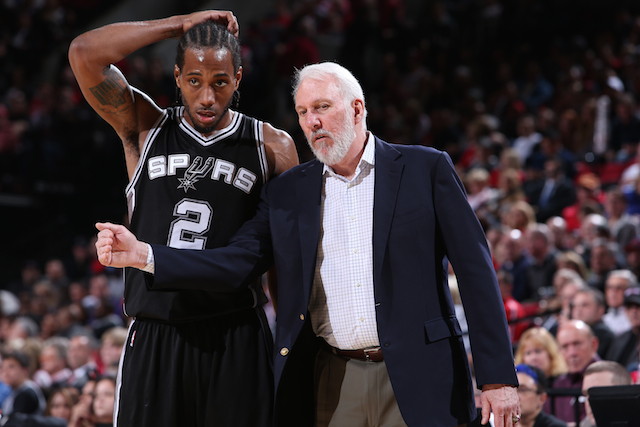 "It's pretty usual that a team adopts the personality of the franchise player. The problem is, the personality and the philosophy of the franchise player is not always great," says Boris Diaw, who played for the Spurs from 2012-16. "The thing with Tim is he was such a great teammate and team player and focused so much on winning and playing the right way that the franchise turned into his character and it's been a good thing for the team for a long time."
In 2002, RC Buford, who was an assistant coach for the Spurs under Larry Brown in 1988 and remained in the organization from 1994 on, was hired as GM of the team. Working with Pop, the two were tasked with placing the right players around Duncan to win championships and have developed a working relationship that is unlike most in the League.
"RC and I have done everything together," says Popovich. "From day one, we've done everything together and our groups have done everything together. Managers are in coaches meetings, we're in the managers meetings and walk in as we please. We talk about it, argue about it, have a beer or wine and move on. We've done it all together."
Since San Antonio won a championship in 1999, the game has been in a constant state of evolution. Through the early 2000s, isolation-minded guards and towering centers dominated the game, until Mike D'Antoni came in and flipped the game on its head with Steve Nash and the "Seven Seconds or Less" Suns. When Kevin Garnett and Ray Allen joined Paul Pierce in Boston, a new precedent of "super teams" was set. When LeBron took his talents to South Beach and teamed up with Dwyane Wade and Chris Bosh, the super team strategy was pumped full of steroids. Today's game is geared toward small ball, with positionless players roaming freely and favoring the three-pointer over a mid-range jumper. Add in changes to the CBA, gameplay and free agency rules and the NBA has changed drastically during the Pop-Buford era.
And yet, the Spurs have always been either one step ahead of the game or able to immediately adapt on the fly—and have flourished for the past 17 years despite the constant changes.
"Pop is an innovator. He leads the charge in a lot of areas of coaching, especially at this level," says Golden State Warriors assistant Mike Brown, a member of Pop's staff from 2000-03. "He does not rest in terms of thinking about the past. He's always thinking about what he can do to change and make the Spurs better going forward. Yes, they create space and play fast and all that other stuff, but even back in the day, they played small ball with guys like Malik Rose, who was an undersized power forward. Now he's going back to the traditional way and playing two bigs. He'll probably end up changing the trend here again going forward because of the success he's had with the two big guys on the floor."
From 2002-16, the franchise was able to plug in a rotating cast of players around Duncan, Manu Ginobili and Tony Parker. The Spurs have scoured the planet to find guys who fit their system, often adding players who flamed out on other teams or in other leagues and turning them into valuable options. Guys like Danny Green, Boris Diaw, Patty Mills, Jonathon Simmons, Bruce Bowen, Rasho Nesterovic, Stephen Jackson and Tiago Splitter have thrived and played major roles on some of the franchise's best teams.
The front office has been able to pull off crafty moves that have set them up for the coming 10 years, too. Kawhi Leonard, one of the top-10 players in the League right now, was acquired in a 2011 draft night swap for guard George Hill that may go down as one of the best trades ever.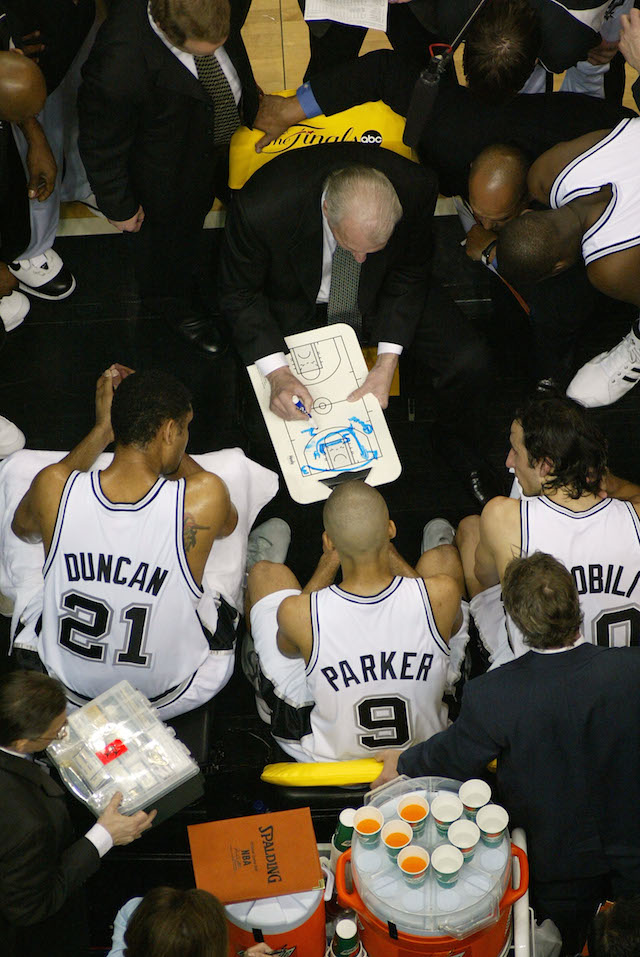 "The Spurs are good at what they do. They are good at finding the right guys who will fit the system, first of all," says Diaw. "That's a tribute to RC and the scouting department finding those guys like Manu playing in Europe, even Kawhi or Jonathon Simmons and Danny Green. And then it's having the right system for them. Those players who were not blossoming somewhere else but are doing great here is because of the system. It's easier to play in that system and contribute because of your role—you know what you gotta do and Pop makes it comfortable for those players."
While other coaches have tried and failed to use a no-nonsense, hard-ass approach in the NBA, Pop has been beloved by players because he brings the best out of them on the court. It also helps that he treats every player with the same level of respect—whether it's the franchise player or the last man on the bench.
"When I did get an opportunity to play, I missed a defensive assignment," remembers Pops Mensah-Bonsu, who played a handful of games for the Spurs in the 2008-09 season and now serves as a scout for the organization. "Popovich took me out and, rightfully so, he tore me a new one. When I sit down at the end of the bench, I'm thinking that I'm never going to play again. A few seconds later, maybe the next quarter, Tim Duncan makes the same defensive mistake. Popovich takes him out and tears him a new one and basically does the same thing he did to me, to him. It proved to me and showed me why the Spurs have been so successful. Tim Duncan looked at him and said, 'You know what, Coach? You're right.' And goes and sits down at the end of the bench. If the greatest power forward who ever lived does that, what does somebody like myself do?"
Stylistically, the Spurs have played an extra-pass, find-the-open-man, give-up-the-good-shot-for-a-great-shot offense and hard-nosed defense ball that has been dubbed by some as "The Spurs Way." The offense in place is similar to that found in the EuroLeague; no franchise has had more contributions from international players than San Antonio. Since Pop's first season, 24 foreign players have suited up in the silver and black—27 if you include Dominique Wilkins (born in France), Steve Kerr (Lebanon) and Tim Duncan (United States Virgin Islands). The system demands that players be skilled in every facet of the game and able to adapt to any style of play based on matchups.
"It is pretty much a European style of play of basketball as far as everyone has a role and everyone contributes," says Diaw. "Everybody has got to be able to pass and everybody has to be able to think about the game and play defense the right way. It's not like, OK, we have a shooter and that's the only thing he can do. Everyone on the Spurs has to be able to do everything and I think in Europe, that philosophy starts at a young age."
"The better teams in Europe, you have three or four guys who score 10 points or more a game and no one is really a 25-30 point player a game, and that's kind of what we have here," adds Latvian rookie Davis Bertans. "I think the games that we have five, six, seven players scoring in double-digits, we're pretty much unstoppable offensively."
As the season wears on and teams around the League begin to either make a push for the playoffs, tank for the bottom of the standings or slip into drama-filled disarray, the Spurs (currently 53-16, No. 2 in the Western Conference standings) remain a model of consistency and continue to rack up wins. The precedent and example set by Duncan has officially carried over to the younger guys on the roster. Since TD's retirement, The Spurs Way won't be going away any time soon.
"The NBA is full of trends, and other teams try to keep up with the Joneses. The Spurs try to tweak what we're doing and maintain our principles," says Mensah-Bonsu. "I think in regards to how we have been able to stay successful is just our personality, and we got that from Tim Duncan and Gregg Popovich. I think it will continue with guys like Kawhi Leonard and LaMarcus Aldridge. They have adopted those personalities and embraced it and that's how we continue to be the Spurs."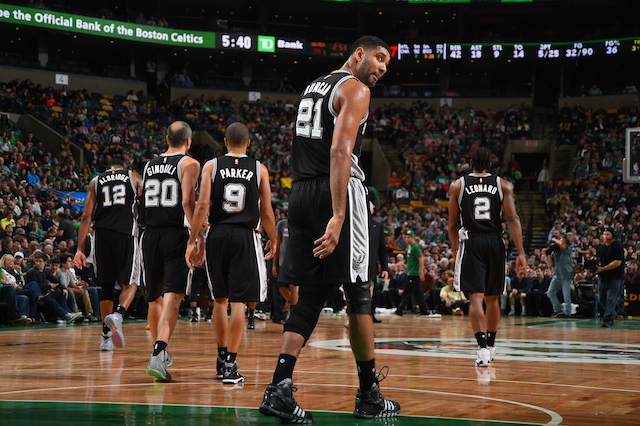 Peter Walsh is an Associate Editor at SLAM. Follow him on Twitter @Peter_M_Walsh.
All photos via Getty Images