Here are two worlds.
World No. 1 is the Ballo Ke village, district Barnala, in the heartland of the India's north-western state of Punjab. Ballo Ke is not on the map. Its population of eight hundred people—mostly poor, disenfranchised farming families—live among paddy fields, separated from the rest of civilization by hours, which are traveled along a bumpy dirt path. Electricity came here late, and mobile phones rarely connect. Ask for a cup of chai and someone will milk a buffalo in front of you. It's dusty all the time.
World No. 2 is the Barclays Center in Brooklyn, NY, opened in 2012 as one of the swankiest multi-event facilities on the planet. It cost over a billion US dollars to construct. Its tenants include the Brooklyn Nets, an NBA franchise valued in the billions which plays under the electrical charge of flashing jumbotrons, on-court laser shows, and machine guns spewing T-shirts into the stands. Since 2013, it has hosted the NBA Draft in a room full of some of world's richest CEOs, VPs, agents, and future basketball superstars.
These worlds are polar opposites of culture, economy, and lifestyle. And yet, through the course of one of the most inspiring stories in all of sports, one young man—Satnam Singh—lived through it all, marrying the dichotomy of the marginalized third-world with the highest stakes of the world's richest basketball league, and journeying through it all while carrying the improbable hopes of a billion-strong country on his wide shoulders.
The summary, if this was a piece of fiction, sounds too improbable to be true. But truth is often stranger than fiction, and over the last decade, that story actually took place: Satnam, the son of a farmer from Ballo Ke village, used both nature (his size) and nurture (hard work) to make history when the Dallas Mavericks picked him in the 2015 NBA Draft.
Satnam's entire life is the equivalent of Kevin Garnett screaming "Anything is Possible!" on infinite loop. Now, his journey's been encapsulated in the feature-length documentary One in a Billion, directed by Roman Gackowski, and released worldwide on Netflix on December 6. OBB Pictures partnered with Media Weaver and RGTV to produce this project. For a year and a half of filming, Gackowski followed Satnam as he visited his tiny farming village in Punjab, India, finished his time at the IMG Basketball Academy, Florida, and got drafted into the NBA on that fateful night in New York City.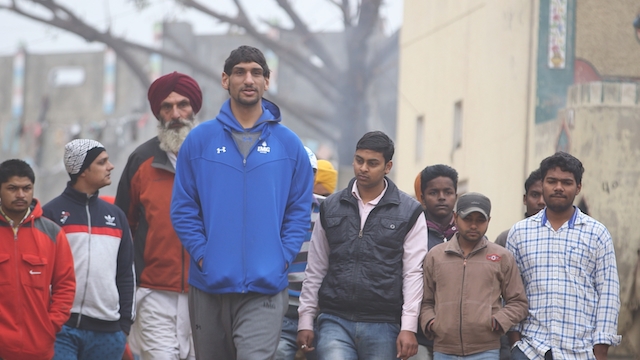 The film shows the wild extremes lives that Satnam leads, in his farm in the Ballo Ke, where he is gifted a goat upon his return and walks around paddy fields in basketball kicks, and later, in the IMG Basketball Academy, one of the world's finest facilities for youth basketball development. We see him take jumpshots on basketball courts in Punjab and meet high-level NBA executives and coaches at draft combines in the US.
Also featured in the film are individuals who have played a role in the life of Satnam or in basketball at large over the years, including NBA India's former Director of Operations Troy Justice, NBA Commissioner Adam Silver, Dallas Mavericks owner Mark Cuban, IMG Academy Basketball coach Dan Barto, former India national team coach and now-IMG Academy director of basketball Kenny Natt, basketball agent Travis King, Secretary General of Punjab Basketball Association Teja Singh Dhaliwal, Sacramento Kings owner Vivek Ranadive, VP of Kings' basketball operations Vlade Divac, Satnam's family, including his father Balbir, and many more. SLAM senior editor Abe Schwadron's pre-draft interview with Satnam also makes a cameo. (And after closely following Satnam's journey over the past seven years, I sat down for an interview that's featured in the documentary, too.)
Satnam Singh is the true star here, though. Through old photographs, stories, footage, and the lead-up to draft day, the documentary paints the picture of a young man who stood up to the responsibility of shouldering a moment in history.
On the day of the film's worldwide release on Netflix, I spoke to director/producer Roman Gackowski, producer Michael D. Ratner, President/CEO of OBB Pictures, and Satnam Singh himself to learn more about the story behind One in a Billion.
SLAM: What first attracted you to Satnam's story and this project?
Gackowski: Michael and I had worked together in the past and were looking for a project to collaborate on. Michael wanted a different kind of storyline and this was the one that specially struck a chord. He brought it up to me; we both felt it was a deep human interest story, and it felt even greater once we started pursuing it. As a lifelong sports fan, it blew my mind that a country with the population of India had never produced an NBA player, especially when you look at the way the NBA has evolved over last 25-30 years with their international exposure. There was a curiosity as to why that was. The story was fascinating from the beginning and Satnam was an interesting character.
Ratner: I was working on an ESPN 30 for 30 documentary and I wanted more sports stories that are about character and are inspirational. I was talking to different agents, and Travis King, who had been following Satnam, mentioned him. I was fascinated by this potential underdog story. We knew the stakes were high, and we couldn't predict the ending—if he would actually get drafted. There are 1.3 billion people in his country and nobody had made it before. The final moment when I wanted to do this was when I spoke to Troy Justice [formerly of NBA India] who knew Satnam personally and told me he was a special young man. Troy was absolutely right! There is a scene in the movie, before the draft, when Satnam says that he has only opened the lock to basketball in India, but the door is still closed. This story is still going on, the end of the story is not written yet.
SLAM: Satnam, how did you first react to the news that there are people interested in a documentary about you? Was it strange having a film crew follow you around as you went through some of the most important moments of your life?
Singh: The documentary crew came with me to India, I remember, and my Dad asked me, 'Why are they doing this?' I told my Dad that they wanna focus on where I'm from and let people know who I am. Then I told myself, 'These people are spending a lot of money for you, if you don't work hard and you don't do anything, it won't be good for you'. So, that's why I knew I need to work hard. I needed to go open the lock. That became my goal, to not disappoint my family, the investment by IMG, by the film crew. I did everything that they needed. As I say in the film: right now, I've only opened the lock. I'm only in the D-League. I need to go further and open the door to the NBA.
SLAM: What were the most challenging aspects of filming this story?
Gackowski: Going to his village, for sure, it was a different environment. Thankfully, the producers had put us up with the right people for this project, so we had the support we needed. The thing that struck me most was to see the differences: Satnam was 14 when he left his home, his family, and went literally halfway around the world. When you see the world he grew up in, to see where he was then, and then to IMG Academy in Florida, it's another world. That was a story that we tried to tell. There were difficulties working around language, but we had set ourselves up in a position to tell the story. Satnam is a really good, true human being, who was trying to do so much for not just himself but his family and his country. You kinda get invested in a guy like that. When we were going along with him, everybody on the crew felt so close to him and kept on asking about him. We were rooting for him and were so happy how it eventually turned out. I know Satnam felt so much stress and pressure before the draft. All of us felt the same way.
SLAM: Satnam, when you see your whole journey in this film, from your village to NBA, what does it make you think?
Singh: When I watched the movie, I realized how much nicer the court is now back in Punjab! It wasn't so nice when I started playing basketball there! I came to the USA in 2010. When I came here I said 'Damn! If only we had the same opportunity in India!' I was lucky I got a great opportunity and had coaches to help me here. I know my body changed, I learned a new language, changed the way I talked to people. But I don't like to change my attitude of where I'm from. My background is important to me. You should never forget where you come from. Even if I have a million, billion dollars: money and the new people you meet matter less. The most important thing in my life is to understand where my family is, to understand how much I had when I first came here, and why I came here. I came here to play ball, make a name for myself, make history for India. That's why I have only one focus.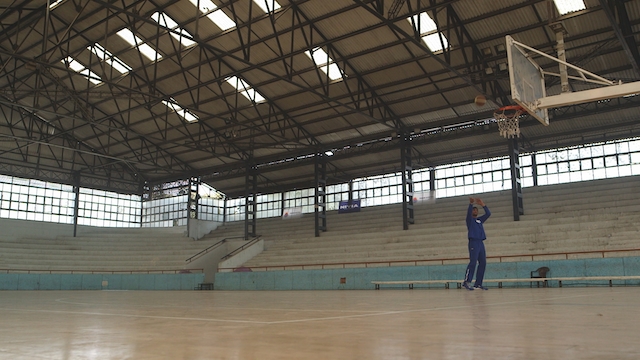 SLAM: What do you hope that viewers take from One in a Billion?
Ratner: I hope that the viewer walks away feeling optimistic and engaged, and understand that they have watched a story that is still being written. This is a feel-good film. The climactic scene honestly tugged at my heart. When you watch it, you see the math the agents are doing for him to be drafted and you feel the pressure, too. Yes, the movie wouldn't have been a failure if he hadn't been drafted, but to be picked, it made it matter so much more. There's something unbelievable there, the feat of him being drafted, shaking the deputy commissioner's hand. This was a true Cinderella Story, a risk for this young man who worked hard, flew across the world away from his country, and made history. The commissioner [Adam Silver] said that Satnam could really open the door for NBA in India. Now the goal is for him to be on the NBA court. To play in his first NBA game.
SLAM: What did you learn about Satnam by getting to know him and interviewing the people close to him?
Gackowski: I come away with the understanding that he is an incredibly brave, dedicated, and pure individual. It was a big deal for him to come to the USA because there were people from his village, his family, his coaches, who had a lot of expectations. They didn't quite understand what the journey would be for him. Satnam was still young when he first went out. There were a lot of expectations but he said to himself, 'No matter what, I'll take this on my shoulders. I'll do this'.
He came to the USA and didn't know the language. He was trapped and he fought through it. He took the risk. There's some powerful moments in the films as he spent years learning the language, feeling lost, trapped, while he was working hard to be able to understand be productive on court and in the classroom. There was a scene when a coach talked to him and he understood, and it was a breakthrough moment! You could feel that it someone in his life had just turned the lights on!
He tells you to take a risk, to be brave. He did everything he could possibly could to get to this level. Troy Justice said in the documentary that Satnam is the kind of player who would run through the wall for you, and he literally will. If he hadn't accomplished this, it wouldn't have been for a lack of trying. That's what we see in the film: he'll do it and do it the right way. And he doesn't just do it for himself. It's for everyone involved, for his parents and coaches in India and the USA.
SLAM: Satnam, the movie is over, but your basketball career goes on. You've already made history. If there was a sequel to the story, and you could write it, what would you like to see.
Singh: Having them [the documentary crew] around motivated me more, it gave me more help to have a strong mind and work hard. Maybe I'll have one more documentary again. The same movie or a different kind—about what I can achieve in my next step!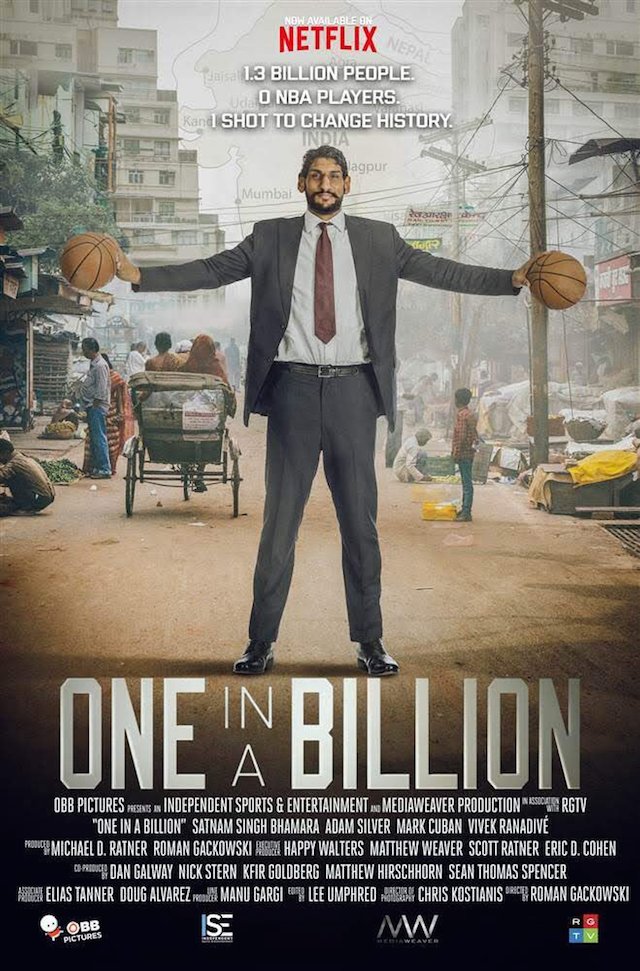 You can find One in a Billion on Netflix. Karan Madhok is a SLAM contributor. Follow him on Twitter @Hoopistani. Images via OBB Productions.