"I'm used to living a city where there's no traffic."
Today is an off day in Toronto, between Games 1 and 2 of the No. 3-seeded Raptors' opening round playoff series with the feisty Milwaukee Bucks. Practice ended about an hour ago, and Serge Ibaka is back at the crib. His apartment in Old Toronto is only four blocks from Air Canada Centre, where the Raps play, but more like a 15-minute drive—sans traffic—from the team's practice facility.
His game day routine has stayed the same for much of his career. Show up 45 minutes early. Shootaround. Extra shots. Stretch. Ice bath. Massage. Shower. His chef will have his pre-game lunch (always pasta) ready when Serge gets home, and he'll take about an hour-long nap before getting dressed and heading back to the arena. The familiarity of that routine helped keep him focused during what's been an unexpectedly nomadic year.
For the first seven years of his NBA career, Ibaka was in Oklahoma City. The Congolese native tore up the Spanish pro league as a teenager, attracted the eye of scouts and became a first-round pick of the then-Seattle SuperSonics. A year later he arrived in OKC. For his entire NBA life, until last summer, he called Kevin Durant and Russell Westbrook teammates. Those Thunder teams made the Western Conference Finals four times, including a trip to the NBA Finals in 2012, and missed the playoffs just once. The legendary (in hindsight) OKC core of Durant, Westbrook and James Harden will forever be one of the NBA's greatest what-ifs. And yet, the ever-common groaning about how that team was disassembled neglects to include mention of Ibaka, who was traded to Orlando on draft night 2016 for Victor Oladipo, Ersan Ilyasova and No. 11 pick Domantas Sabonis. He posted good numbers but was languishing away on a Magic team going nowhere until the Raptors scooped him up in a February deal. A season ago at this time, Ibaka was enjoying the long-term stability of OKC. Now, he's moved twice in the year since—and he's had to get used to dealing with big-city traffic.
"It's getting easier," Ibaka says over the phone from his new residence in the 6. He's got the logistics down pat, but all the career changes have caused some disorder in his personal life. Ibaka's 11-year-old daughter Ranie is still back in Orlando, where she was already enrolled in school, but she visits him often—like this past weekend, when there are a couple days between Raptors home games. When he's not spending time with his daughter, for the most part Serge just shuttles between his apartment and practice or games. The 27-year-old prefers to stay home and chill during his personal time—he stretches his 6-10 frame out on the couch and watches TV shows like Bloodline and The Walking Dead.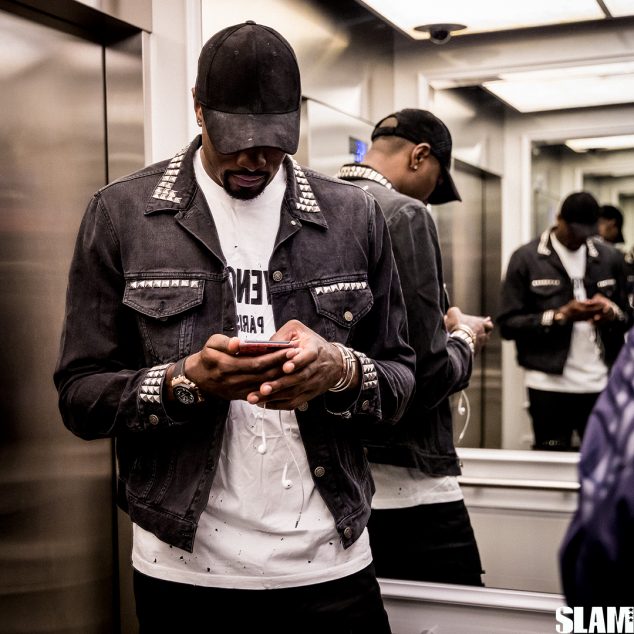 Late in Game 1, with the Bucks out to a 19-point lead and the game no longer hanging in the balance, Raptors All-Star DeMar DeRozan drove the paint but was rejected—rather emphatically—by Milwaukee's Giannis Antetokounmpo. DeRozan popped up off the deck with a look in his eye like he wanted to two-piece The Greek Freak a la Chris Childs' two-piece on Kobe circa the year 2000. Before he could get to Giannis, though, Ibaka bear-hugged his teammate and got in his ear.
"It's not Game 7," Ibaka remembers telling DeRozan as he held him back from going after Antetokounmpo. "I was telling him, it's OK, we might have six more to go. We got the next one. Because the one thing I've learned about this sport, especially in the playoffs, is you cannot celebrate the first win. We've got more games coming."
That, Ibaka says, has been his message to the Raptors as a whole: "I've been in the position before where we're two games down and we came back and won the series. All you have to do is learn from the last game, go back and practice hard and come back stronger."
After not having won a first-round series since the Vince Carter era, Toronto broke through with a trip to the Eastern Conference Finals last postseason, falling in six games to the eventual champion Cavaliers. At this season's trade deadline, the Raptors acquired Ibaka from the Magic in exchange for swingman Terrence Ross and a first-round pick. The move signaled something simple but important, given the landscape of the Eastern Conference: Toronto is going for it, right here, right now, with this core. They were long in desperate need of a power forward (and sometimes-center) to play defense, stretch the floor and bring toughness to a talented, guard-heavy lineup. In Ibaka, the Raptors finally have that missing piece.
During the 2016-17 regular season with Orlando and Toronto, Ibaka put up 14.8 points per game (his highest ppg since 2014) to go with 6.8 boards and 1.6 blocks. His traditional defensive stats might not jump off the page anymore—as a younger player, he led the League in blocks with 3.7 a night—but his evolution as a player has made him more versatile, and thus more valuable. With the Raptors, he's taking—and making—more threes (40 percent during the regular season) as exactly the kind of versatile, floor-stretching big man his new team needs. More importantly, Ibaka can speak to his new teammates from experience.
"That's the dream, to make it back to the Finals," Ibaka insists. "Because I know how hard it is to make it to the Finals."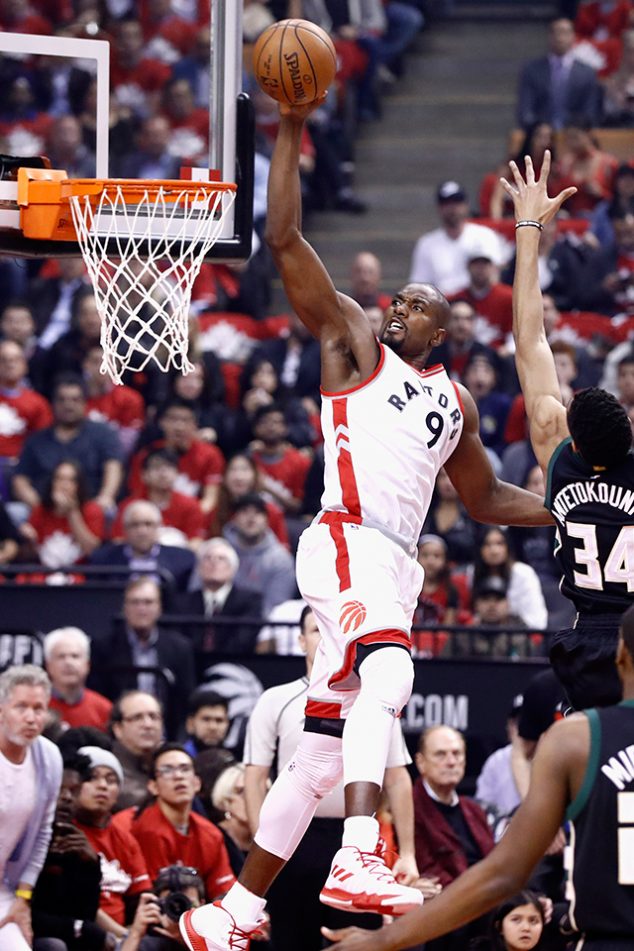 Beyond the adjustments to his daily life, and to the modifications to his game for the betterment of his new team, Ibaka's also had to make a mental adjustment. He's gone from playing in the Western Conference to the Eastern Conference, which means a whole new set of rivals. Instead of chasing San Antonio or Golden State, Toronto added Ibaka (and forward PJ Tucker from the Suns in another deadline deal) with the aim of taking down Cleveland.
"I'm used to seeing first round we're going to play Memphis or Denver or the Lakers. Now my first playoff game here we'd play the Bucks or Indiana. So yeah, it feels weird, a little bit," Ibaka admits. "But to me, it's the playoffs. I keep doing the same routine, the same focus. And it's basketball. It's not that different, it's another playoff series, but with my new team."
As for what he brings to the Raptors, Ibaka mentions a winning mentality (check), a strong defensive presence (check) and toughness (ask Robin Lopez). Or, as he puts it hopefully, "the kinds of things that win championships." Indeed, head coach Dwane Casey told reporters in April that Ibaka and Tucker give the Raptors "physical toughness that we haven't had." Serge is adamant, though, that he doesn't want a pat on the back for bringing Toronto a damn thing until it results in wins. "We have to wait until after the playoffs."
Playoffs. Even just hearing Ibaka say the word feels right. He's far too classy to put it in crass terms, so we'll say it for him: Getting traded from the Thunder to the Magic last summer was a gut punch. Which, in contrast, meant that getting moved mid-season from the Magic to the Raptors was nothing short of reinvigorating. The trade, which sent him from one of the East's worst teams to one of its best, happened a few days before the All-Star break. That's a week when most players without obligations to All-Star Weekend itself take the rare opportunity to go on an exotic vacation and get some rest, for once. Instead, Ibaka was in New York City, working out at the National Basketball Players Association's gym in midtown. And when he finally hit the court in Toronto a few days later, he was celebrated immediately.
"It was so great to see all the fans who were waiting for me—they were so happy and excited to have me here," Ibaka says. "It pumped up my confidence, just to see all that love, how happy they were to see me. The first game, when they introduced my name, it was crazy—like, crazy crazy. It's love, man."
The night after our chat, in Game 2 against the Bucks, Ibaka will prove why he's worthy of such admiration, pouring in 16 points (including 4 three-pointers), snatching 7 rebounds, handing out 6 assists and swatting 2 thunderous blocked shots on Antetokounmpo and Thon Maker to help even the series. He is everywhere, making the plays we're used to seeing Serge Ibaka make on a basketball court—only now he's wearing Raptors red and black, not the Thunder blue we'd come so accustomed to seeing him in around this time each year.
And that's the thing: Serge Ibaka is still Serge Ibaka, albeit a little older and a little wiser, following a sabbatical to basketball irrelevance for 56 games in Orlando.
Toronto won that first-round series over the Bucks, and now the Raptors are once again hoping to get over the hump against the Cavs. Should they succeed, All-Stars DeRozan and Kyle Lowry will (deservedly) be heaped with praise. Ibaka, though, would represent the key to Toronto's breakthrough, both in attitude and output. It would be the culmination of sharing all he learned in OKC, and the epitome of his willingness to play a supporting role for the greater good of the team. In that sense, Ibaka's been expertly navigating traffic his entire career.
—
Abe Schwadron is a Senior Editor at SLAM. Follow him on Twitter @abe_squad.
Portraits via Charlie Lindsay (@doncharleone); Action shot via Getty Images.