Shabazz Napier is 23 years old, and he's a millionaire. He has a beautiful crib and is a rookie in the hottest city in the NBA. Still, the skinny point guard is hungry.
"I grew up not having much of anything," says Napier. He was raised in Roxbury, MA, amidst a cacophony of gunshots, police sirens and bouncing basketballs. His mom, Carmen, did her best to shield her youngest child from those surroundings. As fate would have it, the only sound that really enticed the impoverished Napier, anyways, was that of the ball.
"He played in every gym around the city," says Oscar Lopez, Napier's AAU coach and close confidant. He laughs. "Shabazz spent most of his time in the YMCA, but from the time he was 6 or 7 he literally was always in a gym somewhere."
Most of the places Napier played were no better than his neighborhood. Guys who were posting him up during the day at, say, the Reggie Lewis Center on Tremont Street, were often posted up on a nearby block at night. It was only when he traveled with his Lopez's AAU team, Metro Boston, that a teenage Napier saw that there was another world out there.
"There'd be times where we were on trips and we'd have to drive somewhere," says Napier. "We'd go through these routes where there were these nice neighborhoods. A lot of the kids on the van would probably be sleeping, but I'd be up looking at these houses, and telling myself I'ma get one. That's how it was."
At the time, few scouts thought of Napier as a high-level prospect. To most outsiders, the undersized guard was just another kid with nice handles and an OK jumper on a middling AAU team. They didn't know how hard he was working, though. And they certainly had no idea how determined he was.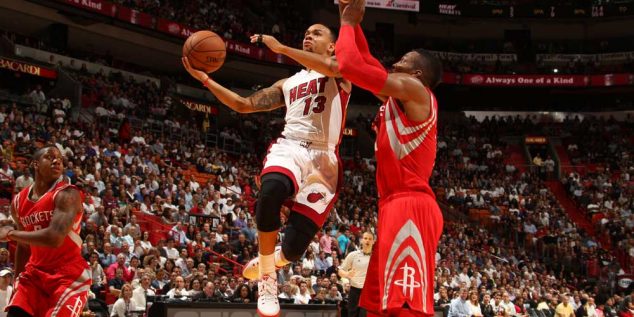 "Whoever I played against, I tried my best to give him everything I got," says Napier. "I was one of those kids who, if you had a number by your name, two things could happen: you could stay at that number and show you're worth it; or you could give me that number because I'm taking it for myself. That was my mentally going into games."
By the time Napier was a rising senior, he had earned himself somewhat of a national name. Pundits agreed he was going to get a DI scholarship, only Lopez saw more though.
"I sat him down after a game that summer and told him he could play in the NBA," says Lopez. "I don't think he had heard that before, and it only made him work harder."
Years later, in the summer of 2013, Lopez and Napier had another conversation. This time Kevin Ollie, Napier's coach at UConn, joined them. Just like the first memorable conversation, things were in a flux. Napier was nearing the final season of a solid collegiate career, but the trio knew he could do even more. So they set some goals that anyone outside of the room would have laughed at.
"We said he should be the best point guard in the country, he should be an All-American and he should lead the team to a National Championship," says Lopez. "And he did all of that."
After starting from the bottom, and elevating past more talented players along the way, Napier was here. After having played in anonymity for years, LeBron James was tweeting about how good Napier was. ("No way you take another PG in the Lottery before Napier.")
In June, the Charlotte Bobcats made Napier the 24th pick in the Draft, before he was summarily traded to the Miami Heat. Soon thereafter, Napier signed a deal for somewhere in the seven-figures. With Roxbury at his back and Collins Avenue to his front, it would have been easy for Napier to get comfortable quick and lose the work ethic that defined him. Never that, though.
"I started this game at five and a half," says Napier, "and my passion is the same now. I'm not going to let that flame go out. This is a blessing for me and my family, but it's not over cause I got here. It's about staying and being consistent, and showing that you're a real somebody."
Tzvi Twersky is a Contributing Editor at SLAM and the Head of Basketball at Stance Socks. Follow him on Twitter @ttwersky. Image via Getty.
Watch and read about fellow rookies Elfrid Payton and Zach Lavine by clicking here.
94