Just a little patience. Shai Gilgeous-Alexander moves with just a little bit more poise than everyone else does. He's on his own time, on and off the court. He's always been that way.
"That was the way I grew up and was raised," Gilgeous-Alexander tells KICKS. "To be different and be yourself no matter what or who says anything about you. Just be yourself. That was something that was instilled in me very early. From my parents to the people I've been around, it's always been about being yourself. Individuality, and influencing the world through that. The biggest thing is don't be afraid to be yourself. Follow your heart. Just be who you are. And go about life that way."
Gilgeous-Alexander is the latest ballplayer to sign with Converse Hoops. The Hamilton, Ontario, native and second-year pro decided to jump from the Swoosh to Converse and take the road less traveled. It could make all the difference.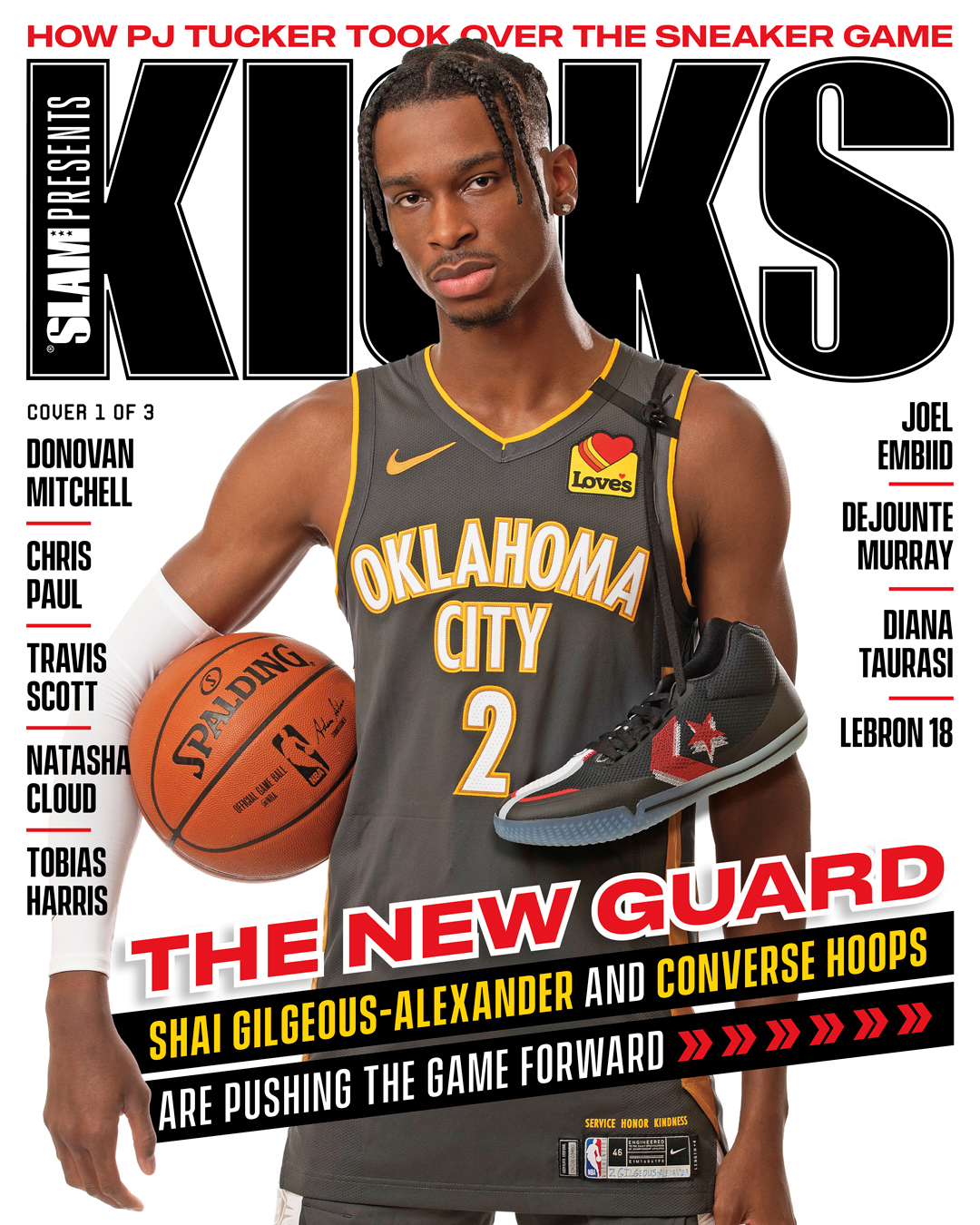 He joins Kelly Oubre, the Phoenix Suns' bucket-getter, Natasha Cloud, point guard for the reigning WNBA champion Washington Mystics, and Draymond Green, three-time NBA champion with the Golden State Warriors, on the Converse Hoops roster.
"I just think where I'm at right now in my career, kind of wanting to get out there a little more, express myself a little bit more, on and off the court, the things they do with their brand, and the vision they have, it was perfect timing," Gilgeous-Alexander says. "And I'm excited for it."
Truthfully, there's a lot to be excited about. Converse reintroduced themselves into the basketball market in April 2019 with the All Star Pro BB silhouette, and they have big plans for the future, pursuing ideas informed by their legendary past. The brand's connection to the game goes back to 1917, when the All Star basketball shoe (canvas upper and thick rubber outsole) was first produced. The mid-'70s, '80s and '90s treated their basketball division very, very well. Julius Erving has been connected to Converse since he was the most entertaining player in the world. Magic Johnson, Larry Bird and Isiah Thomas led a group of elite NBA guys who got the Weapon tons of national attention. And Larry Johnson's Aero Jam silhouette set the stage for his extremely famous "Grandmama" commercials. The 2000s then saw a downturn in activity.
Oubre, Cloud, Green and, maybe most notably, Gilgeous-Alexander are being entrusted to bring Converse back to the top by being unique off the court and performing well on it.
Now that the NBA has returned, Gilgeous-Alexander will be lacing up the Converse All Star BB Evo. He's part of a dynamic offensive attack for an Oklahoma City Thunder team that casts him as a catalyst for scoring. It's only his second year in the League, and he's only 22 years old, but he's already become a problem for defenses. That same patience he moves with off the floor translates to his in-game style. Though he has plenty of rhythm to himself, his rhythm isn't standard for the League. He's somehow both faster and slower than people think, lulling them to sleep with rock-the-baby dribble combos that quickly turn into accelerated contact finishes at the rim. He's got shifty head fakes that he relies on and a stepback jimmy for when people don't bite. He craftily works angles to his favor, either by kissing a shot off the glass or uncovering a gap between multiple defenders. His ones are dictated at his speed. And it's really all done with just a little patience.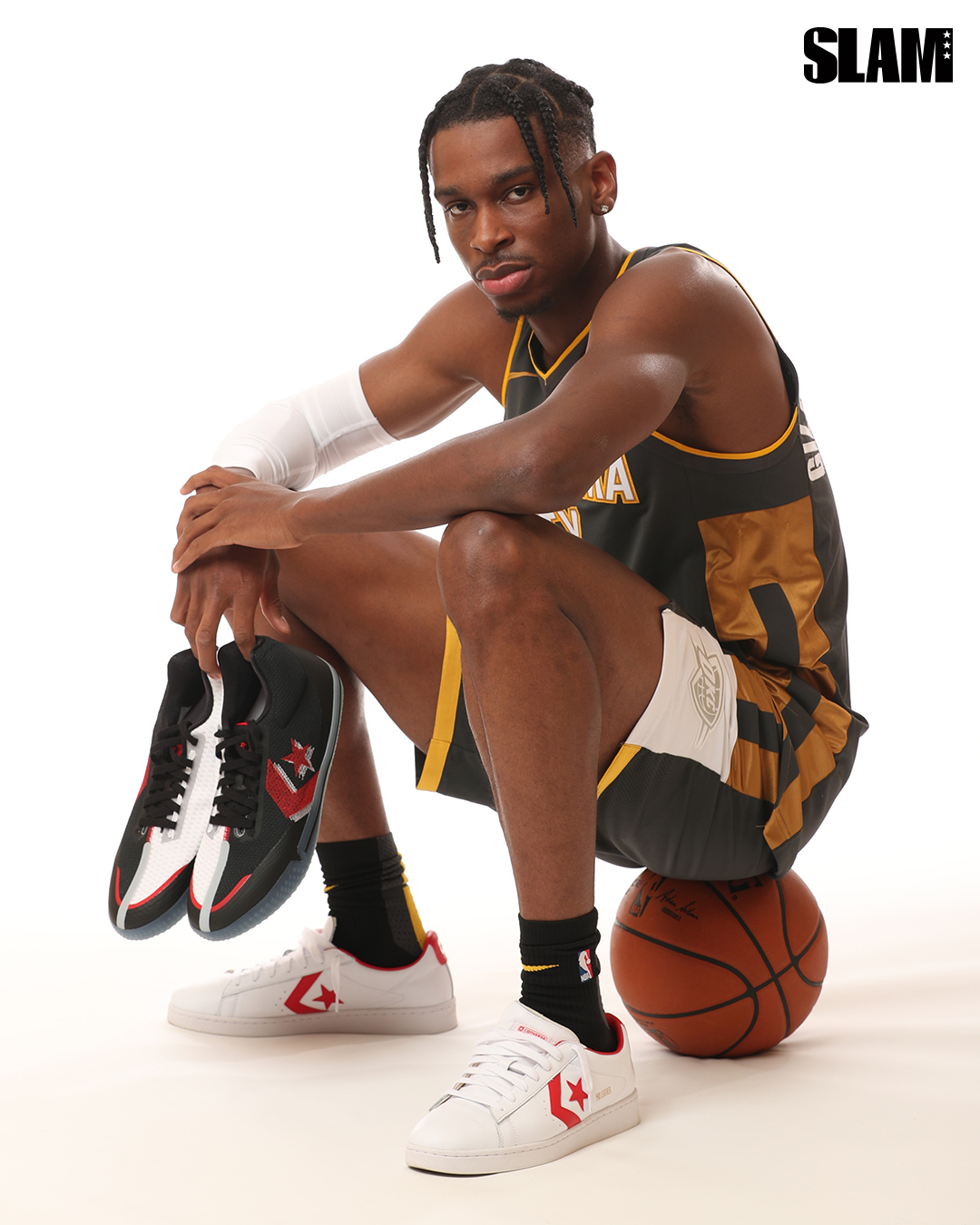 "We've been talking about this kid for quite some time," Brodrick Foster, Global Director of Footwear at Converse, says. "Personally, I know of him because he's a Canadian kid. One of my really good friends who played for St. John's back in the day, he came through his AAU, Gauchos. As a team, when thinking about who was next…we would just slide the note of his name and text every day. And then when Adrian Stelly, who's our sports marketing rep, came down and told me we were gonna sign him, I was so happy. This kid is going to be a big deal later on."
"Later on" might not be all that much later. SGA is averaging almost 20 points per game in just his second season. He's shown up big in clutch moments for the Thunder, and he already has real playoff experience as a member of the Clippers squad that took the Warriors to six games last season. And he spends nearly every day of work with Chris Paul, soaking in lessons from this generation's best floor general.
Foster is one of the leaders on the Evo silhouette, so not only has he spent lots of time crafting the sneaker, but he's also spent time listening to what Gilgeous-Alexander's looking for.
"Shai is an artist," Foster says. "He colors up shoes and he's texting us all the time, like, Hey, what do you guys think of this? What do you think of that?"
Gilgeous-Alexander really does spend a decent chunk of time with a pencil and paper.
"I sketch a little bit," he says humbly. "As a kid in elementary school, you have art block or art period. I don't know, I just always looked forward to that, was always excited for that part of school. And then I got away from it a little bit and then picked it back up a little bit more once I got to the League and had a lot more free time. Didn't know what I was doing with my free time so I started drawing a little bit more and found my love again.
"A lot of it is clothing stuff," he continues. "I'll sketch out pants or hoodies or shirts. If I get an idea, I'll put it in my notes and then I'll try to go to the sketching board and sketch it, whether it be a symbol or meshing two symbols in one, and then try to put it on a hoodie in a cool way. Whatever it may be, but most of the time, it's clothes or shoes."
The mutual admiration for expression and creativity is what brought SGA and Converse together. Foster and his team have left the door wide open for any of the four players to communicate their ideas and feelings. Converse has spent decades dedicating real estate on sneakers in imaginative ways, both internally and externally with collaborators. They've released Chuck Taylors in all the standard primary colors; in collaborations with Jerry Lorenzo, Tyler, the Creator, Virgil Abloh and Millie Bobby Brown; and in dropped colorways with messages of support for the LGBTQ community.
Ron Johnson, Converse's General Manager of Global Basketball, says that Gilgeous-Alexander, Cloud, Oubre and Green will have the chance to cook up anything they want to.
"The democratic and expressive nature of the game is what brought us back," Johnson tells KICKS. "It's who we are as a brand. It's the start of our story, and it's what led us to have one of the most iconic shoes in the world. Every person has a different experience or entry point to the world of basketball. And the game extends well beyond the court—to the streets and culture where basketball is played, lived and consumed. That's why it's important to create space for our roster to be authentic to themselves. We would be doing a disservice to them to only think of them as professional basketball players. They've got bold ideas, strong personal vision and creative points of view. The world deserves to see their full story, and we're happy to celebrate and amplify them as they create progress."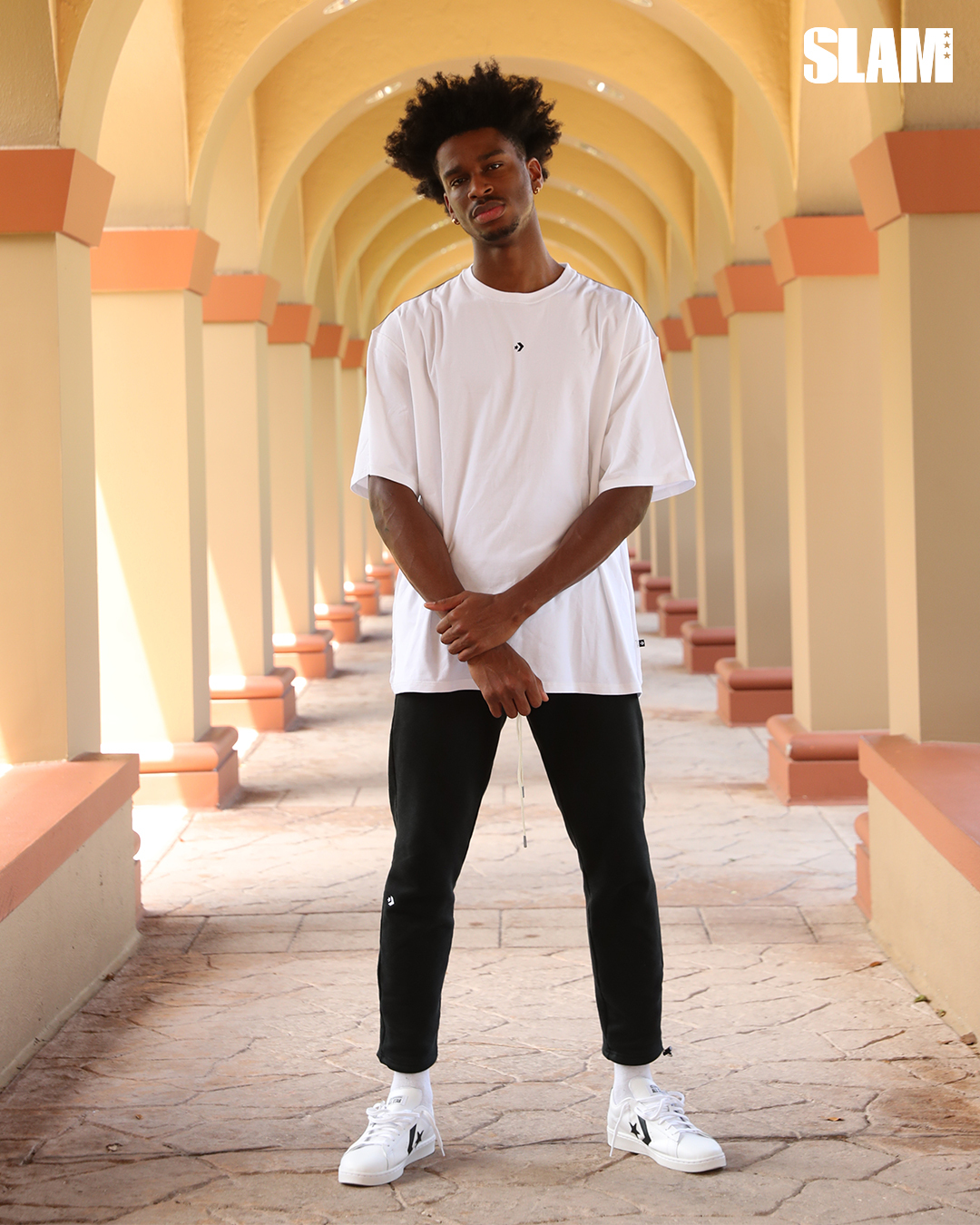 The canvas that Gilgeous-Alexander will get to paint on is the Evo. It's Converse Hoops' third basketball silhouette, directly shaped by insight from players and by studying the All Star Pro BB.
The Evo's foundation is a Nike React midsole, which then trails up to a 5/8s cut. A plushly padded collar transitions into an engineered mesh upper. And the lead colorway is split right down the middle.
"We got a lot of learnings from our BB Pro last year," Foster says. "The lacings might be a little bit too long. The material's a little too tight. So it was a lot of things that we learned throughout this process. There were really three things from the BB that we wanted to improve.
"One was the lockdown," he continues. "Players don't want to worry about coming out of their shoe when they're running and cutting and jumping. Ankle support was another thing that came out of it. Some [players] really talked about how they had heel slippage. How do we perfect that? And last but not least, I'm gonna harp on this: LeagueFits All-Stars. Style. We're going to be the lifestyle basketball brand that you see that is always going to have that look and authentic feel when it comes to our basketball sneakers."
Foster and his team hit the Nike Sports Research Lab at the Nike World Headquarters in Beaverton, OR, to figure it all out. Because the Swoosh owns Converse, they work in the same space, use the same tech and get to call on insight from the same designers. Eric Avar, who has worked on the Kobe Bryant and Penny Hardaway signature lines and the OG Nike Hyperdunk, among a multitude of other huge projects, had a big influence on Converse's reentry into hoops and the BB.
It makes sense that Gilgeous-Alexander would feel comfortable in Converse's new basketball models; he's spent years playing in the Black Mamba's Nike series. Avar was the mastermind who helped to develop Bean's light and low-cut footwear, a similar road that Foster and Converse Hoops are traversing now. Foster knows that because of the groundwork that Avar and Bryant laid, both consumers and athletes tend to mess with low silhouettes. So the Evo isn't a traditional mid or high.
Another insight borrowed from Nike can be seen in the cushioning. The Swoosh's React foam is a proprietary material they made in 2018. They count it as their most durable, lightweight and responsive foam.
"When I go to look for a car, the first thing I look [for]—of course the exterior's going to be the thing that draws me in—but I say pop that engine," Foster says. "What does that engine look like? And for us, our engine works so well; and the feedback that we got from all consumers and athletes [was] that Nike React works so well, we kept the same engine. There was no need to change that. Of course, you're going to see some things like ice bottoms and some color outsoles. The aesthetic is going to change, but the core of the engine and how it runs will be the same ride."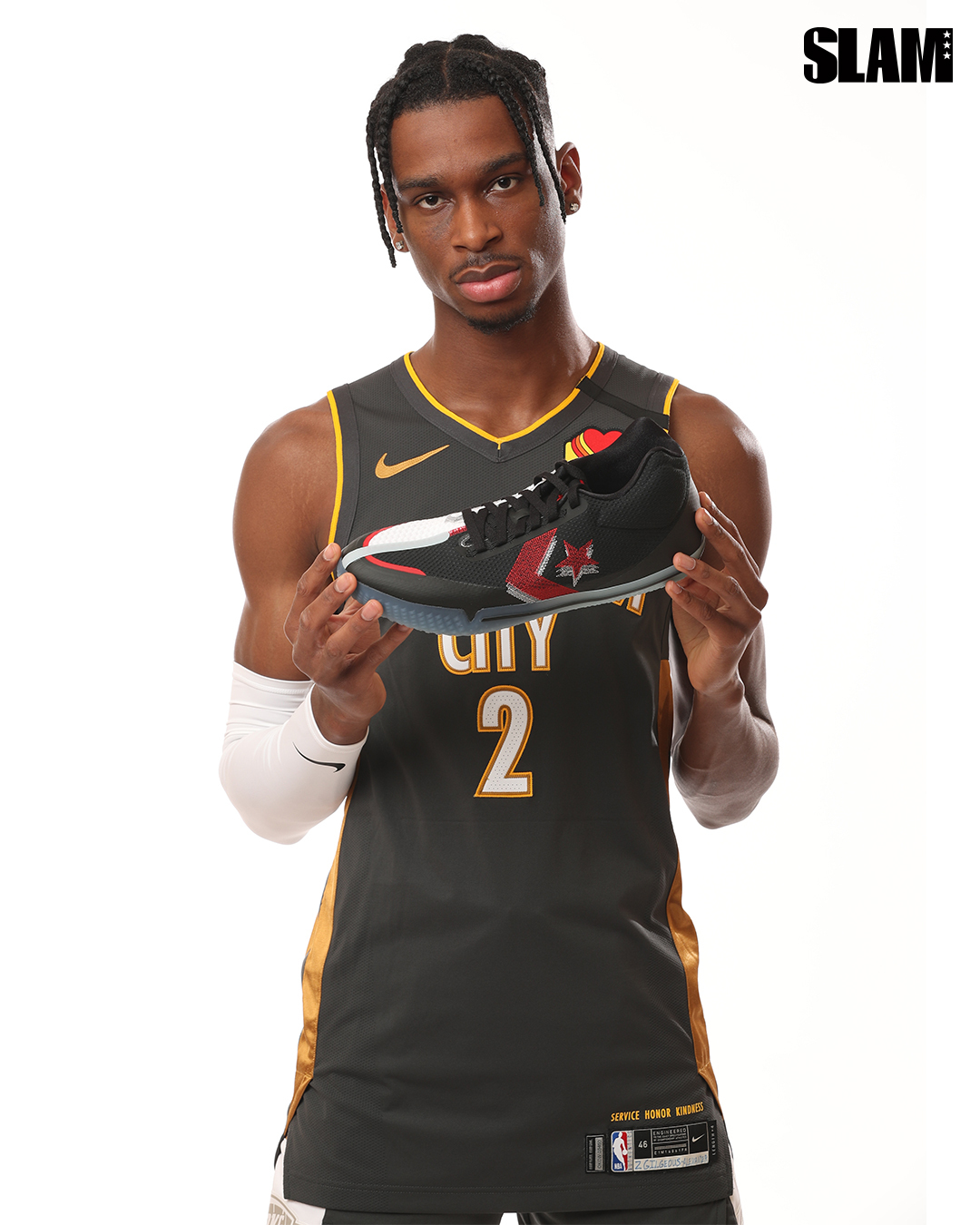 Foster, as he mentions the look, says, "The last part is really around that functionality and style. That's why you see the knit upper. It gives you a little bit more mobility. And then that style point is that 50-50 split. It gives you that yin and yang look. You can have bold blocking or you can have a little bit more settled down. These are the things that our athletes talked to us about. There's times when you can just have something as simple as a black and red with the white but there might be something I want to be a little more bold, like an Oklahoma City where it's blue, orange, a little bit of white. There's also allowing for graphics that you may see later on."
SGA has already shown off a few graphic treatments on the Pro BB, working out in a low with the OKC logo on it and playing in a mid with an image of fire on it. He won't give any insights for what he has planned yet, saying that it's still a secret. But he does offer that there will be layered storytelling between the court and the tunnel. (One time for @LeagueFits.)
"So whether it's a fit through the tunnel or before the game, kind of having the same theme or colorway as the shoe on the court," he says. "Expressing my love for fashion, whatever it may be, in the summertime and fashion shows. Just connecting the two and showing the world that passion for both."
Everything else will come in time. Just move like Shai. Have a little patience.
—
Max Resetar is an Associate Editor at SLAM. Follow him on Twitter and Instagram.
Photos by Joe Murphy/NBAE via Getty Images.