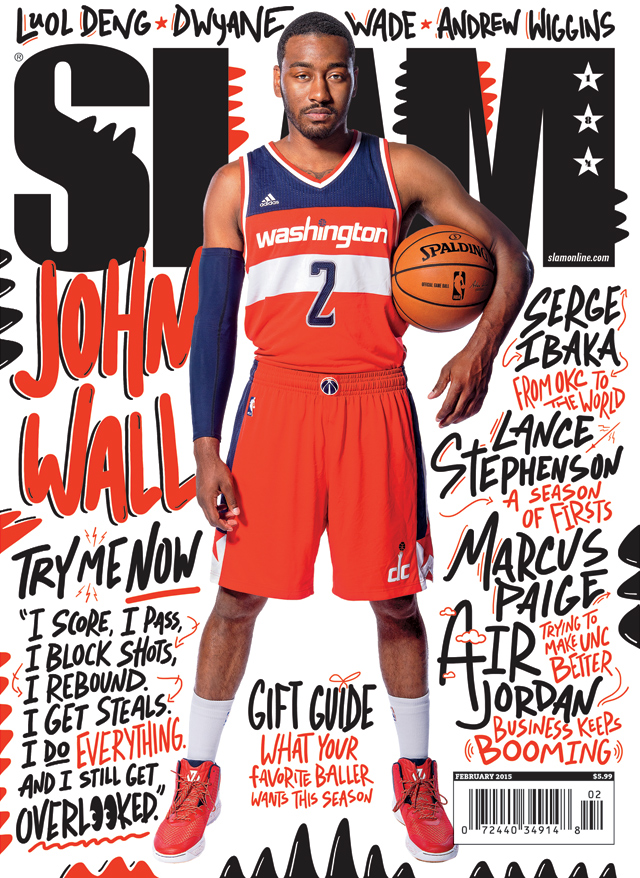 One of the biggest things that distinguishes those of us at SLAM from most other media outlets that cover basketball is how much we are still fans of the sport. And certainly specific players. We've all got our favorites, and to be honest, few big-time NBA ballers have a better fan club amongst the SLAM Fam than John Wall.
Long-time SLAM Contributor Aggrey Sam put me on to John back in '07, when he was a little-known high school kid who made noise at a Reebok camp and was buzzing a bit in his native North Carolina. I loved John's style as soon as I caught highlights of him on the internet, and we first put him on our cover in '09, when he was still in high school. I loved him at UK, too, where we made him the centerpiece to our classic 2010 Kentucky cover, and his play had me guaranteeing NBA stardom for him and promising that he'd be "better than Kyrie" to anyone who asked (and usually disagreed with me…and I mean no disrespect to Mr. Irving, btw). Any support John had inside the SLAMDome only grew when he joined the Wizards and newly crowned Associate Editor Abe Schwadron joined the SLAM Squad as an intern a couple years back. Abe, who wrote this month's peach of a cover story, is the biggest Wall backer of all of us here at SLAM, primarily because he grew up just outside DC as a rabid Wizards fan and knows that John represents that cursed franchise's best hope for relevance and success. Abe's frenetic game also has a little Wall in it, on the real.
Besides Abe, there's one other core member of the SLAM crew that I'd describe as a JW fan—Tzvi Twersky. Generally speaking, Tzvi likes any ballers who are willing to be themselves on and off the court, like John. Just like Tzvi is always willing to do what he thinks is right, regardless of what anyone else has to say. Tzvi's confident, bold approach helped land him at SLAM when he was still in college, and served him well as he grew to become our Senior Editor, excellent with words and even better at forging connections to pretty much every NBA player and player agent. Now he's off to Stance Socks, where he'll run the basketball division out of Cali while still writing for SLAM. Thanks and good luck, dude.