Before there was "Fear the Beard" and "Fear the Brow," there was "Fear the Fro."
And for good reason.
Attacking a paint occupied by big man Ben Wallace and his monster afro was a fearful endeavor. It took courage and an understanding that, well, it was probably not going to end well for you.
Your layup might end up pinned against the glass or flying in the opposite direction to spark a fast break. It might, if you were especially unlucky, end up on a fan's lap sitting in the third row. That was the risk you took when you tested one of the greatest defenders in NBA history.
It's rare that a player is so dominant on one end of the floor that you could care less about what they do on the other. That's not to say Ben Wallace couldn't put the ball in the basket (start believing that and you might get posterized), it's just that on any given night, he could be the best player on the court without doing so.
The blocks. The posters.

There's a reason opponents feared BIG BEN. https://t.co/sKzN1MX6o1 pic.twitter.com/SjKJnagZZB

— SLAM Magazine (@SLAMonline) June 7, 2018
"Anybody in this League can score the basketball," Ben told SLAM back in 2005. "But what can you do when you're not scoring? That's the big thing for me. I don't need to score to impact the game. I can impact the game in many other ways."
And the fans, including all of us SLAM, loved that about Wallace. Here's a player who never averaged 10 points for an entire season, but was a four-time All-Star, appeared on multiple mag covers, and had little kids rocking afro wigs to his games. Truth is, he didn't have to touch the ball on offense to put on an electrifying show. With his athleticism, energy and intensity, Wallace made defense and rebounding entertaining as hell.
"Nobody can score without the ball. If you're a scorer, you're going to need a guy like me to get the rebound for you," Wallace said in that '05 interview. "If nobody rebounds for you, you can't score. I rebound the basketball. I just take pleasure in getting wins and seeing everybody out there just having fun."
At merely 6-9, "Big" Ben was usually matched up against guys much taller than him. It didn't matter. Wallace didn't back down from anyone. He led the League in rebounding twice (2001-02, 2002-03) and still holds the Pistons all-time record for total blocks (1,486). Along with Dikembe Mutombo, Wallace is the only player to claim four Defensive Player of the Year awards. And of course, he was the anchor of Detroit's epic 2004 championship squad, helping to keep opposing center Shaquille O'Neal in check during the Finals.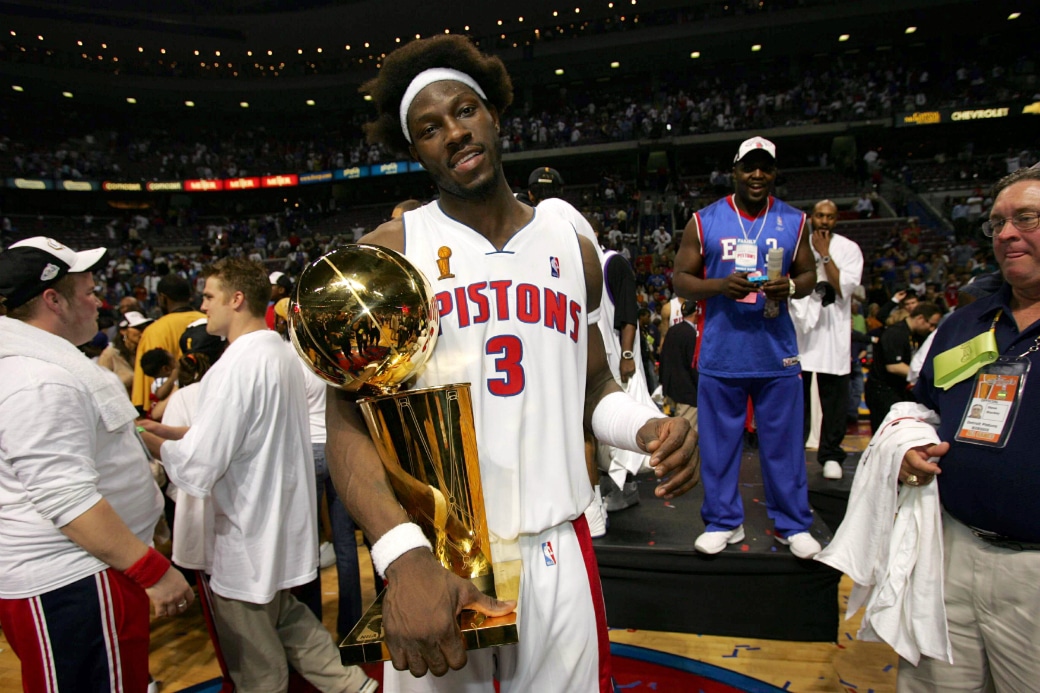 One's respect for the illustrious and lengthy (16 years) career Wallace put together only grows when you consider how it began. Coming out of Virginia Union University in Richmond (the same school Charles Oakley attended), Wallace wasn't on any NBA radars. But he had assured his 10 siblings that he would one day make it to the League, and so Wallace kept on working. He was eventually signed by Washington in 1996 and landed in Detroit, where his jersey now hangs from the rafters, via trade four years later.
Ben Wallace did not simply realize his dream of lacing 'em up in the NBA. He became the most accomplished un-drafted player EVER. And really, that should tell you everything you need to know about the legend.
A true will to win and passion for the game led him to greatness, and to be an inspiration for hoopers everywhere.
The SLAM Legend of the Week is a recurring post that pays tribute to an individual who impacted the game way beyond the court.
Check out our cover story on Big Ben from July of 2005.
—
Alex Squadron is an Associate News Editor at SLAM. Follow him on Twitter @asquad510.
Photos via Getty Images.