In a day and age when a player can cook an opponent and the move be circulated around social media minutes later, it's a shame for hoop heads that Nick Van Exel is not still playing in the League.
He was always ahead of his time.
After Magic Johnson retired, and the revolutionary Showtime era was officially over with, the Lakers selected Van Exel out of the University of Cincinnati in the second round (37th overall) of the 1993 draft. The 6-1 lefty had just guided the Bearcats to a Final Four, so it didn't take him long to bring a winning pedigree to the League.
But Nick the Quick brought a lot more than dubs, even though it only took him until his second year to help get the Lakers back in the postseason.
Playing in an era defined by classic one-through-five position labels, Van Exel may have been the size of a prototypical point guard, but his game should not be defined as such. Setting open teammates up with a pocket pass or a flashy no-look dime was a big part of what made him great, yet his creativity with the ball in his hands made him one of a kind.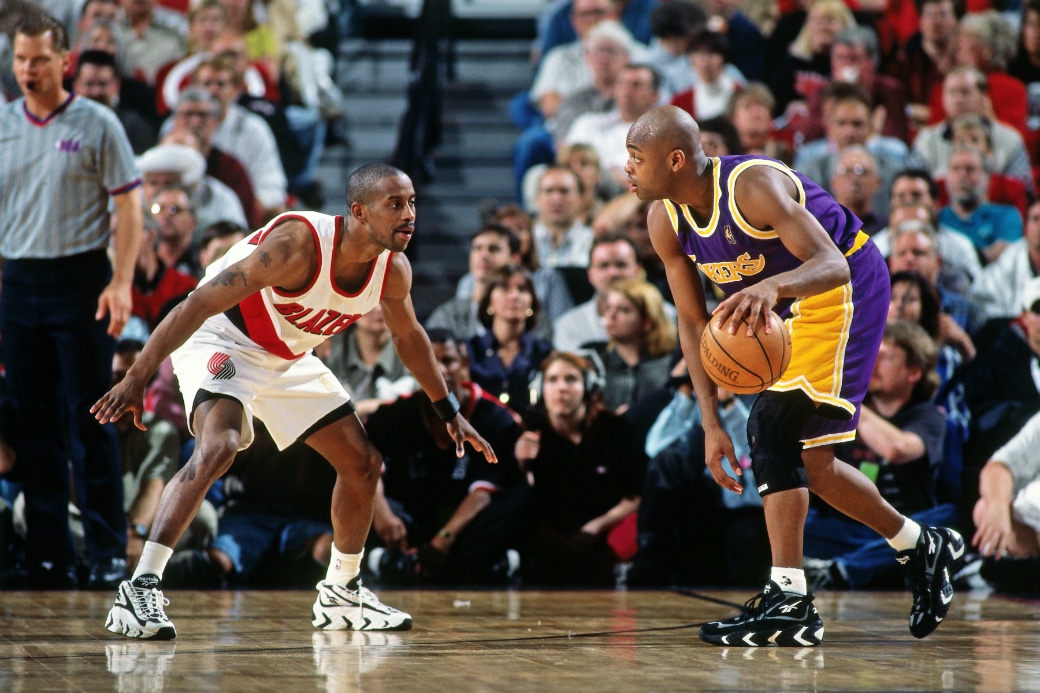 An electric scorer who could finish above the rim just as easily as he could shake someone down and pull up from 25-feet, Van Exel often shadowboxed his way down court after a highlight play. Throughout his 13 years in the NBA, another Van Exel signature was his unorthodox approach to free-throws – standing about two feet behind the line.
Van Exel appeared in one All-Star game (1998) before getting traded to Denver the ensuing offseason. He also played in Dallas, San Antonio, Portland, and Golden State prior to hanging up his sneakers.
For most of his career, Van Exel had a penchant for big time scoring outputs in the postseason, as well as a flair for the dramatic with a handful of game-winners on his resume.
As father time started to diminish some of his athleticism, Van Exel found plenty of success posting dudes up while remaining a threat from downtown. Simply put, there wasn't anything Nick The Quick couldn't do offensively, posting career numbers of 14.4 points and 6.6 assists.
Since retiring in 2006, Van Exel has been making his way up the coaching ranks. His first stop was at Texas Southern, then he landed assistant gigs with the Atlanta Hawks and Milwaukee Bucks. He was the head coach of the G-League's Texas Legends in 2015, and has been an assistant for the Memphis Grizzlies ever since.
For kids who grew up in the Midwest during the early and mid 1990s, before the AAU boom, the program Small Fry was the circuit for serious hoopers aged 9-14. Small Fry's prized alumni they sold to kids coming up? Nick Van Exel (Kenosha Small Fry).
For a dude who only made one All-Star game, didn't win a title and most likely won't be inducted into the Hall of Fame, he's got current NBA players rocking his jersey and constantly sharing his highlights.
🔥🔥🔥🔥🔥🔥🔥🔥. https://t.co/hdP1K0mSk5

— LeBron James (@KingJames) April 5, 2018
As the game has evolved and all these combo guards have come into – and flourished – in the League, we still haven't seen one who has got Nick Van Exel's game. Some might be lefties with a cannon, some might rock a headband, but there won't be another Nick The Quick. It doesn't get much more legendary than that.
—
Danny Hazan is a contributor to SLAM. Follow him on Twitter @groovedh. 
Photos via Getty.