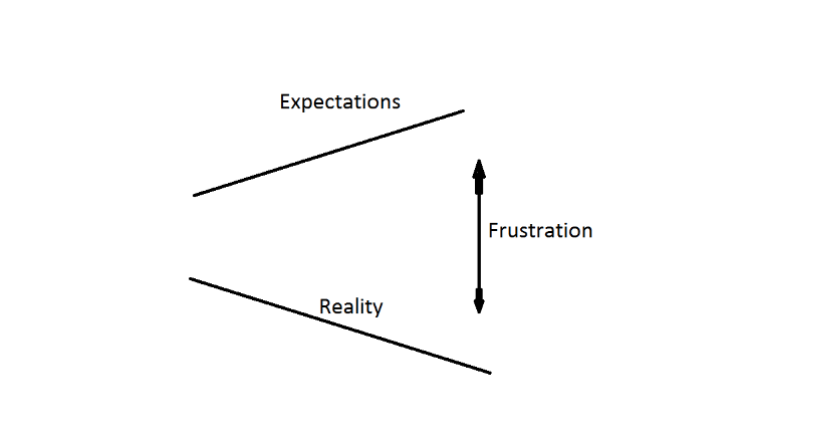 They say that happiness equals reality divided by expectation—and that frustration is the product of the opposite—so let's consider the graphic above, and the case of Carmelo Anthony. (Excuse the triangle.)
Anthony is one of the League's best players, but he is not on par with LeBron James or Steph Curry or some others. He is a scorer, and though he is not a selfish player, his style has never produced great consistency or postseason success. It seems likely that Anthony will join the short list of all-time greats who never won a Championship. He will probably finish with, at worst, the 12th-most points ever scored.
That's the reality.
So what about expectation?
Here in New York, Anthony is viewed as a frustrating underachiever by many (vocal) Knicks fans. This group has unrealistic expectations, and is distinctly furious and devoid of constructive ideas. They want to trade Melo, but they do not know who to acquire.
They believe that Melo is overpaid, but they do not know who to pay instead. They wish Melo hadn't re-signed for five expensive years, but, of course, would despise him far more had he left via free agency to L.A. or Miami or Cleveland. This group wants to win—everybody does—but the Knicks never win, and the onus has fallen on Anthony alone.
The gap between this group's expectation and the team's reality consumes them—there is no place for Anthony's reliably outstanding contributions to the team, the franchise and, in fact, the country.
The reality is that New York's window was slammed shut three years ago by Roy Hibbert. Since then, expectations have remained high, but reality has torpedoed downward, at least for the Knicks as a whole, and if Melo's success is measured in wins, then it has spiraled for him, too.
But light shone through last season, if you were willing to look. Kristaps Porzingis was spectacular in every way. Anthony played 72 games (at 35 minutes per) and averaged 21.8 points, 7.7 boards and 4.2 assists—the last a career-best, and a bit of proof, perhaps, of some untapped potential yet. Only Melo, Durant and Westbrook averaged 21/7.5/4. New York competed for half the season—40 games saw them ahead of even the Celtics in the standings. (They went 12-30 from there.)
This summer brought Derrick Rose, Joakim Noah, Courtney Lee and Brandon Jennings to New York. The Knicks figure to play competitive if unspectacular ball all season—a classic sixth seed in the East. There will be fun nights: A Porzingis halftime stat line will have you sprinting home to flip on the game; Noah and Jennings will be doing JR-caliber wonky stuff all season.
Melo, meanwhile, will again be one of the League's most productive forwards. He will have a month where he scores 28 or 34 every night, and he'll sniff a triple-double every now and then. There will also be nights when his shot isn't falling, when he's the last to realize it, when he gives up a few easy buckets, when the team loses ugly. He is not a perfect player, but few ever were.
And so a fair set of expectations, which might blend with reality, is this: The Knicks hang with Toronto and Boston in the Atlantic for a good chunk of the season. At some point, New York gets hot, and Melo and Porzingis thrive in a way that makes you wonder if, just maybe, they can outlast the many pretty-good teams that fill the Eastern Conference to face Cleveland. Maybe the Knicks even top the Cavs in an early primetime game (December 7 on ESPN!) to really get the juices flowing.
There's some potential here, maybe not for a title, but for a relevant, fun season. Sam Hinkie will tell you that a playoff push ain't worth shit, but I'll take six months of watching entertaining ball over five years of reading Joel Embiid's Instagram comments any day, and twice on gameday. This year, the Knicks will be worth their fans' time. Melo will lead the charge.
Allow that to be enough, and you might actually have some fun.
CARMELO ANTHONY SLAM TOP 50 HISTORY
2009: 7
2010: 6
2011: 9
2012: 10
2013: 4
2014: 7
2015: 13
2016: 15

Rankings are based on expected contribution in 2016-17—to players' team, the NBA and the game.
Follow the entire SLAM Top 50 countdown.
5,028