Bucks PR boss Dan Smyczek let the Milwaukee Journal Sentinel's Bucks beat reporter Charles Gardner and me into the gym after practice wrapped up at a facility on Chicago's west side. The Bucks played the Bulls in a pre-season matchup the night prior, and had just completed a film session and practice before heading to Green Bay for another pre-season tilt against the Knicks.
I was on assignment to write an In Your Face profile about then-mystery man rookie, Giannis Antetokounmpo for SLAM 174. Up to that point, I knew nothing about the player other than I'd have to double-check the spelling of his name before I submitted my story.
"He could be really good, but he's raw," was the consensus response for Giannis among my friends within the prep and college basketball community based in Milwaukee that had seen him during the preseason—which may as well have been the empty report for literally any rookie drafted into the NBA before they play a game. In other words, I was still clueless.
Before we got into the gym, Gardner had let me know that Giannis was a nice kid and that there wasn't too much of a language barrier. So my plan was to find out who he was as a player and who he wants to be.
After he got done shooting free throws with assistant coach Nick Van Exel, Smyczek flagged him over to speak with Gardner and me.
As the 6-10, lanky kid was jogging over, he stopped mid-stride and gestured, 'one second' at us. He threw the ball up to spin a bounce pass to himself, caught it, gathered and drained a corner-pocket three. Smiling wide as he approached, he informed us, "I always have to make my last one." Though he is far different (and better) than 99 percent of those who play the sport around the world, he shared that little ritual with almost every kid with a hoop dream when they're shooting alone.
We talked for 10 minutes, then I spoke with coach Larry Drew for a little bit about his rook, and I had enough to run with for this story about a kid on the brink of fulfilling his dreams: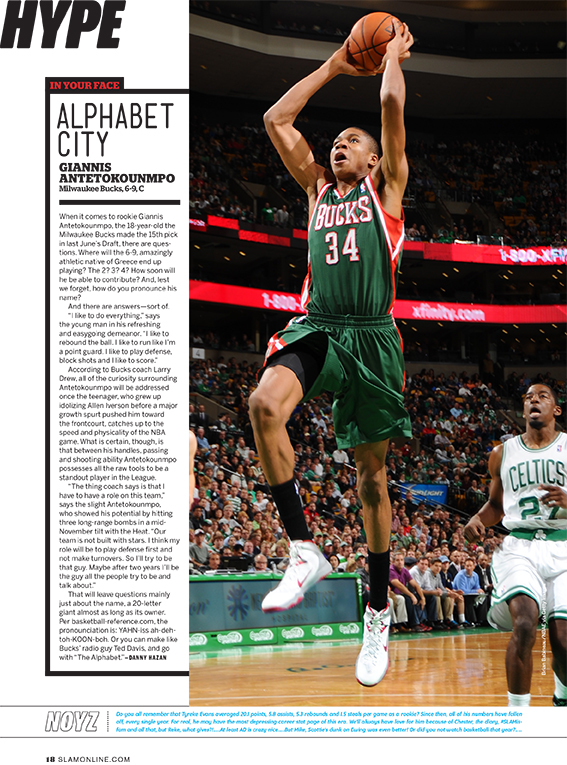 Fast forward a few years, and there are two critical things to highlight from that story. First, the Greek Freak has stuck as his nickname. Second, his self-assessment at the time proved to be prophetic because now he's one of the first players to mention when rattling off the game's leaders of the next generation.
Antetokounmpo's rookie year was filled with plenty of intrigue on the court along with some fun-loving anecdotes about him acclimating to culture in the USA such as a new affinity for smoothies and this. But, more importantly, flashes of one of the most versatile players in the League were shown.
In his third season last year, the Greek Freak averaged 16.9 points per game, 7.7 boards, 4.3 assists, a steal and a block a game while shooting just over 50 percent from the field. Obviously he's a stat-sheet stuffer, but that doesn't begin to tell the whole story of him as a player and his presence on the court.
If we're forced to put him in a box, he'd be thrown into that of the small forwards/wing category. Since taking over as head coach prior to the 2014-15 season, Jason Kidd has had Giannis handle a bit and toyed with the idea of him being the point guard because of his ability to pass. Defensively, Antetokounmpo is one of a few on a very short list that may only include LeBron James that are versatile and athletic enough to switch and guard any position on the floor any given possession.
Fresh off a four-year, $100 million extension a few weeks ago, the Bucks are banking on Antetokounmpo—who will turn 22 in December—to be the cornerstone of their franchise as he continues to improve his game just as he has his first three seasons in the League.
It's scary to think where he tops out at as a player because he still has plenty of room to improve his offensive arsenal as a mid-range and three-point shooter. With his height and frame, he could also add a post game should he choose.
For now, he's always a threat to snatch a board and start transition himself by pushing the rock up the floor to either finish above the rim himself or make a pass to a teammate for an open look (sometimes in just a few dribbles, hence the Greek Freak). He's gotten more effective offensively in the half court each year, and it will be exciting to see what he brings this season alongside a healthy Jabari Parker on that end of the court.
The notion that the NBA is evolving into position-less basketball is because of players like Antetokounmpo, and because the 21-year-old is still just getting started it's a safe bet that No. 26 is going to evolve into single digits as the years progress.
—
Rankings are based on expected contribution in 2016-17—to players' team, the NBA and the game.
Follow the entire #SLAMTop50 countdown.