Here's a crazy thing that I think about Russell Westbrook: These days, at this exact moment, he is vastly underrated.
I realize that might read a little absurd. The MVP of the NBA is underrated? To quote the man himself, "Bruh… what?"
And listen, I'm not out here trying to say that he's the best player in the NBA by leaps and bounds, or that the close 2016-17 MVP race should've been a landslide, or that if the ball bounced a different way once or twice that Westbrook would've added Finals MVP to his award collection. That's a little ridiculous.
I'm just trying to say that despite the fact that the very top of this list might (or might not!) feature a better basketball player, there's nobody on this list that is more iconic in 2017 than Russell Westbrook. And that should count for more than just something. That should count for everything.
There are lots of good basketball players. You love them and think about them and if they're lucky, you'll hang onto a few memories and forget the others. But with Russ there's going to be none of that. You're going to remember it all.
You're going to remember the outfits. The press conferences. The quotes. The triple-doubles. The dancing. The intensity.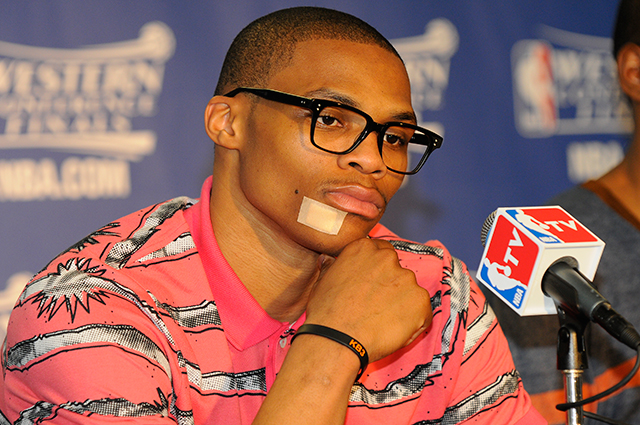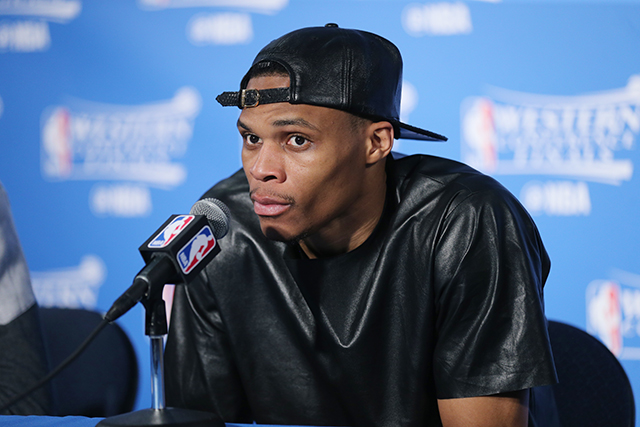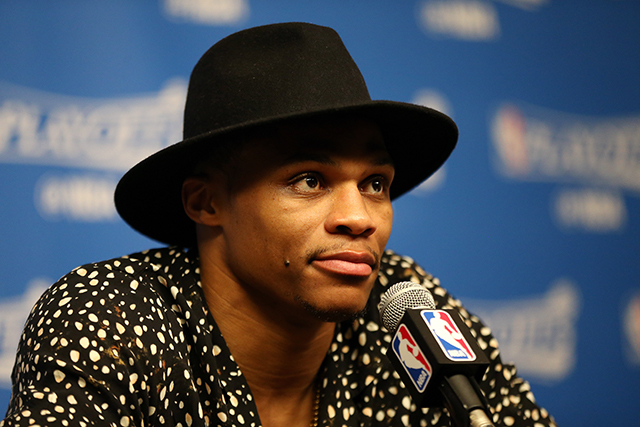 Here's the best part, though: He's not slowing down. Our hero did this the other night. The 28-year-old is more amped up than ever before. He spent the summer honing his craft. He has two v talented new teammates, which will either be a bit of a disaster or help him elevate both his and their games to a whole new level.
He averaged 31.6 points, 10.7 rebounds and 10.4 assists per game last season. He'll probably average a few less points, slightly less rebounds and slightly more assists this year. All of that stuff is cool and validates him being ranked the No. 3 basketball player in the League, which is a fair ranking, and you know it is, even if you want to argue that he should be a spot higher or a spot or two lower—I mean I understand if you think that, but you're lying to yourself. Like, come on. He's third. For now. Next year he might be first or second or fourth or fifth.
It doesn't really matter, though. What matters is you're going to remember everything he is doing, because he's perpetually iconic, and that's how we treat icons. If you're of a certain age, you have more Charles Barkley memories than you do David Robinson ones, and you have more Allen Iverson memories than you do Tim Duncan ones. I don't mean to compare Russ to any of those guys—I'm just trying to put into context the undeniable fact that all of these amazing things Russ is doing everyday are one day going to be put together into a 30 for 30 or an E:60 or a Showtime documentary or a Facebook mini-movie or God knows what kind of soon-to-be popular media format, and you're going to watch it, and you're going to think to yourself, "My God, what a fucking legend."
Which is really my point: Russell Westbrook is underrated because so often we see him do things, incredible things, and we don't immediately think, "My God, what a fucking legend." And we need to. We need to be thinking that every single time.
Previous Rankings:
2016: No. 3
2015: No. 5
2014: No. 6
2013: No. 12
Rankings are based on expected contribution in 2017-18—to players' team, the NBA and the game.
No. 50 – Dion Waiters
No. 49 – Ben Simmons 
No. 48 – Brook Lopez
No. 47 — Harrison Barnes
No. 46 — Jrue Holiday
No. 45 — Lonzo Ball
No. 44 — Myles Turner
No. 43 — Goran Dragic
No. 42 — Andre Drummond
No. 41 — Al Horford
No. 40 — LaMarcus Aldridge
No. 39 — Kevin Love
No. 38 — Paul Millsap
No. 37 — Hassan Whiteside
No. 36 — Andrew Wiggins
No. 35 — Marc Gasol
No. 34 – DeAndre Jordan
No. 33 — Bradley Beal
No. 32 — Kemba Walker
No. 31 — CJ McCollum
No. 30 — Devin Booker
No. 29 — Nikola Jokic
No. 28 — Joel Embiid
No. 27 — Mike Conley 
No. 26 — Kyle Lowry
No. 25 — Rudy Gobert
No. 24 — Gordon Hayward
No. 23 — Kristaps Porzingis
No. 22 — Carmelo Anthony
No. 21 — DeMar DeRozan
No. 20 — Blake Griffin
No. 19 — Draymond Green
No. 18 — Chris Paul
No. 17 — Klay Thompson
No. 16 — Jimmy Butler
No. 15 — Isaiah Thomas
No. 14 — Karl-Anthony Towns
No. 13 — Damian Lillard
No. 12 — DeMarcus Cousins
No. 11 — Kyrie Irving
No. 10 — John Wall
No. 9 — Paul George
No. 8 — Anthony Davis
No. 7 — Giannis Antetokounmpo
No. 6 — James Harden
No. 5 — Kawhi Leonard
No. 4 — Stephen Curry