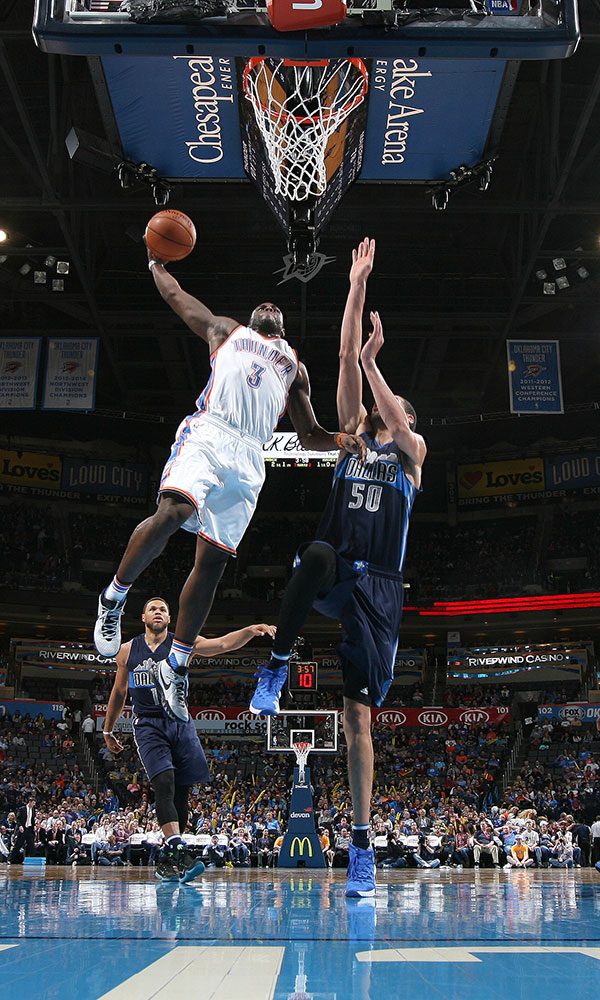 Salah Mejri is 7-2. He is 29 years old. Until this season, he'd played in Africa and Europe—the past season and a half with Real Madrid, where he started exactly two games and averaged 10 minutes per. He was the first Arabic and Tunisian person to play in the Euroleague, and when he signed with the Dallas Mavericks this summer, he became the first Tunisian to play in the NBA.
As such, his career has been full of firsts. In this game alone he became the first Tunisian to play against the Thunder, the first Tunisian to dunk on Serge Ibaka in the NBA, and the first Tunisian to be dunked on by Dion Waiters. He also became the first Tunisian to score in the NBA, and holds the Tunisian NBA record for points in a game AND a career, with 17 (he was scoreless in his first six appearances). Since this writing, he's no doubt added to his total.
He tied a career high with 1 block against the Thunder and almost got a second, one that would have kept him off this spread. Matched up with the 6-4, 24-year-old Waiters on the perimeter, he spun to the basket as Waiters drove the lane and came within a hand's breadth of blocking Waiters' dunk. That, for Dion at least, wouldn't have been a first.
https://vine.co/v/iMEDrPtpW7g
Image via Getty