Spencer Dinwiddie is going on The Rachael Ray Show in the next few days, his rep tells me.
If you told me this six months ago, this would've been real bad news. Is Spencer out of the League but has recovered by inventing the world's meanest peach cobbler? In August, when he was behind everybody on the Nets' depth chart, I would've put it at even odds. It hadn't even been 18 months since Dinwiddie was traded for Cameron Bairstow, whom I've just confirmed is not a Teddy Ruxpin-style animatronic teddy bear.
But, no, Spencer is still bad at peach cobblers. He's going to be making desserts on daytime TV because, even more improbably, he's indisputably the best point guard in New York City.
"NYC is the 'nobody believed in us' city," Dinwiddie tells me. "Coming back from a fluke injury, getting written off dozens of times, then becoming the point guard of New York."
That "fluke injury" was a blown-out ACL during his junior year at Colorado. It scared off a lot teams, including, apparently, the teams that drafted and traded for him (the Pistons and Bulls, respectively), where he played good, composed basketball that bloggers recognized but coaches didn't.
Then a very New York Point Guard thing happened: Everybody got hurt, and a coach had to put in a guy at the end of the bench to see what he had. One was D'Angelo Russell, who was supposed to be the next great New York point guard (and might still be). The other guy was Jeremy Lin, who invented the genre.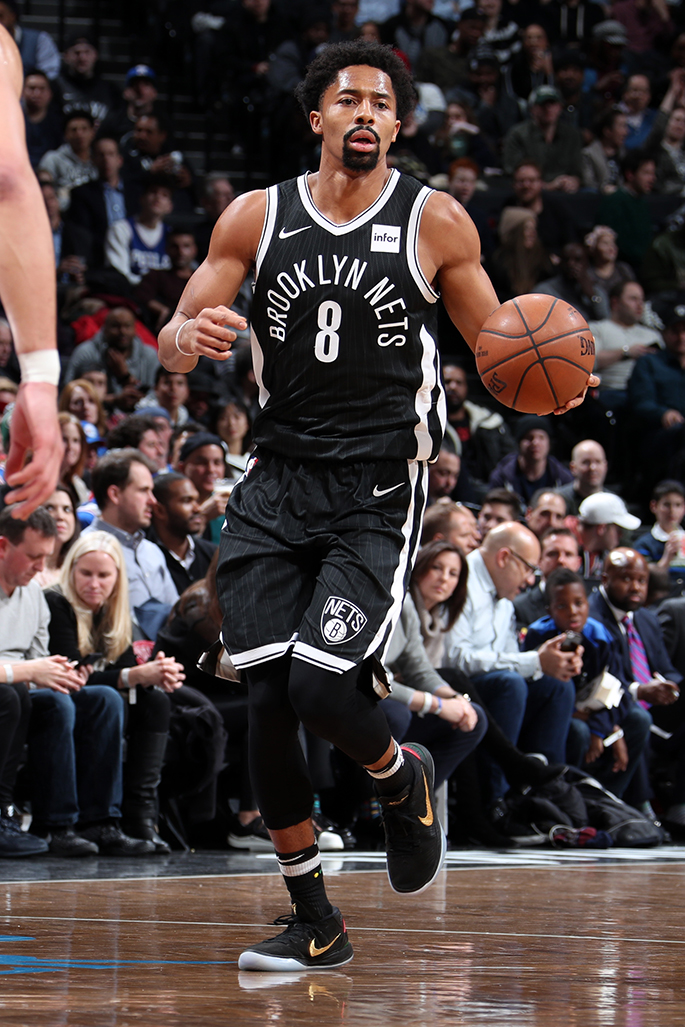 "The road has been crazy. It wasn't anything that I could have predicted at the start of the season, because of J-Lin and D-Lo," Dinwiddie says. "When you put it in that context, yeah, I guess it is my destiny."
Dinwiddie basically singlehandedly beat the Cavs in the fifth game of the season (he had 22 and 6 and a dagger), and since then, he has been the delight New Yorkers share in hushed tones, like a bad secret.
Every once in a while, a celebrity or a non-basketball-related public figure will accidentally watch a Nets game and blurt it out, ruining it for all of us. Sopan Deb, a New York Times writer who covers public figures doing bad things, tweeted "Dinwiddie is a damn pleasure to watch" after he picked apart the Thunder.
He's a slow-burn revelation, which must be frustrating as hell if you are the slow-burn revelation.
"Um, not really, just because of my road to this point and even the projections for the start of this season. If it was just constant doubt, it would probably be more frustrating," he says. "But, I think in this situation, it was just more about being unknown. I was drafted in 2014 and now in 2017-18, this is the first time I have been in a role that I envisioned on draft night."
Dinwiddie just got done completing a comeback in the last two minutes against the Hawks by himself. He was a rebound away from a triple-double.
If this dude was on the Knicks, I'd have to step around his statue on the way to work.
"There's so much history surrounding MSG and the Knicks, so the hype train would have more than likely been a lot crazier," he says. "But I wouldn't trade it for Brooklyn. It is an honor to kind of take up that mantle of the city."
In Brooklyn, he gets Jason Kidd comparisons. He's the secret point god of which we do not speak. It's all very Brooklyn. Rachael Ray better not blow this for the rest of us.
—
Ben Collins is a brilliant writer, a dogged reporter and a Senior News Editor at The Daily Beast. He's also a SLAM columnist and writes The Outlet, a monthly column in which BC muses on…well, whatever he wants. Follow him on Twitter @oneunderscore_.
Photos via Getty Images