Stephen Curry stands on the court at Oracle Arena with a ring on his right pinky and a microphone in his left hand.
"Y'all ready?" he asks the riled-up crowd.
Then he starts the countdown.
5,
4,
3,
2,
1…
All eyes gaze up as another banner rolls down from the ceiling. For several seconds, Stephen remains fixated on it. He takes a few deep breaths and smiles softly, reminding himself to appreciate what it means.
"That moment, man, it's so short, but there's so many thoughts that go through your head," he says. "That drop just definitely encapsulates everything that you've gone through."
And with that drop, the door was closed on an epic 2017-18 championship run.
And the Warriors' final season in Oakland officially began.
It's a quiet Thursday morning at Jack London Square in downtown Oakland. An old-school Warriors banner—yellow with hints of orange and blue—flutters outside Scott's Seafood restaurant. A few people sit looking out at the estuary that bleeds into the San Francisco Bay, sipping from coffee cups. Somewhere on the other side of the water is the newly constructed Chase Center, where the Warriors will be playing their home games come October of 2019.
A train rumbles by in front of Home of Chicken and Waffles—the small spot Stephen Curry used to routinely hit for late night food following a Dubs victory. It's the type of place you can smell before you see it. The cinnamon-coated batter, the warm maple syrup, the deep-fried wings.
Drive straight up Broadway to 14th Street and you'll hit Benny Adem, Curry's barber's local shop. It's adjacent to the Oakland City Center and only a couple blocks from where the 2018 championship parade began. The floats cruised on Broadway all the way to 20th, then hung a right toward Lake Merritt, eventually winding up on Lakeside Drive. Curry's first apartment was around here, a high-rise building with a beautiful view of the surrounding landscape.
The parade ended back on 13th Street by the Oakland Museum of California. Close to a million people lined the U-shaped route, several arriving as early as 6 a.m. to get a good spot. A sea of blue and yellow painted the city as players hopped from their double-decker buses to celebrate with the citizens.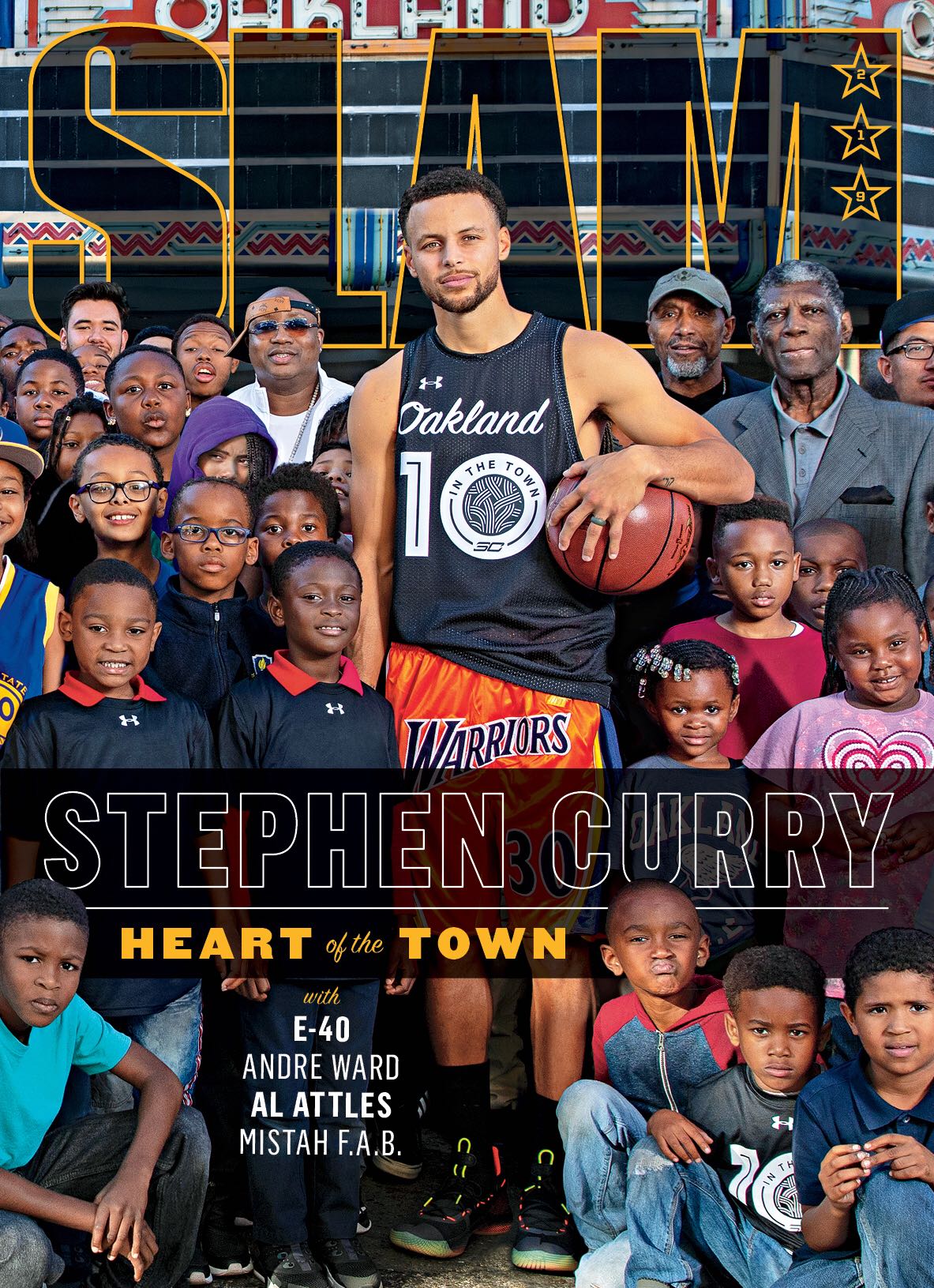 It's here in Oakland that the Warriors have been for the last 47 years. This is where the story of Stephen Curry has unfolded. Where a kid from North Carolina first arrived, anxious and bewildered, almost a decade ago. Where that kid started his family and is in the process of raising two daughters and a son. Where he became a two-time MVP and three-time champion.
"This is our new home," Curry says. "I really don't feel like we're ever going to leave this area, and that's something that 20 years ago…I never would've thought this would be where I'd end up."
—
One hundred and fifty boys and girls, all from the Oakland area, wait eagerly outside the Fox Theater on Telegraph Avenue. They've been carefully positioned in rows for the massive photo you see above. The plan is for Stephen Curry to walk out of the theater and directly into the pre-arranged shot. Other prominent figures from the community that we've gathered—rapper E-40, former world champion boxer Andre Ward, Warriors legend Al Attles and many more—will fill in just behind him. Couple snaps of the camera, maybe some slight adjustments and we're done. Quick and easy.
But the instant Curry emerges from our makeshift green room, this plan crumbles.
No, his presence is not a surprise. The kids have been preparing for it for over an hour. And yet, once it becomes reality, once the actual Stephen Curry is standing merely five feet away from them, the excitement cannot be bottled. It all comes rushing out uncontrollably.
Our nicely organized lines—smallest in the front, tallest in the back—disintegrate into a giant mosh pit. Kids dig into their pockets for their cell phones, others reach out toward Curry in desperation. There's pushing and shoving as each kid tries to inch closer. The scene suddenly resembles a rock concert more than a photo shoot.
From thoroughly structured to utterly chaotic. In a matter of seconds.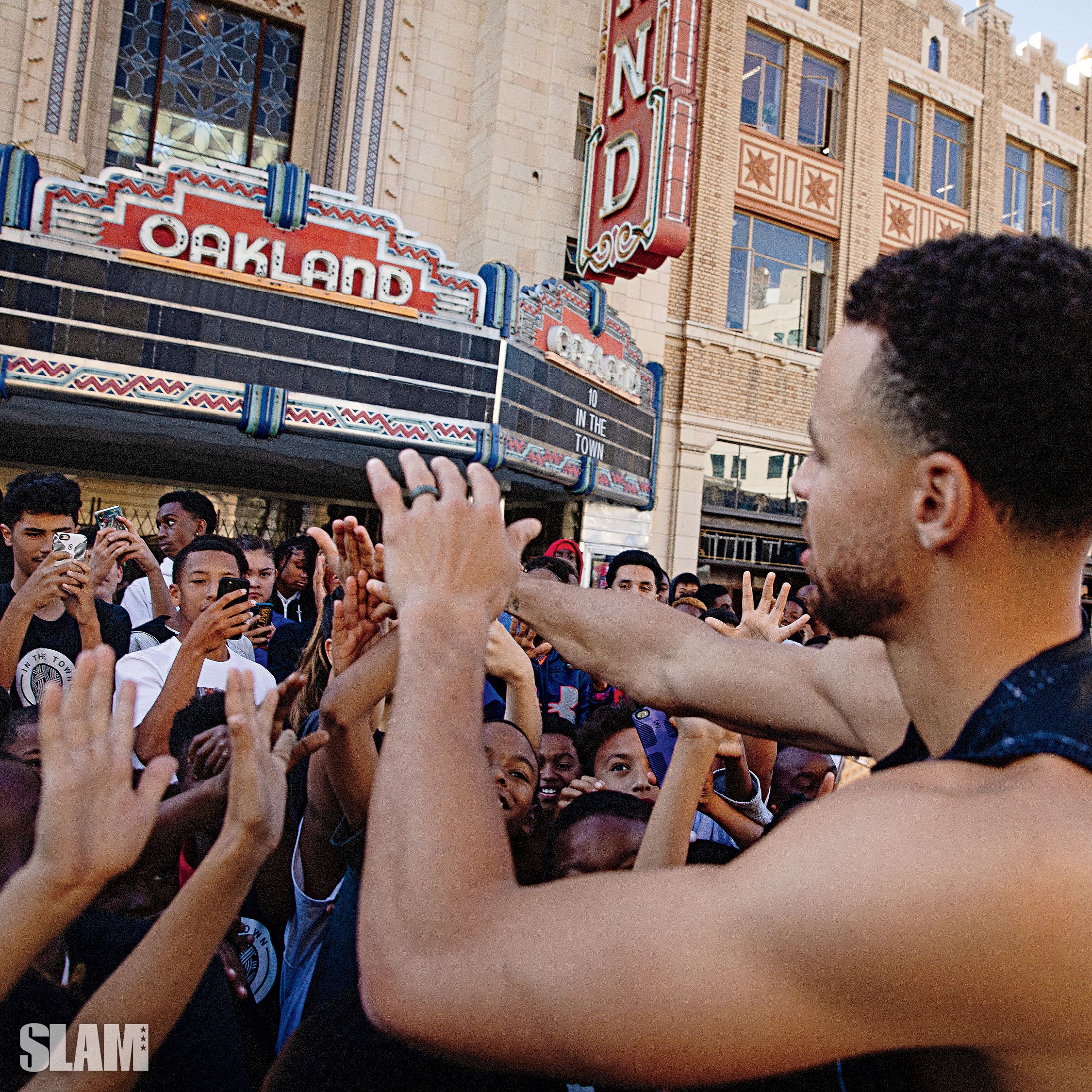 We have somehow managed to underestimate the impact Curry has here. And now, as our cover star is increasingly swarmed by a crowd of animated children, we start to question whether any of this will actually happen.
It is Stephen himself who comes to the rescue, quieting the shrieks with simple waves of his arms. "I'm not going anywhere," he assures the mass. "After we take the pictures, I'll make sure I say hi to everybody."
It's a promise that he keeps, lingering on the block and dishing out daps that are received with the same elation as presents on Christmas.
"Go get your high-five," one teenager tells a younger boy, who promptly scurries off in the direction of Curry.
—
Steve Wilkinson is the president of a wealth management firm in Oakland and has been a passionate Golden State Warriors fan dating back to 1982.
"There's a long history of a little bit of excitement, but a culture of defeatism," he says. "The culture before Steph came was just about having fun. The motto of the team was, It's a Great Time Out. Like, they're not supposed to win, but you'll enjoy yourself."
When Curry entered the NBA in 2009, the Warriors had not won a title since 1975 and had missed the playoffs 14 of the previous 15 years. In almost three decades of worshipping the franchise, Wilkinson had never seen them advance further than the Western Conference Semis.
He recalls seeing the draft pick from Davidson roam the streets around Lake Merritt, unnoticed and unbothered by pedestrians. Curry was a foreigner then, still trying to get accustomed to an entirely different atmosphere. Having grown up and gone to college in North Carolina, he didn't know much about the West Coast.
"It was definitely a culture shock for sure," Curry says. "How fast things move, how vibrant the city is and just how beautiful the city is, too."
Those strolls through Oakland exposed a go-getter mentality and an overall passion in the people that seemed to permeate all aspects of life. As an undersized, overlooked rookie, it resonated with Stephen.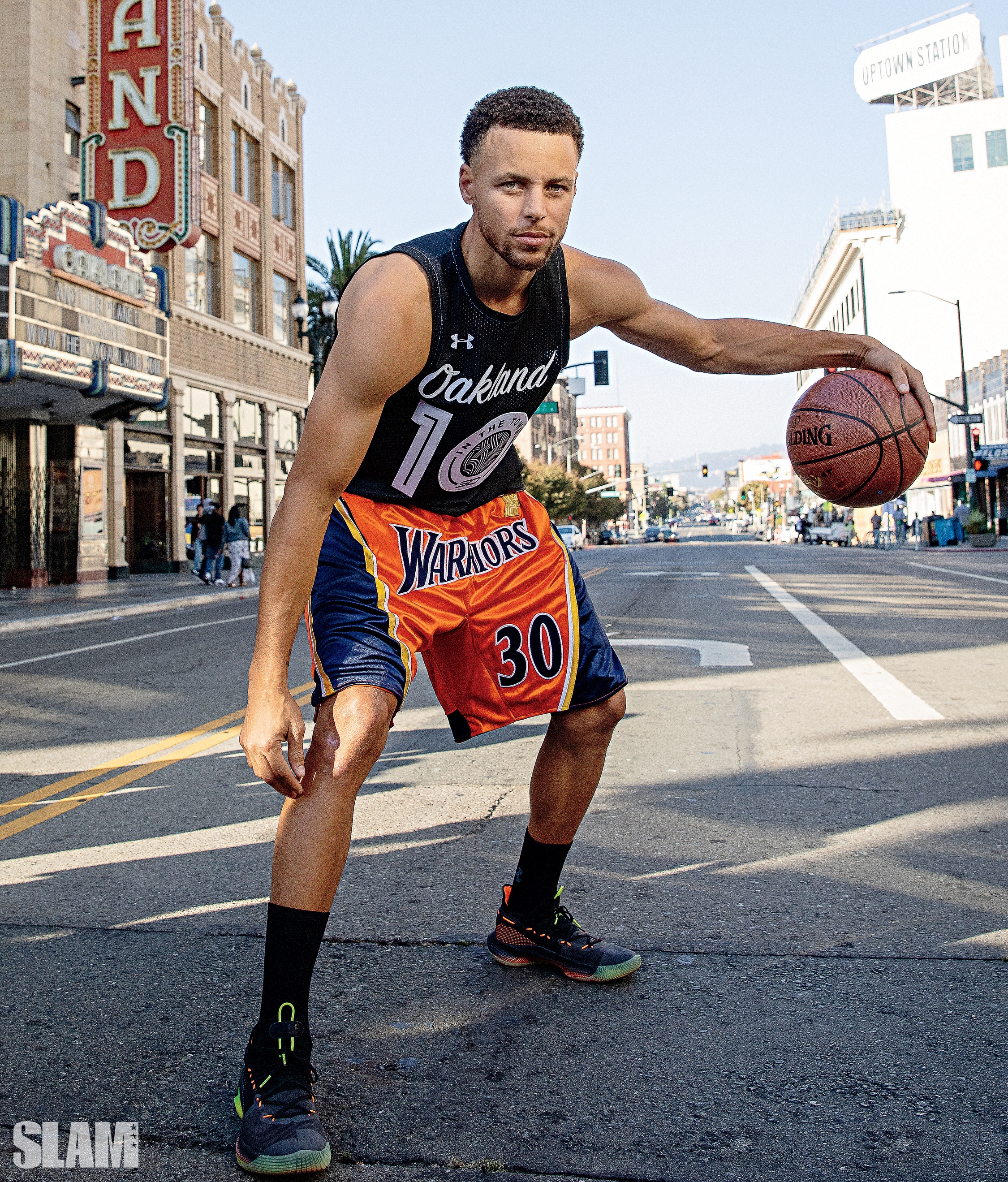 Even as he battled injuries early on, and the team struggled to progress, fans still brought the energy to Oracle every single night.
"There was crazy noise, crazy excitement, and it made playing in front of them that much more special," he says. "Win or loss, they rolled with us."
The Warriors remained a source of enthusiasm and a significant piece of Oakland's identity, through the good times and the bad. But few beyond the borders could truly grasp that.
From the outside, the city of Oakland is often misunderstood. The common perception, that it's unsafe and simply less appealing than many of the other regions in California, is misguided. Crime does not define the area. What does is a sense of pride and unity. A sense that Stephen Curry's ascendance has helped to unearth.
"Oakland used to be a scary place that people didn't want to come to," Wilkinson explains. "I'd mention that I was from Oakland when I was in other parts of the country, and people would look at me like, Wow, you're there? Now it's a sense of excitement that Curry and the Warriors have brought, that this is the place to be."
As the team has found more success, its also made a point of emphasizing to the world who it represents. Oakland can get lost behind the "Golden State" moniker, and so the players started wearing alternate black jerseys featuring "The Town"—a nickname popularized by native hip-hop artists like Too $hort and MC Hammer—and the city symbol of an oak tree.
The three rings. The two MVP trophies. The record-breaking performances. Curry's on-court production has undoubtedly shaped not only the external view of Oakland, but also the spirit within the city. That culture of defeatism has been completely flipped on its head.
"They say sports is a microcosm of life," says Yusef Wright, Curry's barber, who was born and raised in East Oakland. "When Steph arrived and the team started to take a turn for the better, there's optimism, there's hope, there's love. That's big. You can literally trace it back to his arrival."
Legendary Oakland rapper Mistah F.A.B. was brought to tears when Golden State won the title in 2015, breaking its 40-year drought. He likes to call himself the Jack Nicholson of Dub Nation.
"The reason for my tears was my mother and I used to watch the Warriors all the time," says F.A.B. "She would take me to games and she would spend her last [dollars] for my friends and I to go. She was a huge Warriors fan. Big. Bigger than me."
His mother, Desire A. Jeffrey, died of cancer in 2010.
"When they won, I could only think, I know that she would've been there. I know that we would've been at the game or watching the game together. And so it was kind of like a bittersweet thing. I was like, Mom, we finally won. I looked up to the sky. And I could hear her just saying, Go, go Baby!"
What Curry has given Oakland through basketball alone would be enough. But for what Oakland has given Curry, he feels a greater obligation.
"I have a 5-year-old boy who is in the Oakland public school district," says Alyssa Tomfohrde, a longtime Oakland resident and Warriors supporter. "And Steph does a ton of outreach. He even invested in our local playground and rec center. Now it's a place that's safe and people can go and enjoy it. The school there was incredibly underserved and I think he saw that. He was able to see the importance of inspiring the kids who needed it the most. I think that's unique to who he is as a person."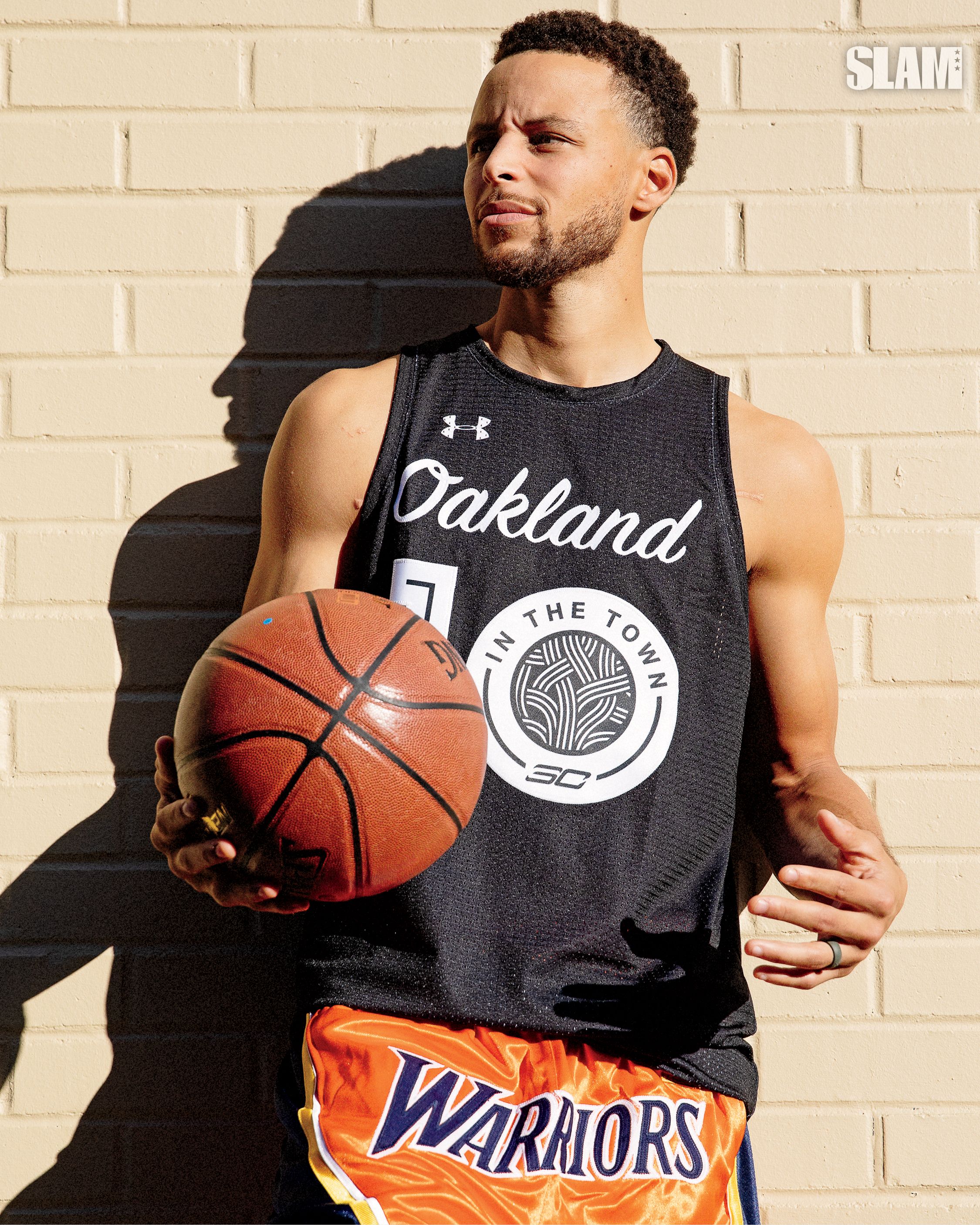 The Curry family partners every year with Feed the Children, an international charity, to provide packages filled with food and household items to Oakland families in need.
When Stephen claimed his first MVP in 2015, he donated the prize vehicle, a Kia Sorrento, to the East Oakland Youth Development Center.
After the devastating 2016 fire at the Ghost Ship warehouse in Oakland, Stephen raised more than $45,000 for the victims by auctioning off two custom pairs of shoes designed by a hometown artist. Each pair, worn during a mid-December game against the Knicks, had the initials of all 36 people who were killed in the tragedy.
This past summer, Stephen and his wife Ayesha helped unveil a new education lab that offers laptops and technology to many of the youth that did not previously have access to them.
"It's bigger than basketball for him," says Tim Hon, a member of a local muralist group called the Illuminaries. Hon, Steve Ha and Romali Licudan have painted several Stephen Curry pieces throughout Oakland, including one that's currently up on 4th Street. "It's just good for Oakland, everything that he represents."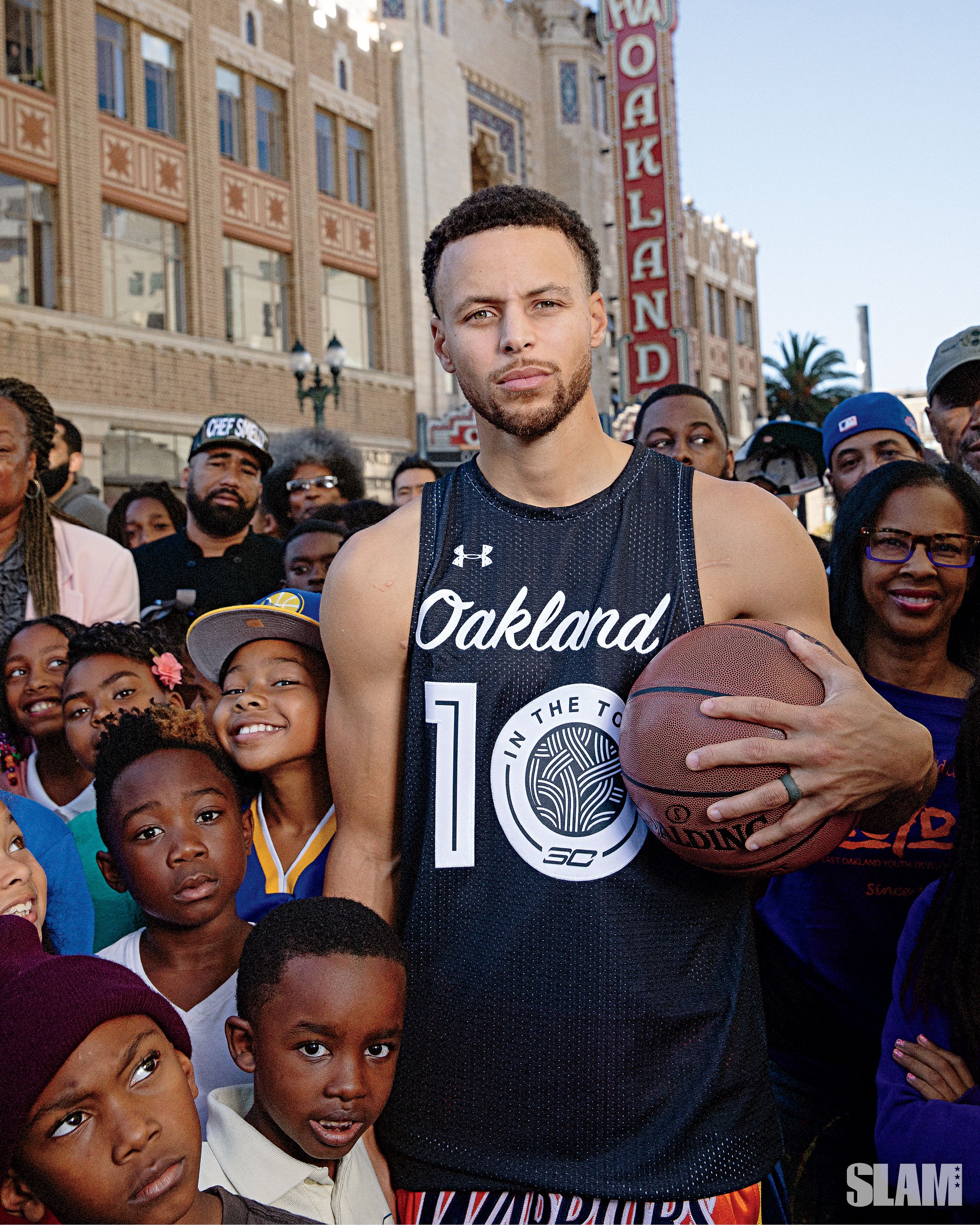 "Stephen Curry has meant so much to the city," Andre Ward tells us. "He's not just a basketball player. He's not just a superstar. He rolls up his sleeves and gets in the community."
We ask Andre to deliver a message to Curry.
"If I could say anything to Steph as far as what he's done and what he's brought to the city of Oakland, it's just thank you," he says. "The nation considers Oakland a small market, but I feel like what you and your teammates have done on the court, and obviously the work that you put in off the court, has really put a positive light on a city that doesn't always have a positive light."
Only a few minutes later, we ask Stephen to send a message to Oakland, and it's filled with similar notions of love and gratitude.
"Personally, I thank Oakland for embracing me as one of their own," he says. "For giving me a new home, for giving me a sense of pride and something to play for."
—
Back in the Fox Theater after the photo shoot, Stephen is still wearing his black, Oakland-themed Under Armour jersey and his retro Warriors shorts. There's a big 10 on the uniform—representative of his 10th year in The Town.
The crowd outside has dwindled, although a line is materializing for the Tom Misch concert in the evening. Those who happen to peak through the window as they pass are stunned to see their favorite point guard seated casually inside. One girl types out a message using Snapchat on her phone and presses it against the glass. "YOU'RE A COOL DUDE," it reads.
It's with these people in mind that Curry is finding extra motivation this season. He's battled injury but has dominated when healthy, averaging 29.5 points, 6.1 assists and 5.0 rebounds and shooting a ridiculous 49% from three. He exploded for 51 points in 31 minutes in a late-October game against the Wizards, sending Oracle Arena into one of its typical frenzies.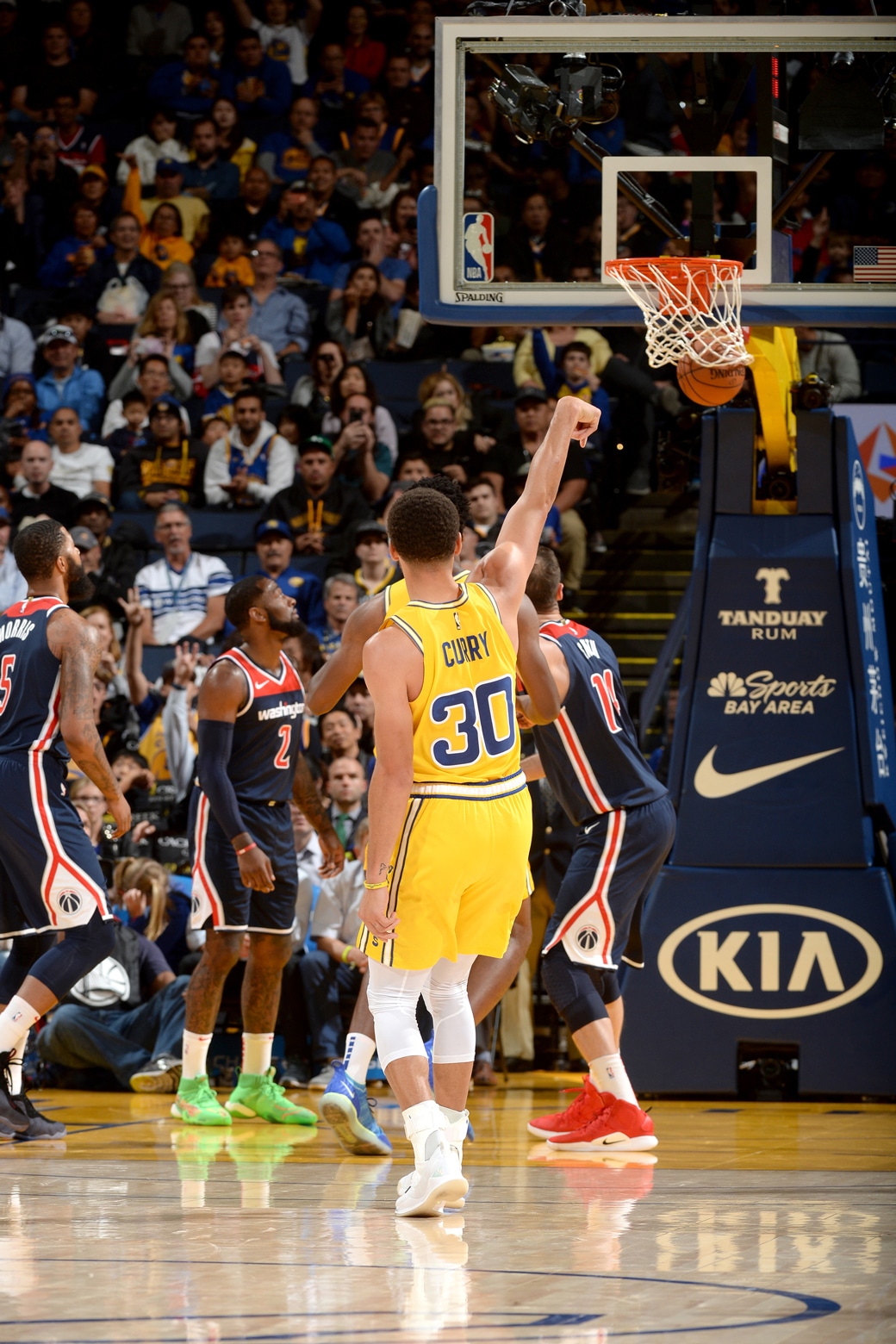 "Going into a season with what we have on our team, a championship is what you focus on. But this year, it makes it a little bit more focused and more special in terms of understanding what is at stake," he says. "Trying to win three in a row and this is our last season in Oakland, playing in front of the fans there at Oracle Arena."
Of course, Stephen isn't really going anywhere. This is where he's rooted. Where he draws inspiration and feels comfortable. Where he calls home.
"Me knowing Steph, and knowing how much the city means to him," his barber Yusef says, "there's no doubt that not only the work that he's done, but the work that he'll continue to do in The Town, will be everlasting.
"There's a bit of a gloomy cloud with the departure to San Francisco. But what was started here, what was created here, what was born here, is love."
And there is no denying a special yearning, both in Stephen and in the Oakland community, to finish this thing the right way.
"Hopefully we can get one more for the city of Oakland before we leave and head over to San Francisco," says Mistah F.A.B.
"One more ring," adds Ravell Sweetwyne, the bartender at Home of Chicken and Waffles.
How important is it to go out on a high note?
"It's important to us, and I think it's way more important to Steph," Sweetwyne continues. "He gave us everything we wanted. Just one more."
It's something Curry himself has envisioned. Another banner rolling down from the ceiling. The perfect ending to an incredible ride. The perfect send-off to the next chapter.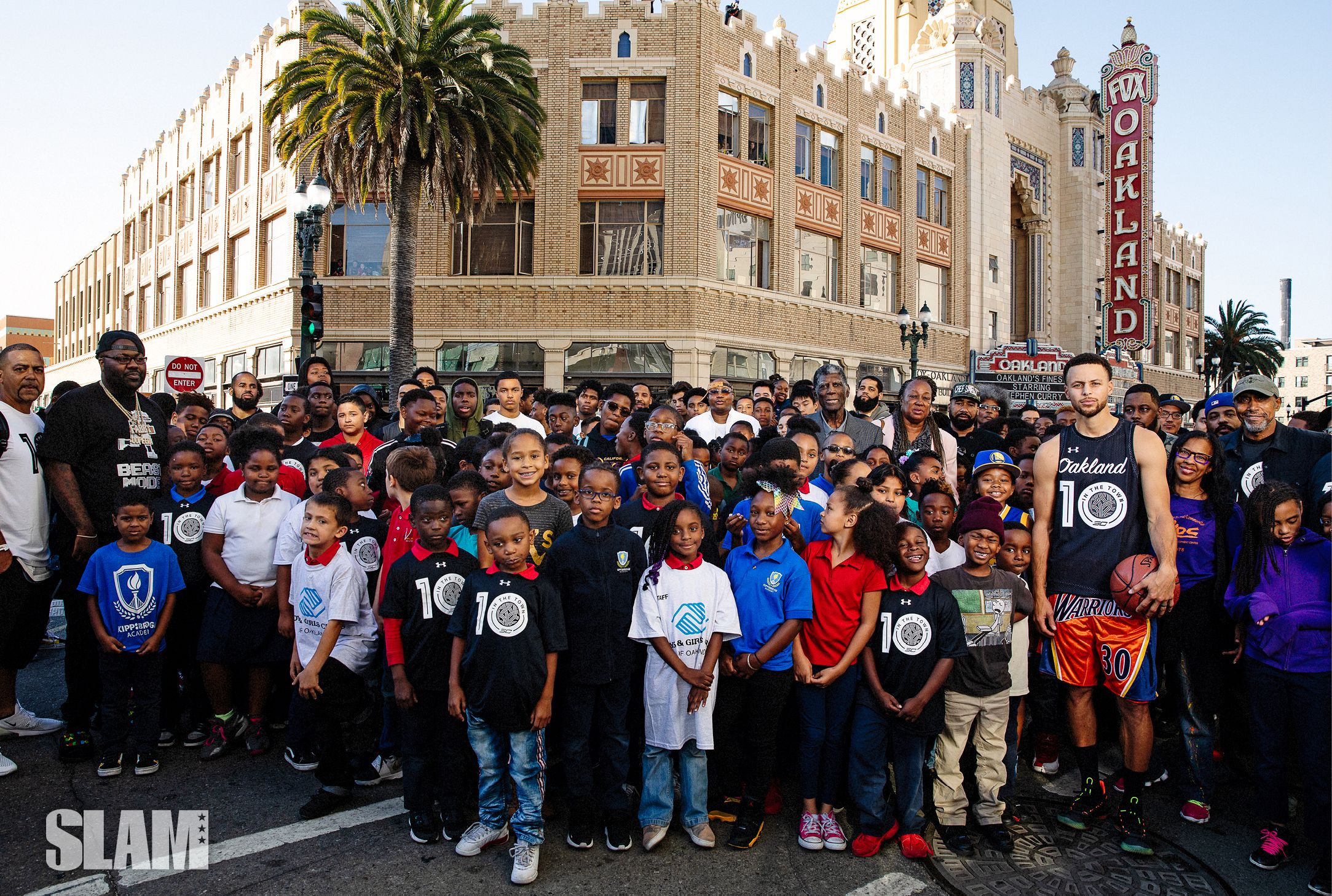 As he ponders the long journey to this point, from the summer of 2009 to present day, you can detect a bit of nostalgia in his tone.
There was that first apartment that overlooked Lake Merritt. Those walks around the city as an enlivened 21-year-old. The late nights with his friends at the chicken and waffle joint. All the crazy moments when you could feel the vibrations inside Oracle. The drives down Broadway holding the Larry O'Brien trophy with nearly a million people cheering from the sidewalks.
But hold on. Now is not the time to get reflective.
"We'll have a lot of fun reminiscing when it's all over," he says. "But we got some more work to do."
For now, he's focused on one more run. For himself and his teammates, sure, but also for Oakland.
For The Town.
—
GRAB YOUR COPY OF SLAM 219 HERE!
Alex Squadron is an Associate Editor at SLAM. Follow him on Twitter @asquad510.
Photos by Atiba Jefferson and via Getty Images.