July 8, 2010. I rode the LIRR into Manhattan and squeezed into a crowded midtown bar filled with bridge and tunnel loudmouths wearing oversized Knicks jerseys and fitted Yankee hats. I was with two friends—one a fellow basketball obsessive, one a pop-culture rubbernecker, there simply to witness the spectacle.
And man, what a spectacle it was. Not even The Decision—I'm not here to talk about the television special that birthed a trillion takes—but the decision, the fact that a basketball player could decide to go do his job in a different city and that as a result the landscape of the NBA could be re-arranged so rapidly and with such force. It's always been fascinating to me that this is even possible. I love it. It's a reason for fans to never get too comfortable with streaks of big wins or bad losses—which is totally fine. We get to watch basketball played at its highest level for a couple hundred nights every single year. That's more than enough.
I spent the early portion of that summer unemployed and confused, unsure if the music-writing job I then wanted was in any way feasible. (Entering the workforce in mid-recession 2010 was strange as hell.) At some point that July I realized I was devoting an unhealthy portion of my days to thinking and reading about basketball, and so, so much of that was LeBron-related—if not directly about him, then indirectly so, considering how much he altered the rest of the NBA. I had of course spent the majority of my preteen, teenage and collegiate years not only thinking and reading but also playing, watching, writing, arguing and dreaming about basketball, but to still be doing so at 22 years old meant this would likely never stop happening. And all of the madness looked so fun to be involved with. So I applied for an internship at a popular basketball magazine and never looked back.
The League's tectonic plates shifted once again in the summer of 2014, when Bron elected to return to the state that had raised him. When you factor in that a previous one of these NBA upheavals had also taken place back in '07 with the forming of Boston's Big Three (that required two moves, but still), it becomes clear that what we have is a legitimate pattern: Every few years something happens that reignites the energy and spirit of the L in a perpetually exciting and polarizing manner.
Earlier this summer, while riding a train from DC home to NYC, I was staring at Twitter (this story already checks out) when I scrolled into the famous Player's Tribune link that crashed the internet. The format was different, but it happened again. Kevin Durant singlehandedly took the ingredients that make up today's NBA and shook that shit up.
I'm happy for KD, because—as Pete Walsh writes about in this month's cover story—he made a decision that he seems pleased with, which is ultimately all that I believe really matters. But I'd be lying if I didn't admit that I was happy for us, too, both as fans and media members.
Maybe the Warriors go on to win Championship after Championship, or maybe they implode and this goes down as a wild, ill-conceived one-year experiment; regardless, the new-look Dubs have officially given everyone a new reason to pay attention, to tune in. To think and argue and dream about basketball. And to read a season preview issue of a mag like this. Hope you like it.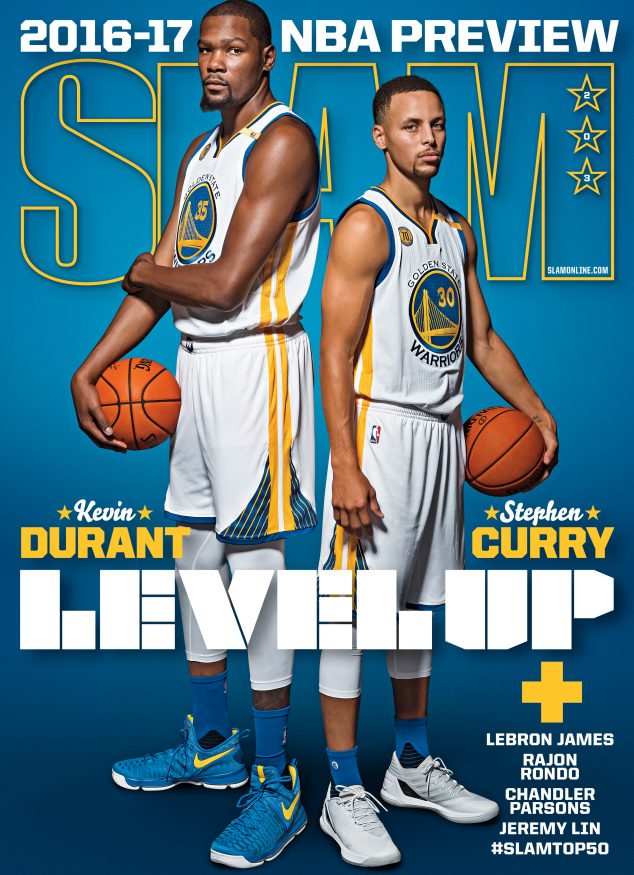 Adam Figman is the Editor-in-Chief of SLAM. Follow him on Twitter @afigman.
Cover + portraits by Atiba Jefferson.