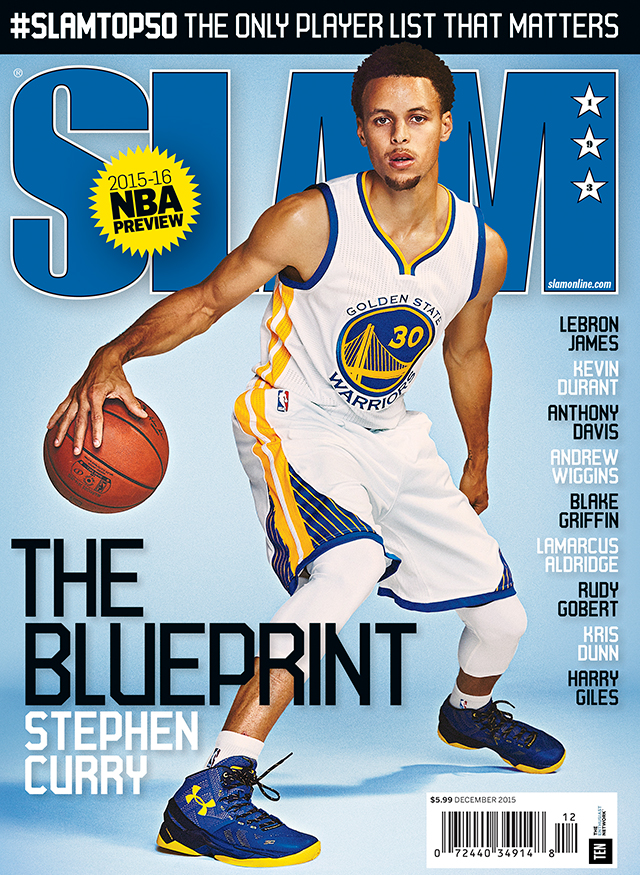 Not to pat myself on the back, but I take a lot of credit for Stephen Curry's first SLAM cover (SLAM 173—December, 2013). Not as much credit as the guy on the cover, but bear with me.
Every month, when we "build" a cover, there is a combination of competition and teamwork at play. Clearly, the most important component of a good cover is the subject. You have to have the right guy at the right time, and I think we usually do. The second-most important component is the photo. Thanks to the great individual photographers we use, as well as strong relationships with the brands we work with, our photos are usually awesome, too. The third-most important component is the cover line. We take great pride in coming up with lines that are catchy, timely and accurate. SLAM still sells a lot of copies on urban newsstands and in big-box stores like Walmart, and we believe we sell more copies when we complement the right subject and the right photo with the right line. The competitive aspect is…who is going to come up with the line we use? Publisher Dennis Page has a phenomenal track record of getting the line. Old Eds. Tony Gervino and Russ Bengtson were masters at it, and Lang Whitaker nailed a ton, too. Young bucks Adam Figman and Abe Schwadron have had a lot of wins in a short period of time. I, honestly, am not so good at it.
But when we gave Curry his first cover, two years ago this month, I was the point person from start to finish: wanted him on the cover, set up and conceptualized the shoot and had the winning line. It wasn't as edgy as some of our hip-hop inspired joints, but honestly, Stephen isn't as edgy as some NBA players. His game and personality leant themselves to an innocent line like "The Can't Miss Kid." And guess what? He hasn't! The issue sold well, Stephen blew up, and now he is a World Champion, reigning MVP and firmly in our cover rotation. *Finally stops patting self on back.*
Along with a mega-feature on Stephen (who obviously appears on the cover, which is pictured above), SLAM 193 contains stories on LaMarcus Aldridge, Bradley Beal, Rudy Gobert, a brand-new approach to our annual NBA Preview and a whole lot more.
Speaking of covers, it should go without saying that they don't build themselves. It takes a masterful Creative Director to put all the pieces together in a visually pleasing way. Luckily, for more than the last decade, we had one of the best in the business, Melissa Medvedich (née Brennan), designing our covers. She moved on to a new gig halfway through this issue, and we all want to wish her the best of luck in the future. We are equally lucky to get to replace her with another design genius, long-time friend of the #SLAMFam, Paul Scirecalabrisotto, who built this month's cover beautifully. Welcome to the show, PS!