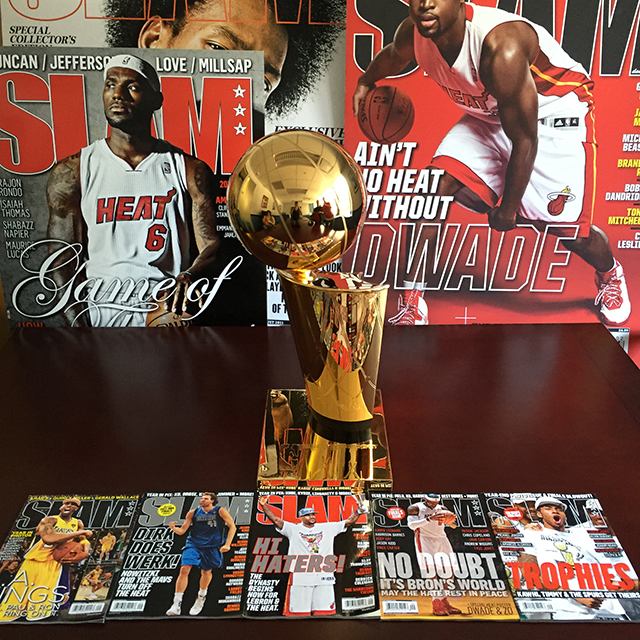 I have a really good friend, Joe, who listens to sports radio, watches tons of games on TV and is down to go to anything in person—provided he has a connect or tix are cheap. This means lots of baseball and the occasional meaningless Knick or Net game. NBA Playoffs or the Finals though? Not in his budget. He loves asking me about my experience at said games, though. Thankfully, I've had a lot, but for a variety of personal and work reasons, I didn't get to a single Finals game in 2011-14 (the LeBron/Miami years). Even before this year's schedule was set, I had my heart set on getting to at least one game. Firstly, because I knew Cavs-Warriors would be incredibly entertaining, and secondly, because the NBA did a neat thing that further drove interest in the Finals.
As you probably saw on any number of social media feeds, the League—specifically our man Barry Parasram—took the awesome Larry O'Brien Championship Trophy on a world tour of sorts, letting celebrities and lots of media outlets spend some quality time with the trophy that our NBA heroes devote so much blood, sweat and tears into chasing. We were one of the lucky outlets, and it was fun as hell. No, none of us will ever know the feeling of earning a touch with a 17-point fourth quarter like Stephen Curry, but we do know what the trophy feels like, how we look in its shiny reflection and more.
Once the Finals did kick off, we were all over the action. As you can read in the issue, we had people at every single game. I was the fortunate one who got to attend Game 5 in Oakland, when Curry had the aforementioned 17-point explosion as the Warriors overcame LeBron James' absurd 40-point triple-double and took firm hold of the series for the first time. As for my buddy Joe, who wants to know, "What's it like at a Finals game?!"…it's awesome. There is an energy in the locker room and in the stands unlike any regular-season or Playoff game (in any sport). Even being part of the "social conversation," as I/SLAM were throughout the Finals, is exhilarating when you're at the game. All in all, let me offer a hearty "Job well done" to Barry, Jim Ice, Adam Silver and everyone at the NBA who makes the Finals so special.