After a topsy-turvy NBA career, Stephon Marbury's unlikely journey brought him peace and success in China.
What is Home?
Home was Coney Island, the Brooklyn neighborhood that birthed his game. Home was Georgia Tech, the college that developed his early stardom. Home was Minnesota, the city with the NBA team where he played his first few seasons in the NBA. For some stretches, home was New Jersey, Phoenix and Boston. Home really felt like home back in New York when the Knicks traded for him.
Home, now, for Stephon Xavier Marbury, is Beijing, China. It's a spacious apartment in a high-rise building in the heart of the city, surrounded by other high-rises and shopping complexes that have contributed to this historic city's transformation into a concrete jungle. Home is a couple of metro stops away from Tiananmen Square, in the capital of the most populated nation in the world, of a civilization thousands of years old.
It's here—at home—where I find Marbury, a month after he turns 38, on a cold afternoon in late March. It's been only a few days since he led the Beijing Ducks to their third Chinese Basketball Association (CBA) title in four years and grabbed the finals MVP award. I find him relaxed, alone at his apartment, draped in his 361° brand t-shirt and sweatpants, eating a Subway sandwich for lunch and listening to the Drake mixtape out of his smartphone.
It's here, at home, where he finally talks to SLAM again. Where we talk about his journey: his NBA career, his rise, his departure, his resurrection in China. It's here, at his new home, where I ask about his old one. About his brothers, about his friends in the NBA, about Coney Island.
I ask him if he ever gets homesick.
"No."
"Never?" I ask, "When you think of what 'home' is?"
"This is home," he says, staring directly at me. "Beijing is home. I mean, America's gonna always be home. But this is where I live at—this is home. This is where my life is at. Here in China."
There seem to be two separate lives to Stephon Marbury: "Starbury" in the US, "Ma Bu Li" in China. Starbury was the high school phenom from Brooklyn who broke New York City records and was a cult hero even before getting selected fourth overall by the Timberwolves in the heralded 1996 NBA Draft. He was the score-first point guard much ahead of his time who, despite enjoying strong individual highs, never quite found permanence in the League. Nearly every team he was a part of was happier to see him gone, and by his last NBA years, he was reduced to a mere caricature of pro basketball careers gone wrong. He was blasted by critics, maligned by legal cases against him, suffered personal loss and live-streamed a nervous breakdown.
So, at age 32, he packed up and left. Left the League, left the country and left what he now calls the "negative energy" behind. He traveled nearly 7,000 miles, crossed the Pacific and resurrected his career in China. Former NBA players had taken their talents to China before, but no one who had previously done so had a higher profile than him. The Chinese named him Ma Bu Li, and after two years of teething troubles in Shanxi and Foshan, he joined the Beijing Ducks, making the team and the city his home in 2011.
"At first, it was a trying time, because it was all brand new," he says of his early years in China. "I was ready to do something different and be a part of something different. I wanted to evolve to a new area in my life and in basketball. It was a trying time because of the culture barrier and not being able to speak the language and not being able to communicate.
"I understand the culture now," he adds. "I love the food. I now know why people do what they do when they do it. Even though I can't speak the language as well as I would like, I know a little bit more than when I first came here. It's just growth."
The growth off the court correlated with success on the court, and despite his age, Marbury has remained The Man (there's the annual CBA legend of "Playoff Marbury") for the Ducks, leading them to back-to-back-to-back championships. I suggest that, if he stayed on his traditional route in the NBA, his role would've probably gotten smaller as he got older, and I ask if it's been tougher to continue playing at a high level with age.
"I wouldn't necessarily say that if I was playing in the NBA, if I got older, that my role would've changed," he answers with characteristic defiance. "How I played in the NBA and how I play now is the same. It's no different. But I think playing here, you have to do more, because a lot more is required out of the foreigners [CBA teams are usually only allowed two foreign players each—Ed.]. So consistency is something that plays a major role here in being able to score, play defense, trying to get everybody involved to do all of the different things that are needed to play at a higher level."
Back in the NBA, being a point guard is perhaps the deepest and toughest gig in the League now, with damn near every team featuring an All-Star or All-Star-potential starting PG. I try to make him imagine that alternate universe, the universe where he's still playing in the NBA, having never attempted the China experiment. What kind of role do you see yourself in if you were still in the NBA? I ask.
"I see myself as a starting point guard," he says. "I probably wouldn't be as dominant as when I was younger, but I would definitely still have my same attributes on court. My style wouldn't be any different.
"[Allen] Iverson and myself, we kinda changed the dynamic of how the traditional point guards played," he continues. "Now, when you see the athletic guards that are dunking and doing the things that they are doing, Iverson and myself, we came in doing things like that, which changed the perspective of how people viewed the point guard. We took a lot of flak because we came in and changed the game."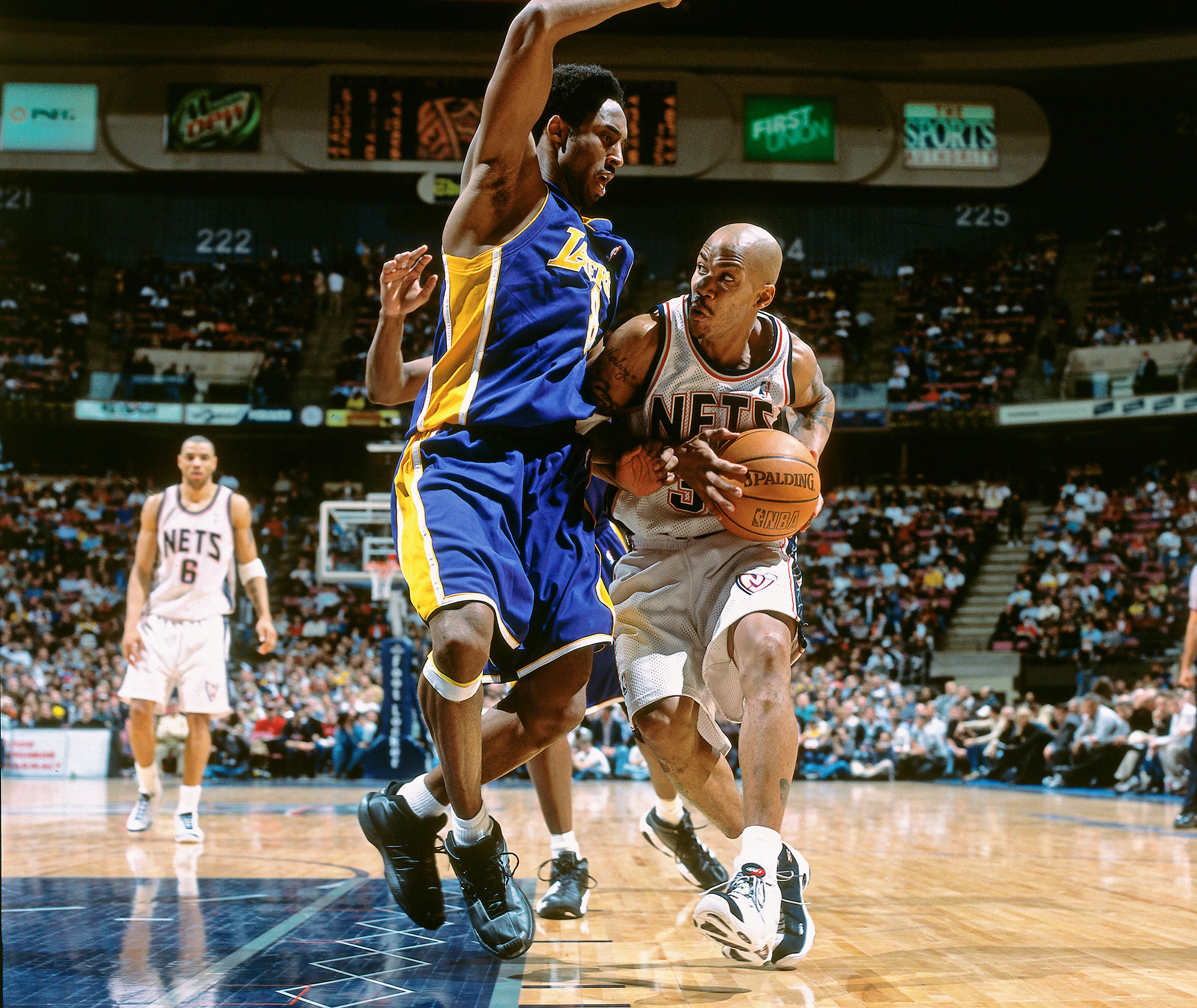 Are there any younger guys that you see a bit of yourself in?
"I like Derrick Rose," he answers. "I like Westbrook, too. But Derrick Rose is my favorite. I like the kid Curry, too. He's having a really good year."
***
Maybe home exists not in a specific, physical place, but in the legend built by history. By words and photographs by scribes, illustrators and photographers. By the journals that time will preserve—in paper and online.
Marbury began when SLAM did. He was the magazine's first-ever high school diarist and appeared on a multitude of SLAM covers over the years. I pull out my phone to slide through photographs of those old covers. Each evokes a different reaction, a different moment in his career, telling a story through images a thousand times better than through words.
We see the cover of SLAM 15, featuring the legendary 1996 Draft class, a class that gave the League Marbury and AI, as well as Kobe Bryant, Steve Nash, Ray Allen, Shareef Abdur-Rahim, Peja Stojakovic, Antoine Walker and more. I ask if he truly believes this class was the greatest ever.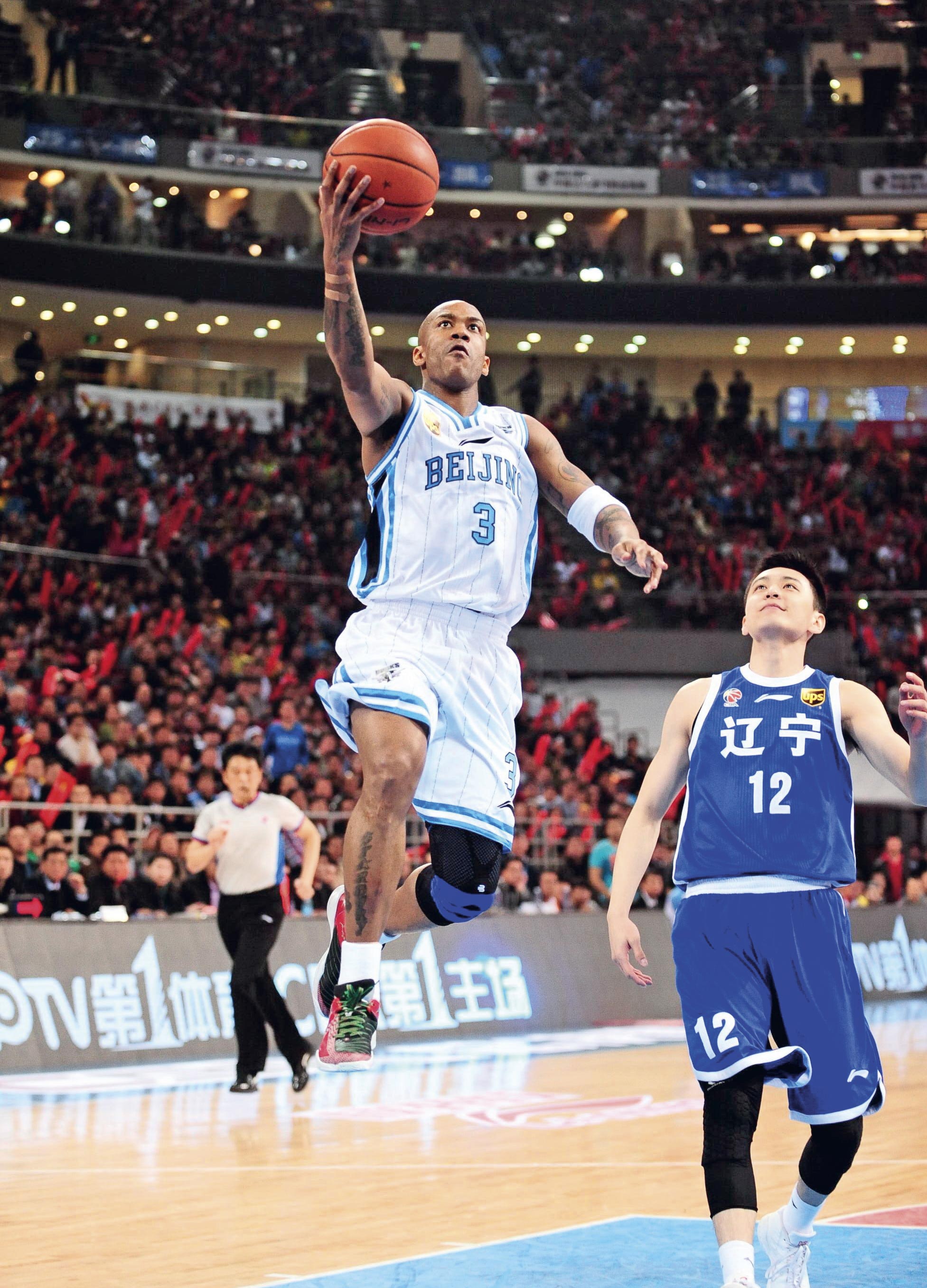 "By far."
Do you compare it to 2003? LeBron, Wade…
"It's not…" he interrupts me. "No class can mess with our class."
We scroll next to see the famous "KG and Showbiz" cover, featuring the exciting but ultimately ill-fated pairing of Kevin Garnett and Marbury in Minnesota at the end of Steph's rookie year. He doesn't react.
I show him the cover of SLAM's fifth anniversary special in January of 1999. He was on the cover again, posing in Coney Island, a few years later. He was traded to the Phoenix Suns in 2001 and appeared on the 75th issue cover with Shawn Marion and Amar'e Stoudemire.
"Anytime you get on the cover of a magazine, especially SLAM Magazine that all of the kids like to go buy and read about, it's cool. All the times was different times in my career," he remembers. "It was all good times."
When the times were good, they were great. Starbury was named Third-Team All-NBA in 2000 and '03, and played in the '01 and '03 All-Star Games. For the majority of his career, he was the only player since Oscar Robertson to average 20 points and 8 assists per game.
But his greatest day in the NBA, he says, was his very first one. "When I got drafted, that was the best time. Everything else was just basketball and business. It was nothing more and nothing else. Making it to the NBA was my only thing. That was the only dream that I had as a kid."
Did you have any regrets?
"No."
None at all?
He shakes his head.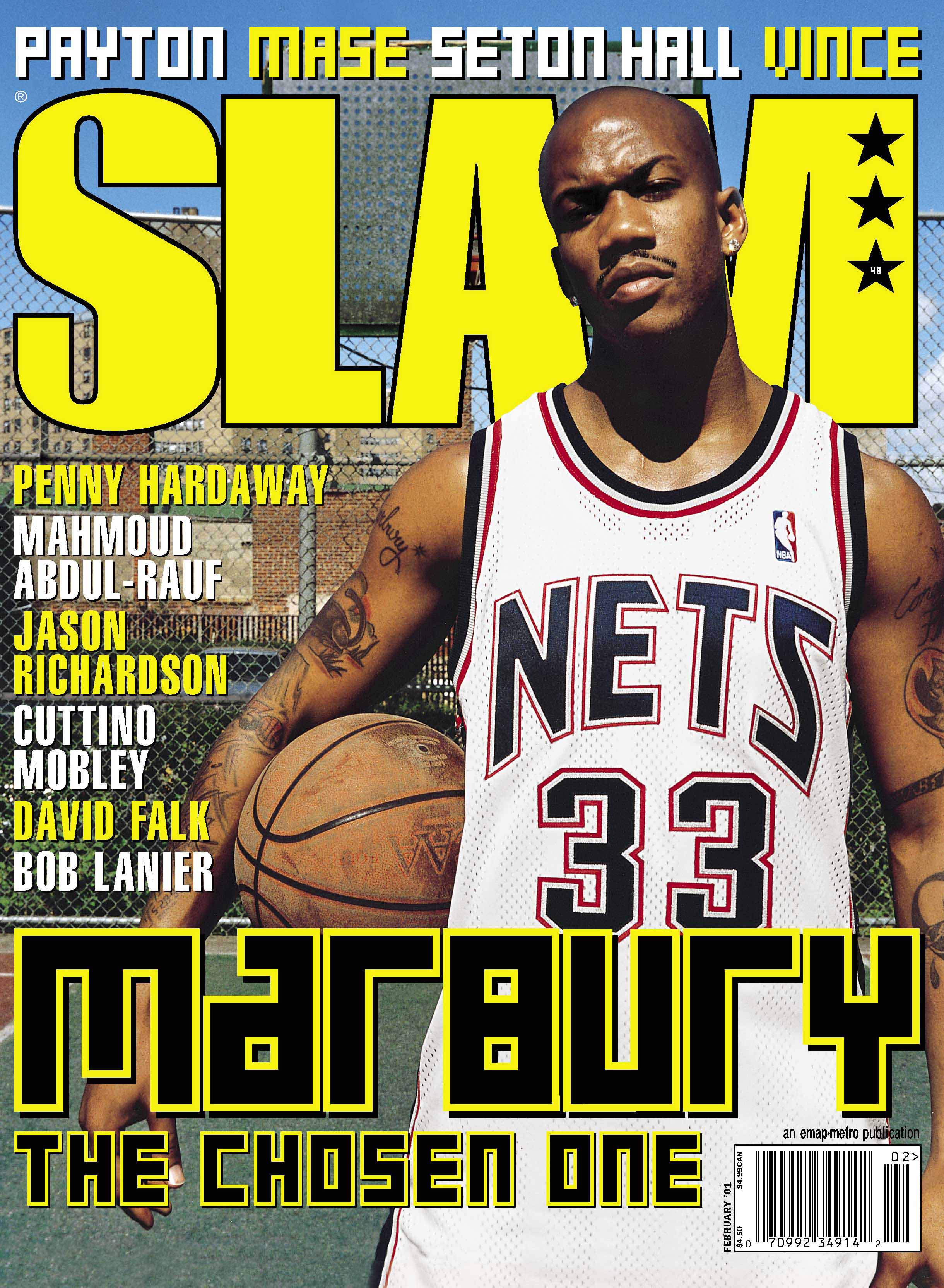 Marbury's NBA dream seemed to turn into a nightmare in his last few years in the League. After not returning to the Celtics in 2009, the world around him began to collapse. The low-point came during an infamous live-stream from his bedroom as he spoke about depression, ate Vaseline, lip-synched "Barbie Girl" and broke down crying.
Earlier this year, Marbury finally opened up about his suicidal thoughts during that dark period to HBO's Real Sports, and about eventually making it out to the light.
"That interview was fascinating," I told him, "because very few individuals could talk about the dark days so openly. Was that a tough process for you? To be so open about it?"
"No," he answers, "It's something that happened. I don't mind telling something that happened, that went on in my life. During those days, no one knew what was going on. Nobody knew I had lost my aunt, my coach, my father, all within a month. When we were burying people, you know, it wasn't really anyone's business. That was my life. That was something that I was going through in my trying times."
His voice begins to crack as he speaks, but he doesn't stop.
"Speaking about that was important for people to have a different understanding, because things have changed," he continues, "because things have changed for the better. It's a different story. It's triumph. Some people think, 'Oh, you play basketball, you make money, you live this life,' that you're exempt from the natural crisis of what goes on in human life, as far as being in an emotional state because of something that has happened. For me, sharing was easy. I said that because I wanted people to understand what was going on with me, what pushed me and what motivated me."
Maybe Home is where the love is?
While delivering three championships to Beijing in the last four years, Marbury has also become a true cultural icon in the city. A statue of him stands outside the MasterCard Center where the Ducks play. Last winter, he was the subject and the star of the play I Am Marbury that was staged for a few days in Beijing. The China Post has released a collection of stamps and post cards in his honor. He was the only non-Chinese person named in the list of Beijing's Top 10 Model Citizens of 2014. The Chinese, especially Beijingers, have accepted Marbury as their own. And he is fully accepting the nation, too, applying for a Chinese Green Card (permanent residency) this year.
"I've said it once and I'll say it again," he says. "These are the best fans on the planet. I don't say that loosely because I play in Beijing and I love Beijing. Whenever you have fans that bring that type of energy, it's different and it's rare. And it's consistent throughout the whole game. The fan base—you can't really put a price tag on that or compare it to anything."
Home is different for us all. For some, it's a physical place; for some, it's a feeling; for others, it's their legacy. For Marbury, it seems that home is where he can continue to find bliss in his first true love: basketball.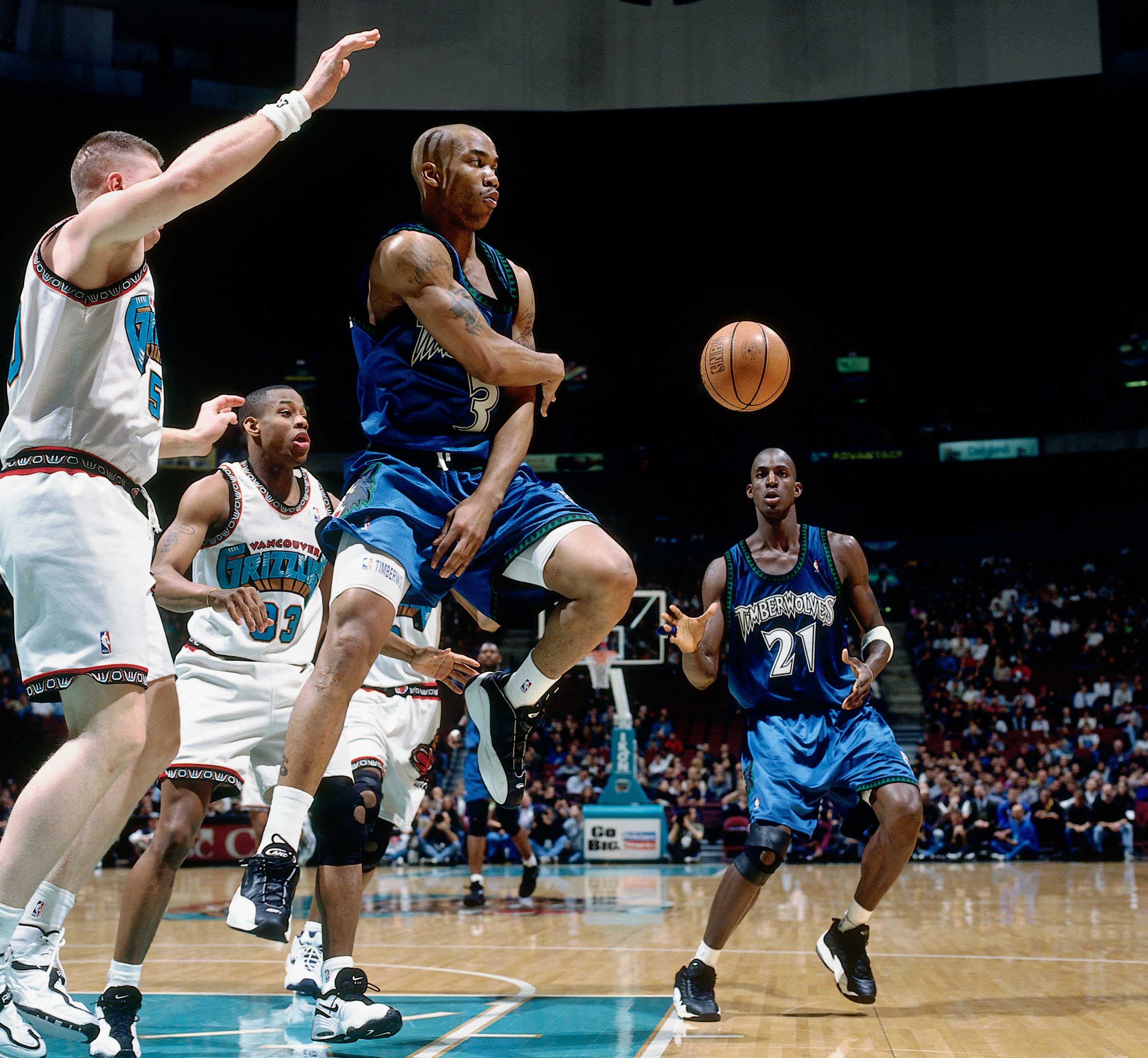 "Basketball is everywhere," he smiles. "It's not just the NBA. The game has changed. Basketball is global. I know I wasn't the first American to come to China and I won't be the last. I'm just the American who came here and did it my way. I came here. I've been real. I was open. I left myself completely vulnerable for people to understand me.
"I can play as long as I want. Honestly, it depends on my body. When my body says 'That's it,' then I'll stop. So, I could say that I want to play another two-three years. It's fun right now. It's fun winning. So you're driven to continue to work hard because the success of winning feeds you."
And you want to keep winning in Beijing?
"Why not?"
Do you see yourself in China long-term?
"I'm not going," he says. "This is my home. I'm going nowhere."
CBA photo by Yang Yi; all others via Getty Images
Karan Madhok is a SLAM contributor. Follow him on Twitter @Hoopistani.